In a perfect world, every pizza would be made with homemade sauce created from vine fresh tomatoes and lovingly dried spices. In the world of a busy family, however, that's just not practical. I'm thrilled whenever I'm making pizza from "scratch" and not ordering delivery. Finding a great jarred or canned pizza sauce has been crucial to making sure that my family enjoys homemade pizza, and doesn't end up ordering delivery anyway.
Since I spent years looking for just the right ready-made pizza sauce, I put together a list of some of my favorite sauces. It's worth noting that I have a fully stocked spice cabinet, so adding a bit of extra flavor and customizing a jarred sauce is no big deal for me. I do this with most of my canned soups and sauces.
My family and I tried out many different brands of pizza sauce over the years. If you look up, you will see a chart of the basics of our favorites, along with links to their current prices on Amazon. If you continue to read, you will see the pros and cons of the brands we've tried, as well as more detailed thoughts on our preferences.
Best Pizza Sauce
1. Muir Glen Organic Pizza Sauce
I love Muir Glen's tomato products. They are consistently high quality, delicious, flavorful enough for me without being too strong for my kids. Their Organic Pizza Sauce is no exception. The sauce has no added sugar, which means that some people find the tomato flavor overwhelming and not sweet enough. For my family, it's just right. It has a bit of herb flavor, but nothing that the kids object to, and tasty enough for me that I don't feel compelled to break into the spice cabinet. For a quick pizza night, I love this sauce.
Pros
Organic tomatoes, grown in the United States
Very smooth sauce
Right size can for a medium sized pizza
No added sugar
Cons
Very flavorful, might be too much for some people
Multiple cans needed for multiple pizzas
2. Don Pepino Pizza Sauce
I tried this sauce because it is a fan-favorite, and many of my friends recommended it. My kids and I tried it a few times, and in the end, we just couldn't decide that we liked it. The tomato seeds created such a strong crunch that we felt weird eating it. From my point of view, I disliked that the sauce is based on corn oil. Corn oil is high in saturated fat and low in healthy fat, which makes it one of the least healthy oils to eat. Many other pizza sauces have a healthier olive oil base. Also, I could not find any confirmation anywhere about the BPA status of these cans, so I have to assume they are NOT BPA free.
The flavor was good on this sauce, but I wouldn't buy it again for these reasons.
Pros
​

Classic recipe
Thick, chunky sauce
No added sugar

​
Cons
​

Made with corn oil
Chunks come from tomato seeds, which are difficult to strain or blend out
Cans do not appear to be BPA-free

​
3. Pastorelli Pizza Sauce Italian Chef
Pastorelli is another sauce that is very popular with the homemade pizza crowd. Based on olive oil, and with several cheese blended into the sauce, this is a great, rich sauce that is awesome for traditional, adult spiced and seasoned pizzas. If I'm making enough to have my own pizza, this sauce can be a great addition that really brings out a more intense flavor.
That said, it's far too much for my kids to enjoy. I also find that if I'm making a deeper dish pizza, the layer of sauce provided by one can is just not enough. If you prefer a more New York style pizza, however, this sauce might be just perfect.
These cans also do not appear to be BPA free. Personally, I feel better buying a BPA free tomato paste and spicing it up properly.
Pros
​

Smaller can more convenient for lightly sauced pizzas
California tomatoes
Blended cheeses create rich and intriguing flavor

​
Cons
Cans do not appear to be BPA free
Larger or multiple pizzas require more than one can
Too flavorful for many kids
Inappropriate for those who can't eat dairy
Added sugar
4. Rao's Marinara Sauce
The difference between pizza sauce and marinara sauce is small, but important. In its purest forms, pizza sauce is not cooked before it is put on the pizza, and is cooked while the pizza is in the oven. This allows the flavors to really blend through the entire pizza. Marinara sauce, meanwhile, has been cooked down already, and some pizza purists feel that this sauce will have less of a tomato flavor than other sauces.
For my family, sometimes, that's exactly what we want. Tomato-heavy sauce can be way too much at times. That's when I tend to reach for a sauce that might otherwise make an appearance on spaghetti; it offers a more subtle flavor, and lets the cheese and other toppings stand out. Plus, marinara is so versatile; use it in dips, over pasta, or many other possibilities.
Pros
​

Smooth, rich flavor
Jar is closeable
Less tomato flavor than specific pizza sauces

​
Cons
Less tomato flavor than some brands
Which Pizza Sauce Does My Family Like Best?
Of all the sauces we've tried, the Muir Glen sauce best fits our values and tastes. With a mild flavor, BPA free cans, and a smooth texture, this pizza sauce is a great pantry staple for homemade pizza nights. When I'm making multiple pizzas and one is for me, I can easily sprinkle my favorite spice blends over or under my cheese and get a more intense herb flavor, while letting my kids have the more mild experience they prefer.
What pizza sauce does your family love for homemade pizza night?
What to look for in canned pizza sauce
When I was first looking for the very best pizza sauce I could find for my family, there were a number of factors I needed to consider.
1. Added sugar
For some reason, a lot of ready-made sauces contain a huge amount of sugar. In general, I don't mind my family eating some sugar, but I prefer that it come in the form of sweet treats and baked goods, not snuck into foods that don't really need to be so sweet. If you look at nutrient information for your food, especially items like jarred sauces and salad dressings, you will be surprised at this source of unexpected sugar.
2. Added vegetables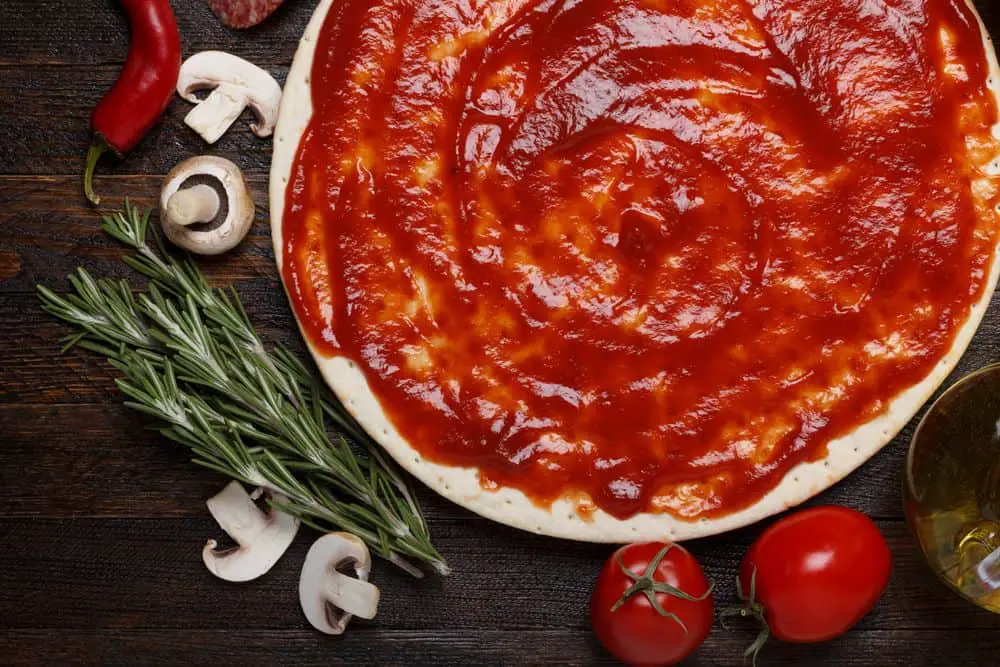 Tomato based sauces are a great way to sneak extra vegetables into kids. You can often find sauces with pureed vegetables blended in. This is no substitute for getting your kids to eat their fruits and vegetables, but it's certainly better than nothing in many cases. When good brands add more vegetables to their sauce, I'm more likely to pick it up for my family.
3. What kind of pizza?
One of the greatest food rivalries is between Chicago style pizza (deep dish) and New York style (thin crust.) Different sauces work better on different types of crusts. The thick, bready crust of Chicago style pizza can support a lot more sauce, which can also be a bit thinner. Since New York style pizza is so thin, a watery sauce will make the pizza limp and soggy. The goal for this pizza is for it to be foldable, not soggy. Big difference!
4. Kid friendly flavor
I'm working on getting my kids to enjoy sauce that has lots of garlic and herbs for a deepened taste, but so far, they aren't buying it at all. They're used to sweet, mild sauce, and so far I haven't been able to change their minds. When I'm making pizza for my kids or the whole family, I choose very different sauces than I would if I were cooking just for me.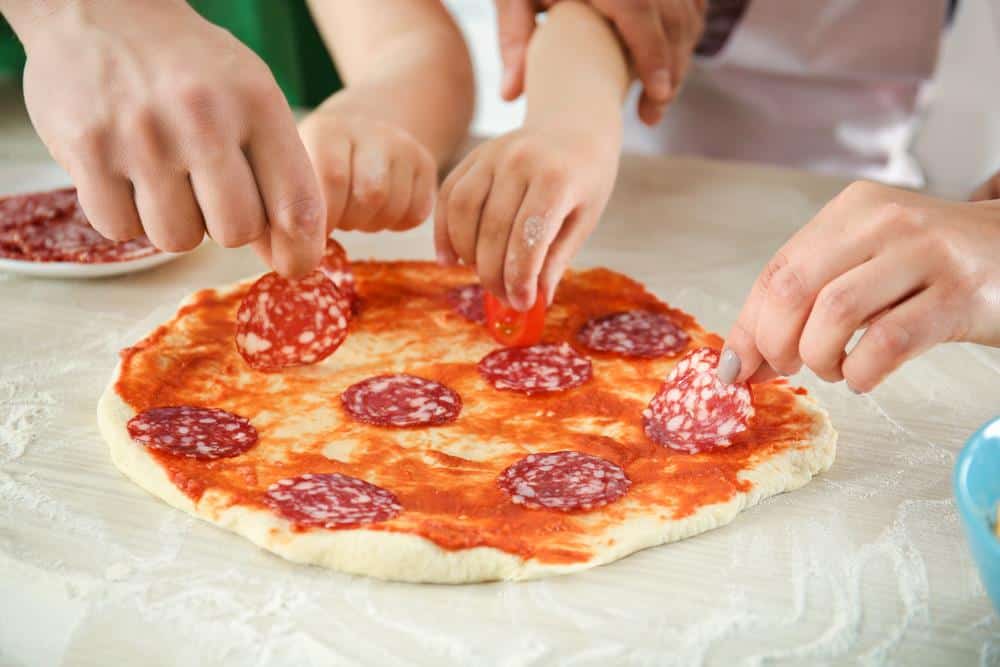 Of course, you can also take that kid friendly sauce and doctor it up with your spice cabinet until it tastes exactly like you want it to.
5. Texture
There are some very chunky sauces out there, and while that might be great for another family, both my kids and I agree on a simple truth: pizza sauce must be smooth. None of us like chunks of tomato, or vegetables that aren't part of the agreed upon toppings. Finding smooth sauce is the easiest way to accomplish this, although if you have a stick blender, you can easily make a sauce smoother than it was initially.
6. Jars or cans
The two most common presentations for pizza sauce are in cans and jars. While I generally do not worry too much about BPA in canned foods, anything tomato related is a concern for me. This is because the acidity of tomatoes is more likely to cause the chemical BPA to leech into the food and be ingested. When I'm buying pizza sauce, I am more likely to reach for jars rather than cans, and if I do purchase a can, it will be BPA free.
7. Italian Chef Pizza Sauce – 8oz Can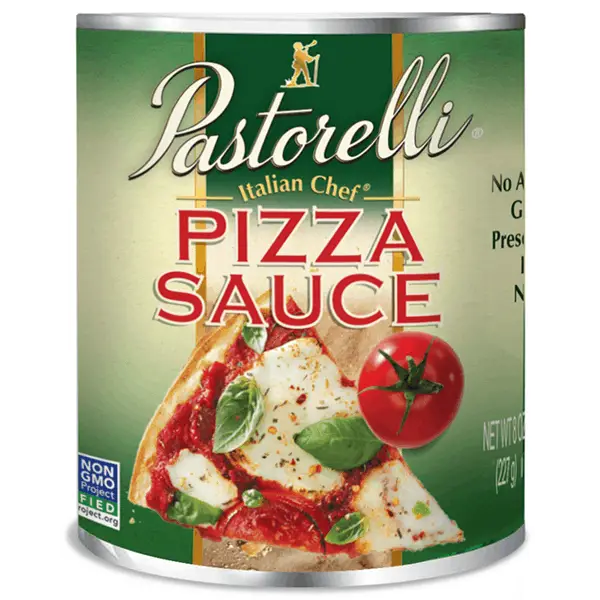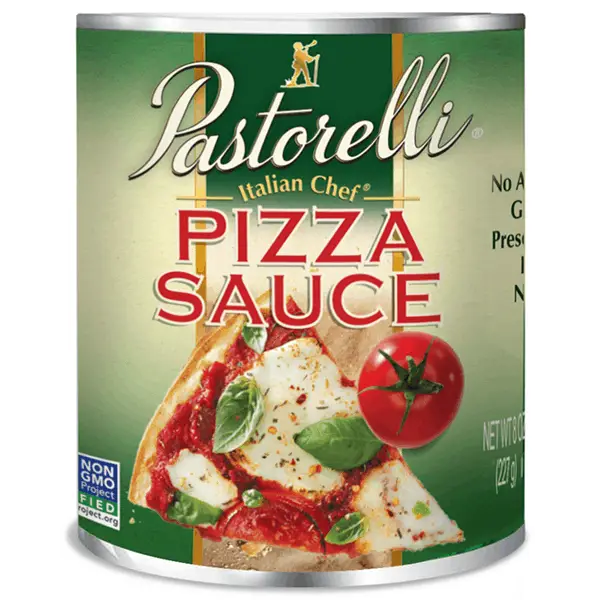 Pastorelli's award-winning Italian Chef Pizza Sauce has been a family recipe and a best-seller since 1952. Made with San Marzano-style tomatoes, plucked off the vine at their juicy, ripened peak, it has a zesty flavor that's enhanced by imported Pecorino Romano cheese and Extra Virgin Olive Oil. This size pizza sauce can makes one 16″ inch pizza or two 12″ pizzas. Make sure to try their pizza crust!
Non-GMO | No Added Sugars | Gluten Free | BPA Free | Preservative Free