The wok is probably one of the most used cooking vessels in Asia. Whether cooking stir-fry vegetables, deep frying, stewing, steaming or boiling, Asians, particularly the Chinese, find a wok to be an indispensable cooking device.
Woks are often circular with either flat or round bottom. It also comes with a long or two short wooden handles on both sides. Long spatulas are also used to mix and stir ingredients inside the wok. Traditionally, woks come with carbon steel and cast iron, but modern versions now include non-stick and aluminum materials.
From Asia, the influence of the wok has spread through the rest of the world. It is now used to cook even non-Asian gourmet dishes. Woks have also taken on a modern version where the vessel no longer requires a real flame. Electric woks have their built-in burners, and you only need to plug it into a power source to start cooking.
It is undeniable that the wok's flexibility is essential and useful for daily cooking, so picking the best electric wok will prove to be a worthy investment.
Are you interested in picking your electric wok? Below is a comprehensive review of the top 5 best electric woks, but you can click the link above to see current prices and read a customer review on Amazon.
Traditional Wok Vs. Electric Wok
Both typical and electric woks take on a similar shape and form. However, the similarities end there.
A traditional wok mounts over the stove top where it gets into physical contact with the flame. In wok cooking, the temperature is an important element. You can find the hot spot of the wok at the very bottom where the ingredients are flipped and tossed while they cook. The contact between the flame, wok and the ingredients ensure that food is kept warm.
However, traditional woks are typically large. You'll need to have a bigger and longer stove top to cook in this type of wok conveniently.
On the other hand, the electric wok comes with its burner and does not need to sit on a stove to start cooking. You simply need to plug it into a power source and set the temperature. Electric woks have temperature control settings that allow you to choose the right temperature for your dish.
Why Bother with the Electric Wok?
Given that both electric and traditional woks are similar in many aspects, why would you even bother to get the electronic version? Here are the top reasons why you need one.
PORTABILITY – many people appreciate the ability to cook on an electric wok anywhere with a power source, whether on a kitchen island, inside an RV or during camping.
COST – EFFECTIVE – electric woks can do more than just stir-fry meals. You can also use them to boil, deep fry, steam, broil, braize, stew and so much more. It is indeed a flexible kitchen vessel that serves a variety of purposes.
Read Also:
Picking The Right Electric Wok: Buying Guide
The electric wok eliminates the stovetop out of the equation, and you only need to a power source to cook. Electric woks also do a lot of things aside from stir-frying. You can braize, boil, steam and deep fry your food on them.
If you're in the market for an electric wok right now, you must first understand that these products come in various forms and features. Choosing the right electric wok for you depends on how often you'll use it, how large of a crowd you're cooking for and other nitty-gritty details like temperature settings, preferred material, and ease of clean-up.
We've rounded up the most relevant criteria to help you choose the best electric wok for everyday cooking. Check them out before making a purchase.
Heat Settings
Cooking with a wok typically requires high temperature, especially in stir-frying. It is important that the wok has intuitive and easy-to-use heat settings so you can adjust the temperature according to your cooking needs. Many models can go as high as 400-degrees Fahrenheit while others don't. It is best to determine the temperature requirements for most of your cooking to narrow down your options.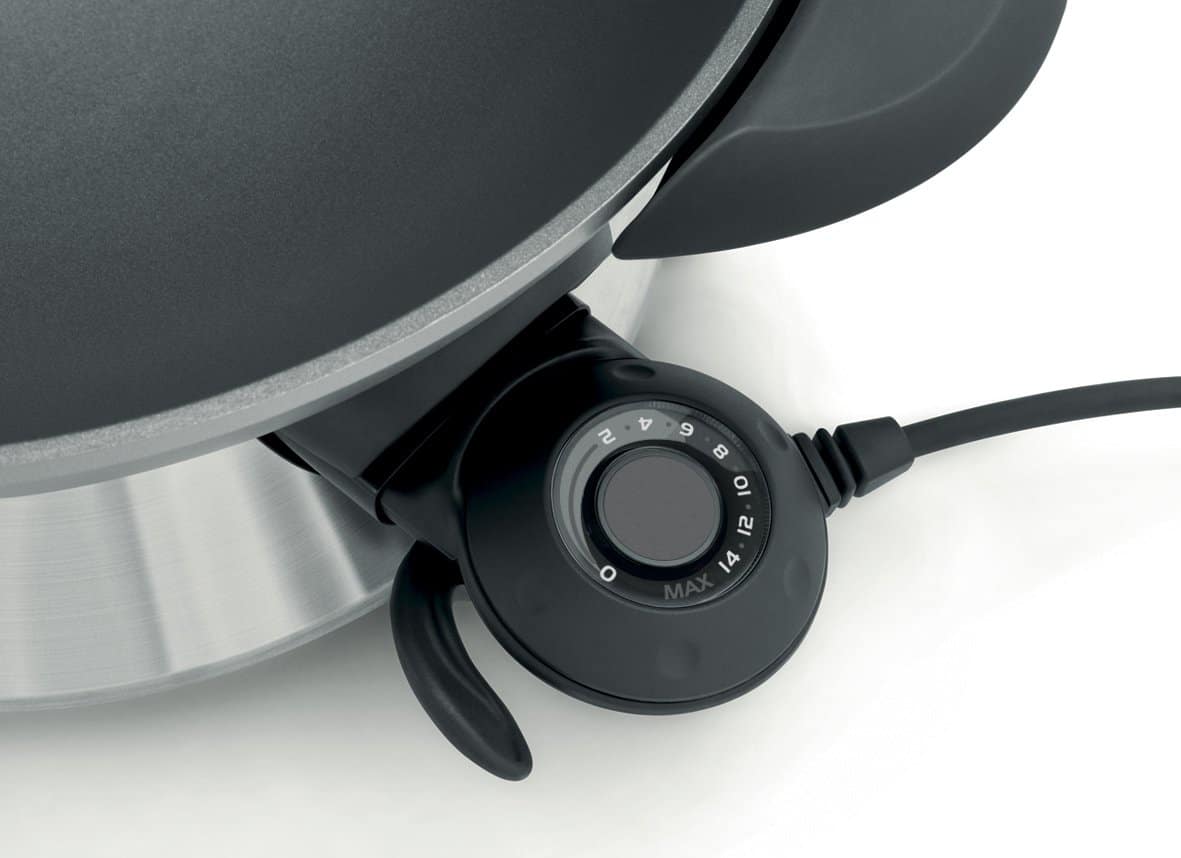 Size and Capacity
The suitable size of the wok will depend on the frequency of preparing food and the size of the crowd. The size and position of the wok should be in quarts and liters. If you're cooking for 2-3 people, a 4-liter wok should be sufficient. However, if you're cooking for an average-sized family or entertains frequently, a wok with 6-7 quarts capacity is a better option. It is also important to determine your storage set-up in the kitchen and ensure that the wok gets sufficient space.
Interior Material
Different models have different interior material or surface. That is the portion of the wok that comes in contact with your food. There are electric woks covered with a non-stick coating. These don't need to be seasoned before use and ensure that food bits don't stick to the bottom of the wok.
There are also woks with stainless steel and cast iron interiors. These have to be seasoned pre-use properly for even heat distribution and prevent food from sticking. There are also other models that comes with ceramic.
The type of interior material you should choose depends on your personal preference. The non-stick coating does peel off eventually over time, and some people are concerned about these substances mixing up with food. These woks also need special spatulas (wood or silicon), so they scrape the surface. When the coating peels off, it's a sign that it's time to replace the wok.
Cast iron and stainless steel woks may be preferable if you don't mind seasoning them before use.
Quality
You also need to pay attention to the product's overall quality. Does it look sturdy, balanced and properly put together? Obviously, if you're going to use the wok on a regular basis, then it's best to invest on a wok with premium quality.
Price
Price often commensurate with the quality and vice-versa. There are woks as little as $25, but there are also high-end ones that cost over $100. If budget and quality are concerns, find an electric wok that's durable enough to withstand the demands of your daily cooking, but also not too cheap and expensive.
Extras
There are little extra details that you'd want to look into when selecting an electric wok. Cool touch handles, for instance, ensure that you won't burn yourself while handling the wok. The location of the temperature control should be accessible so you can quickly switch settings. Also, scrutinize if the base where the built-in burner is detachable from the wok itself for easier cleaning. Lastly, opt for a wok with transparent lid to instantly see the progress of your cooking.
Top 5 Best Electric Woks
1. Presto 5900 1500-Watt Stainless-Steel Electric Wok
The Presto 5900 1500-Watt Stainless-Steel Electric Wok is one of the highest-rated electric woks on Amazon. It features a stainless steel body and aluminum base which claim to heat up quickly and evenly. Since the interior surface comes with stainless steel, there are no concerns of Teflon coating flaking and mixing with food. A drop or two of your favorite oil will prevent food from sticking to the stainless surface, creating healthier and safer stir-fried goodness and other meals.
With a capacity of 7 quarts and heating capacity of up to 400 F, this is an excellent electric wok when you want to make a meal quickly for a large crowd. It also comes with loop handles at both sides, so it's easy to handle, carry and empty the wok, while the tempered transparent glass allows you to see your meal in progress.
Overall, the Presto 5900 1500-Watt Stainless-Steel Electric Wok is durably-built and will serve your kitchen for years to come. It has a competitive price, so if you're looking for a cost-effective electric wok, this one surely makes an excellent candidate.
Pros
It has an enormous 7-quart capacity to handle large batches of meals.
Also, it comes with stainless steel and aluminum for utmost durability.
The wok comes with a powerful 1500 watt element and up to 400 F capacity, perfect for meals that require high temperatures.
The lid is made of tempered glass so you can peep on your food as it cooks without lifting the lid out.
Cons
Some users commented on fumes coming off the heating plug during first use.
2. Aroma Housewares AEW-305 Electric Wok, Black
The Aroma Housewares AEW-305 Electric Wok is a notable electric wok with its sleek, all-black design. But beyond the look and design, this wok features a large six ½-quart capacity, allowing you to cook more food in one go.
This electric wok comes with a full-range of heating options and claims to heat up quickly and evenly. It also retains temperature consistently which ensures that you cook the food properly and safely. The wok also sports a non-stick coating both on the bowl and its lid. Whether you're deep frying, stir-frying or sautéing, ingredients won't stick to the bottom of the wok. Lastly, the wok's body and handles remain cool to touch despite the heat, allowing for easier handling and transferring of the food.
Pros
​

It comes with a non-stick coating so that food bits don't get stuck at the bottom.
The beautiful all-black look is eye-catching in any kitchen.
The 6 ½ capacity is enough to cook for a medium to a large-sized family.
The body and handles of the wok are cool to touch.

​
Cons
The wok is not detachable from its heating element. It requires careful cleaning so that the electronics don't get wet.
The lid is opaque, and you won't see your food cooking without lifting it up.
The heat control setting does not show actual temperature.
3. Oster 4.5 Liter DuraCeramic Wok, Black
Coming from the known kitchen appliance brand, the Oster 4.5 Liter DuraCeramic Wok takes on a different approach to wok interior coating. The Duraceramic Wok claims to have a proprietary non-stick coating that's said to be four times stronger and more efficient than regular woks. This technology is PTFE and PFOA free, implying that it is safe for cooking and the coating does not flake or peel.
Additionally, the Oster 4.5 Liter DuraCeramic Wok heats up 20% faster than regular non-stick coated woks, so it's quite a time-saver. It also features cool-touch handles to prevent burns and adjustable temperature controls for various cooking needs.
It may be smaller in capacity at 4.5 Liters, which is perfect in preparing food for two-three people, but it's also more compact in size and hence, easier to store.
Pros
​

The DuraCeramic coating ensures that food cooks safely and coating won't flake or peel.
It heats up 20% more rapidly than regular electric woks.
The base and handles are cool to touch.

​
Cons
​

It is smaller in capacity and is not a good fit for average-sized families.
The opaque lid prevents you from instantly seeing the food as it cooks.
The temperature control is directly below the handle and can be difficult to access.

​
4. Breville BEW600XL Hot Wok
The Breville BEW600XL Hot Wok is another large-capacity electric wok that can handle 6 quarts of food, perfect for people who cook to huge batches. The base is made of stainless steel while interior surface of the wok has a Quantanium non-stick coating.
This wok comes with all the required features for excellent cooking. The 1500 watt heating element can go as far as 425F. You may also choose among 15 cooking settings, depending on the dish's requirement.
The Breville BEW600XL Hot Wok comes with a see through lid, cool touch handles and detachable bowl for easier clean-up. Breville is a trusted name for high-quality appliances, and this electric wok comes at a remarkably competitive price.
Pros
​

The interior comes with a durable non-stick coating that doesn't easily flake and peel.
The heating temperature can go as high as 425 F.
It comes with a clear lid so you can easily monitor the cooking process.
The bowl and lid are dishwasher-safe.
It has a capacity of 6-quarts which is ideal for feeding an average-sized family.

​
Cons
You need to be careful in using utensils to prevent scratching the coating.
5. West Bend 79586 6-Quart Capacity Electric Wok
The West Bend 79586 6-Quart Capacity Electric Wok comes with a great design which infuses a flat bottom and flared sides. This wok comes with a powerful 1500-watt heating element, so it heats up quickly and evenly.
The body of the wok is made high-quality iron material while the interior surface comes with non-stick coating. The combination of these materials results to an electric wok that heats up evenly, ensuring that your food cooks properly and thoroughly.
It has heat-resistant handles, correct heat settings, and stable wide base. This electric wok is certainly worth the consideration.
Pros
The interior has high-quality non-stick material.
The base and handles are heat-resistant and prevent accidental burns.
Food cooks better with its domed lid which traps in heat.

​

​
Cons
The opaque cover prevents you from seeing food as it cooks.
You need to detach the temperature control before cleaning.
Final Verdict
After inspecting each one of these products and comparing their features side by side, we believe that the Presto 5900 1500-Watt Stainless-Steel Electric Wok stands out from the rest. It's large capacity, ability to retain and evenly distribute heat and durable material all make this wok an excellent wok for daily cooking. Plus, it does not even go beyond the three-digit dollar mark yet its excellent quality and durability proves that this is a cost-effective investment.