Some foods are just better when they're fried, but adding oil to food can be unhealthy, and make a huge mess in the kitchen. This is where air fryers come in; by giving you a healthier way to fry food with out all the extra calories while also performing a huge number of kitchen function, air fryers expand your convenience cooking options.Today, I want to share my love for air fryers so here's my list of the best air fryers in the market right now
Best Air Fryers For Your Kitchen
Table could not be displayed.
Product Reviews
The Philips Digital Air Fryer HD9230/26 is available in both black and white
Endorsed by Gordon Ramsay, and ships with a cookbook of exclusive recipes designed for the air fryer by Ramsay himself.
Includes double layer rack, to allow for cooking two separate foods at the same time.
Utilizes "starfish" design, which ensures that air circulates freely, and all layers of food are cooked thoroughly.
The front drawer does not lock in place, so children should be supervised while the air fryer is in operation.
Interface is a digital touchscreen
Dishwasher safe
Capacity 1.75lbs
35" x 15.35" x 14.88" and 16 lbs.
Reviews point to this air fryer being particularly useful when it comes to wet batters. Fans seem pleased that you can hear the sound of the food frying when the tray is pulled out of the machine. Reviews also noted that when cooking traditional frozen foods, like French fries or frozen vegetables, they were able to reduce the temperature and the cooking time, making dinner ready in less time with less energy expended.
The unit does recommend preheating the basket before beginning to cook. Reviews suggest that filling the heated basket inside the air fryer is awkward, and that the best solution is to place the basket on a heat resistant surface, like the top of the stove, a trivet, or a pot holder, and fill it from there.
This air fryer is awesome! I need a large basket for walleye and this is the largest I could find (10×10), which was a selling point. However, there are so many benefits! The programmed options, the ease of cleaning, the safety button on the basket, the price, just to name a few. I've only had it a few days and I've already made a home for it on my counter and replaced my smaller, less versatile Phillip's air fryer with this dynamo. I'll keep the other one for things like fries or potatoes, while using this one for the main items. I haven't looked at the recipe book but I'm going to do so soon.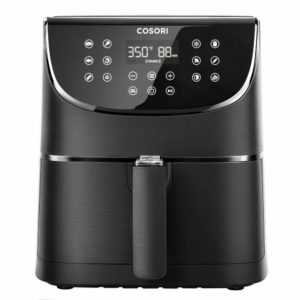 SQUARE BASKET & DISHWASHER SAFE – Compared to other 5.8Qt basket, COSORI Square basket has larger & more usable space to put more food than Round design basket in the market. Removable nonstick coated basket are dishwasher safe, PFOA-free & BPA-free. Product Dimension: 11. 8*11. 8*12. 6 in; Basket Dimension: 9*9*3. 75 in. The XL 5. 8-Quart size serves food for 3-5 people
THE BEST HEALTH GIFT CHOICE- For all those people watching their cholesterol or blood pressure, this is a perfect healthy gift for food-loving dads, mothers, family and friends. It has 85% less fat than traditional deep frying methods, but deliver the same deliciously crunchy taste of fried food with little to no oil. Also no oil fumes in house. Let your lover eat healthier!
EASY TO COOK – Built in digital one-touch screen menu featuring 11 presets-Steak, Poultry, Seafood, Shrimp, Bacon, Frozen Foods, French fries, Vegetables, Root Vegetables, Bread, Desserts, Preheat. Just tap and go! Selection at a touch rather than keep circling to make the choice. Super easy to use!
100 RECIPES COOKBOOK – Enjoy your favorite fried foods with 100 original, delicious & easy recipes for every meals. Find out how our numerous influencers cook their food with COSORI air fryer in social medias, also constant recipes and videos tutorials from our community!
COOKING FASTER – Cooking time is faster than conventional oven, but with crispier and tastier results. ETL Listed/FDA Compliant, 120V, 1700W. Automatic shut off prevent overcooking, Overheat protection. With a cool touch handle & button guard to prevent accidental detachment. COSORI original air fryer accessory set is also available for sale (search for: C158-6AC)
Check out this in-depth review of the COSORi Smart WiFi Air Fryer
The latest version of the Philips Digital Air Fryer is Philips HD9641/96 Airfryer Avance Turbo Star. It is lighter and more compact, and it cooks more quickly. It has a capacity of 1.8 lbs (while the older version's capacity is 1.75). It includes a recipe book, but not the Double Layer Rack.
The Air Fryer HD9641 certainly works as advertised, and quickly cooked the fries, onion rings, and banana chips we tested.There are, however, certain minor negatives to an otherwise very good product. The manual that comes with the unit is awful. It's poorly printed on very cheap paper, and the illustrations are difficult to follow. To my disappointment, this model lacks many useful accessories shown on the box's flap.More serious negatives are that the basket, while easy to clean, gets VERY HOT, so be careful.The unit also is very noisy and has a very short cord, which limits where you can place it.Review from ELIZABETH
The difference between Philips XL Airfryer HD9240 & Philips Digital Air Fryer HD9230 is the capacity. The XL version has a capacity of 2.65 lbs (2 bags of French fries) compared to 1.75 lbs (1 bag of French fries) of the HD9230. Unfortunately, the "Double Layer Rack" is missing from the XL version.
The GoWISE air fryer is available in two sizes: 2.75QT & 5.8QT – Four different colors (Blush, Black, Chili Red, Plum, Majestic Yellow, Mint, and White).
This air fryer has a fully manual setting, allowing users to adjust the temperature and length of cook time.
It also has several preprogrammed cycles for chips, meat, chicken, steak, and fish.
The basket is equipped with a button guard which reduces the chance of accidents.
Temperatures range from 175 degrees to 400 degrees Fahrenheit. Timer can be set for up to 30 minutes. When the timer runs out, the unit automatically switches into standby mode.
The basket is nonstick for easy cleanup. It can also be run through the dishwasher.
GoWISE does not include a frying rack.
Some reviews indicate that inserting the basket into the unit takes a little bit of finesse, and isn't fool proof.
13.5" x 12.5" x 11.5" and 14 lbs.
Folks on Reddit, when talking about the GoWISE, are quick to note that no appliance can truly replace the specific flavors that someone gets from deep frying, but that this method of cooking does the best they've been able to find with the bare minimum of mess. It uses less oil, conserves energy, and makes great tasting food. This would be an ideal appliance for a dorm or very small apartment.
The GoWISE does not have a splashguard to keep grease from spattering onto the heating element and smoking. One friend who has this model only had a problem when cooking a very large whole chicken, but it is worth noting. Purchasers should be careful to keep plenty of clearance between food and the heating element.
Similar to the digital air fryer from Philips, the 9220/28 has a manual dial, instead of the digital interface. This air fryer is available in black and white
Endorsed by Gordon Ramsay, this air fryer comes with an extensive cookbook that contains 150 recipes.
Dishwasher safe
Automatic shut off
Starfish design to thoroughly circulate air inside the basket and cook evenly.
1.75lb capacity
78" x 13.78" x 15.08" and 16.36lbs
Available from Amazon.com
Available in just one size, this fryer comes in black, red, and white
The base includes nonslip feet, to ensure that the unit does not accidentally shift on a countertop.
Includes detachable mesh basket to make transferring food easy.
Includes baking pan and layer rack for multiple cooking options.
Includes the 52 page cook book to help you get started right away.
5" x 11" x 12.8" and 13.6lbs.
Reviewers seem to indicate that the basket size in the Avalon is slightly smaller than in the Philips or GoWISE. While other units are often used to roast medium size chickens without a problem, the Avalon users often focus on small to medium sized birds, or Cornish hens. Specifically, the inner dimensions of the basket are listed at 8" round, and 3.5" deep.
Unlike other models which still use a tablespoon or so of oil, for most foods, the Avalon recommends absolutely no oil.
One particular benefit of the Avalon: with the included baking pan, cooking cakes, breads, or sweet treats is absolutely easy.
The T-fal ActiFry is available in black, and has a window on the top—I love this feature so you can watch the progress of your meal.
Patented "heat pulse" system and stirring paddle cook food evenly
Ceramic-coated non-stick pan
Filter to reduce odors
Digital timer and buzzer, simple on-off switch
Comes with a 38-recipe cookbook and a measuring spoon
Dishwasher safe
Capacity: 2.9 liters/2.2 lbs
11.75 x 19.1 x 15.6 in and 10.9 lbs
Where the T-fal really sizzles is in making amazingly crisp French fries. It can also handle stir-fries or saucy items that need constant stirring. Reddit users note that there are some unexpected recipes in the accompanying cookbook.
One drawback to the ActiFry is that because of the stirring paddle, delicate foods like fish, battered items, and even sweet potatoes won't work. You can't put an additional rack into this air fryer, either.
The Black+Decker Air Fryer is available in black and stainless steel. An older model is also available in white.
Cooks with a heating element and dual convection fan
Comes with a basket separator, so you can cook two different things at once
Variable temperature from 175-400F
2 Indicator lights: on/off, and a preheat indicator
60 minute timer, and unit shuts off when cooking time is done
Capacity is 2 liters or about 8 cups
12.5 x 12.5 x 13.9 in and 12.6 lbs
Users on Amazon and elsewhere find this air fryer really does a good job with a large variety of foods. It seems to be a good value compared to some other fryers, as well.
Some reviewers note that the unit has a strong plastic odor out of the box. Other users also note the small size of this air fryer, although you can fill it up beyond the recommended capacities as long as you give the food a stir to ensure even cooking.
Which Air Fryer Should You Choose?
My favorite air fryer is definitely the Philips. My reasons for choosing the Philips? I have a family of four, so need some pretty substantial capacity in an air fryer, which knocks the Avalon & Black+Decker out of the running. It would be perfect for some of my older friends, whose kids are already out of the house, or younger friends who are just cooking for themselves, but for us, it's way too small.
The GoWISE being available in fun colors does make it extra tempting, but I'd need to buy accessories to be able to use it the way I want to, and that adds on to the cost.
If you mainly want to make French fries in an air fryer (which many people do), the T-fal ActiFry is the boss in this category, but you may find this particular unit limiting if you're interested in batter fried foods or other things that wouldn't be able to cook given the stirring paddle.
If I'm going to dedicate space in my small kitchen, the appliance needs to serve multiple functions. Something like the Philips , that can roast a chicken and the side dishes to go with it, offers the most value to me!
Why Choose An Air Fryer?
Health benefits
Traditionally, fried foods require a lot of oil to cook, and generally the oils that are good for frying aren't the oils that are good for people. This is particularly the case for deep fryers, which can make some amazingly tasting French fries, but add tons of calories and unhealthy fat to food.
How do air fryers work ?
Air fryers cook food by circulating superheated air, up to 200 degrees Celsius (400 degrees Fahrenheit). They use a very small amount of oil – as much as 80 percent less than traditional cooking methods, according to food bloggers. You can open them up during the cooking cycle to add ingredients, which is a great option if you have foods that need to cook for different amounts of time.
What can you use an air fryer for?
Anything that you can do in the oven – broil, bake, fry, grill, or more – you can do in an air fryer. These appliances are ideal for cooking during summer, when you don't want to heat up your whole home just to have baked or fried chicken. They're also excellent for when you're traveling in an RV, or for students who don't have access to a full kitchen.
Energy efficiency
In general, modern electric appliances are more than just convenient; they are also energy efficient than turning on your stove every time you want to fry chicken. Because the whole system is so well contained, there is less wasted energy, and your food often cooks faster than it would otherwise. This is true for crock pots, instant pots, and now for air fryers.
Air Fryers vs. Deep Fryers
While both of these countertop appliances have the word "fry" in the name, the similarities really stop there. I see a lot of advantages to air fryers and feel that if you had to pick one of these appliances, the air fryer is the way to go. Here's why:
Air fryers don't involve immersing your food in oil, which means the food is healthier, the clean up is easier, and because you're not working with a vat of hot oil, the process is safer.
Air fryers are multifunctional.
Air fryers are typically smaller and take up less space.
Air Fryer vs. Convection Oven
Air fryers often get compared with convection ovens, as they both use circulated air to provide a more even cooking. But there are a few key differences:
Size: air fryers fit on your countertop and can be tucked away in a cabinet when not in use. Convection ovens, even compact ones, are typically larger.
Speed of cooking: because air fryers are more compact, the air moves around more efficiently, creating faster cooking times.
Shape: the rounded shape of air fryers contributes to an even and gentle movement of the hot air up and around the food, which makes it more suitable for baking delicate things such as soufflés, whereas the more direct fanning in a convection oven can be too much for these types of desserts. Air fryers also win when it comes to creating crispy fried-tasting food.
Ease of cleaning: I loathe cleaning out my oven. But a small countertop appliance like an air fryer? Much easier to deal with! Air fryers also usually have removable baskets to catch drippings, while convections ovens, even compact ones, typically don't have.
What To Consider When Comparing Models?
There is a number of important factors to consider when you're deciding which model of air fryer to purchase.
Size of the unit
If you have a small kitchen, you may not want your air fryer out on the counter every day. Check the dimensions to make sure that you have an easy and convenient place to store your appliance when it's not in use.
On the other side, if you have a big kitchen and plan to leave the air fryer out on the counter for everyone to see, you'll still want to check the footprint and make sure you have a convenient place for it to live, near an electrical outlet.
Capacity
As with many electric cooking tools, capacity is key. If you overload an air fryer, it's possible that your food won't cook properly, and it might even lead to hazardous foods which stays at bacteria-friendly temperatures for too long. It's not always easy to tell exactly what the capacity of a particular air fryer will be, so our reviews below will cover that as best as we can.
Interface
Air fryers tend to come with either an analog or a digital interface. Both work well, but some people have a strong preference for one or the other. I personally hate analog timers; somehow I'm always breaking the knob or getting gunk into it so that it won't turn anymore. Having a great digital display is helpful, but it has to work!
Recipe book
Although the Internet is catching up and putting out air fryer recipes at the speed with which it previously responded to crock pots and instant pots, the air fryer is still somewhat new on the scene. Many models have been endorsed by certain celebrity chefs, and come with a book of recipes that were created or vetted by that particular chef. I usually hit the Internet pretty quickly to find out what I want to cook, but with appliances like this one, it's good to have a general idea of what I'm looking at for recipes and cooking times. Even if I never use any of the recipes in the booklet, it helps me know whether or not I will need to adjust times and temps in recipes.
Accessories
Some air fryers come with accessories, like a rack, that can be used to let you fry, for example, more than one layer of chicken at a time. It's easy enough to find something similar at a cooking supply store, but if you plan to regularly fry fish, sausages, chicken, or other meats that will tend to need some space, having your air fryer arrive with a rack that fits inside might be convenient.
Weight
Air fryers are generally designed to look sleek and unimposing, but that belies their actual size. Because they're pretty big, and they contain a sizeable heating element, they are often fairly heavy. If you do plan to take your air fryer up and down from the kitchen on a regular basis, keep this in mind, and make sure your air fryer has a weight that you can handle.
Table could not be displayed.