There is no doubt that crepes are one of the most delicious desserts in the world. But there is also no denying the fact that creating thin, soft and lacy crepes is one of the most difficult things to do.
The key to achieving that is using the right equipment and that is what we are going to talk about today— finding the best crepe maker. If you are ready, let's get started!
The Best Crepe Maker Reviews
Wondering what are the top crepe makers in the market today? Here are 5 of them:
Table could not be displayed.
1. G&M Kitchen Essentials Crepe Maker Electric Griddle – The Best Product
First and my favorite among all those listed here is this 12-inch crepe maker and electric griddle from G&M Kitchen Essentials. Why do I love it so much? Well, it makes crepe making such a quick, easy, and minimally messy task! Let me break down how.
One of the best things I like about this crepe maker is its size. It's perfect for making the right sized crepes without being too huge to take up much counter and storage space. This makes it ideal for small kitchens.
I have been using it for a long time, even back when I didn't know my way around the kitchen yet. I can testify that it's user-friendly and great for beginners, even kids, with adult supervision, of course.
It does not require any pro cooking skills. All you need is a little practice to get the right temperature, and you're good to go! If you have no idea which crepe recipe works best for the griddle, it also comes with a physical cookbook (not the usual pdf or ebook) with a hundred yummy and easy recipes you can try.
Because of its non-stick and easy-to-clean surface, making huge batches of crepes for a party or a crepe cake is so much easier.
Pros
Easy to clean and use
Reliable
Comes with basic crepe-making tools and a cookbook
Perfect size
Not too expensive
Green light indicator for temperature
Cons
A few customers complained of false advertising because they received an ebook instead of the promised physical book and the included tools are missing
2. CucinaPro Crepe Maker and Non-Stick 12″ Griddle– The Alternative Pick
Another crepe maker that I like is this one from CucinaPro. Like the G&M Kitchen Essentials Griddle, it has a 12-inch nonstick surface.
However, unlike the previous item, this one allows you to adjust the temperature by choosing from five different temperature settings. It also has an on/off ready light that tells you if the plate is ready to cook or not. This makes it easier to use and helps me avoid burning my crepes.
The heat is also well-distributed, so all parts of your crepe cook evenly. The plate heats up quickly and can change the temperature from one setting to another as well.
The aluminum plate also cleans up nicely and easily. I just wipe it off with a clean damp cloth, and I'm ready to cook another batch or store it in the cupboard!
It comes with a wooden batter spreader that helps me create the right thickness of batter for the perfect crepes. It even cooks the batter in just a few minutes!
I also love the slight lift on the edges that keeps the batter from falling all over the place and allows for an even spread. However, although the surface is said to be non-stick, I find that using a little butter by spreading it with a paper towel helps me flip the crepe more easily.
Pros
Heats up quickly and evenly
More precise heat control with five temperature settings
Easy to clean
Rubber feet for stability
Comes with a wooden batter spreader
Lightweight
Cons
Crepes come out too thin and crisp for my liking
Made with a lot of plastic
Questionable durability
Cases when it won't turn on or heat up even after just a use or two
3. NutriChef Electric Griddle – The Best Product with Limited Budget
This next crepe maker proves that you don't have to spend too much for a pro kitchen gadget and food that looks and tastes as if a chef prepared it.
NutriChef Electric Griddle is a compact, easy-to-use and easy-to-clean device that helps me whip up amazing crepes in no time, without breaking the bank!
It has a standard 12-inch wide surface that's just perfect for big breakfasts or for cooking other things on the side.
With just a simple turn of a knob, you can easily control the temperature. It even has LED indicators that light up to tell you if the crepe maker is on and if the plate is ready.
I also like the utensils and recipe booklets it comes with. Although not all people liked them, they make crepe making so much easier and more fun for me! I find that this griddle works best for buttery crepe recipes.
As for clean-up, it's surface also wipes off clean with a damp towel. The only thing I don't like very much about this product is that it takes a little while to reach the right temperature, but after that, I could not ask for more, considering its super affordable price!
Pros
Very easy to use
Decent, affordable price
Cooks evenly
Easy-to-clean non-stick surface
Comes with a spreader and spatula
Cons
Instructions are not clear
Could be a little stronger heat-wise
Underside could get very hot and damage a countertop or tabletop
Cases when it doesn't work on the get go
4. Morning Star Crepe Maker Pro – The Highest Quality Product with High Price
If you've got a little more money to spend, I highly recommend that you go for this one! Instead of the usual 12-inch plate, it has a 13-inch cooking surface diameter. The plate is made with a nonstick aluminum material, making it easy to clean.
Designed to heat up rapidly, it also has a precise temperature dial, so you can control based on your desired cooking temperature and prevent burning your crepes. An indicator light tells you if the plate is ready for cooking.
What I love about this device, however, is its sleek and modern design. It has an elegant brushed metal finish and a plastic base that makes it presentable enough to show guests and makes it suitable to be a centerpiece on a countertop or table.
I also like the handles which don't heat up and allows me to transfer the griddle easily. These handles also assist me in cleaning the surface. I just hold a handle in one hand then wash the top with some soap and water with the other hand.
The package includes a batter spreader, some recipes, and a few crepe making tips to guide beginners out there.
Pros
Includes recipes and batter spreader
Heats up rapidly
Easy to get a hang of
Lightweight and portable
Handles help in cleaning and transfer
High quality
Cons
A little more expensive than other brands listed here
Concerns about longevity and construction
Complaints about missing batter spreader upon arrival
5. CucinaPro Cordless Crepe Maker – The Best Crepe Maker for Outdoor Use
Last but not the least, this other crepe maker from CucinaPro is another show-stopper! Unlike the other devices here, it has a comes with a dipping plate.
Mainly, instead of pouring batter over the plate to make crepes, you flip the plate and dip it in the bowl filled with the crepe mixture.  Once the surface is coated, you flip it back up and just wait for your crepe to finish cooking!
It's so easy to use and allows me to make perfect, even crepes with the right batter. The actual crepe maker is cordless although the electric base has a cord. Don't worry though, because it has a cord wrap so you can store it quickly and neatly.
However, while I absolutely love the final product, I, unfortunately, make a lot more mess using this device. The batter tends to scatter and drip everywhere. The surface is also only 7.5", which is quite small for crepes. Thankfully, the non-stick coating is easy to clean.
Classic thin crepe recipes also don't work very well in this device. They tend to be too thin and do not stick too well once you turn the plate back up. I discovered that dipping the surface a little longer helps the batter to stick, although when it is too hot the batter on the dipping plate could clump together.
Pros
Nice idea and design
Makes even, perfect crepes
Cooks quickly and evenly
Cordless
Easy to clean
Cons
Messy to use
Does not work for all crepe recipes and you may need to experiment several times to get a hang of it
The base tends to warp with high heat
Final products are too thin on the outer edges
Things to Consider When Buying a Crepe Maker
Choosing the best crepe maker may seem pretty easy and straightforward, but there is more to it than you think. Here are some of the things that you should put into consideration
Purpose
The first thing you need to consider is your purpose of buying a crepe maker. Are you going to use it for business? Or perhaps you will be using it for your home?
Determining its use is essential because the requirements and features of a commercial crepe maker differ from a crepe maker that will just be used at home. You will know the various requirements in the next few points.
Energy Source
There are two types of crepe makers according to energy source—gas and electric. Each type has its benefits.
Electric crepe makers are more energy efficient and portable which makes it suitable for home use. On the other hand, gas crepe makers heat up a lot faster which can boost the profitability and productivity of a commercial crepe store.
Plate Size
Of course, you need to consider how big the crepe you want to make. If you're going to make mini crepes, a smaller plate size is recommended.
But if you want to enjoy flexibility in size, you can go for the bigger ones. The biggest plate size of a crepe maker is 13 inches in diameter. But please keep in mind that the bigger the plate size is, the bigger the crepe maker would be.
To help you determine the right plate size for your needs, you should consider your kitchen space, portability of the crepe maker, and how regularly you plan on creating and serving crepes.
Materials
The type of materials used will determine the stability and sturdiness of the crepe maker.
If you will use it for commercial purposes, it is recommended that you go for one that is made of stainless steel as it is known for its durability and at the same time, easy to clean.
For home use, it would be best if you will choose one with plastic exteriors as it is more lightweight.
Cooking Surface
The material used for the cooking surface is of paramount importance too. Commercial crepe makers often feature a cast iron griddle as it heats evenly and consistently. However, it has to be appropriately seasoned which can be a big hassle if it is just for home use.
Because of this, crepe makers for home use have non-stick griddle plate which eliminates the need for seasoning.
Temperature Control
One of the main reasons why crepe maker can be considered a significant investment is its temperature control features that allow it to distribute heat evenly on its plate.
Most crepe makers today have a temperature control feature wherein the hot plate will automatically cool down once it reaches the highest temperature. This is recommended to prevent burning. However, this feature is more prominent with more expensive models.
If you do not have much budget, the next best feature that you can look for is the temperature gauge that will allow you to adjust the heat when necessary.
Other Features
To make the crepe making process as convenient as possible, there are a few features that you should look for.
If you are new to the crepe making business, you may want to go for one that has a lip around its hot plate to prevent spillage.
If you are using the crepe maker frequently, you may want to go for an easy-to-clean feature like a non-stick plate.
There are also a few crepe makers that come with a few wooden spoons and spatulas for even spreading of the batter.
Tips for Using a Crepe Maker
Most people think that a crepe maker is easy to use, just like a pancake griddle. But the truth is, there is plenty of room for errors when making a crepe. Turn crepe making into a fun and hassle-free experience with the following tips:
Preheat the maker for a few minutes.
This is done to ensure that the heat is consistent and even on all parts of the plate.
Season the crepe maker.
If you are using a crepe maker with cast iron griddle, you will have to season it. You can do this by pouring a tablespoon of vegetable oil into the cooking surface then spread it evenly using a paper towel or pastry brush.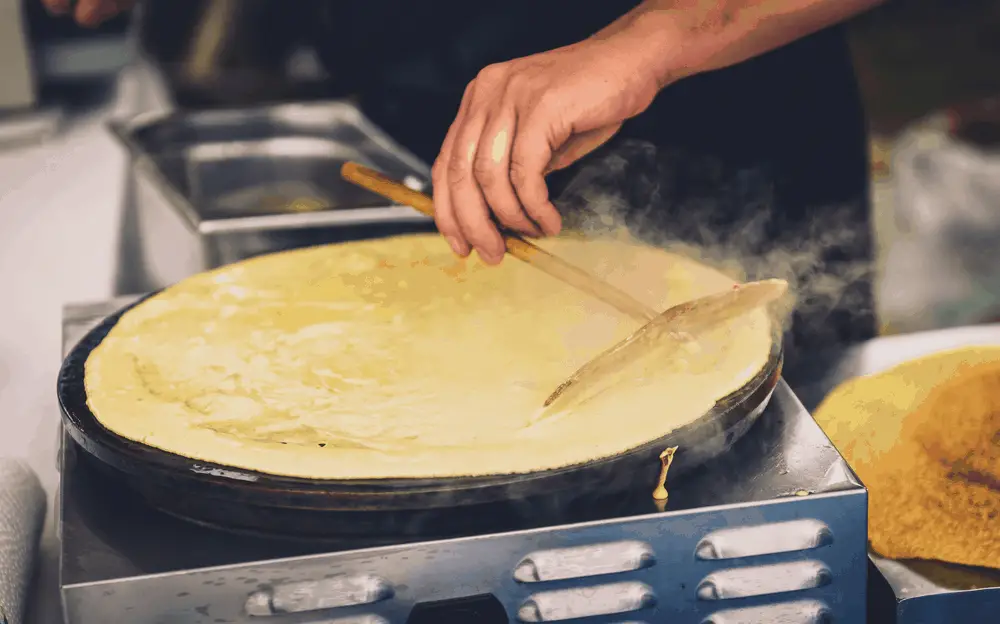 Spread the batter right away.
The crepe batter will take only about 60 seconds to cook. That is why you should spread it as soon as you pour it into the maker.
Strain the mixture before making the crepe.
After mixing the batter, let it pass through a metal strainer or a fine sieve. In this way, you can get rid of unwanted lumps that can ruin the perfect texture of the crepe.
Allow the batter to rest.
If you have extra time, it is advised that you make the crepe batter at least 8 hours before you plan on making the crepe. By allowing it to rest, the gluten in the flour is given enough time to develop and bond with the eggs and milk.
This will lead to a more flavorful crepe that you can enjoy with a milkshake or a smoothie.
For a simple tutorial on how to make basic crepes, please watch this video.
Conclusion
Overall, there are a lot of good quality crepe makers out there, but for me, the G&M Kitchen Essentials Crepe Maker Electric Griddle is the best crepe maker that beats others regarding usability, price, and quality.
Although not everyone who purchased it received the whole package with the promised book and included tools, it still worked great for us who received everything. While it comes with a slight risk, it could also very well be the best purchase you'll ever make.