A good wok is a very handy kitchen tool, with uses far beyond Asian cuisine. Many woks are made with lighter carbon steel, but cast iron has definite advantages and uses for wok cooking.In this article I will discuss the merits of using cast iron wok, what to note when caring for one, and what to look for when shopping. Then I'll look at some of the best cast iron woks available. Feel free to skip ahead to these choices from the table below.
Weight
12.9 lbs with lid; ~ 5 lbs. without lid
Cast Iron Wok Reviews
Editor's Pick: Victoria Cast Iron Wok
Victoria Cookware has been around since 1939. The cast iron is produced in Colombia and has a lifetime warranty. Like many "Western" style cat iron woks, it's a bit on the heavy side. However, the shape and quality of this wok make it an excellent choice for a cast iron wok at a reasonable price point.
In particular, the slightly flattened bottom of this wok makes it a versatile piece that can be used on any type of cooktop. But the flat spot is subtle, so it still has a nice curve on the inside that is well-suited to wok cooking. Owners of this wok report that it heats up very evenly and holds the heat even after cold ingredients are put into it.
The handles are generously sized, which is good because you'll likely need oven mitts to pick it up. It comes pre-seasoned with vegetable oil.
Pros
Heats evenly and retains heat
Good interior shape
Generous handles
Works on any type of cooking surface
Comes pre-seasoned
Lifetime warranty
Cons
Heavy—won't work for pow wok cooking
Runner Up: Lodge Cast Iron Wok
Lodge is a legendary manufacturer of cast iron cookware. The pieces are made in the USA and are renowned for their sturdiness and reasonable price point. Their version of a wok follows the model of many "North American" style cast iron woks in that it's thick and heavy.
This wok has a flat disk bottom that enables it to work on any cooking surface. It does come pre-seasoned like many Lodge products, and they do provide clear instructions for re-seasoning. It also has a nicely rounded interior for proper wok cooking.
I have a Lodge cast iron pan and find Lodge's cast iron heats uniformly and retains its heat very well. Most owners of this wok agree and find this does an excellent job of cooking stir fries and all types of dishes. Some people find this wok rusts easily, while others complain that it takes a very long time to heat to an adequate temperature for wok cooking. I suspect this is due to the disk bottom that creates a thicker area to heat.
Pros
Heats evenly and retains heat
Truly round interior
Generous handles
Works on any type of cooking surface
Comes pre-seasoned
Cons
Heavy—won't work for pow wok cooking
May take a long time to heat, depending on your stove
Disk bottom makes hotter spot in middle
Budget Pick: Mr. Bar-B-Q Cast Iron Wok
This cast iron wok is very similar to others made by Western manufacturers. It is heavy with two loop handles and a flat bottom that will work on any cooking surface.
Many people find this is an excellent wok, and it certainly comes at an attractive price point. The wok retains heat well and once it is properly seasoned, many people praise the non-stick properties and even heating.
The main complaint is that the initial factory coating is very difficult to remove. It is not pre-seasoned, but coated with a manufacturing coating that must be scrubbed clean before you season it properly at home. If you fail to do this step, the coating will flake off into your food. But, if you give it some elbow grease and time, this wok is perfectly serviceable once you've properly prepped it.
Pros
​

Inexpensive
Heats evenly and retains heat well
Rounded inside and flat bottom works well for any cooking surface
Inexpensive
Limited lifetime warranty

​
Cons
​

Factory coating is very difficult to scrub off and will flake if not removed completely
Lower quality shows in uneven surface texture

​
Upgrade Pick: Iwachu Cast Iron Wok with Lid
Iwachu cast iron is made by artisans in Japan. The multi-step process yields a cast iron that is smooth and thinner than Western-style cast iron. It makes it an excellent choice for a wok.
This wok comes with a lid, which is useful for steaming, and makes it a versatile choice as you could also use it to braise in the oven. It's a practical size at about 12.5" diameter, and the bottom is slightly flat so it will work well on any cooktop.
It's definitely a step up in price compared to other woks, but if you're up for a splurge on a gorgeous piece that will last at least your lifetime, this is the one! Many owners of Iwachu cast iron note that the quality does show compared to other options, with a smooth pebbled finish and a nice even balance.
Pros
​

Heats evenly and retains heat
Good interior shape
Generous handles
Works on any type of cooking surface
Comes pre-seasoned
Comes with lid
Lightweight
Lifetime warranty

​
Cons
​

Won't work well for pow wok cooking
Expensive

​
Best Cast Iron Pow Wok: ExcelSteel Lightweight Cast Iron Wok
This is pow style wok, with a long handle on one side and a curved handle on the other. It's thinner than many Western cast iron woks and could work well for pow style cooking, making it a nice alternative to heavier cast iron woks.
It also has a flat bottom, which works on any type of cooktop. Many owners of this wok find it gets better and better the more they use it, as the seasoning builds up over time.
Some people, however, find that it never seems to season properly, or it must be frequently re-seasoned to maintain its nonstick properties. This seems to be a common complaint with lesser quality cast iron, but if you're willing to give it a bit more babying, it's a good alternative that gives you the versatility of a pow wok.
Pros
​

Long handle and lightweight make pow wok cooking possible
Stainless steel handles are oven safe
Flat bottom works on any cooking surface
Inexpensive

​
Cons
​

Requires frequent re-seasoning
Thinness makes it prone to breakage
No warranty

​
Best Wok with Large Handles: Bruntmor Pre-Seasoned Cast Iron Wok
Bruntmor makes a number of cast iron products. This wok is made in China, but many people find it to be better quality than you might expect at this price point.
This wok has very large handles, which is a nice feature for a cast iron wok as they get so hot—you can easily use oven mitts with this wok! It has a flat disk bottom and a slightly flat spot on the interior. As a result the bottom retains more heat than the sides which can make searing a bit more difficult.
Overall, many people find this is an excellent wok. Cooks praise the large handles and even heating. Reviewers also note that the capacity of this 14" wok is very generous and will easily feed a crowd!
Some people find that the pre-seasoning is inadequate, but that the wok holds up find after they season it themselves. Other people have found manufacturing defects with this wok such as uneven casting and large air bubbles—to be expected at this price, I think.
Pros
​

Large handles for use with oven mitts or people with large hands
Works on any type of cooking surface
Comes pre-seasoned
Inexpensive

​
Cons
​

Heavy—won't work for pow wok cooking
May need to be re-aseasoned out of the box
May take a long time to heat, depending on your stove
Some manufacturing

​
Advantages (and disadvantages) of Cast Iron Woks
Many cooks will recommend carbon steel for a wok, and indeed, carbon steel is well-suited to traditional wok cooking. It heats up quickly and responds well to sudden temperature changes. Cast iron responds to heat differently, but these differences have certain advantages over carbon steel.
If you're cooking on electric or a weak heat source that is not very consistent and even in its heating, a well-made cast iron wok will help provide a more consistently heated cooking surface, without the hot spots that can happen in carbon steel. The heat retention also helps to keep the wok hot even as cool ingredients are placed inside.
Watch how quickly you can make a simple stir fry dish:
Another advantage of cast iron is that it's a bit easier to care for. It's easier to season properly than carbon steel. It is also easier to clean, with less concern of the rusting that is common with carbon steel.
One drawback to using cast iron is that it is typically heavy, so most cast iron woks are not well-suited to "pow wok" cooking, wherein the cook flips the contents of the wok above the heat source. You also run the risk of burning food because cast iron is slow to cool down, although you can avoid overcooking by removing the food from the wok quickly after it is finished.
Durability is also a concern. A cast iron wok should be thinner and lighter than other cast iron pots and pans, such as a Dutch Oven, but this means it is more fragile and could split if dropped.
See Also:
What to Look for in a Cast Iron Wok
Thickness
Traditional Asian cast iron woks are thin walled—so thin, in fact, that they are delicate and can break on impact if dropped. Cast iron woks made by Western manufacturers tend to be thicker and heavier. Either is fine, but you may find that you need to alter your stir-frying techniques to account for these differences.
Handles
You can find cast iron woks with loop handles on both sides, or with a stick handle on one side (known as a pow wok). Which you prefer is a matter of preference and use method. If you do hope to stir fry using a "pow wok" flipping technique, you'll want a cast iron wok with thin walls and a stick handle. With a heavier wok that you won't be using for pow cooking, two loop handles offer more stability for moving the pan from oven to table.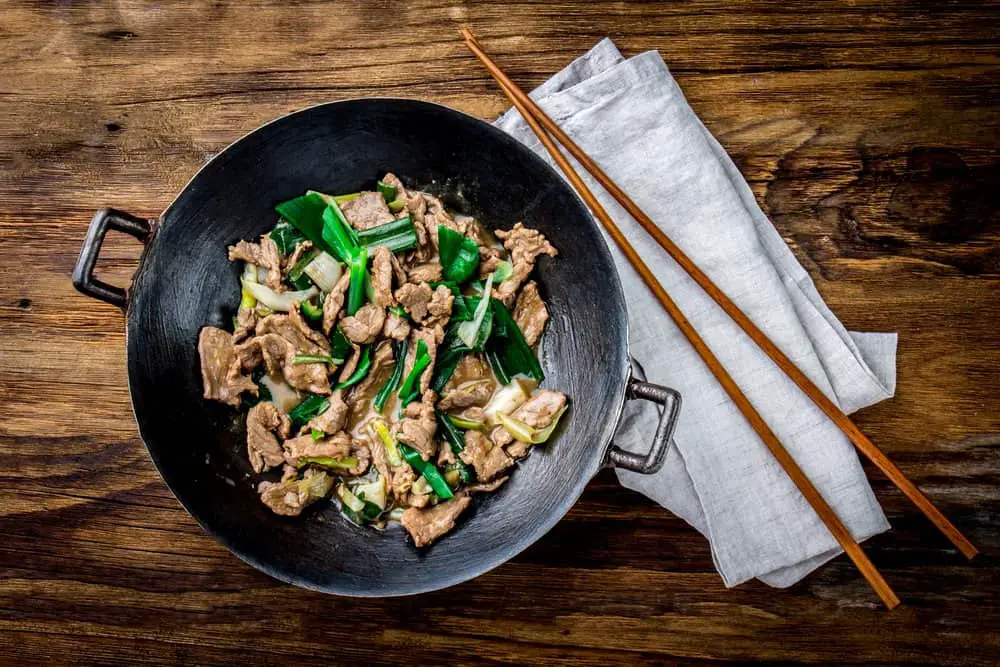 Flat or Round Bottom
For cooking on a flat electric or induction heat source, you'll need a flat-bottomed wok. If you have a gas or other flame element, you can use a more traditional round-bottomed wok that either sits on the stove element (if you have a dedicated wok burner), or that sits on top of a wok ring.
Size
Woks are measured by the diameter of the circular opening at the top. Most home use woks measure 14" in diameter. If you're cooking for one or pressed for space, 10 and 12" woks also exist.
A Note on Seasoning
One of the great pleasures of cooking with cast iron is how well the material seasons. A good seasoning creates a chemical-free non-stick surface that cleans easily and prevents rust on the pan.
You can season your cast iron wok on your stovetop, using this method. You can also season your wok in the oven (as long as it has all oven-safe parts).
Both methods involve essentially baking oil onto the surface of the wok.
Many cast iron woks available today come pre-seasoned from the factory, although many people have issues with this, particularly from lower quality manufacturers. I think you're better off doing this step on your own. A lot of cast iron comes with a factory coating of some sort to protect it, so be sure to read the instructions and scrub this coating off before seasoning it.
After your wok is properly seasoned and ready to use, note that you should not use soap or harsh abrasives to clean the cast iron wok after you cook with it. Instead, use hot water and a sponge or dedicated wok brush, then wipe it dry. Soap and abrasives will strip the seasoning.
Tips for Wok Cooking
Wok cooking is meant to be done on high heat, but there are a few subtleties to keep in mind that will vastly improve your experience.
Practice mise en place. Wok cooking happens fast, so have all of your ingredients and tools prepared and organized before cooking, so that you can easily put ingredients in and take them out according to your recipe.
Cook in stages. Some ingredients, such as aromatics like garlic and green onions, should be cooked at a lower heat. Do these first to season the oil, then remove them, and you can put them back in at the end if desired. Meats can be cooked and removed to make space for other ingredients. Everything can be mixed together at the end, but things will cook best in smaller batches.
Keep it moving! The high heat of stir frying requires constant movement, either through shaking/flipping the pan or moving the ingredients with an appropriate tool (I like a flat, wide bamboo spatula).
Get Ready to Wok and Roll!
If you love cooking with cast iron and you've experienced the awesomeness of wok cooking, too, you need a cast iron wok!
Luckily, a high quality cast iron wok doesn't have to break the bank. Victoria's cast iron wok gives you all of the wonderful benefits of cast iron—the ability to build a naturally nonstick seasoned surface, excellent heat retention and even heating, and an attractive, earthy and solid cooking vessel that also looks nice on the table. As a wok, it has a great shape with a versatile flattened bottom but the curved interior a wok should have.
For the price, Victoria is an excellent choice, although if you're looking for a splurge, go for the handcrafted Iwachu!
Have you cooked with a cast iron wok? Let us know in the comments (and maybe share a favourite recipe or two!).