As a kid, I remember that our dishwasher was frequently out of order. My parents never seemed to be too bothered, but I grumbled while hand washing dishes as the dishwasher sat empty and useless in its spot.
I suppose it was the cost of replacement that stopped my parents from remedying that situation. Luckily today, though, the price of this major kitchen appliance has come down considerably, and you can find reliable dishwashers for under $500. In this article, I'll discuss strategy for dishwasher shopping and take a look at some of these budget-friendly options. Feel free to go right to the products from the links in the table below to see reviews and current pricing on Amazon.

Size
W: 22.5"
D: 17.52"
H:32.48"

W: 21.7"
D: 20.4"
H: 17.2"
W: 21.6"
D: 19.7"
H: 17.2"
W: 21-11/16"
D: 19-11/16"
H: 17-3/16"
Construction
Black plastic exterior, stainless steel interior
White plastic exterior, stainless steel interior
Silver plastic exterior, stainless steel interior, Stainless steel interior
Black plastic exterior, stainless steel interior
Silver plastic exterior, stainless steel interior, Stainless steel interior
Dishwasher Shopping 101
First and foremost, you want a dishwasher that is reliable. That's where looking at other people's reviews really helps. But there are a number of objective factors you should consider when looking for a dishwasher.
Size & Capacity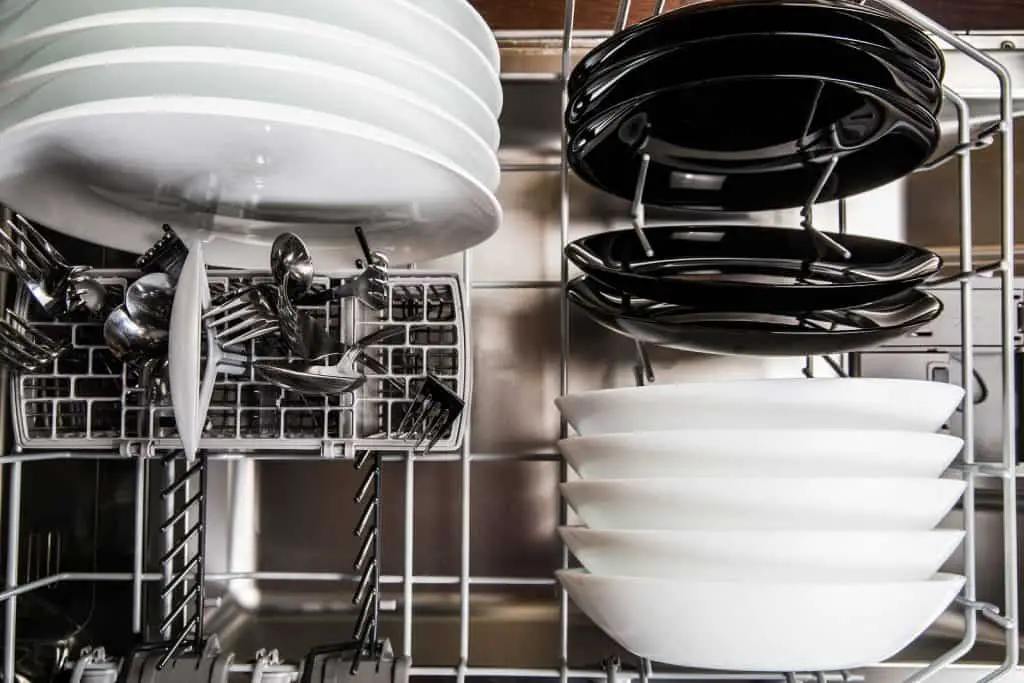 Dishwashers come in a large range of sizes. If you're living in a small space or you tend to have lighter dishwashing needs, you may consider a compact countertop or drawer-style dishwasher. If you're outfitting your large family's home, you should be looking at the larger built-in styles.
Capacity is generally indicated by the number of "place settings" the machine can fit.
Construction
Consider the interior construction of the machine. A plastic interior, more common in this price range, stains more easily than an interior made of stainless steel.
Another factor here is the filter. Some dishwashers have self-cleaning filters, to remove food particles that could otherwise stick to your dishes. Most dishwashers at this price point have filters you must clean manually.
Built-in vs. Portable
You can find both in the budget range, so consider your situation. Both built-in and portable options are usually considered "compact" in size in this price range.
If you're renting and may want to take this appliance with you, there are some great portable options available. Full-sized portable machines are usually on casters, while ultra-compact units sit on the counter. A water intake hose hooks up to your kitchen faucet, while a drainage hose lets into the sink when the unit is in use.
Efficiency
Efficiency with dishwasher is both about energy consumption and water consumption. Look for the "Energy Star" rating to determine the energy efficiency. If water is also expensive where you live, it's nice to note that running a cycle in the dishwasher often uses less water than hand washing a whole bunch of dishes!
Noise
Dishwashers can be noisy. This may be an issue if you have a small home or apartment.
Aesthetics
Generally, people like to match appliances in the kitchen, so consider the color and finish of your existing appliances.
Interface
Some dishwashers hide the controls up on the top of the door—a nice touch if you have curious little people around who love to push buttons wherever they find them. Other dishwashers have dials or digital push pads, etc. A smoother interface will be easier to keep clean, but mostly this is a matter of preference.
Functionality
You also want to consider here what type of functions you want the dishwasher to perform. Things like a heated drying cycle, or the ability to adjust the washing process depending on the size and soil level of the load, etc, are all options you may find. Do note that the models in the under $500 range tend to offer more basic functions.
Cycle Length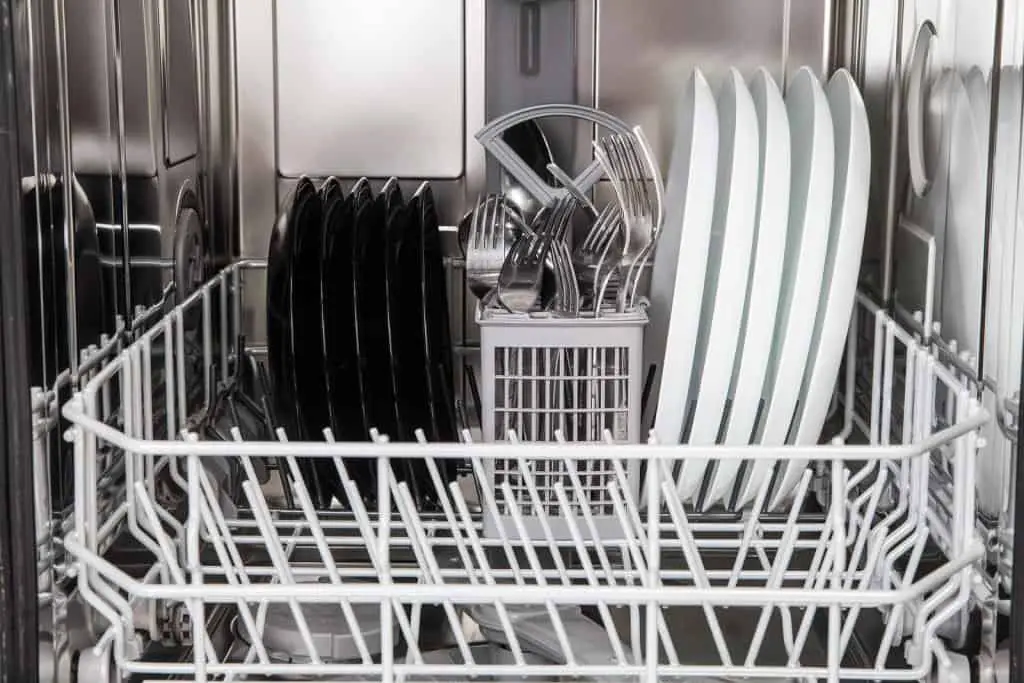 How long does the machine take to complete a normal load of dishes? In general, less expensive dishwashers tend to have longer cycle lengths.
Brand and Warranty
Dishwashers have lots of moving parts that can break and cause malfunctions. Look to a reputable brand that offers some type of warranty so you can have some piece of mind in case something fails.
The Options
I've weeded through many dishwasher options for you. Here I'll recommend some great, budget-friendly options for a range of situations.
If you're in a small space or rental situation, a portable dishwasher like this might be a great choice. Danby is a well-known manufacturer of home appliances.
This dishwasher has a lot of features for the price:
stainless steel interior
built-in water softener system
6 wash cycles for intensive cleaning, normal, economy, rinse, rapid wash and soak
8 place setting capacity
Top rack spray arm
Energy Star compliant
When looking at reviews on both Amazon and elsewhere, most people find this is a great option for a portable dishwasher. Many people mention how quiet this machine is, which is rare for a lower-cost dishwasher like this. And most importantly, people find it does an excellent job of washing dishes.
One reviewer mentioned that the advertised capacity is misleading and that the interior is actually quite small, but that it should accommodate a 4-person family doing dishes daily.
The main complaint with this dishwasher is that the washing cycles are long. Another commonly mentioned issue is that there's no real drying cycle. Many people solve this issue by simply opening the door and letting the steam out for a while. If you need to do multiple loads back-to-back, however, this might be an issue.
Another issue is that the water intake hose is fairly small, and cannot be removed and replaced with an aftermarket option.

PROS
Quiet
Energy and water efficient
Gets dishes very clean
10-year warranty on major components
CONS
Lengthy wash cycles
Poor drying
Short water intake hose that cannot be removed
Avanti is also well-known for household appliances like this. At nearly 18" wide, this is considered a compact built-in dishwasher. It has a black exterior.
This unit offers:
stainless steel interior
nylon coated upper and lower racks
4 automatic cleaning cycles
8 place setting capacity
3-stage filtration system (with a basket you empty manually)
top sprayer arm
Energy star compliant
This is a pretty basic dishwasher. It will beep when completed but does not have a timer to count down the cycle. It also lacks a drying cycle.
But generally, most people find this is a well functioning dishwasher for the price. Reviewers do note that it's a no-frills machine but simple to use and looks sharp in the kitchen. Owners with small families (~4 people) say it fits a day's worth of dishes to be run nightly, while couples can usually manage to run the machine 2-3 times/week.
Less happy reviewers report that they do have to pre-rinse dishes, otherwise they will be left with food on them after a cleaning cycle. Others complain about the long cycle lengths and the fact that it doesn't dry well at all.

PROS
Quiet
Top and bottom sprayer arm
Stainless steel interior
CONS
Lengthy wash cycles
No drying cycle
No timer
Leaves some food particles on food
This is the highest rated countertop dishwasher I could find, and I think it's a very nifty little machine. It has a white plastic exterior but has a high-quality stainless interior. It's about the size of a standard microwave.
This compact unit features:
5 washing programs, including a quick wash
stainless steel interior
a built-in anti-flood device
cutlery basket and cup rack as well as space for the plates and bowls
People seem to own this machine for a good variety of reasons—for use during a kitchen reno, in small spaces like dorms or lofts, for use by one person who doesn't feel the need for a full-sized machine. And owners really love this one. Many people note the excellent build quality and that it has the feel of a full-size, built in dishwasher, just in a smaller size.
Many people also love the convenience of having the machine up on the counter, rather than having to bend down to load and unload the dishes. I think this is an especially useful consideration for older people or others with physical disabilities.
A few reviewers had issues with the outtake hose leaking, although this seems to be an issue of not connecting a washer that comes in the box.

PROS
Bult-in anti-flood device
Stainless steel interior
High-quality build
Convenient to reach
CONS
Lengthy wash cycles
Poor drying
Leaves some food particles on food
Buying a Dishwasher
Until you get up above about $800, you should expect to find either some version of a portable dishwasher, or a very basic built-in machine. But luckily, there are still great options that do a good job washing dishes.
If you're looking for a standard sort of dishwasher that can also move with you, the Danby portable dishwasher looks to be a great option that does a good job with the main function: washing dishes. The 10-year warranty is also a big bonus as high-traffic appliances like this are prone to issues.
If you're in a very tight space or are tired of bending down to load and empty dishes, the Magic Chef countertop dishwasher looks like a great little machine that will save you space and money.
Do you own a dishwasher? What kind do you have?