Many people would probably just stow away their knives and metal cutleries into the kitchen drawers. If you follow this kind of practice, you've probably experienced being cut by your knives at one point or another. We can't help it. When rummaging through a drawer filled with nasty sharp knives in a rush while preparing food, those accidents are bound to happen.
Knives are essential kitchen tools, but they can also be just as dangerous. Keep them securely in place, away from the reach of children but just as accessible when you need them with the best magnetic knife holder.
Table could not be displayed.
What exactly is a Magnetic Knife Holder?
The magnetic knife holder is a tool used to keep knives and other metal cutleries in place. These holders, also called magnetic bars and magnetic strips, take the form of a long bar or strip equipped with a strong magnet to hold metals in place. Your knives and other metal kitchen tools will hang onto the holder in a neat row. It allows you to easily see and access the knife you need without the risk of injuring yourself or damaging the blades while fumbling inside the drawers.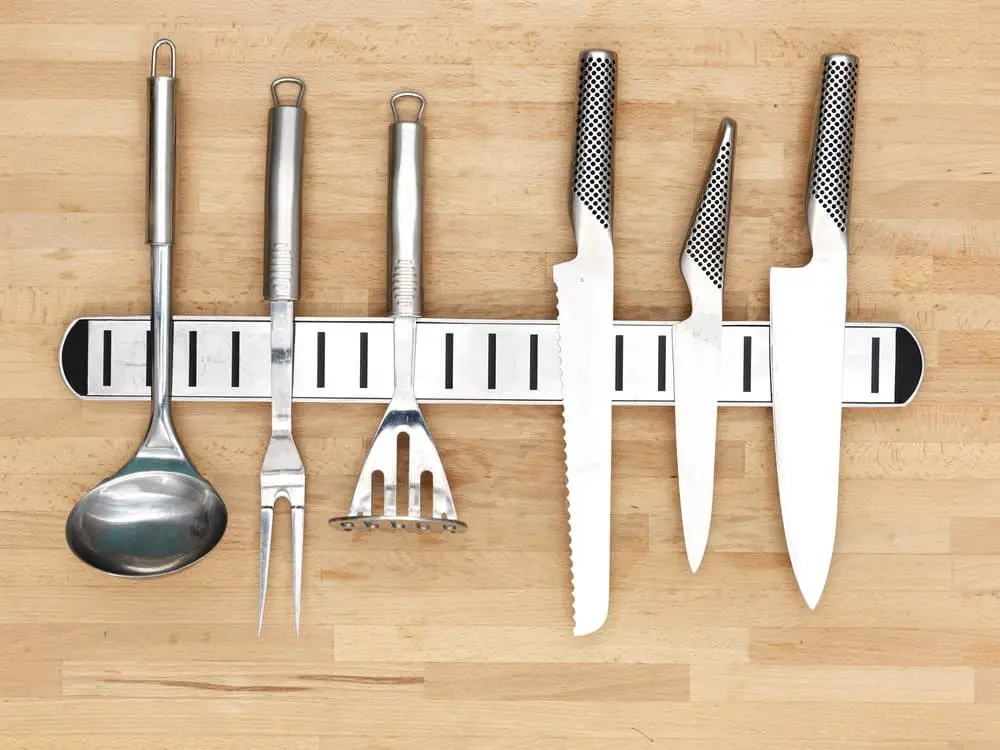 It pays to own a magnetic knife holder or two to keep your kitchen safe and organised. However, these devices do come with different features and capabilities. If you're looking for the best magnetic knife holder for your kitchen, then you should consult this buying guide before making any purchase.
Magnetic Knife Holders: Buying Guide
Magnet strength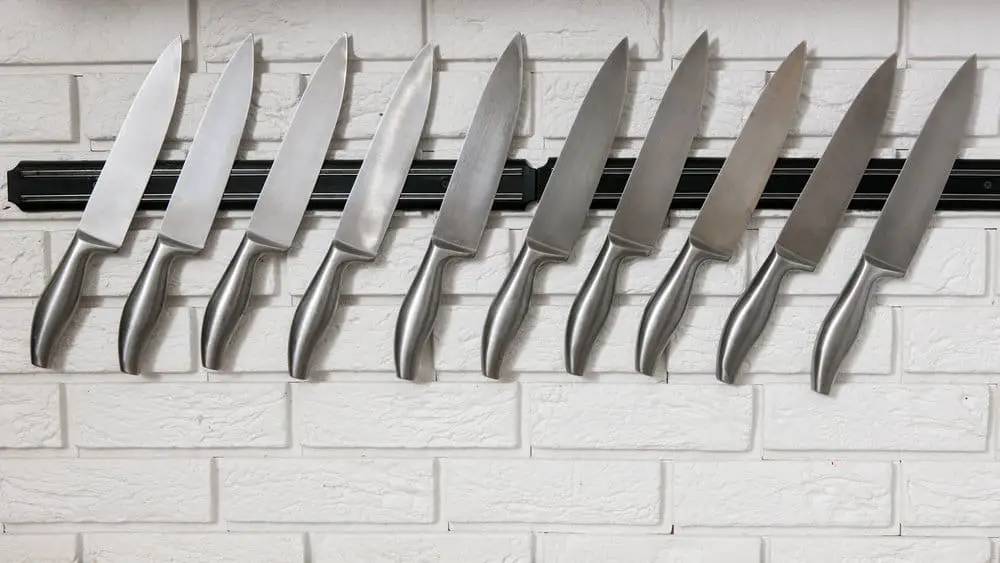 The fact that you're in the market for a magnetic knife holder means magnet strength is going to be a top consideration. A great magnetic knife holder can hold multiple metal cutleries without them sliding down. Otherwise, putting your knives up onto a magnetic strip can become a hazard than a safety measure. Opt for pieces that have the highest magnetic strength to ensure that your knives and other metal kitchen tools are kept neatly and safely in place.
Length
If you're using some knives and kitchen tools frequently, then it makes sense to invest in a magnetic knife holder that's long enough to hold them simultaneously. There are magnetic strips that range from 10 to 24 inches in length, but your ultimate choice will still depend on the number of items knives or kitchen tools that you intend to put up.
Design
The surface design and material can influence the holder's overall look. Many products have aluminium and stainless steel finish, perfect for modern looking and industrial kitchens. Cheaper holders may have decorative plastic surfaces, while there are others that have wooden surfaces. Pick a design that coincides with your kitchen's theme to achieve a more cohesive look.
Extra features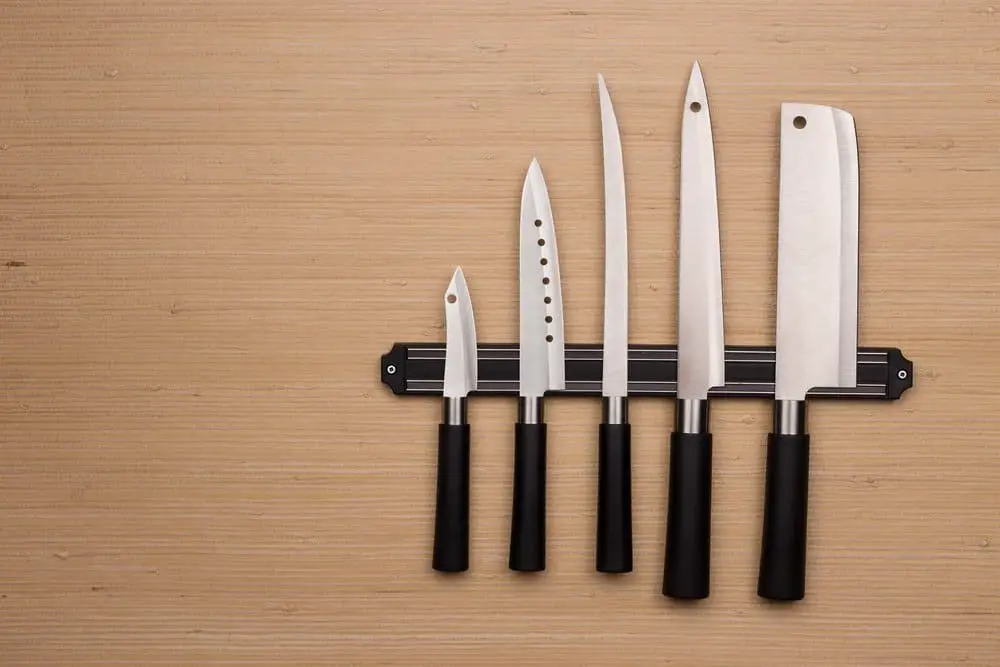 You'll appreciate a magnetic knife holder with some extra features like additional hooks so you can hang more of your kitchen tools than stashing them away inside your drawers. Those hooks will allow you to put your spatulas, egg beaters and other kitchen essentials in one place, making your kitchen look neater and less cluttered.
Ease of installation
The holder needs to be mounted in your kitchen, whether it's above your prep space, by the side of the fridge or onto the kitchen backsplash. The manner of installation can vary from one product to another, but it's essential that your package comes with all the required accessories so that you can easily install the holder.
Some knife holders need to be drilled and fastened onto a wall, while others are only glued especially on walls that crack with drilling. Whichever installation method you choose, it is best to spot an area where you intend to place the holder.
TOP 5 BEST MAGNETIC KNIFE HOLDERS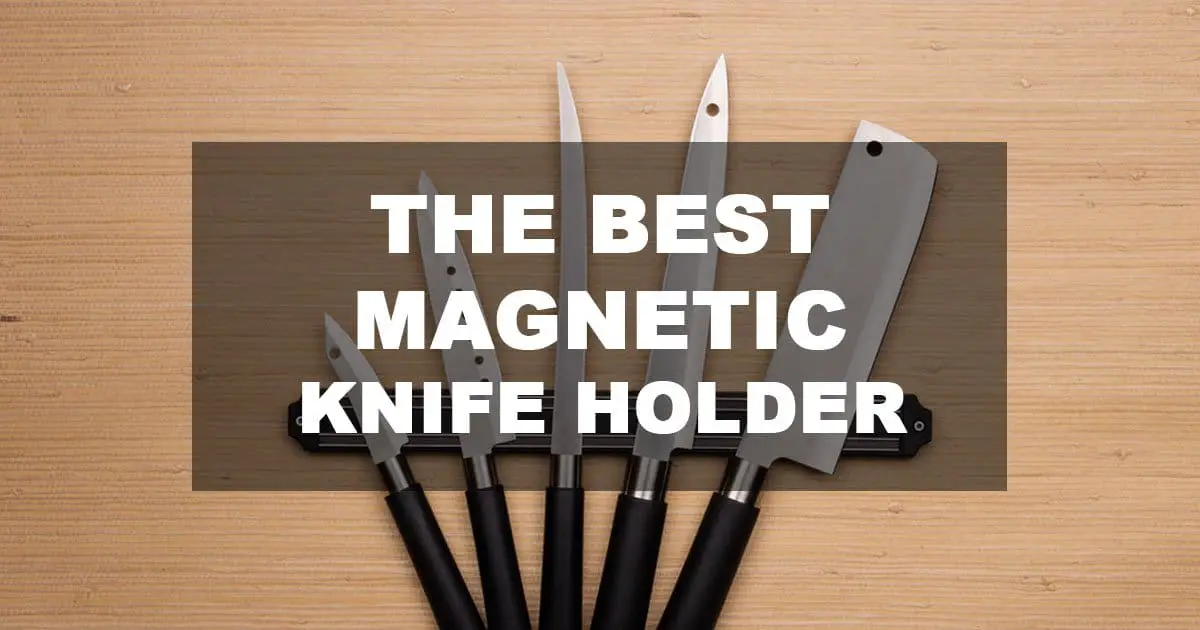 Whether you're picking a magnetic knife holder for the first or fifth time, we understand that having so many options can quickly overwhelm you. We've rounded the five best knife holders in our list, complete with features, pros and cons so you can pick the best knife holder there for your kitchen.
For people who use several knives and metal kitchen tools, having a lengthier knife holder can be very convenient. The Ouddy Magnetic Knife Bar is a lot longer than other magnetic bars on the market today. It also claims to have an active magnetic strip so you can just hang your knives, spatulas, kitchen scissors and a host of other metal tools to avoid clutter in your kitchen.
Now, you don't have to crowd your drawers and waste time looking for the right knife.
Additionally, what makes Ouddy a sensible choice is that it comes with all the necessary hardware in the package so you can just install the holder right away. It may not make the best holder to put against the fridge wall like this one's longer, so pick an area in your kitchen where you get adequate space for its length. The surface of the holder features an uncovered bare magnetic strip, a rather apt design for kitchens with an industrial theme.
PROS
It is lengthier than other magnetic strips which give room to hang more of your knives.
The holder is equipped with a powerful magnetic bar so that knives and other metal tools don't slide down.
The strong magnetism holds even heavier knives and tools.
The purchase comes with the money back guarantee.
CONS
The bare uncovered strip doesn't look as appealing as stainless covered ones.
Its extra length makes it less ideal to hang at the side of the fridge.
With a modern ergonomic design, the Norpro aluminium magnetic knife bar is eye-catching in its minimalistic look, yet it does a pretty good job of holding knives and other metals against the wall. The great thing about this magnetic knife holder is that it comes with a sleek aluminium finish covering the surface of the magnetic strips, so it looks good in any kitchen.
Regarding function, the Norpro aluminium magnetic knife bar holds knives and metal tools excellently with its permanent magnetic capability. But since the strips cover with an aluminium surface, it is to slide down any tool you need to use, yet it attracts and holds with impressive strength.
With Norpro 18-inch aluminium magnetic knife bar, you get 18-inches of the magnetic bar to hang your kitchen knives with and eliminate the need for big knife blocks that take valuable space from your kitchen workspace.
PROS
It features extended length but small magnetic bar so that holder fits most nooks in the kitchen.
Then, it comes with the permanent magnetic capability to hold knives and metal tools securely in place.
The package comes with screws needed for easy installation.
CONS
The magnetic bar seems a little wobbly.
The Modern Innovations Stainless Steel Magnetic Knife Bar is an excellent magnetic knife bar featuring a strong, powerful neodymium magnet that holds even your largest knives and kitchen tools. It comes with 16 inches of the magnetic surface covered with stainless steel and satin finish. This attractive cover design makes this holder a suitable device for most industrial and modern-looking kitchens.
Save up on your kitchen space by mounting the magnetic strip up against any wall. It comes with mounting essentials so you can easily install the magnetic bar without making an additional purchase from a hardware store. The magnetic capabilities are excellent, and it's also versatile enough to hold tools, art supplies and other metal-made items.
PROS
It features an appealing sleek satin finish.
The magnetic bar comes with premium quality stainless steel that helps prevent rust.
It comes with neodymium, an excellent magnetic material with superior holding capabilities.
CONS
The magnetic bar is rather thin and does not support heavy metal tools excellently.
Master Magnetics is a known brand for high-quality magnetic strips. This particular product, Master Magnetics Magnetic Tool Holder With Magnetic Mount Wide, gets into this list because it claims to hold as much as 30 pounds per inch.
Moreover, this is a great option for a magnetic knife holder because both sides of the bar come with strong magnets. One side attaches to any metal surface, while the other end can hold knives, scissors, metal spatulas and other metal kitchen tools. It comes with a combination of ceramic magnets, hard plastic and steel. This magnetic bar comes in flat black or faux stainless steel, perfect for modern kitchen look.
PROS
That is a double-sided magnetic bar that easily attaches and mounts to metal surfaces.
It can hold 30 pounds per inch, making it an excellent choice for people using heavy and large knives.
You can pick between flat black and faux stainless steel design which both appeal and blend with any kitchen décor
CONS
It is rather more expensive than magnetic bars of the same length.
Some users comment that 30 pounds per inch are quite a stretch. It is not as strong as it claims.
With a high-quality satin finish stainless steel, this 10-inch magnetic knife bar can be the perfect choice if you use a few select knives on a regular basis. It may be shorter than all the other contenders, but it's also equally as good regarding magnetic quality. On the plus side, the short and compact design makes it easy to mount even on small kitchen spaces.
The stainless steel satin finish is not only appealing by design, but also by function. Aside from it is rust-proof; this magnetic bar also only needs to be wiped clean. The entire surface is covered with magnetic material and holds metal tools fairly well, ensuring that your knives will hang onto the bar without sliding down.
PROS
It comes with a compact and short design, so it's easy to fit even in small kitchen spaces.
This magnetic knife bar holds metal tools and knives securely.
The satin finish prevents rust from the building and keeps the holder clean and beautiful for an extended period.
CONS
Its shorter length is not ideal for kitchens with a lot of knives and tools to hang.
OUR VERDICT
After inspecting all five contenders in this list, we agree that the Modern Innovations Stainless Steel Magnetic Knife Bar stands out among them. Unlike others that were all covered with stainless steel or aluminium finish, this one is has a surface of a bare magnetic strip. It's not as pretty to look at, but with all things considered, it proves to have the best length and magnetic capacity for busy kitchens.
A magnetic knife bar can be a great investment, and in this case, you don't even have to spend more than $20 to get one. The convenience, security and organisation, a great knife holder, gives are certainly worth more than that. If you need to file your knives into a neat row; keep them away from young children yet accessible when you need them, you know it; a magnetic knife holder is an answer.