It's time for some fish! There are so many fish varieties out there that are amazingly tasty and perfect for any cooking, one of such kinds of fish is the Pompano.
Fishes have a lot of nutritional benefits they give and cooking with exquisite species in different ways is becoming a common trend for cultures around the world.
The pompano fish has a lot of features which makes it one of those fine selections that are desirable for chefs and food lovers like me.
You will get to know what makes it so unique and will also figure out what exactly it tastes like for first time users to have an idea of what to expect from a Pompano.
What Is Pompano Fish?
The pompano is a silver coloured kind of fish, its original species name is the Trachinotus carolinus, and it belongs to the family called, "Carangidae."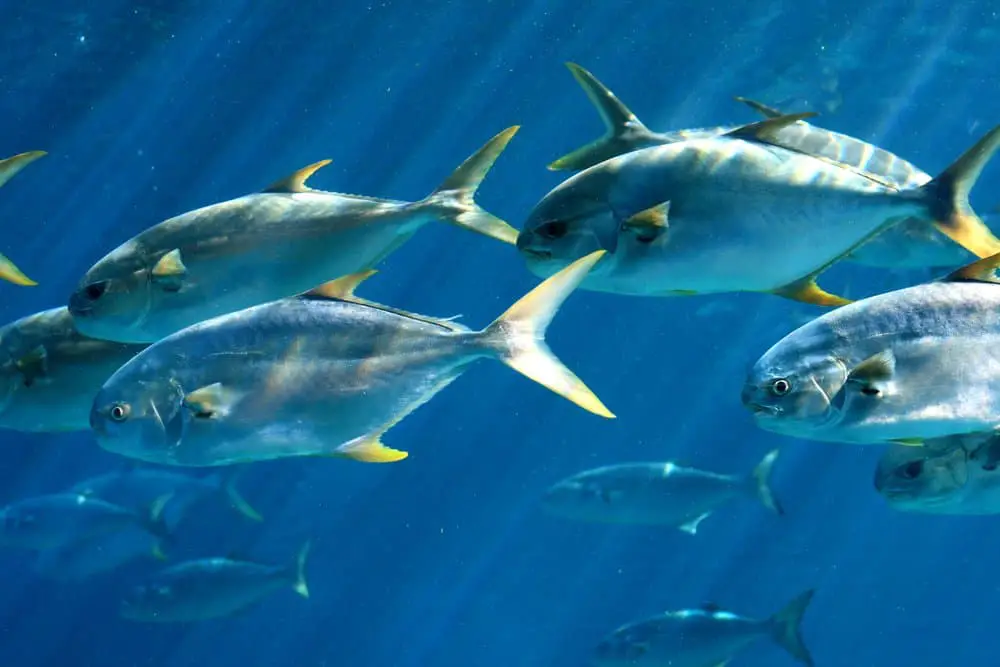 The pompano is usually referred to as the most edible fish in the world for many reasons which includes the ease at which it can be caught.
Pompano has a high level of productivity, it can be caught at almost any time of the year, and it has a very attractive silver colour.
The are many different species of the pompano fish within the Carangidae family with the most fancied being the Florida Pompano also known as the Atlantic Pompano, it is known for its legendary tastiness and can grow up to 2 pounds at a stretch.
One prominent feature of all Pompano species is their agility and toughness when in the water, they possess a kind of strength and struggle when caught which makes them look tough and appealing to people especially fishers or anglers.
How To Buy Pompano
When purchasing Pompano from the market, it is best to go for the freshest ones, and you can do this by examining the fish properly.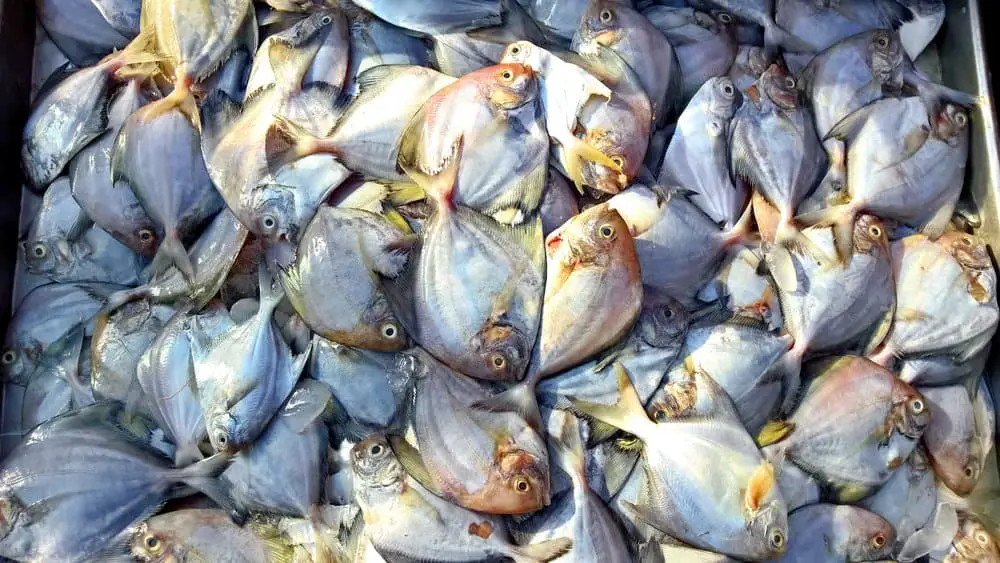 The pompano should still have its lustre look and shiny silver skin, if you notice the skin of the fish looks dull and less shiny, that might be a sign that the fish isn't as fresh as it seems.
Do not be deceived into buying any fish that has any odour aside the natural sea smell that comes with fresh fish. The natural smell should remain with it until the time of purchase and if you do notice anything contrary, avoid that purchase.
You just might be getting bad fish that has been well preserved. Unless you are buying the fish in parts, there should also be no cuts on the body of the fish, don't buy any fish that has a noticeable cut.
What Does Pompano Taste Like?
From people who have tasted pompano fish in different ways, it is a unanimous verdict that the pompano fish has a mild, yet consistent sea salt taste, little wonder it has become a staple ingredient in the hands of chefs.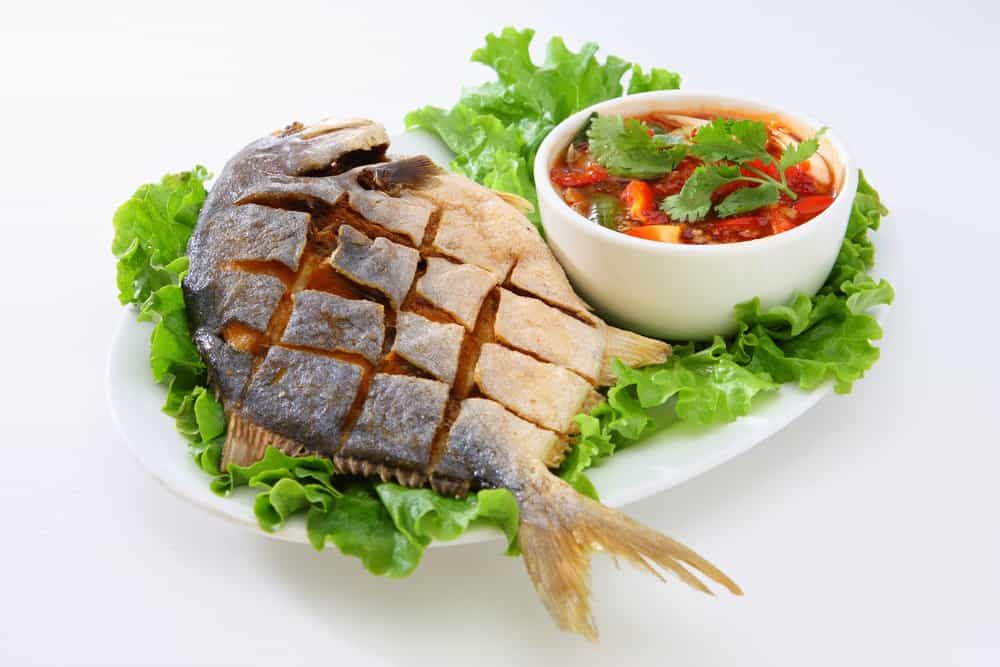 Another notable thing about the taste of Pompano is its oil; Pompano is a very oil-rich fish which makes it suitable for baking and other forms of cooking which the natural oils enhance.
The natural oils found in Pompano are pronounced when you taste it but not overpowering or excessive, it sort of balances itself out with other flavours within the fish.
When you put a piece of cooked pompano in your mouth, the first thing you get is a burst of salty sweetness mixed with a fishy hint of the sea, and the meat of the pompano fish is very chewable.
Even with the mild taste it has, it is surprising how pompano fish manages to remain most noticeable no matter how many ingredients it is cooked with or mixed with.
Pompano Recipes On The Go
Pompano Recheado
If you have a thing for Indian spices and recipes then you can try your pompano with this recheado Goan recipe by GOANIMPORTS.COM.
Recheado, when translated means "stuffed" but using the word "Racheado" as it is used on the recipe page, sounds a lot more distinctive, what do you think?
If you do not know how to butterfly a fish, you can learn from this video
It is actually as easy as that, and if you do not have the Recheado Masala accessible to you or you don't know how to go about getting it, you can make yours using this recipe by Masala Herb.
You can source around for the ingredients used and get cooking.
Tomato Fish Stew
This recipe by Immaculate Bites is a perfect tomato fish stew from Cameron, if you have a thing for trying out recipes from different countries, take this as a Pompano try out, and you will be glad you tried.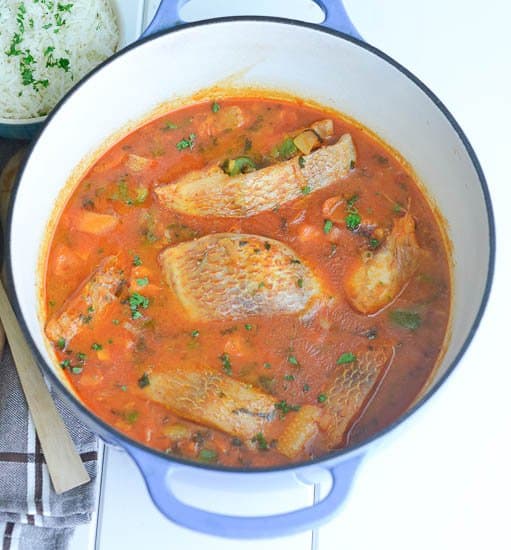 Most of the ingredients used are easy to get, and the procedure is well listed out and undemanding.
Like the bouillon powder which she stated as being optional, you can also make some substitutes of your own to coin the fish stew into what will be preferable for your family and friends.
Fishy Side Up!
Because of the solid form that pompano fish maintains even after it is cooked, it is suitable for many different dishes and experimenting with it isn't a bad idea.
All you need to do is decide on a recipe, and the rest should fall into place easily, thanks to the abundance of which the fish comes in, getting it in your area shouldn't pose a problem.
If it isn't so accessible in your present location, you can take some time to source for the fish even if it's frozen and properly preserved. Believe me when I tell you that the result after cooking will be worth all the stress.
Get more pompano fish recipes from this cookbook and get cooking, turn up the serving with some bold designs using fruits or vegetables and wow everyone in your home.
When you are done, share your experience with me, I am always expecting all your comments. For now, go get that fish!