I remember many summers of sitting out on the little lake behind our house with my brother, catching sunny fish with hot dogs on our hooks. Meanwhile, my husband was taking multi-week fishing trips in Northern Canada, catching buckets of fish they'd actually eat.
I'm obviously not a serious angler, but I do love to eat freshly caught fish and can see the value of having the right tools for the job. Imagine catching a bunch of fish in the morning, then cutting them up and cooking them in the same day for dinner. Sounds like outdoorsy and culinary heaven to me!
If you're not into fishing, an electric fillet knife doesn't have to stay in the tackle box. It can also function as an electric carving knife for turkeys and roasts, or even for bread.
In this article, I'll discuss electric fillet knives—what to look for and which are the best buys. Feel free to go straight to the products from the links below to see current prices and the latest reviews on Amazon.
Table could not be displayed.
About Electric Fillet Knives
If you are on a major fishing trip, or regularly fish with the intent of catching lots of fish to eat, an electric fillet knife can be an indispensable tool. After all, the fishing is the fun part, right? Cleaning the fish is secondary, so it's helpful if you can streamline this process, and an electric fillet knife will save you time and effort.
Watch these pros go through a whole mess of fish:
Here are some of the variations you'll find when considering different options:
1. Cordless vs. Cord Attached
Cordless, battery-operated fillet knives offer some nice versatility, including the ability to process your catch somewhere that doesn't have a power source. However, if you're cutting up a large amount of fish, a battery may lose power over time.
2. Blade length
There's really not one blade length better than others. Smaller, more delicate fish are better cut up with a shorter blade while larger fish are easier to handle with a longer blade. Some options come as a kit with interchangeable blades to maximize its versatility.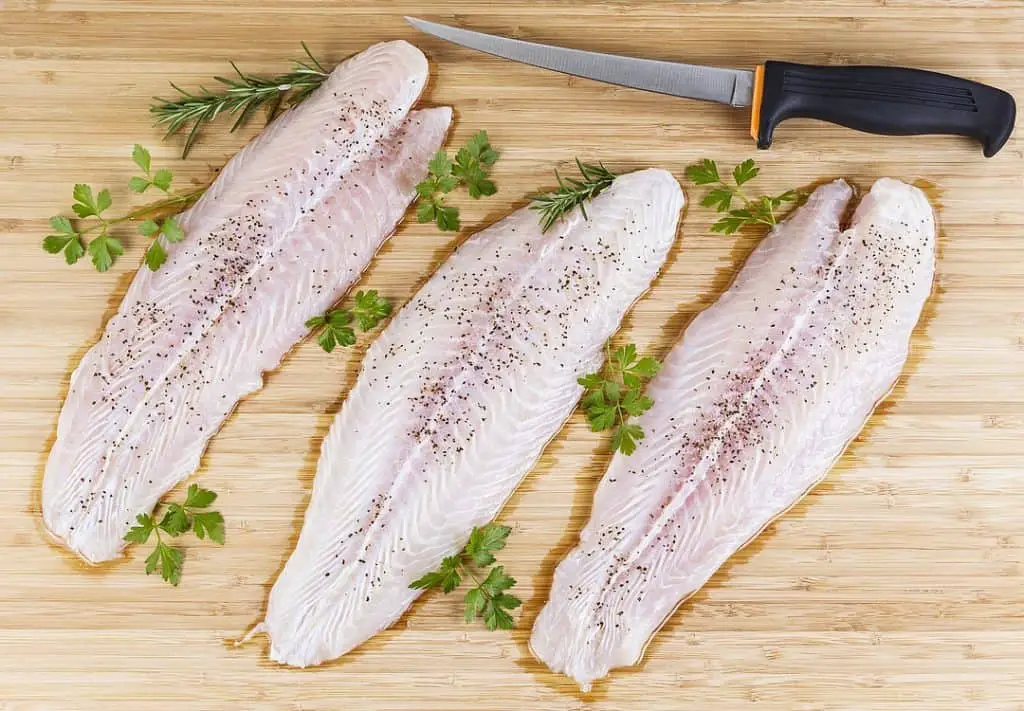 Standard blades are usually between 4-9 inches, with 7.5" being a good middle-range size to be comfortable for most types of fish.
3. Flexibility
You want a bit of bend in the blade of your fillet knife, to help you work around the fine bones found in fish. Too rigid, and it'll be hard to work with much precision. Flex is especially important for smaller blades for smaller fish, where the work of filleting is more precise and challenging.
4. Type of Metal
Most blades are constructed of stainless steel, which cleans up well after doing the messy work of filleting fish.
5. Cleaning and Storage
Gutting up a bunch of fish is messy work. Having an electric fillet knife that's easy to clean with fewer crevices that can hide fish matter will save you clean-up headaches. The blades should release easily so you can clean them adequately.
It's also useful if your knife or kit comes with a case, or at least a sheath, for storage when not in use to protect both you and the blade.
Electric Fillet Knife Options
Let's take a look at some of the best rated options for this utilitarian tool.
Rapala is one of the best-known names for electric fillet knives. This particular one is one of their heavier duty models. It features 7 1/2" blades that are dishwasher safe and a 8 foot long cord.
Many owners of this knife find it works wonderfully, many declaring that it's the best they've ever used. They note that the powerful motor doesn't heat up the unit too quickly, even when cleaning a large amount of fish at one time.
Some users find the blades a bit stiff. Other people had issues with the blades not staying put. This seems to be a manufacturing issue, so it's best to give your unit a test run before the return/exchange period elapses.
It's also unfortunate that this unit doesn't come with any kind of case or even a sheath for the blades. You'll have to rig something up yourself!

PROS
Versatile 7.5" blade
Dishwasher safe blades
Powerful motor
CONS
Does not come with storage
Some units don't hold onto the blades
No option to run on battery
Blades don't have good bend
American Angler is another well-known brand of electric fillet knives. This kit offers a lot of versatility to be able to clean pretty much any type of fish you might catch.
The motor is a heavy-duty 110 V unit that has an 8' cord. It is made in the USA and comes with a limited 2 year warranty.
Included in this kit:
5" freshwater fish blade
8" freshwater fish blade
8" heavy duty shark blade
10" heavy duty shark blade
10" saltwater blade
Carry bag
Filleting glove
If you don't need all of the extras, you can buy the same knife with only one 8" blade here. Replacement/additional blades are available to purchase separately.
What do users say? Well, people who love this knife really love it. They find it is powerful and cuts through many types of fish with ease. They also love the ability to buy replacement and different types of blades.
Most of the reviewers who don't love this knife usually report two issues: one is that the blades don't reciprocate very fast, the other is that the unit heats up considerably after a bit of use, making it nearly impossible to hold. People also note that the bag has some obvious design flaws as it doesn't accommodate the longer blades.
As with many small motorized pieces of equipment, it just seems that there are some manufacturing inconsistencies.
PROS
Comes with 5 blades
Powerful motor
Includes storage
2 year limited warranty
CONS
Expensive
No option to run on battery
Some users experience issues such as slow blades and overheating
Storage bag not very useful
Mister Twister is one of the most often recommended electric fillet knife brands on fishermen forums and blogs.
This fillet knife comes with a 9" saltwater fish knife. It has a a coiled cord that measures about 4' stretched out. There are compatible replacement blades and other blade size options you can switch in if you need a different size.
Many people find this knife is sharp, efficient, and can handle a large amount of fish. The rugged blades can cut through tough bones and skin with ease. Many users who've used different electric fillet knives find they like this over others.
Some buyers found that this knife did not work well out of the box. The other interesting complaint is that the trigger to release the blades is easy to depress when you are using the unit, which is just poor design.
PROS
Heavy-duty motor
Inexpensive
2 year limited warranty
CONS
Short cord length
No storage included
Blade release trigger is easy to depress accidentally
Manufacturing inconsistencies
This Rapala model is a cordless one, using a lithium ion battery for power. The battery is said to last for about 80 minutes of continuous use and recharge in under 2 hours.
This kit comes with 2 of the batteries and the 110 V wall charger. There are two blades included in this kit, one 6" and one 7 1/2", as well as a padded storage case. For a smaller investment, you can get essentially the same knife but with one battery, a 7" blade, and no case (I've included this option in the comparison chart so you can see the current price difference).
The reviews for this knife are mostly positive. People love not having a cord in the way while cleaning many fish, and note that is powerful and works well for many different types of fish.
The main issue reported with this knife is that the blades can be hard to release sometimes. Some owners have also had issues with the batteries not taking a charge, which makes the knife useless.
PROS
Includes 2 blades
Includes 2 batteries
Includes storage case
Cordless is nice to work with
CONS
Some report battery not taking charge
Blades can be hard to remove
Manufacturing inconsistencies
Blades don't have good bend
Picking the Best Electric Fillet Knife
The bottom line is this: small electrical appliances of this sort tend to have a lot of manufacturing inconsistencies. Therefore, when you get an item that works well, you'll probably love it; but you might get a dud. So whatever you buy, try it out when you receive it, so you can get a replacement if it doesn't work out of the box!
That said, most of these knives are well-loved by the people who've had success with them. I think the Rapala cordless kit is a good all-around option. The 2 included blades and useful carrying case make this a good value. Also, with 2 batteries included, you'll get a lot of cord-free use out of this knife.
For a less expensive option, Mister Twister seems to be surprisingly powerful little knife that regularly gets the nod from fishermen.
Have you worked with an electric fillet knife before? Let us know in the comments!