When I lived in Montreal, there was a street just a few blocks away that was a popular Greek restaurant strip. Unfortunately, the Greek food at most of these restaurants was pretty uninspiring. But then, a friend celebrated his birthday at an authentic Greek restaurant and my mind was blown.
"Fast" Greek food, like in the mall foodcourt, is pretty uninspiring. But true Greek food is a revelation. And clearly it is healthy: Greece, perched right in the Mediterranean, is often studied to discover the secrets of its long-living, healthy population, and at lease one of those secrets is its food.
Like Mediterranean food in general, the olive is a huge factor in the nutritional value of Greek food. Grains, fish, vegetables, and yogurt are also some of the ingredients that makes this such a tasty and healthy cuisine.
In this article, I'll explore Greek cuisine through some tasty recipes you can try right now. I'll also take a look at some of the best Greek cookbooks available. If you know you're all in and want to go right to the cookbooks, click the links in the table below to see the latest reviews and prices on Amazon.

Style of Cooking
Greek-American home cooking
Cuisine of the Greek islands
Nutritional benefits of Greek cuisine
Favorite Greek Recipes
I love tzatziki and regularly make up a batch at home to serve with veggies, pita chips, potato chips, on sandwiches, on a burger, on scrambled eggs… You get the idea; I'll put tzatziki on anything!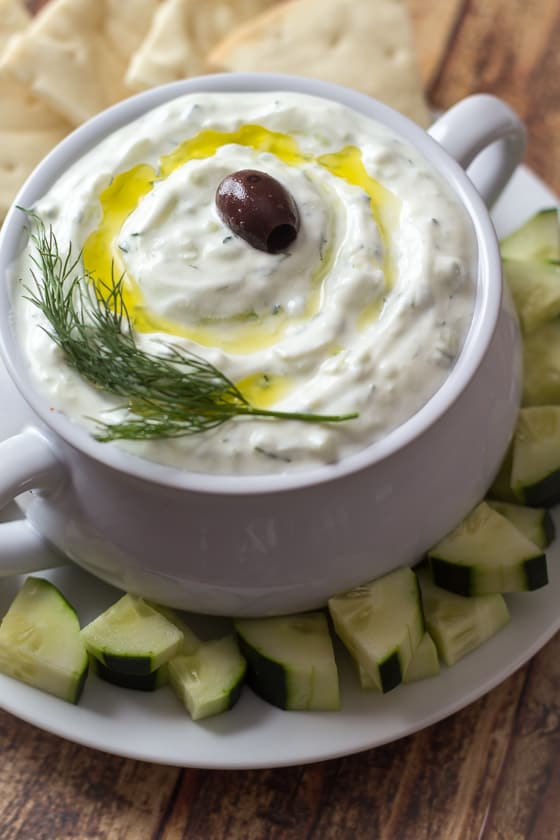 It's very simple to make. Yogurt is mixed with garlic, cucumber, vinegar, salt, and dill. This recipe includes some nice tips to ensure that it comes out great, like draining the cucumbers overnight, but I usually just mix it all up right before eating it an it's always delicious!
Spanakopita is a well-known Greek pastry dish filled with spinach and feta. It's simple, but just so tasty, crunchy, flaky, and satisfying. It's also a great way to get your little ones to eat spinach, because no one can resist the messy fun of eating spanakopita.
You can buy store-made phyllo pastry dough, but it's actually not too complex to make from scratch, and this recipe includes the how-to. You then layer your phyllo dough with the herby spinach feta mixture before baking it all in the oven. I find that though all those flakes look intimidating to make yourself, this is actually a pretty hard dish to mess up; it always seems to taste good!
You may be familiar with these little grape leave wraps of goodness. A friend of mine growing up always had these for special occasions, even though her family wasn't Greek! Stuffed with rice, meat, and herbs, these inventive little finger foods gain a unique flavor once they're cooked.
This is a very helpful recipe with step-by-step instructions and photos to guide you through the process of wrapping and steam cooking the rolls. As the rice cooks inside the grape leaf wraps, it expands and you get a moist, tasty plump little roll when it's all done!
Here's a video to get some real-time help with these tasty treats!
Fasolada is a simple white bean stew, widely considered something of a national dish in Greece. Many people consider it "poor" food, so it's hard to find in restaurants. But this is an easy, healthy recipe to add to your regular repertoire.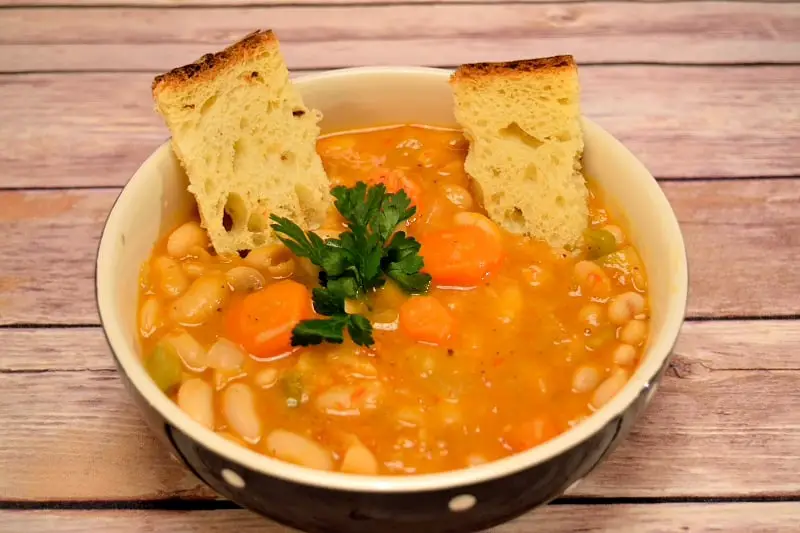 Be sure to soak your beans overnight ahead of time if using dried beans (recommended) instead of canned. And then celery, onion, and carrot form the base of this soup—that's the soup trifecta, so you know it's going to be a good dish! Simple, but honest, just as home cooking should be.
Souvlaki is one of those classic Greek recipes that is so versatile, fresh and delicious. You can serve these tasty meat kebabs as they are with some side dishes or a salad, or put them in a pita, put them into a salad, etc. They pair well with tzatziki (see recipe above!).
And they're not that hard to make! It's simply a matter of marinating the meat in a marinade of olive oil, lemon juice, and herbs, letting them sit for at least 30 minutes (but better still, overnight!), and then skewering them so they're grill ready. Fresh, tasty, easy—a perfect dish.
Moussaka is a comforting, hearty dish that is well-known and loved in Greece. It's not quite the light and healthy Greek we're used to hearing about—this is comfort food, best enjoyed on a cold, wintery night, I think. Eggplant, spiced minced meat, and a creamy béchamel are layered together in this traditional casserole.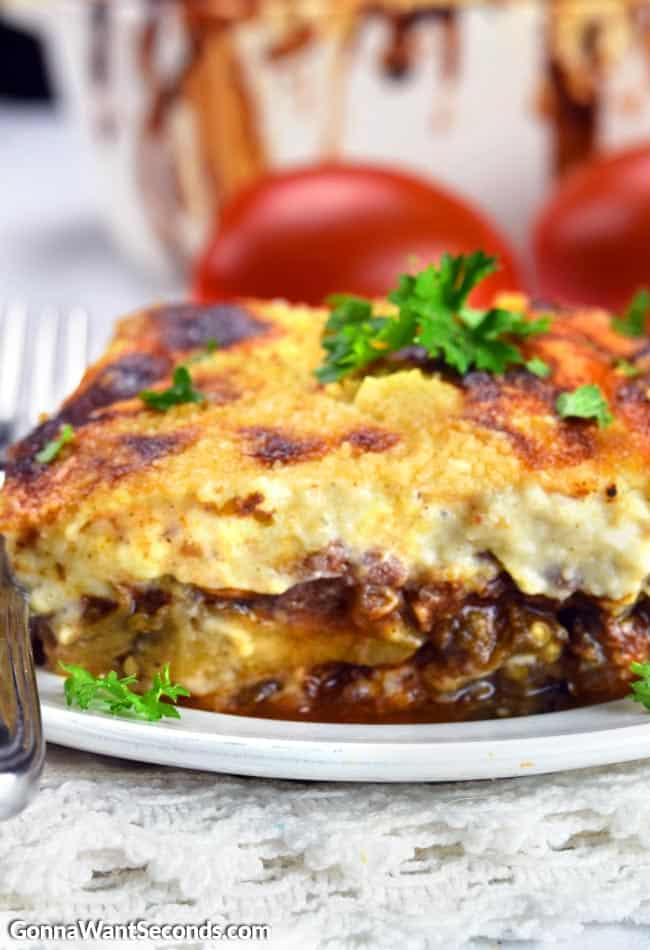 This recipe offers some nice variations, such as roasting instead of frying the eggplant. She has pictures for the various stages in the process, and offers lots of other tips and suggestions to get your moussaka to turn out just right!
Our neighbors across the street are a lovely older Greek couple, and she always seems to have some of these traditional butter cookies in her freezer. Any time we stop by, she pulls some out for my daughter. (I happily nibble on one, too.)
This is a simple, classic recipe that Greek people usually make for holidays and special occasions. It's the usual suspects—butter, sugar, flower—all the makings of baked goodness. I was happy to learn that the adults usually dunk them in their coffee, which I was already doing!
More Greek Food with these Greek Cookbooks
Though I've shared some classic Greek recipes, there's so much more to this great cuisine. Here are some of the best loved Greek cookbooks so you can explore this delicious food more thoroughly.
by Alexandra Stratou
Stratou is a classically trained chef in her own right, but this book captures the cooking of Loula, the woman who cooked for three generations of her family. Along with recipes that are simple and straight forward, Stratou also includes helpful lists such as pantry staples and a chart of ingredients by season, as well as helpful information such as preparation times for each recipe. This is a great choice for the average, busy home cook who wants to easily bring some Greek flavor to his or her family's table. Beautiful photos and illustrations also make this an enjoyable book to browse.
by Recipe Club of St. Paul's Church
Cookbooks that compile the recipes of an entire community provide a fascinating glimpse into the real heart of a cuisine. This book gets recommended constantly on forums and by bloggers. If you're looking for a photo-rich travelogue-type tour of Greek food, this is not your book; this is a no-fuss cookbook with simple, straight-forward instructions for reliable recipes.
by Aglaia Kremezi
The Greek islands have their own unique cuisines, based on the availability of ingredients. This book is frequently recommended as a great guide of these cuisines, with descriptions of the different styles of cooking in different islands, and recipes that have been passed down through the generations. Some reviewers note that the instructions can be a bit challenging, so this would be a good addition to your collection if you're already familiar with Greek cooking.
by Patricia Moore-Pastides
Given the author's background in public health, this book focusses on the healthy side of Greek food: fresh ingredients, olive oil, vegetables and grains, meat only occasionally. She gives information about the nutritional science behind the healthy Greek diet, as well as simple, easy to follow recipes to bring this healthy diet to your home. If you're looking to Greek food and the Mediterranean diet for its health benefits, this is a good choice for you.
Wrap it Up (in Grape Leaves, Obviously)
I look forward to travelling to Greece and tasting this beautiful cuisine first hand, but until then, I'll definitely be making some of these amazing recipes at home.
If you want to invest in a solid cookbook so you can really explore Greek food, Cooking with Loula is my choice for a book full of great recipes and helpful information for a home cook. I also love when a cookbook helps transport me to a place, and the lovely photos in this book will do that.
Do you cook Greek food at home? Which are your favorite dishes? Let us know in the comments!