My love of coffee has evolved over the years from very unsophisticated (instant coffee!) to the point where I'm now considering buying a hand coffee grinder to grind up my coffee beans before they go into my French press!
I hadn't even considered a hand coffee grinder, also known as a coffee mill or burr grinder, until I read the tip in one of my favorite cookbooks, Good Food, Good Life by Curtis Stone. He details how to make the best French press coffee and highly recommends using a burr grinder.
So now I'm researching the world of hand coffee grinders. First, I'll discuss the reasons why hand grinding your beans makes the best coffee and then I'll detail what you should look for in a grinder. Lastly, I'll take a look at a few of the best grinders available and make some recommendations. Feel free to skip ahead to the grinders in the table below!

Capacity
30 grams - about 2-3 cups of coffee
~8-10 T of beans - about 4-6 cups of coffee
1/2 cup of beans - 4-6 cups of coffee
It held 3 scoops of beans. Each scoop is 1/8 cup.
Style
Funnel hopper into a glass jar
Funnel hopper into drawer
Accessories
Lid for hopper, and lid for jar
Material
Stainless steel body, ceramic grinder
Plastic, glass, ceramic grinder
Wooden box construction, stainless steel grinder
Stainless steel body, ceramic grinder
The Science of Brewing Coffee
1. Why Fresh Ground Beans are Best
If you look through the grocery store coffee section, there are usually more bags and canisters of ground coffee than beans. But you're doing yourself a disservice brewing coffee from beans that were ground up long before they made it into your kitchen.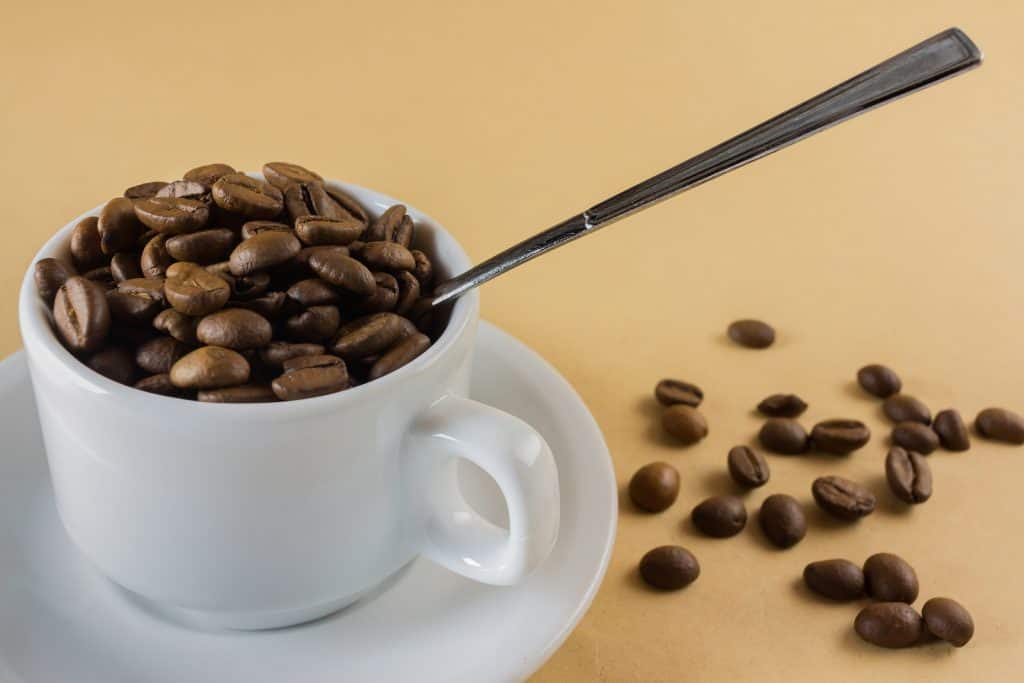 Why? Coffee, like many foods, gets stale over time. Just like an apple or an avocado browns as it sits out after you've cut it, the coffee grounds that come into contact with air and light break down, lose complexity, and get stale and bitter. But, like the uncut apple or avocado, if you leave the bean in tact, it won't break down the same way because you've exposed less of the bean to those oxidizing forces. So in order to get the best flavor out of your coffee beans, it's best to grind the beans right before you brew them.
2. Hand Grinder vs. Blade Grinder
Not to brag or anything, but I was already doing that! I've been using an electric grinder for years now, and only ever grind my beans right before brewing, as the water comes to boil in my electric kettle. That "zzzzt zzzzt" of the beans swirling around and breaking apart in the blades is part of the morning soundtrack in my home.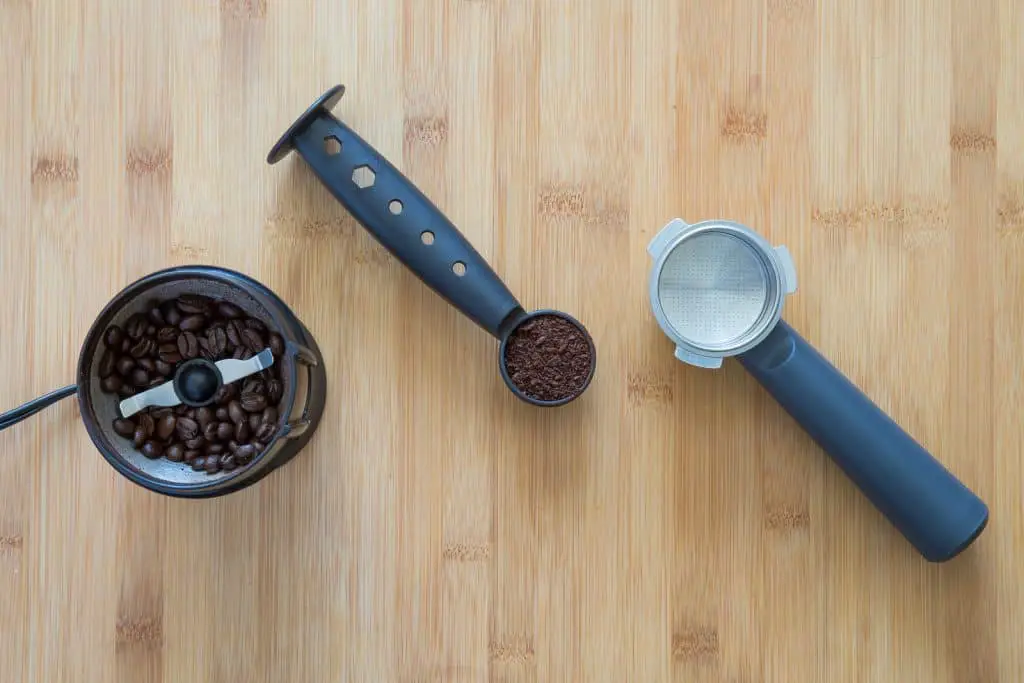 I thought my coffee was good, but sometimes I'd wonder why it was a little bitter or not quite as smooth as the coffee from my favorite cafe. As I've learned about hand grinders, I now have better insight into why my coffee is lacking. The blade grinder, though convenient, is not the best method of grinding the beans.
Here's the problem. Blade grinders cut the coffee beans somewhat haphazardly, like the blades in a blender. Have you ever used your blender for ice and found you'll get some perfectly chopped up little shavings but then still have huge chunks of ice skipping around over the blades? The same happens in an electric blade grinder: some pieces of the bean will be fine, maybe even too fine, while others will be too big, resulting in brewed coffee that's just not quite right.
A manual grinder, however, typically uses burrs to grind up the beans. The burrs are two metal or ceramic plates or a cone that rotate in opposition to one another, crushing the beans in between their teeth. You can adjust the distance between the burrs to change the grind size depending on what type of coffee you're brewing (read more on that here).
The grounds come out much more uniform in size than in an electric blade grinder. With those more uniform grounds, your coffee brews more evenly.
What to Look for in a Hand Grinder
Ok, so now I understand why I haven't achieved coffee perfection at home yet. I need a manual grinder! What, then, do we need to know when buying a grinder?
Factors to Consider:
There are a number of things to consider when purchasing a hand coffee grinder. Here are a few:
Ease of Cleaning: Cleaning your grinder regularly is necessary to make the tastiest coffee. But this can be a pain, so it's helpful if the grinder comes apart (and reassembles!) easily.
Materials: Hand grinders come in plastic, stainless steel, glass, even wood. The grinding mechanism should be made of ceramic or stainless steel.
Design: Hand grinders come in different shapes and sizes. The most popular style is the canister hand grinder, which looks a bit like a pepper mill. These grinders are very portable. Other grinders are more of a box shape, or clearly meant to be set down on a surface.
Size: While manual grinders are in typically smaller than electric grinders, the sizes do vary. This is important to consider if you want to travel or go camping with your grinder or you have limited storage space.
Best Hand Coffee Grinders
This is the fun part: time to go shopping! Below you'll find an overview of some of the best selling hand coffee grinders available.
Porlex is one of the better-known hand coffee grinders. There are many imitations of this canister style of coffee grinder, but Porlex is one of the original companies selling this item. These grinders are manufactured in Japan.
For many people who want a no-frills, lightweight, portable coffee grinder, the Porlex is their go-to. A friend of mine lost hers while travelling, purchased a cheaper replacement, and was not happy with the results at all. She ended up returning the knock-off and buying another Porlex.
It should be noted that the instruction manual is in Japanese, but you can Google instructions and tips. Some users find this one difficult to grip, but that's a pretty common complaint with this style of grinder.
If you want an even lighter weight option, Porlex makes a mini version of this grinder. I like the silicon no-slip gripper, but note that the mini is really for single person use due to its size.
Specifications:
Stainless steel body
Conical ceramic burr grinding mechanism
Click setting for grind size adjustments
30 gram capacity, for about 2-3 cups of coffee
9 x 1.9 x 7.6" and weighs 11.4 oz.
This video shows the Porlex mini in action:
This is another stainless steel canister style hand grinder. This one has a peek-through window in the bottom where the grounds collect so you can observe your progress.
This Cyril Ash grinder could be a nice option if you're totally new to making your own coffee at home and don't have a preferred brewing method because it comes with a reusable "pour over" style of coffee maker. No need to invest in any other equipment. It also comes with a cleaning brush and travel bag.
Reviewers note that it doesn't produce the most consistent grounds, but it does a decent enough job given that it's a reasonably priced unit. It also scores points for being a good value with the included accessories.
Specifications:
Stainless steel body
Conical ceramic burr grinding mechanism
Unspecified capacity, but I estimate based on the size that it'd make about 1-2 cups of coffee
Pour over filter is stainless steel double mesh
7 x 2 x 2" (grinder) and set weighs 1.1 lbs
Hario, a Japanese company, makes a few different types of mills. This model is the one most frequently recommended on forums and discussions like Reddit.
It's an attractive, simple design. A plastic hopper collect your beans from the top, and you turn the crank to mill the beans into the glass jar at the bottom. The glass body fits into a silicone base to help keep the grinder from moving around while in action. It also comes with a screw top lid so you can store extra grounds if you've made too many.
This video review shows how it works:
https://www.youtube.com/watch?v=2l0HV01NEuE
This grinder also has a larger capacity than most of the canister style mills, so it's a nice option if you're making coffee for a few people (or if you need more than just a cup!). Because of the glass fragility and weight, this isn't the best option for travel use.
The most often cited drawback is the difficulty of changing the grind setting. You must adjust a nut within the mechanism, and then secure it with another piece. It takes some trial and error to figure out the right spot for the size of ground you want. This would be pretty inconvenient if you're regularly switching between types of brews such as French press to espresso.
Specifications:
Plastic and glass body, silicon top lid
Ceramic burr grinding mechanism
Capacity is 8-10 tablespoons of beans, for about 4-6 cups of coffee
5 x 3.5 x 6.5" and weighs 1.2 lbs
This throwback-style coffee mill is made in France. It features a wooden box and steel hopper, and a stainless steel grinding mechanism. The coffee is ground into a cute little drawer at the bottom of the wooden box.
According to owners of this one, the little drawer is really too little, only holding about 2 tablespoons of grounds, which means you have to empty it several times if you're grinding through a full hopper's worth of beans. Like many hand grinders, finding the right setting for the grinders takes some trial and error. People also note that it could use some grip on the bottom as it tends to slide around a bit when you're grinding.
But, users report that the mill does a great job providing a consistent grind, which is, in my opinion, the most important part. The lifetime warranty on the grinding mechanism is a nice feature, too. I think this is a great option if you want something attractive as well as functional to show off on your countertop.
Specifications:
Steel hopper, wooden body
Stainless steel burr grinding mechanism
Capacity is 1/2 cup of beans, for about 4-6 cups of coffee
1 x 5.1 x 8.75" and weighs 2 lbs
Get Brewing
Which grinder should you choose? These are all some pretty great options.
If you're a total novice or only want your grinder for occasional use, you'd probably be happy with the Cyril Ash . For more frequent travelling, though, or if you don't need a large capacity, you might want to go with the better performing Porlex.
I'm seriously tempted by the Peugeot. The antique design is beautiful, and the warranty and reputation of Peugeot make this one a good investment. But personally, I need to save space, so I think the sleeker Hario is a good middle-of-the-road option that I can still use for brewing multiple cups.
Do you grind your own coffee beans? Tell us about your experience in the comments!