Ok, so this might not seem like the most exciting topic. However, having a good kitchen garbage can is like having good kitchen towels—if you take the time to make careful choices, these simple items help your kitchen run more smoothly. When you're not worrying about these background elements, you can appreciate those flashier items like your gleaming copper cookware or your razor-sharp Santoku knife.
So let's look at some of the options. In this article I'll discuss features to consider when shopping, and then review some of the best options on the market. Feel free to skip right to the products through the links in the table below to see the current price and rating on Amazon.

Dimensions & Capacity
13 3/8 x 16, 1/2 x 25", 11 gallons
13.3 x 15.9 x 25.8", 11.9 gallons (other sizes also available)
14.2 x 22 x 25.8", 15 gallon (~7.6 gallons per side)
17.7 x 15.8 x 15.8", 23 gallon
11.7 x 8.7 x 14.3", 2.6 gallons
Lid Style
Optional self-opening lid
Manual lid with option to remove it
The Best Kitchen Garbage Can: What to Look For
Here are some of the factors to consider when shopping for a kitchen garbage can.
Your Preferences and Needs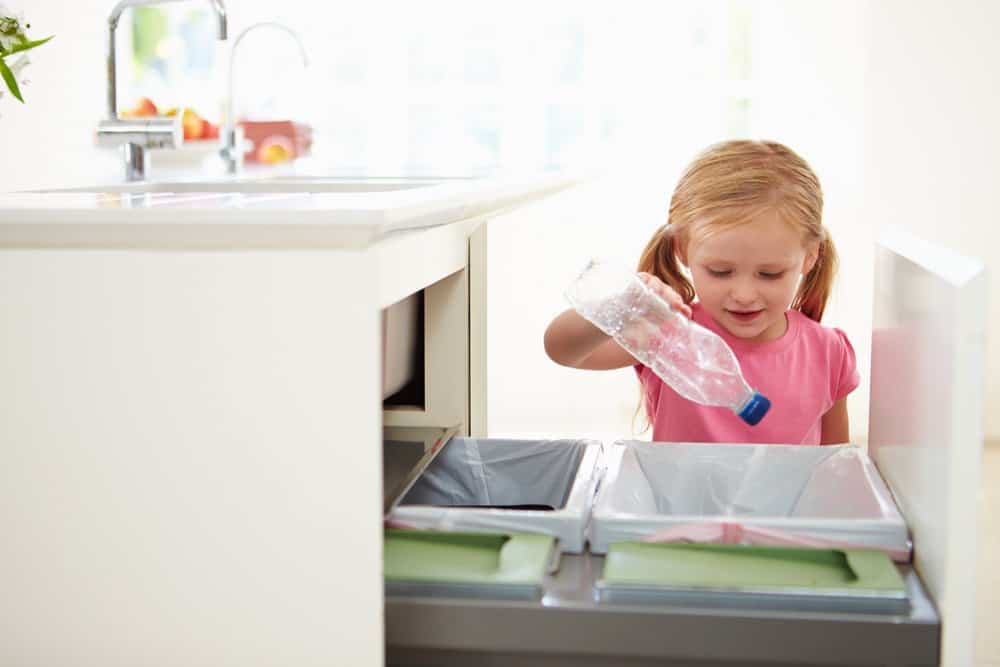 It's easy to get caught up in the details, but the most important thing to consider first is your own space. Think about where you will put the garbage can as a guide for size. Also consider aesthetics and how prominent you want it to be in your space. 
Size
Garbage can capacity is measured by volume (gallons or liters). Most kitchen garbage cans that sit out are about 10-13 gallons. If you plan to tuck it away into a cabinet, something more like 7 gallons or less will work. Then be sure to buy the right sized bags.
Material
Most garbage cans come in plastic or stainless steel. Plastic can hold onto smells over time, but is usually less expensive. Stainless feels heavier and sturdier but can dent.
Lid or no Lid
People get passionate about whether a garbage can should have a lid or not. Lids hold in smells, and can keep pets and kids out of the garbage. However, the lid can be a bother to clean. Some people also prefer lidless cans for the ease of discarding waste.
If the can does have a lid, consider how it opens. I prefer something with a foot pedal or a auto-open sensor (though this will require battery replacing), so that you don't have to touch the can while preparing food. Swing tops are also easy to use, though they may be more likely to get dirty.
Number of Compartments
If the area where you live has recycling or composting, perhaps you'll want a can with multiple compartments.
Ease of Cleaning
No matter how well-designed the garbage can is, it will get dirty. Look for something that won't put you off this icky chore so you'll be more likely to keep the can sparkling. Some trash cans have an inner container that lifts out for easy cleaning.
Sorting Through the Options
Here's a rundown of a variety of high rated kitchen garbage cans to help you decide what will work best for you.
This is a ubiquitous design as modern plastic kitchen trash cans go. I have one of these as a diaper pail for our cloth diapers.
It is made of a textured white plastic that is easy to wipe clean. This can is one piece and the lid—there is no extra inner liner the lifts out. The lid lifts open with a push of the foot pedal.
Reviews of this product are mostly positive. People praise the low price (it tends to fluctuate, however, so keep an eye out for a deal) and find it holds up well.
Mine has lasted 5 years so far, albeit with much lighter use in the nursery than it would get in the kitchen. But it holds stink in very well, I can attest to that!
The biggest complaint is that the lid doesn't open a full 90º, and it doesn't stay open unless you manually open it so that you don't engage the lifting mechanism. This might be frustrating if you want to leave it open during food prep, for example. The other complaint is that the lip of the can around which you fix the trash bag doesn't have a way of truly securing the bags.
PROS
affordable
simple design
easy to wipe clean
hands-free lid with food pedal
CONS
lid doesn't open completely or stay open on its own
bags slide down easily
Simplehuman makes a number of high quality trash cans. They are pricier but are well made and highly functional. They also make bags to fit perfectly into their various cans.
This particular trash can comes in stainless steel, with silver, rose gold, dark bronze, and white steel options. It also has 3 size options: 30 liter/7.9 gal, 45 liter/11.9 gal, and 55 liter/14.5 gallons.
This can features:
a liner rim that secures and hides the garbage bag
a pocket to dispense garbage bags within the can
antimicrobial and anti-finger print clear coat
foot pedal for hands-free opening, engineered to last 150,000 steps
quiet closing lid
10-year warranty
Check this one out in action; it's definitely sleek:
Owners of this trash can rave about it, noting that it's definitely worth the price. People report that it feels extremely sturdy, looks great, and holds the bags so well that you get full use out of the bag. Many reviewers also love the lid, which fits tightly in place so that pets and children have a hard time getting into it.
The main complaints are that the trash bag holder sticks out from the back of the can, making it impossible to sit the can flush against the wall. Another common complaint is with the bronze coloured version—many people report that the coating flakes off pretty easily, so it's probably best to stick with the silver stainless version.
Lastly, some users have had issues with the lid failing after a fairly short period of time. The product does have a good warranty, but it seems there may be some quality control issues in the manufacturing.

PROS
Attractive
High-quality construction
Strong food pedal for hands-free lid opening
Kid and pet-proof lid
10-year warranty
CONS
Pricy
Bag holder awkwardly placed
Color coatings flake off
Possible manufacturing inconsistencies
This can is the double bucket version of the one listed above. It is available in the silver stainless steel and the rose gold.
This can has the same nano-silver coating to keep it fingerprint and microbe free. It has the same foot step that runs the length of the can and a 10-year warranty.
The difference is that it has two compartments. The compartment designed for recycling lifts out of the can with a handle for ease of emptying. The trash compartment has the trash bag holder dispenser and the bag-concealing rim like the single compartment version. Each compartment is about 7.6 gallons, so you will get less garbage capacity in this than in the single version, but hopefully that won't be an issue as you'll be recycling more of your waste!
As with the single version, many reviewers are enthusiastic about their love for this trash can. People find it's a great way to streamline your waste removal by keeping recycling and garbage in the same spot. People who love this item are happy they spend the money on a quality product.
The main issue that I see from negative reviews is with the trash side. It has a removable base for easy cleaning, but this means that it's not completely sealed, so if there are any leaks from the bag, they could leak out below the can. You could purchase a second recycling bin from simplehuman to put on the trash side, or if you don't often have very wet garbage, this might not be a problem. But it seems like a bit of a design flaw to me.

PROS
Attractive
High-quality construction
Strong food pedal for hands-free lid opening
Kid and pet-proof lid
2 compartments
10-year warranty
CONS
Pricy
Bottom not completely sealed; liquids can leak from trash side
This is not a cool trash can. "School library garbage bin" comes to mind. But some people love it.
It's made from a sturdy, commercial-grade plastic in grey, beige, black, or brown, that can also go outside. There is an optional lid with a "butterfly" type opening that pushes open when you put things through. It is a large trash can at 23 gallons, but it has a small footprint.
Despite the "boring" design, it's one of the highest-rated trash cans on Amazon. Why? It seems to be a matter of durability and size.
This is much larger than most kitchen waste bins, so reviewers with large families really appreciate the capacity. It also has a simple but clever mechanism for securing the bag at the side, which is a big plus.
Although it is 23 gallons, most people say they have to use 35 gallon trash bags to get a proper fit, but many people like this as you can fill the bag with other household waste containers and only have to take one bag out to the trash.
One drawback for using this as a kitchen can is that the lid doesn't keep in odors. Personally, I'm not a fan of this type of lid for a kitchen can, as it will be likely to get dirty with things dropping through. Other reviewers note that the label is very difficult to remove.

PROS
sturdy construction
simple and easy to clean
large capacity
holds garbage bag well
CONS
lid doesn't hold in smells
sticker is difficult to remove
This is a pretty small bin that fits into a cabinet.
It is made of plastic with a stainless steel frame that can either hook over the cabinet door or screw in for a more secure fit. The trash bucket itself lifts out of the frame for easy emptying and cleaning, and the frame holds the bag in place. The lid on top must be opened manually, but can also be removed if you wish.
If you are in a small space, or want to tuck away a small can for food prep or any other reason, this is a great option. I could see it being good for green bin waste if you have a compost or municipal green bin removal. Many people are very happy with this can.
Most complains seem to be from people who had difficulty finding a good space in their cabinet to fit this because of their door construction, so be sure to measure carefully first. Many people also note that it really is on the small side. The other bulk of the complaints are that the designated simplehuman bags are an almost impossibly tight fit, though grocery store bags will fit, too.
One reviewer noted that some of the metal pieces had sharp enough edges to cut their child. I think this is likely a defect as only one person had this issue, but be sure to check the edges out of the box if you go with this one.

PROS
space-saving design
sturdy construction
CONS
small
designated bags don't fit well
Kitchen Trash Can: The Final Word
There are a lot of great kitchen trash can options beyond the first cheap thing you happened to buy the last time you moved.
I really love the simplehuman line. As my city has green bin recycling, my garbage isn't often very wet, so I wouldn't be worried about the possible leaking issue and I'd go for the double pale version. If you just need space for garbage, go for the single version.
I've often thought a little pale under my counter to slip food scraps into would be very handy, and in that case, the simplehuman in-cabinet can would be perfect. On the other end of the spectrum, a large family might be more interested in Rubbermaid's commercial grade can.
Have you given much thought to your kitchen garbage can? What would you pick?
Resources:
http://www.apartmenttherapy.com/top-ten-bestem-apartment-therapy-annual-guide-2014-210661
http://thesweethome.com/reviews/best-trash-can/
http://www.gq.com/story/best-trash-can-for-your-not-trashy-kitchen
https://www.reddit.com/r/BuyItForLife/comments/26k51w/bifl_trash_cans/