Rich in proteins and nutrients, eggs have become the go-to meal for bodybuilders and people who wish to live a healthier life like me. However, eggs can also become a reason for high cholesterol, especially when cooked the wrong way.
To avoid this, I chose to cook my eggs the healthy way—poach them. Sadly though, poaching eggs is easier said than done. It is not easy to prepare poached eggs, and I have no time to master it. Luckily, I found a tool that can make it as easier and quicker as possible— a microwave egg poacher.
In this article, I will share with you a few buying tips as well as the vital information about the best microwave egg poachers in the market.
A Sneak Peek on the Best Microwave Egg Poachers 2018
Material Used
BPA-free Non Toxing Silicone
Features
Clear Lid, Skillet-friendly, Dishwasher Safe
Attached Lid, Dishwasher Safe
Non-stick surface, Skillet- and Oven- friendly, Stackable Design, Dishwasher Safe
Non-slip design, non-stick surface, portable design that can be taken on the go, Dishwasher safe
Clear Lid, Non-stick surface, dishwasher safe
1. Norpro 996 Double Egg Poacher – Editor's Pick
I have chosen Norpro 996 Microwave Egg Poacher as the best product in this batch because it offers excellent features at an affordable price.
The most notable feature of this egg poacher is its versatility. The poacher can be used not just in the microwave but in the stove top as well.
In addition to that, it gives you the option to prepare a single or double portion of your dish. Made of food-grade, heat-resistant silicone material, you are sure that it is free of unwanted chemicals. Maintenance will also not be an issue as the silicone material is also dishwasher-safe.
The poacher also has a few simple, yet useful features such as the transparent lid for easy viewing of the eggs, stable feet, accessible grab handles for easy handling.
Pros
Gives you the option to cook two eggs at the same time
Easy cleanup
Many users appreciate the size of the compartments—perfectly fits their sandwiches or burgers
Clear plastic lid for easy viewing
The cover also has vent holes for releasing steam pressure
Cons
Some users complain that the lid does not fit the poacher well
The material is a bit flimsy, so there is an increased risk of spillage
Reviews claim that the egg often gets stuck in the compartment
2. Chef Buddy 82- Y3496 Microwave Egg Maker– Alternative Pick
Made from high-quality propylene plastic, Chef Buddy 82- Y3496 eliminates the risk of chemicals leaching into your eggs. The plastic is also dishwasher safe for easy cleaning, perfect for people who are always on the go.
The egg maker only has one compartment, but its size can accommodate two eggs. Aside from being an egg poacher, this product is also an egg maker. This means that you can also use it to make scrambled eggs.
Other features that the egg poacher has is the attached lid (so you cannot lose it that easily), ergonomic handle, and big compartment.  
Pros
Sturdy Construction
Can be used in the dishwasher
Big enough to make 2 egg at a time
Can also be used in preparing scrambled eggs
Compartment size is perfect for making eggs for sandwiches
Cons
Many users experienced problems with the lid (gets broken or doesn't snap on properly)
Egg sticks to the surface
The lid does not come with a lock 
3. Cozilife Silicone Egg Poaching Cups – Budget Pick
These poaching cups from Cozilife may be the most affordable in the list, but they are jam-packed with amazing features which make them excellent microwave egg poacher options.
The company takes pride in the material that they used for the cups—chemical-free, BPA-free, heat-resistant and non-toxic. The poaching cups are also pretty versatile as you can use them to poach eggs in the microwave, stovetop and even in the oven.
Other features that make these egg poacher cups a fantastic choice are its ringed base which can prevent spillage and their simple stackable design that can help save space in the kitchen.
Pros
Can also be used in the oven and stove top
Comes in different eye-catching colors
Stylish and functional design
Easy to clean and store
The ringed base reduces the risk of spillage
Cons
Does not have a lid
Requires butter or cooking oil to prevent sticking
Creates poached eggs with irregular shapes
4. Allstar Innovations Egg-tastic Microwave Egg Poacher– Upgrade Pick
This product is widely endorsed in various television shows. I consider this as my upgrade pick since it is the most expensive egg poacher in the list. But don't worry—it also delivers some of the best features you can ever find in a microwave egg poacher.
First off, the poacher is made of a microwavable ceramic material, so you are assured of its durability. It also eliminates the issue of irregularly-shaped poached eggs. In addition to that, the poacher has a portable design with a lid which allows you to carry your eggs on the go.
The poacher also doubles as an egg maker. It is big enough to cook scrambled eggs. In fact, you can whish eggs inside the pot, so no extra dishes are needed. Nonstick coating helps you to prepare the perfect eggs without any need for additional fats, grease, or oil.
Lastly, the pot has a non-slip bottom to avoid unwanted spills.
Pros
Portable design
Sturdy and durable material
Non-stick coating
Cooks perfectly shaped eggs
Large enough to accommodate more than one egg
Cons
No handles
Difficult to clean
Too hot to touch after cooking, so it is a must to use mittens when removing this from the oven
If you are preparing breakfast meals for a group of people, the Prepworks by progressive egg poacher is the best option for you. The poacher has 4 compartments so you can use it to cook 4 poached eggs at a time.
The egg poacher features 4 feet for stability to prevent spillage. It also comes in colorful shades that can surely brighten your kitchen area. It also comes with a clear lid that promotes easy viewing of the eggs while being cooked.
Each compartment features a perfect circular shape which many of the users like. It also has a non-stick surface that makes egg removal easy. It is also considered to be dishwasher safe for easy cleaning.
Pros
Can cook 4 eggs at a time
Cooks perfectly round eggs
Eggs are easy to remove from the compartment
Quick and easy cleanup
Delivers quality cooked eggs consistently
Cons
No handles
According to its users, it gives off a strong chemical smell
Only available in white 
Why Poach Your Eggs (and Why You Need a Microwave Egg Poacher)?
In poaching, it is liquid, but not fats, which carries the heat into the eggs. As a result, the amount of fats in the resulting dish is a lot lower. More than that, this gradual and gentle cooking process requires the least amount of heat. Because of the low temperature used, the proteins and nutrients in the eggs are kept intact so you are sure that you can get the right amount of nutrients that you need.
But no matter how beneficial poaching an egg is, there is no denying the fact that poaching is one of the most challenging cooking methods that you can ever try. This is because poaching takes patience and skills.
To create perfectly poached eggs, the liquid must be of the right temperature. The liquid must be gently moving, but it must not reach the point that it will start to bubble.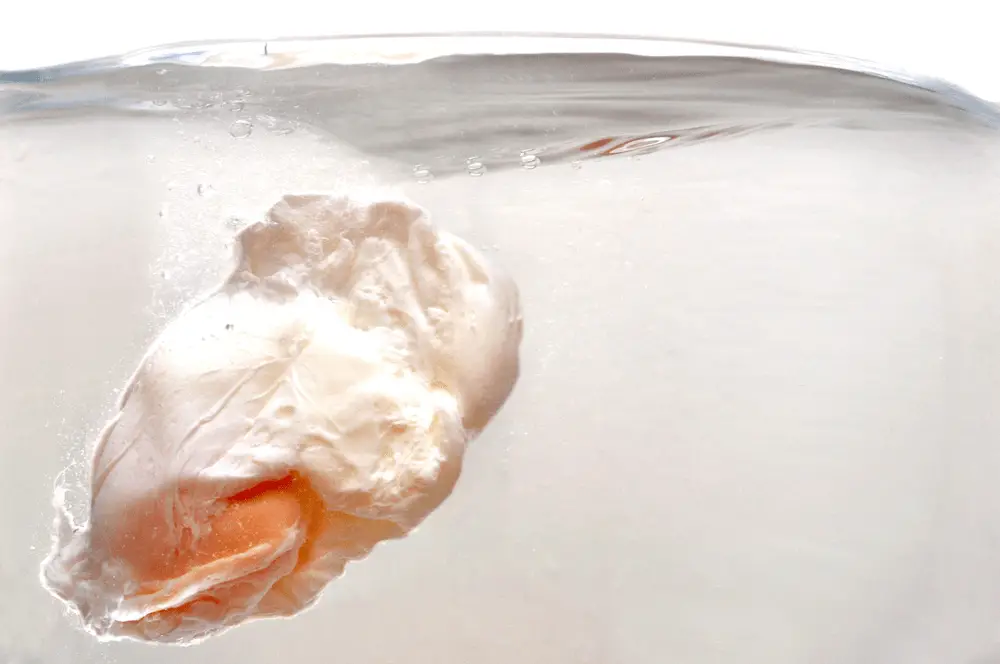 Poaching eggs in the pan is, and for a busy person like us, we need to have a hassle-free alternative—and that is what a microwave egg poacher is for.
How to Choose a Microwave Egg Poacher
The need for a microwave egg poacher is more obvious now more than ever. Because of that, you can now find plenty of options in the market. You can narrow down your choices by considering the following factors:
Size/ Number of Compartment
Microwave egg poachers come with one, two, to four cavities. If you live on your own, a single cavity egg poacher would be suitable for you. If you live with your partner, the two-cavity egg poacher is recommended for you. But if you usually prepare poached eggs for a group of people or a family, you can save time by using the four-cavity egg poacher.
Aside from the number of compartments, another thing to consider is the size of the egg poacher. It is essential that you make sure that the egg poacher can fit inside your microwave.
Material Used
There are two common types of materials used in manufacturing egg poachers—silicone and plastic.
Plastic tends to release unwanted chemicals when heated. Because of this, it is recommended that you go for plastic egg poachers that are considered to be BPA-free.
On the other hand, silicone can withstand heat without leaching unwanted chemicals. In addition to that, it is stain- and odor- resistant and is, therefore, a lot easier to clean. Just make sure that the poacher is made of food-grade silicone.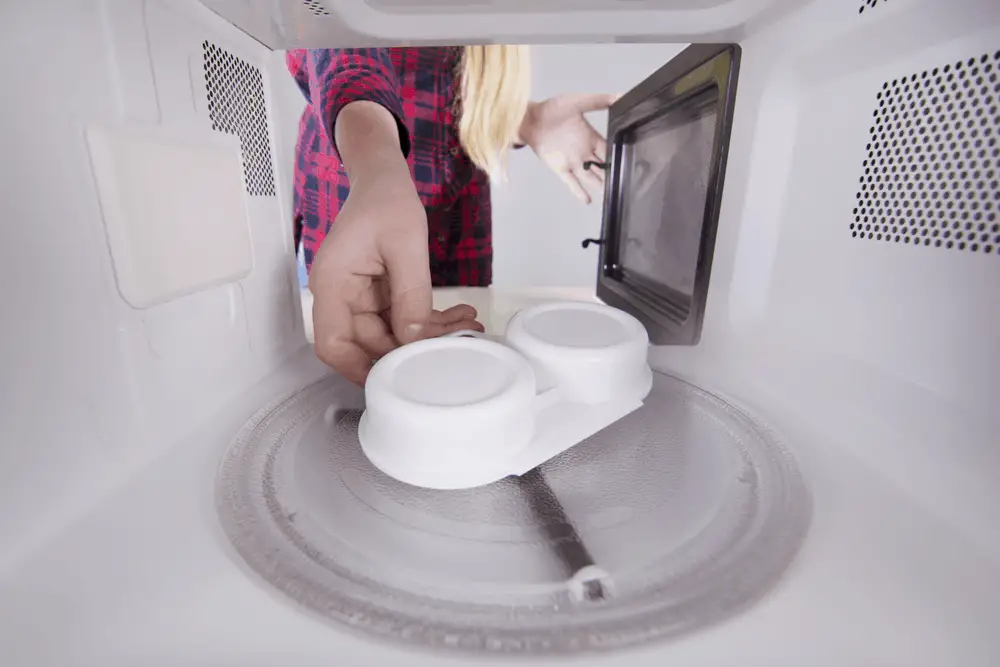 Quality of Egg Produced
Not all egg poachers are created equal. There are some that are not able to deliver perfectly poached eggs. To determine the quality of poached eggs produced by the poacher, it is best that you take a look at the user reviews.
Other Features
Most egg poachers are pretty basic, but there are some manufacturers which took their product to the next level by offering extra features.
It is recommended that you go for egg poachers that have a lid or cover. This is to ensure that the heat will be properly distributed for even cooking. If possible, go for one with a clear lid so it will be easier for you to check on the eggs.
Other bonus features include a non-slip bottom, non-stick surface, and on-the-go design. It would also be great if the poacher can also be used on the stove.
How to Use a Microwave Egg Poacher
Using a microwave egg poacher is pretty straightforward. Here are the steps that you need to take:
Step 1. Crack the egg into the compartment.
If you are using a two- or four- cavity egg poacher, crack one egg into each cavity.
Step 2. Use a fork to prick the eggs.
Because of the trapped heat, there is a tendency that the egg will explode when you microwave it. Pricking the egg with a fork can help to prevent this problem.
Step 3. Add salt.
Add salt to taste. If you wish to stay healthy, avoid adding too much salt to your eggs.
Step 4. Pour 1 tablespoon of water on top of the egg.
The addition of water helps to ensure that the eggs are cooked evenly. As the poacher is being microwaved, the water will start to boil, cooking the top part of the egg. 
When you don't pour water on top, you may end up with a top portion that is undercooked and runny.
Step 5. Close the egg poacher.
Put on the cover of the poacher before putting it in the microwave.
Step 6. Place in microwave and follow the cooking instructions of the manufacturer.
The cooking time and temperature may vary so don't be afraid to experiment until you achieve your desired texture.
Step 7. Remove poacher from the microwave.
This may be a bit hot so don't forget to put on oven mitts when removing the poacher from the microwave.
Step 8. Serve.
You can serve poached eggs over rice, with bread or inserted into a sandwich or burger.
Conclusion 
Poaching is the healthiest way to cook eggs, but this cooking method is quite difficult to perfect. Lucky for you, there are the best microwave egg poachers that can help make things easier. In this list, my top choice is the Norpro 996 egg poachers which cook two eggs at a time. It also has the recommended features such as heat-resistant, food-grade, and dishwasher safe silicone material to ensure safe and easy cooking. It also has ergonomic handles, clear lid, and stable feet for a more convenient cooking experience.