We are all used to drinking water, and many of us think that the water in our faucets all taste the same. Well, I used to think that way but that all changed when I visited one of my friends. He gave me a glass of water, and I was amazed at how good tasting their water is.
I asked him where the water came from and was so surprised to hear that it came directly from their faucet!  That's when he told me his little secret—his faucet mount water filter.
Since then, I started looking for the best faucet mount water filter that I can use. My search was long and winding, but it taught me a lot of important things which I will share with you in this article.
Best Faucet Mount Water Filter Reviews of 2018
Finish
Chrome and Stainless Steel
Brushed Nickel, Chrome, White
Features
Light Filter Change Sensor
Light Filter Change Sensor
Light Filter Change Sensor
1. PUR PFM400H Advanced Horizontal Faucet Mount Water Filter System– Editor's Pick
PUR PFM400H is one of the best faucet water filters in the market today. I personally vouch for this water filter because it is equipped with the features of a high-end water filter for just a fraction of the price.
Aside from the affordable buying price, you don't need to worry about the installation cost because of its easy tool-free installation process.
The product is incorporated with the Maxion Filter Technology which uses activated carbon and ion exchange in reducing over 70 water contaminants. It is certified to remove 99% of lead, 96% of mercury and 92% pesticides.
Featuring the premium MineralClear filter, the product offers three filtration stages. In the first stage, it filters the sediments in the water. Next, it removes chemicals  (lead, mercury, chlorine, pesticides, and more) and bacteria. Lastly, it removes excessive natural minerals to give the water a refreshing taste.
The filter uses a ClearSensor monitor which notifies the user when it is time to change the cartridge to ensure that you can enjoy filtered water round the clock.
Pros
Sturdy construction
Easy installation
Stylish finish that goes well for most kitchen interiors
Light filter change sensor that turns red when the cartridge needs changing
Small and compact design that is perfect for smaller sinks
Cons
Minimal Swivel function
Some customers complained about the defective light sensor
Minimal filter capacity
2. Culligan FM 25 Faucet Mount Filter– Alternative Pick
I have chosen the Culligan FM 25 as my alternative pick because it has almost the same filtering power as the PUR PFM400H. The company states that it is NSF tested and certified and can reduce the amount of chlorine, lead, cysts, sediment, lindane, atrazine, particulate class 1, and turbidity in water.
It also uses a three-stage filtration system just like PUR PFM400H, but it is a bit more affordable. The only difference is that it does not have a light filter change sensor like the editor's pick, but it has a bonus feature—a diverter valve stem for easy switching between unfiltered and filtered water and by vice versa. This simple feature allows you to save on cartridge use.
This water filter can be installed without using tools. Lastly, it comes with a bonus replacement filter that you can use in filtering 200 gallons of water or for 2 months.
Pros
Cartridge may last up to 2 months
Does not require tools for cartridge replacement
Users like the simple, no-frills pull pin design of the filter
Users appreciate that it comes with metal adapters instead of the plastic ones
Comes with diverter valve system that can help save on cartridge use
Cons
Does not fit certain faucets and would require an adapter
Not suitable for pull down or pull out faucets
Users experienced occasional leaking
3. Brita On Tap Faucet Water Filter System – Budget Pick 
I have chosen Brita On Tap Faucet Water Filter System as the budget pick mainly because it is the most affordable water filter system in this list. But despite its low price, you will be amazed at the decent features that the filter has.
Most users appreciate the excellent water flow that it delivers. According to them, it makes the unit more functional than most of its competitors.
However, good water flow may come with a particular con—a weaker filtration power. As a result, the filtration system of this product is not as powerful as the other products in this list. In fact, it can only be able to reduce the amount of chlorine, odor, lead, asbestos, and sediment in tap water.
In addition to that, the water filter system also comes with a light sensor—green (filters in good condition), yellow (filters need changing soon), and red (filter needs changing now). The water filter system is also easy to install using the five-step process.
Pros
Delivers stronger water flow as compared to other filters
Fits most faucets perfectly
Comes with a spray nozzle feature in addition to the usual stream feature
Affordable as compared to other filters in this list
Installation process has only 5 simple steps
Cons
Can filter only a few chemicals
According to many users, the light sensor stops working after a few months
Comes only in white color 
4. DuPont WFFM350XCH Premium Water Filtration System – Upgrade Pick
Despite being considered expensive, DuPont WFFM350XCH water filter gives value to your money as it also has the best features in the batch.
What makes this product unique is its unique filter change sensor– an easy-to-read electronic display that shows the actual number of gallons filtered.
In addition to that, a built-in Microban Antimicrobial protection is incorporated in the cartridge housing and media. This can lengthen the filter's lifespan.
Lastly, it is equipped with a water flow selector which can be set to dispensing filtered and unfiltered water.  
Pros
Unique electronic display sensor that tells you the actual number of gallons filtered
Comes in three elegant finishes
Users claim that the filter replacement process is easier as compared to other filters
Can be installed using only a pair of pliers
Fits most faucets well without the need for adapters
Cons
Not suitable for faucets that have pull-down spray head
There are plenty of leak complaints from the users
Most users claim that the meter tends to malfunction
5. PUR FM-3333 Vertical Water Filtration Faucet Mount– Best Vertical Faucet Water Filter
For those who want a vertical faucet mount water filter, the PUR FM-3333 is the best option that you have in this list. The filtration system was tested and certified against NSF Standards 42 and 53. It also uses a 2-stage system in filtering lead, chlorine, sediments, and other heavy metals.
Another fantastic thing about this water filter is its easy one-click installation. Just like the other water filters above, it has filtered and unfiltered modes. It also uses a light filter change indicator which many users find useful.
Pros
Vertical design makes filter replacement easy
Good swivel movement
No issued of leakage documented
Easy to install
Comes with adapters of different sizes
Cons
A bit bulky considering that it has a low filter capacity
Many users claim that the construction is a bit flimsy
Not suitable for small kitchen spaces 
Why Would You Need a Water Filter?
As mentioned above, one of the main reasons why I decided to buy a faucet water filter is to enjoy good tasting drinking water that is also perfect for making smoothies, coffee, and milkshakes. But there's one more benefit that you should know.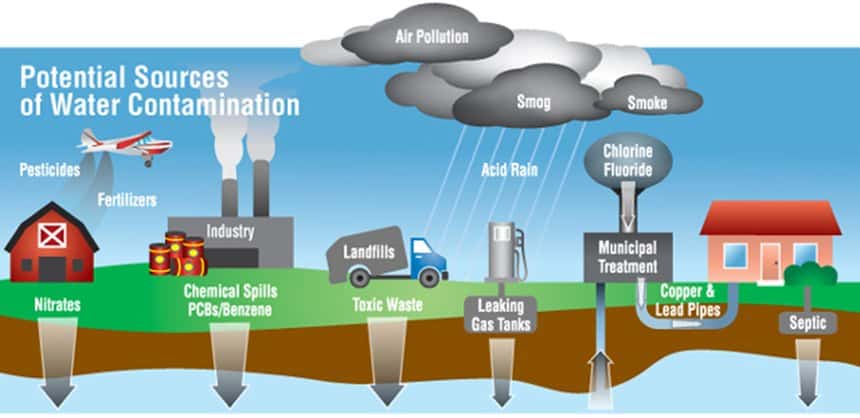 With a faucet mount water filter, the water that comes from the faucet will also become healthier. This is because the filter removes or reduces the amount of bacterial and chemical contaminants that are commonly found in tap water.
Water filters are designed to remove chlorine. Chlorine is a chemical used by municipal facilities in filtering and disinfecting the water, but it has been linked to various diseases for the past few years. It can also remove heavy metals which may cause an imbalance in the body's chemistry.
If you are wondering how a water filter works, watch this video
What to Consider When Buying Faucet Water Filter?
1. Size
The size of the water filter is relative to the size of the water filter cartridge. The bigger the cartridge, the bigger the filter will be. Although , the size is not that critical to the way the filter works, it can affect the amount of space that the filter will occupy.
If you have a spacious kitchen, you can go for a larger water filter, but if you have limited space, you should choose a smaller one.
2. Style
There are two types of water filter according to style. First, there is a type of filter that rotates around the axis. This style allows you to move the filter out of the way while you are washing the dishes.
The second style is one that swivels on a vertical axis which gives you unblocked access to your sink.
Both styles are good, so it will just be a matter of personal preference.
3. Finish
Water filters are available in various finishes and colors. I personally recommend going for a filter that is made of food-grade plastic to avoid any health problems.
Aside from that, other things to consider when choosing a finish are the color of your kitchen and faucet and the finish of the other appliances and fixtures in your kitchen.
4. Filter Cartridges
The cartridge is the one responsible for removing contaminants from the water.
When evaluating the cartridges of different water filter brands, there are a few things that you should consider—contaminant removal, filter capacity, and filter longevity.
Filter cartridges have a limited lifespan. The longer the lifespan of the cartridge is, the less frequent you would need to change them.
Filter capacities may vary from 100 to 200 to 300 gallons. The higher the filter capacity, the less frequent you will have to change your filter cartridge.
The most important thing to consider is contaminant removal. A standard water filter may remove around 40 to 60 contaminants. But a great water filter can remove up to approximately 75 contaminants.
5. Cost
In general, water filters are affordable. But more than its buying price, other things that you need to consider are its maintenance (cost of filter cartridge replacement) and installation cost.
6. Filter Change Sensor
As mentioned above, cartridges need to be replaced. While some manufacturers offer periodic replacement recommendation, there are some which provide water filters that come with a sensor that will notify you when it is time to change the cartridge.
There are two types of sensors. First is the light sensor that will turn red when the cartridge already needs changing.
Second, there's the day counting sensor which is more common for water filter pitcher but can also be seen in. a few faucet water filters.
This sensor takes note of how many days have passed since you last change your cartridge. While it does not notify you that it is the time to replace the cartridge, it makes it easier for you to keep track of how many days have passed since you last changed it.
Conclusion
With the environmental problems that we are facing, it is a must now more than ever that we take extra precautions in ensuring that our drinking water remains healthy and the best way to do that is through the use of the best faucet mount water filter,
With the vast array of water filters in the market, it can be quite challenging to find the best one. But with careful analysis, I have come to the conclusion that the PUR PFM400H is the best option because of its affordable price and features—light change sensor, filtration power of more than 70 contaminants, and stylish design. While it comes with a few issues, its pros outweigh them all.