It's that time of year again- the birds are out and the flowers are blooming, filling the air with the scent of… burning oil and smoke? Wait, what? Oh never-mind, that's just my dirty oven. With the springtime comes the infamous opportunity for a deep spring cleaning, and your oven should be at the top of you list. Next comes the question of what is the best oven cleaner to get the job done. The "best oven cleaner" title will inevitably depend on what aspects of an oven cleaner are important to you and fulfill your needs appropriately. For me, I need a powerful oven cleaner that most importantly cleans my oven well. I am also looking for an oven cleaner that will minimize my effort and time without sacrificing the safety of my family with noxious or dangerous fumes. And to top it off, I want all this PLUS I don't want to break the bank for an effective oven cleaning product. In this review, I've identified my:
Overall Top Editor's Pick
Overall Runner-Up
Top Budget Pick and Green DIY Option
Best Oven Cleaner Without Cost as a Concern
Best Electric Cooktop Cleaner
Read on for more in-depth information about each!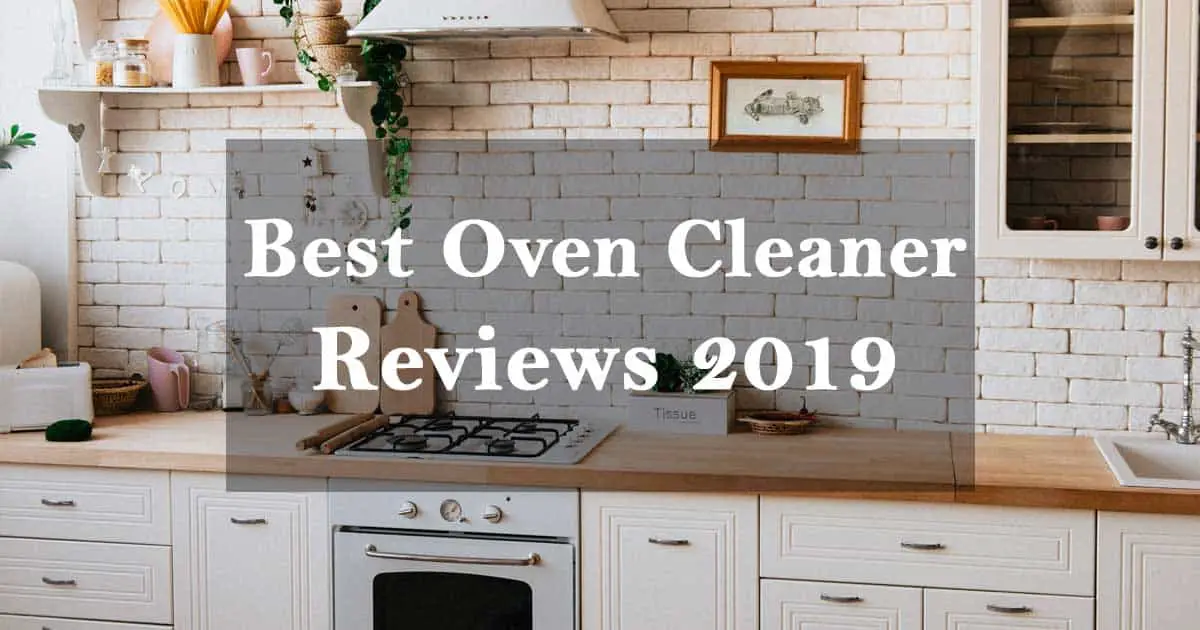 *Editors Pick*The Best Overall Oven Cleaner: Easy-Off Fume Free Oven Cleaner
When looking for the best overall oven cleaner for my household, I need it to check the following boxes:
I want my oven cleaner to be powerful and do a great job at cleaning the oven effectively- doing the heavy work for me without a complicated process.
I need an oven cleaner that doesn't require me to scrub for hours on end for any effect, but also works fast, allowing me to keep my day moving.
I need an odorless oven cleaner that doesn't stink up the house and give me headaches or impact my breathing while cleaning. I don't want my family to smell the cleaner in the rest of the house either.
In addition to the above requirements, I don't want to spend more money than necessary on an oven cleaning product. Since oven cleaning is a regular need, I don't want it to keep adding up and costing me more over time.
I chose Easy-Off Fume Free Oven Cleaner as my top choice because it hits all my important checkboxes. Easy-Off Fume Free Oven Cleaner is:
PROS
Inexpensive: compared to some of the other brands out there it is a saving
Effective: I just spray it on per the manufacturer direction, walk away, come back later and wipe up the oven mess.
Simple: The grime comes up easily without having to scrub for hours. This keeps things simple for me.
Fume Free: This is the reason that this version of Easy-Off took the top spot for me. More traditional oven cleaners tend to have more fumes, where this one doesn't.
*Bonus* it is easy to find: You don't have to look high and low to find this oven cleaner. It is available on Amazon for a great price.
CONS
Must use on a cold oven
Cannot be used on grills
Can only seem to find it in a lemon scent (might not be ideal for some people)
While my most important features may not be the same for everyone, Easy-Off Fume Free oven cleaner did the job well for me.
Overall Runner Up: Diversey Break-Up Professional Oven and Grill Cleaner
While it didn't quite make the top spot, Diversey Break-Up Professional Oven and Grill Cleaner came in at a close second. If you are looking for an oven cleaner that is effective, even lower cost, and simple to use without spending hours scrubbing, this might be a good option for you.
Diversey Break-Up Professional Oven and Grill Cleaner is:
Pros
Highly effective and well rated. This product works as it is supposed to, removing grease and residue from your oven in an effective manner.
Requires little elbow grease: Just spray it on, leave it for the recommended amount of time, come back and wipe it away.
Cost Effective: When you buy this one in a multipack, it comes out to be even cheaper than my top pick, Easy-Off Fume Free Oven Cleaner
Cons
Fumes: While this cleaner is effective, it has more of a smell that may bother some people or cause irritation. If the smell is a problem for you, you may consider checking some of the other options I review in this article.You need to use protective gear, as this product contains ingredients that you don't want coming in contact with skin or eyes.
While the fumes won't work for me, this could be a great overall cleaner to help get the job done.
Top Budget Pick and Green DIY OptionThe most economical option without the chemicals: Baking Soda and Vinegar
If you are budget conscious and not excited about entertaining the idea of adding more chemicals into your kitchen, this may be a DIY option that is worth checking out. Not only can baking soda and vinegar attack your oven cleaning project, but their uses vary all over the house and can prove to be very budget wise for their multiple uses. For this application, you would simply mix baking soda and water, spread the mixture over the inside of your oven surfaces, then leave it for a day or so. Spray vinegar on and let it sit for a little while right before wiping it out.
The Pros to using Baking soda and vinegar:
Low cost: Baking Soda and vinegar are inexpensive and useful for multiple applications, cutting down on the amount of different cleaners you may need to buy for other projects
Non-toxic and safe to touch
Natural, DIY option that minimizes chemicals in the house
Effective- fairly easy to wipe out grime using this mixture
Cons
Takes more time: This is not a fast option. For the mixture to be effective, you will likely need to leave it sitting for about 24 hours before attempting to wipe out the contents.
May require more elbow grease: Baking soda and vinegar may not work as deeply as some of the commercial products I've discussed in this review. Be prepared to possibly scrub or scrape more and take some more time for the desired result.
Vinegar smell: Vinegar stinks. Not in a chemical way, but it stinks as vinegar does. Some people are very sensitive to the smell of vinegar. In this case, try using just plain water.
Check out this youtube video for a quick "how-to" instructional. This user doesn't utilize vinegar, but if you choose to, you would just spray on at the end when preparing to wipe out the oven.
More Expensive But Highly Effective: FS Oven Clean
If you are so fed up with your mess that you don't care how much you have to spend for the most effective cleaner, FS Oven Clean may be a good option for you to check out. While it is slightly more expensive than some of my other picks, FS oven clean is a high viscosity (meaning thick), heavy duty gel cleaner that can be used on multiple cooking appliances that have stuck on and built up food, grease, or grime. Since this oven cleaner comes in gel form, it adheres well to vertical surfaces as well, which can help it to stick to the mess and not run down the sides of the oven, making it more effective and less messy. You may find the following benefits to be on your list of needs:
PROS
Non-toxic
fume free
Fast- wipe off in as little as 15 min after application
Highly effective and used in commercial applications as well for thick grime
Biodegradable
As with any cleaner, there are some downsides to consider:
CONS
Requires rinsing after cleaning
Need protective gear to use (gloves, goggles, etc.) as it can burn. This was a bit confusing to me as the product description listed the item as non-toxic, so something to keep in mind.
More expensive than some of its competitors
Due to the high alkaline nature of the product, it should not be used with stuck on aluminum
This is the kind of product I would appreciate using when the in-laws are coming and I need to clean quickly without leaving fume evidence behind.
Best Oven Cleaner for Glass or Ceramic Electric Cooktop: Cerama Bryte Cooktop Cleaning Kit
When reviewing oven cleaners, we don't want to forget the glass electric cooktop that needs serious attention. This can be a very tough task to manage and reinforcements will likely be needed past your typical all-purpose cleaners. For me, there was a clear winner for this particular job. I need a cleaner that once again, is effective and fairly quick as well as low cost. What I personally like about the Cerama Bryte Cooktop cleaning Kit is:
Pros:
Well priced
Inclusive: Comes with the tools I needed to scrape and wipe of cooked on stains and residue, making life simpler for me
No harsh smells or fumes
Cleans without scratching surfaces
Effective: Works great at restoring the shine of my smooth cooktop
As a side note, I used this product on my Grandmother's cooktop as she is rather difficult to please in the cleaning department. She was very pleased with the job this product did and had no complaints about the smell.
Cons:
May require some scrubbing and elbow grease for the desired result
The bottle is small, so if you have a lot of uses, you may find yourself restocking more regularly.
If you are not careful, it is possible to scratch your stovetop. Pay close attention to manufacturer directions
Why Would I Want to Clean My Oven Regularly?
When you consider what your oven does for you on a daily basis, it is only natural to want to take care of it and keep it in tip-top shape. Aside from the way your oven looks in your kitchen and the aesthetic appeal to a clean oven, with the price of replacement, the better you take care of your oven the longer it may last for you. If you don't effectively clean your oven regularly, you risk blocking the filters and damaging the mechanisms in your oven, halting the oven from being able to function properly. To have to replace an oven that breaks down prematurely due to poor maintenance is unfortunate when all it would take to keep it clean is a good oven cleaner and a little time.
Keep Your Oven Safe and Sanitary
One of the most important considerations for cleaning your oven regularly: your oven is where you cook the food you feed yourself or your family. It is important to keep the food prep environment clean and sanitary not just for looks, but also for your health and safety. When food inevitably drips or drops in your oven during cooking, chunks, and drippings are left behind. It is possible for substances to catch fire inside your oven, potentially starting a fire or releasing smoke, posing a threat to your safety. Another unpleasant side effect of not cleaning your oven can be the sanitation concerns that can result. When you leave food particles behind, you create a breeding ground for germs and can also attract different bugs and rodents that are attracted to food sources (think roaches and rats among others.) It is not very appetizing to imagine those critters crawling in or around your food appliances. Not only does this thought make food less appealing, but it could also make you seriously ill. In addition to all these other issues, it is also possible for the actual taste of your food be altered due to smoke, defeating the purpose behind preparing delicious food in your oven to begin with.
How do I choose the Oven Cleaner that is best for me?
Oven cleaners are a tool in house cleaning kits that can help ensure that your oven is kept in optimal condition. However, not all oven cleaners are equal and it is important to take care when choosing which one you will use in your kitchen. Consider your values and what you need carefully when choosing. You may want to consider the cost of the cleaner, how readily available it is if you are in a pinch on time, its effectiveness, and the safety of the cleaner. In addition to these questions, you will also want to consider the type of oven (gas, electric, steam, etc) you have when making your final selection of product. Not all cleaners will be compatible with all appliance types. With any of the products you choose, it is wise to use protective gear (including gloves and goggles, and in some cases a mask) to keep you healthy while performing the cleaning. While it is possible to use more general cleaners to clean, most will not perform at the level and speed that these cleaners will. Again, take note if one of your top values is an effective cleaner in less time. It is also best to choose a time to clean when you will have a chance to wipe the mess up later without it being a problem. For example, you won't want to be freshly showered and ready for a night out on the town right before cleaning up. Oven cleaners will cut down on the fuss and scrubbing, not on the grime being lifted away. It's a messy job, but somebody's gotta do it.
How will an Oven Cleaner make my life simpler?
By enrolling the help of a great oven cleaner, you will be able to reclaim some of the time you would have spent scrubbing and fussing over cleaning your oven without the help of a strong oven cleaner. Use this time to clean the rest of your kitchen or doing some other activity that brings you more joy than scrubbing and let the cleaner do the hard part for you.
A good overall oven cleaner, like Easy-Off Fume Free Oven Cleaner (for me), will help you keep your kitchen clean, sanitary, safe as well as keeping your cooking delicious- all without the fumes! With so many oven cleaners on the market, it is important to consider what your most important needs are and use those parameters in choosing the best oven cleaner for YOU! By using this review, I hope that I have helped you to narrow down the best oven cleaner for your application, saving you time, money and the headache of using the wrong cleaner. Good luck and happy cleaning!