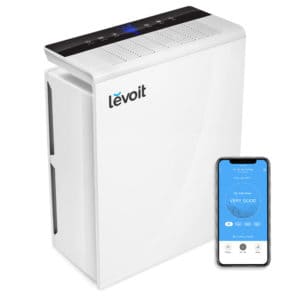 The Levoit LV-PUR131 air purifier is one of the best option which can tackle medium to large-sized rooms (up to 322 sq. ft.). This purifier uses a three-stage filtration system, which includes a pre-filter, true HEPA filter, and an activated charcoal filter for capturing foul odors or VOCs. It's got a sleek, white aesthetic with an LED display and touch controls. 
Pros
Can treat up to 322 square feet of living space
Removes 99.97% of pollutants
Has an auto-mode which can detect air quality in real time and respond accordingly
Comes with a timer for programmed running cycles
The Levoit LV-PUR131 air purifier is:
Width: 14.5" wide
Height: 18.5" tall
Depth: 7.2" deep
Weight: 15.8 lbs.
Levoit LV-PUR131 Features
Three Levels of Filtration
The Levoit LV-PUR131 uses a three-stage filtration system to help purify the air. The system includes a:
Pre-filter
True HEPA filter
Activated carbon filter
Air is filtered through a Pre-Filter, True HEPA Filter, and an Activated Carbon Filter to effectively remove pollutants, odors, pollen, dander, spores, allergens, smoke and more.
Auto Mode
Auto Mode uses the sensor inside the air purifier to adjust the fan speed automatically based on air quality. For example, if the air quality is bad, the fan will automatically be set to high speed
Sleep Mode
Sleep Mode uses the lowest possible fan speed to maintain a quiet environment.
Timer
There is a convenient timer on this air purifier, which is accessible from the touch controls on top of the purifier. The LED display screen allows you to manually adjust the timer for whatever time you need.
Levoit LV-PUR131 Specifications
Below you'll find a complete table listing of the important facts and features on the Levoit LV-PUR131:
| Specifications | |
| --- | --- |
| Manufacturer | Levoit |
| Model | LV-PUR131 |
| Width (inches) | 14.5″ |
| Height | 18.5″ |
| Weight | 15.8 pounds |
| Filters | 3 |
| Wifi Compatible | No |
| Room Coverage | ~322 sq. ft. |
| Filter Costs | $50-60 / year |
| Returns | 30 days via Amazon. Varies by retailer |
| Warranty | 2-Year limited |
| Price | Check Price |