Have you ever heard someone mention their oven "runs hot?" Or have you wondered why the cookies you make at home without even looking at the recipe always burn when you try to bake them at someone else's house? Yeah. The thermostat on your oven is not always 100% accurate.
With an oven thermometer, the temperature inside your appliance doesn't have to be a mystery. I don't have one, but my oven is temperamental and after witnessing my friend's use of an oven thermometer in her rental apartment's wonky oven, I'm convinced this would help me avoid the clouds of black smoke that regularly billow out of my oven when I make pizza, cookies, bread, and pretty much anything else.
So I'm going to take a look at the oven thermometers in this article—types, features, and the best ones available to buy. You can go right to the recommendation listings on Amazon to see the current prices and read reviews by clicking the links in the table below.

Dimensions
Reader unit: 3.5 x 1 x 3.5"; Probe length: 7" Probe cord length: 42"
Oven Thermometer Features
Sure, you can just go by trial and error to adjust cooking times and temperatures if your oven is off, but ruining food wastes time and money. With a small investment, an oven thermometer can save you big headaches. It's especially useful when baking, which often requires precision of time and temperature.
Unless you're using a high-end convection oven, you may also find that there are hot and cool spots in the oven. Having a thermometer can help you learn about this so you can make more informed decisions when cooking.
This video sums up some of the reasons for getting an oven thermometer:
What should you expect, then, when shopping for an oven thermometer? Depending on the type, they can be as inexpensive as about $5, or they can offer more features for a greater investment. Here are some of the biggest variables.
1. Analog vs Digital
The most basic oven thermometers are simply analog dial thermometers that you place in the oven. These are usually inexpensive and basic, no batteries or power required. But they can be difficult to read without opening the oven.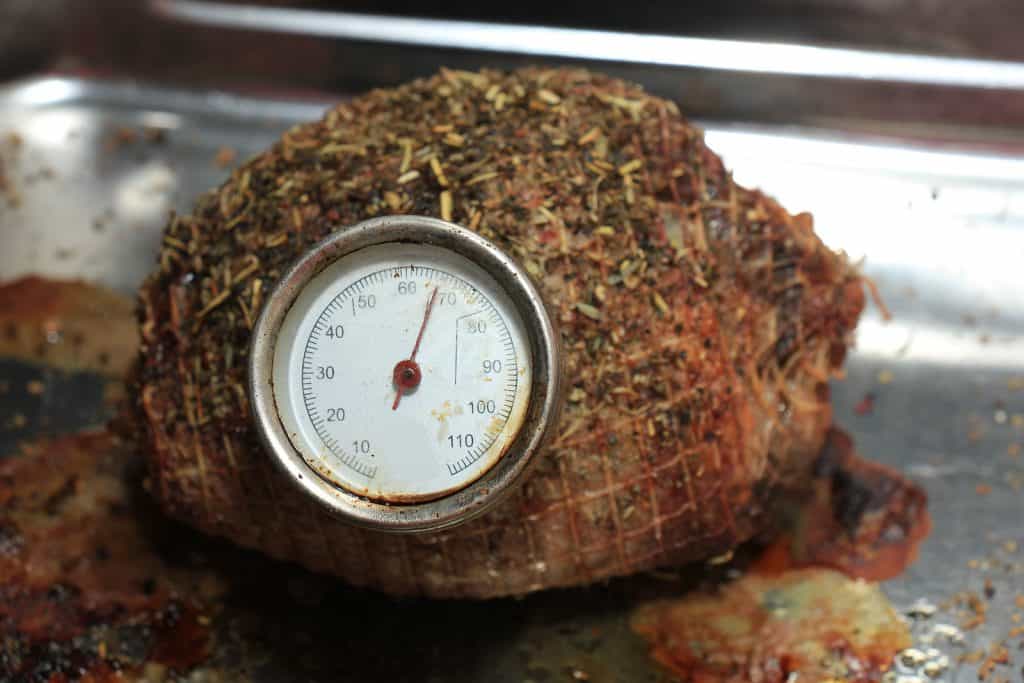 Higher tech options provide a digital reading, and may include additional features. They usually have a probe that you leave in the oven, while a cord extends to the outside where the digital reader is located, allowing you to monitor the temperature without having to peek inside the oven.
2. Design
Some thermometers are designed to simply sit on the rack or floor of the oven. Others hang from the rack so they are out of the way and can easily be seen through the door.
3. Additional Features
Some thermometers are simply that—a thermometer to measure the internal temperature of the oven. But many oven thermometers offer other features such as:
Timer
Desired temperature alerts
Food Probe for finding the internal temperature of the food as well as the oven temperature
The Options
Here are some reviews of the highest rated, best-performing oven thermometers on the market.
This is a very simple oven thermometer that monitors the oven temperature from within. I like the large size and uncluttered face of this thermometer, which makes it a bit easier to read compared with monitors that may have many numbers or words on the face.
Many people find this works just fine and provides an accurate temperature reading which is really the most important aspect of this device. I personally like a utilitarian design like this as well.
The biggest complaints center around the lack of longevity of this product. While many users have had prolonged success with this thermometer, the quality seems to be inconsistent as many others have had the unit fail after a few months of use. While it does have a lifetime warranty, the cost of shipping on such a small item may negate the value of the warranty.

PROS
Simple design
Big size
Large temperature range
Inexpensive
CONS
Prone to breakage and failure
No added features
This thermometer is similar to the Taylor. It also features a stainless steel body, a dial indicator, and a simple design that does the one function you ask of it—reading the internal temperature of your oven.
And it works well, with even appliance repair people recommending it! Most people find it is accurate and lasts.
This thermometer is smaller than the Taylor, and I find the face is a bit more cramped looking, which will make it hard to see through your oven window. Some also found that the item simply never worked out of the box, suggesting poor quality control on Rubbermaid's part.
The biggest complaint with this thermometer is the small size of the base, which makes it hard to position on the oven racks. If you intend to use it solely by hanging it, it'll be fine, but if you want to rest it on the oven racks, this could be a problem.

PROS
Simple, durable design
Large temperature range
Hangs and stands
Inexpensive
CONS
Small base
Cramped writing on face
Poor quality control
Polder makes a variety of thermometer tools, including this one which is really a meat thermometer to measure the internal temperature of food. But with the all-metal sensor, you can measure the temperature of your oven as well. This has the advantage of giving you the reading outside the oven without having to open the door.
It includes an all-metal sensor with a clip that can rest on the side of a pot, and a silicone-grip probe which is useful for quickly inserting the thermometer into something for a temp check. It also has magnets on the back of the unit to stick the digital reader/controller to the outside of the oven door. It ships with the required AAA battery.
Reviews on this one are mostly positive. People find it works very well at giving an accurate temperature, and they enjoy the convenience of being able to set a timer as well.
The primary drawback of this unit for the purposes of a true oven thermometer is the limited temperature range. The upper limit on this is 392ºF, so you'd run the risk of frying the sensors if you try to measure the oven beyond that temperature.

PROS
Easy to read
Includes a timer
Also a meat thermometer
CONS
Limited temperature range
This is another digital thermometer option that is geared towards cooking meat but can still be used to measure the oven temperature. It comes in either red or stainless steel and ships with 3 probes and the 2 required AAA batteries. There are magnets on the back so you can stick this to an oven or grill door, or use the stand to stand it up if the surface would be too hot.
Because this is geared toward cooking meat, it includes a number of preset options for temperature alerts, such as beef at medium well done temperature. Some users note that the pre-sets are somewhat out of date, but you can also manually set a desired temperature. The unit then alerts you when the meat (or oven) has reached your target temperature. It also has a timer function.
The probes will work up to a maximum temperature of 482ºF, after which they have trouble or risk getting broken. Some people also found the digital face hard to read when the light powers off, but the company has responded that its newer models fix this issue.
Another big plus is that the customer service for this product is very good, which is a definite advantage in my opinion as small devices like this are prone to failure or quality control issues.

PROS
Meat thermometer
Timer function
Reads outside of oven
Decent temperature range for a digital thermometer
Responsive customer service
CONS
Maximum temperature limit
Pre-set temperatures are outdated
The Best Oven Thermometer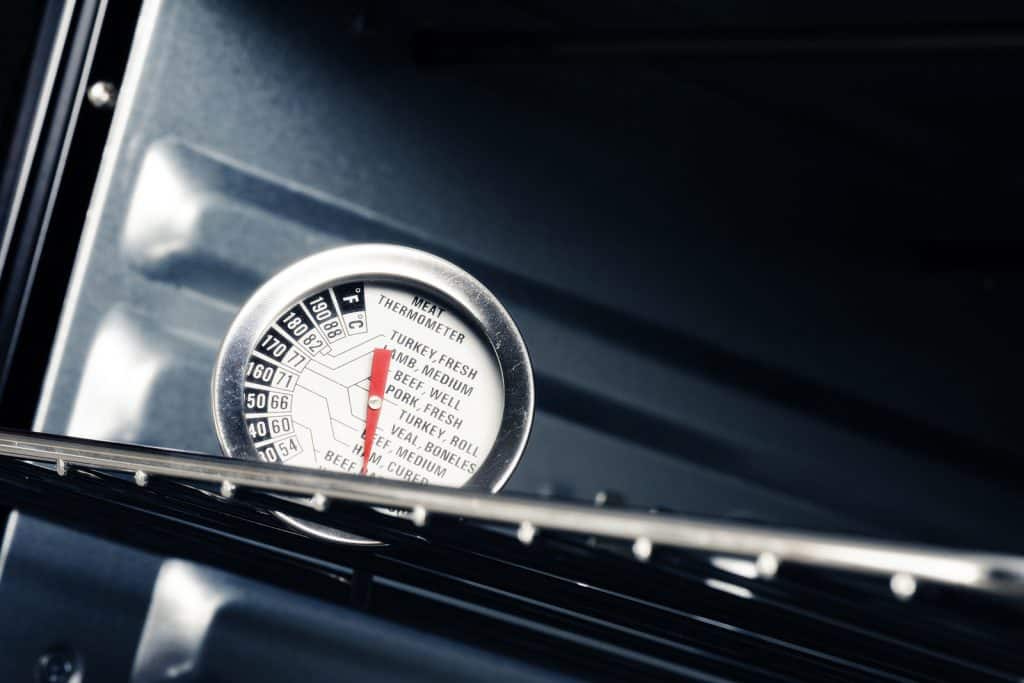 As with most kitchen gadgets, what is best for you may not be best for someone else. There are a number of good options, though, and here are my recommendations depending on your needs.
If you're looking for a basic thermometer that will give you an accurate idea of what's happening in your oven, and especially if you need to be able to gauge higher temperatures like when baking pizzas around 500º, go for Rubbermaid's simple dial thermometer. Although some people find the small base problematic, I think it's a problem you could work around.
If you want the convenience of a digital thermometer and the added bonus of being able to check the internal temp of what you're cooking, The Clever Life Digital Meat Thermometer looks like a good option with multiple potential uses. Just remember that there is an upper limit to the temperature it can handle.
Have you experienced the simple usefulness of an oven thermometer? Let us know!