I still remember the first time I tried a homemade pizzella. I was about 11-years old, playing at a friend's house, and her Italian grandmother was visiting. We had a grand time mixing the batter, filling up the pizzelle maker, watching to get that perfect golden crisp waffle cookie (and then licking the bowl while they cooled!).
Have you ever had pizzelle or made them yourself? In this article, I'll give a bit of background on pizzelle and share some recipes, and then take a look at some pizzelle makers so you can start making them at home!
Quick Comparison
Dimensions & Weight
14.9 x 10.4 x 3.7"; 5.5 lbs
Size of Pizzelle
2 x 5" pizzelle; 3/16" thick
2 x 5" pizzelle; 3/16" thick
2 x 4.5" pizzelle; 1/4" thick
What are Pizzelle (and Recipes!)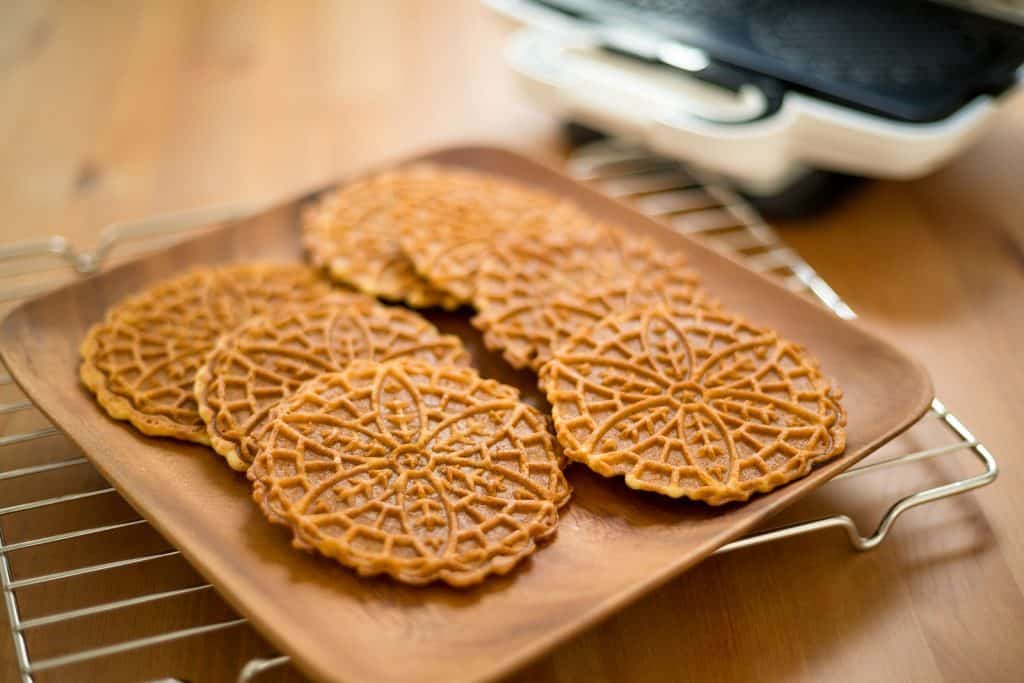 Pizzelle (the singular is pizzella) are a simple but tasty traditional Italian dessert made of flour, sugar, eggs and some type of fat—butter, oil, or shortening—vanilla, and often anise extract or anisette (here's a basic recipe). You can also find variations using different types of flour, like this one for hazelnut pizzelle, and other ingredients (lemon, please!) to give them different flavors.
The ingredients come together in a thin batter or dough. You then plop the batter onto a pizzelle iron, which presses the dough between two hot plates and gives it a round waffle or snowflake pattern. Traditionally, the pizzelle iron was held by hand over a stove, but most pizzelle makers today are electric, like a waffle maker.
The process is fairly simple, although it might take some trial and error to get the batter right and to get your process down, as this blogger details. Pizzelle can be rolled before they cool and harden, for use in cannoli. They are a popular dessert for holidays and celebrations.
Buying a Pizzelle Maker
If you hope to make pizzelle at home, here are some factors you should keep in mind when shopping:
1. Non-stick Coated vs Uncoated
This is the primary issue to consider. Some people love the convenience of non-stick and the fact that you don't have to use much butter or oil on the iron before use. Uncoated pizzelle makers often require that you build up a "seasoning" of oil.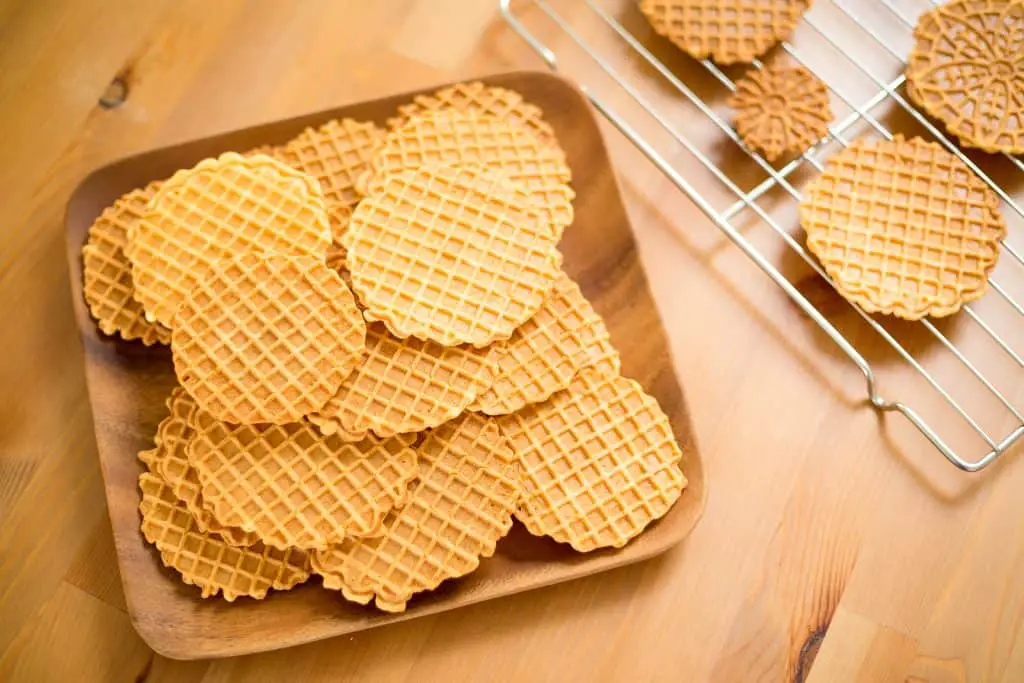 Others feel that non-stick pizzelle makers result in a less crispy pizzella. Some people also have concerns about the safety of non-stick coatings, and the fact that you have to handle non-stick carefully so you don't accidentally scrape it off.
2. Cookie Size and Thickness
Pizzelle are typically small, but you can find some variation in size. Most pizzelle makers yield pizzelle from about 3-5 inches in diameter. Different pizzelle makers will also make thinner or thicker pizzelle, although you can control this to some extent by tinkering with the batter. This is totally a matter of personal preference.
3. Design
Pizzelle makers are fairly simple. They usually have an on-off switch and perhaps a light to indicate when the irons have reached the proper temperature. Most also have a way of clamping the iron plates together so that the pizzelle batter presses evenly without you having to hold it closed.
Pizzelle Maker Reviews
CucinaPro took over production of the very popular VillaWare line of pizzelle makers. It has shorter handles for easier storage, although the indicator light is poorly positioned right below the handle.
Some people had issues with the latching mechanism being difficult to maneuver. Others had no issue with this, so it seems to be a manufacturing inconsistency. I love the pattern of this press, with the scalloped edge and intricate snowflake design.
Features:
Makes 2 5" pizzelle 3/16" thick
Non-stick
Ready light
Metal handle clamp
Non-removable plates
This is essentially the same as CucinaPro's non-stick option, but with polished cast aluminum plates instead of the non-stick coating.
Despite not having a non-stick coating, most cooks don't have an issue with cookies sticking and note it gets even easier over time as an oil coating develops. With both this iron and the non-stick version, some people experienced issues with the plates maintaining a consistent heat. Many owners recommend closing the iron in between uses to let the plates heat up again before cooking another batch.
Features:
Makes 2 5" pizzelle 3/16" thick
Polished cast aluminum
Ready light
Metal handle clamp
Non-removable plates
Palmer has been in the business of making pizzelle irons for many decades. This particular iron is pretty no-frills. It doesn't even have a ready light to indicate when it has reached cooking temperature.
But users like the warranty and the fact that it's made in the USA. Some find that you need to throw out the first few batches of cookies as they can contain little flecks of aluminum. Once the prep work is done, however, it seems to be a fairly consistent iron, especially if you like the old-world feel.
Features:
Makes 2 4.5" pizzelle 1/4" thick
Cast aluminum plates
Metal handle clamp
800 watt
Made in USA
5 Year Warranty
This Chef's Choice unit has a non-stick coating and a ready light to indicate when it reaches the right temperature for baking. The handles have a plastic latch.
This pizzelle maker claims to make pizzelle quicker than other models, and it boasts of "instant temperature recovery." Many pizzelle chefs do find that this machine works more quickly than others. Some love this, as they find they can make a large batch of pizzelle in a shorter amount of time; others find that this iron runs too hot, resulting in overly crisp, burned, or soggy pizzelle.
It seems this might be a good option if you're very experienced at making pizzelle and can work quickly to keep up with the quick heating elements of this machine.
Features:
Makes 2 4 3/4" pizzelle
Non-stick
Ready light
Plastic handle clamp
Instant temperature recovery
1-year limited warranty
Which Pizzelle Maker?
I love the idea of making a holiday tradition of baking pizzelle at home. If I decide to do this, I would go for the CucinaPro Polished Pizzelle Maker. I really love the pattern of the pizzelle this machine makes, and I think the non-stick version is the right choice for getting a crisp pizzelle.
If you are experienced and have your routine down to a science, the Chef's Choice Pizzelle Pro seems like a good option that will enable you to maximize your pizzelle production!
Are pizzelle a holiday tradition in your family? Let us know in the comments!