One of my favourite desserts is creme brûlée. I love cracking the caramelized topping with my spoon and digging into the sweet custard. I never make it at home, but I could if I had a kitchen torch!
In this article, I'll explore uses for kitchen torches, discuss how to shop for them, and sift through reviews of the best kitchen torches. Feel free to click straight to my recommendations below to see Amazon's latest prices and reviews.
Table could not be displayed.
Make Use of a Kitchen Torch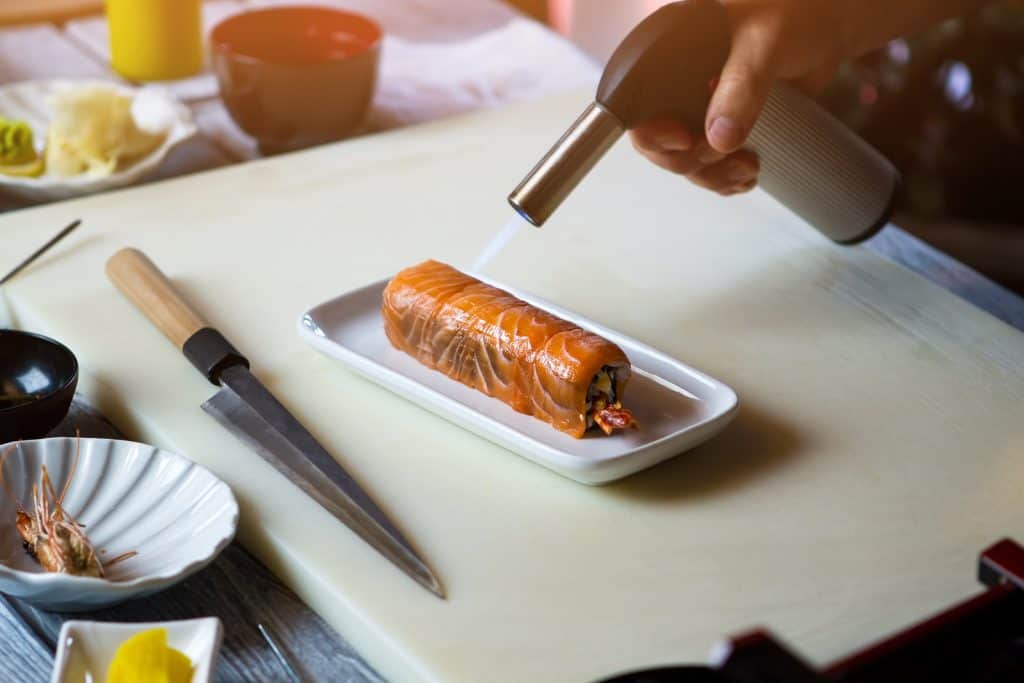 Kitchen torches have many uses beyond making creme brûlée. You can caramelize any dessert or fruit that has sugar on top. You can also use the torch like an oven's broiler, to melt and crisp cheese on the top things like French onion soup or crostini—this will save you energy, too.
Here are some more ideas:
Flambé dishes like Bananas Foster
Fire-roasting vegetables like peppers, tomatoes, and eggplants
Creating an even sear on meat or sous vide cooking
Searing tuna or salmon
Melting and caramelizing marshmallows on hot cocoa
Watch this sous vide steak sear with a blow torch:
Cooking forums and blogs are full of other uses. Let your creativity guide you!
What to Look For when Buying
Kitchen torches are a pretty simple tool. The main things to look for when shopping are:
1. Easy On/Off
An instant ignition trigger or button lights the torch so that you don't need a separate spark or flame to light it. Some have a trigger you have to continuously depress when lit, while others have a button that keeps it lit until you turn it off. This is useful because then you can hold the torch any way it's comfortable for you.
2. Self-contained vs. Attached to Fuel Tank
Torches that are specifically made for use in the kitchen are often self-contained with a refillable fuel chamber, like a cigarette lighter. These are comfortable to hold but you may find they require frequent refilling. Other torches, especially those designed for broader use, screw onto the top of the fuel canister, which can range from the size of a shaving cream container to much larger.
3. Fuel Type
The most common types of fuel for kitchen torches are butane and propane. Either are fine to use. Butane tends to be cheaper, but propane burns a bit hotter.
You may also see torches that use MAP/MAPP gas (most torches actually now use a MAPP substitute). MAPP burns even hotter than propane.
4. Size/Strength of Flame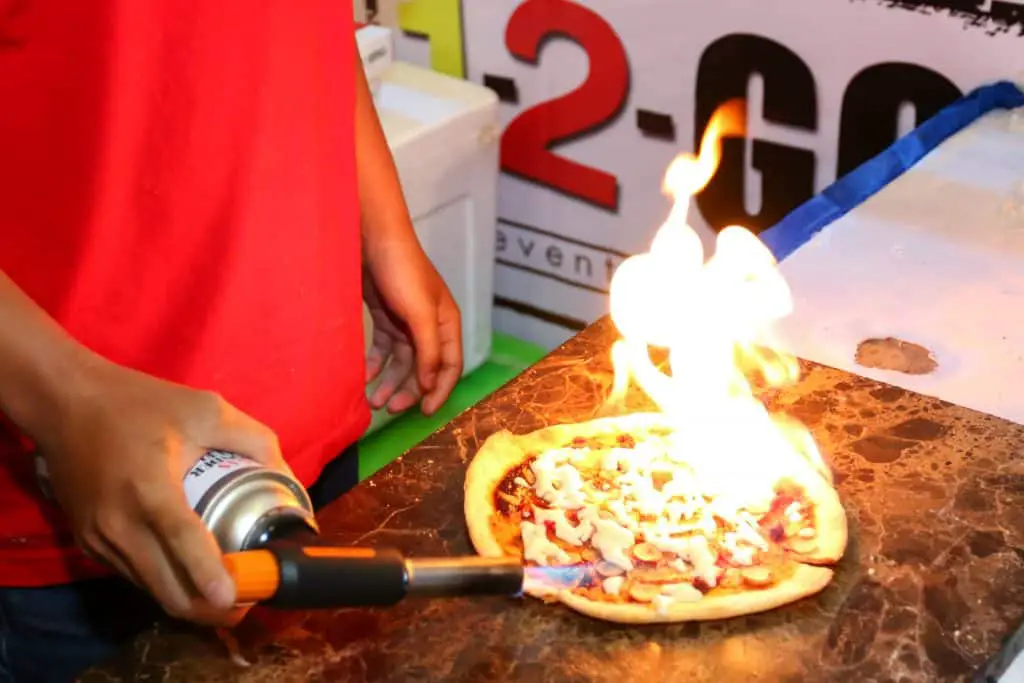 This point really depends on your intended application. Some torches have a small, very concentrated flame. This may feel safer, but makes things like searing a large cut of meat pretty difficult. Some torches allow you to adjust the strength of the flame, which is a useful feature.
5. Safety Note
Working with an open flame requires a bit of care. Maintain a tidy work space and keep children at a distance to avoid accidents. It's always a good idea to have a small fire extinguisher in your kitchen, too!
The Hottest Kitchen Torches
Ready to get fired up in your kitchen? Here are some of the most popular torches you can buy.
Bernz-o-matic makes a wide variety of torches and lighters. Although it is not specifically marketed as a "kitchen torch," it is the most often recommended brand on cooking forums like Chowhound and Reddit. This is specifically the torch head, which screws onto the fuel canister.
Professional chefs note that this torch is great for restaurants because it can take a beating and withstand multiple drops. In terms of features, control, and power, this torch really seems to be the Cadillac option.
Features include:
easy start/stop ignition
lock button to keep torch lit
flame adjustment knob
burns MAPP and propane fuel
cast aluminum body
fuel NOT included
1 year warranty
Iwatani is marketed specifically as a culinary torch and is frequently recommended. This torch screws onto the top of the fuel canister; Iwatani recommends using their specific brand of butane, which comes in a canister that is similar in size to a can of shaving cream.
This torch is often used in restaurants, and many home chefs have a lot of success with it, too. The ability to regulate the flame size is a huge plus, and people also find the trigger-style ignition easy to use.
The main complaints seem to be with quality control. Many users note that the quality of the torch seems to have diminished in recent years, and parts like the ignition can break quickly.
Features include:
easy start/stop ignition
flame adjustment knob
air regulator knob
fuel NOT included
1 year warranty
This is the type of culinary torch you'll be likely to see in kitchen stores. It contains a refillable fuel chamber and takes butane fuel.
Many people find the design of this torch is easy to use and hold one-handed. Features like the easy ignition and continuous light toggle are nice touches. Reviewers find it works well for desserts and even searing meat.
The main issue seems to be with the built-in fuel chamber. Many users report the torch not properly refilling with fuel. Some also had issues with fuel leaking from the torch when not in use. Although the idea of being able to really operate this torch with one hand is nice, it seems to cause problems for this torch.
Features include:
easy start/stop ignition
lock button to keep torch lit
flame adjustment knob
fuel NOT included
lifetime warranty
Light it Up
If you're looking for a reliable and powerful kitchen torch, I think the Bernz-o-matic is a great tool. It seems that many torches made specifically for kitchen use often contain inferior parts. Though the Bernz-o-matic is a bit of a bulkier option, it is well-constructed and gives you a lot of flexibility in the kitchen, for small jobs like caramelizing a creme brûlée to larger jobs like searing a rack of ribs.
Here's an easy creme brûlée recipe from A Sweet Pea Chef to get you started!
Have you used a kitchen torch before? What's your favourite way to use it?