Sometimes when cooking a large meal, I max out my stovetop's 4 burners and could really use an extra heat source. Other days, I'm lamenting the poor functionality of the electric coils on my rental home's old electric stove. So it might be useful for me to invest in a portable induction cooktop.
In this article, I'll discuss some of the features you should consider when shopping around, and take a look at some of the best options that are easily available. Feel free to skip right to those listings by clicking the links below to see the current price and reviews on Amazon.

Dimensions
14 x 11.4 x 2.5", 7.3 lbs
14 x 11.4 x 2.1", 7.1 lbs
13.5 x 12.5 x 2.6", 7.8 lbs
6.2 x 15.8 x 14.2", 9 lbs
14.25 x 23.5 x 2.5", 11.6 lbs
Power Specs
110 volts/15 amps; 1200 watts
110 volts/15 amps; 1200 watts
110 volts/15 amps; 1200 watts
110 volts/15 amps; 1200 watts
110 volts/15 amps, 1200 watts
110 volts/15 amps; 1200 watts
Power Controls
20 temperature settings from 100-460ºF; 20 power levels from 100-1800 watts
10 temperature settings from 140-460ºF; 10 power levels from 200-1800 watts
15 temperature settings from 140-460ºF; 15 power levels from 200-1800 watts
15 temperature settings from 100-450ºF; 10 power settings from 500-1800 watts
52 temperature settings from 100-575ºF; no power settings
no temperature settings; Small burner has 5 power settings; Large burner has 8 up to 1200 watts
Why Induction?
Induction technology has really started to improve and take off in recent years. Induction works with electromagnets, which radiate the energy directly into your cookware.
Here's a more scientific demonstration:
How Induction Cooking Works
This creates a unique type of cooking that offers a number of benefits:
Efficiency: there's very little energy loss.
Safety: because the heat is only conducted into your cookware, the heating element is not hot to the touch.
Speed: with all of the energy directed into the pot, it heats up quickly.
Precision: temperature adjustments are instantaneous.
But built-in conduction ranges and oven-cooktop appliances can be pricey, or maybe you don't need a new cooktop. No matter; you can still get the benefits of induction cooking with a portable induction cooktop.
There are a number of reasons you may want a portable unit:
Gain another cooktop when cooking a large meal or for a big crowd
For use when renovating your kitchen
Camping (when you have access to an electrical source)
When you're living with a rental's inferior cooktop
College dorm or small space living where you don't have a full kitchen
For keeping food warm or table top cooking like fondue, hot pots, etc.
Good to Know: Because of the electromagnetic functioning of induction cooktops, your cookware must be magnetic! Stainless steel and cast iron are your best bet, whereas copper and aluminum won't work. You can test your pots with a fridge magnet.
Buying a Portable Induction Cooktop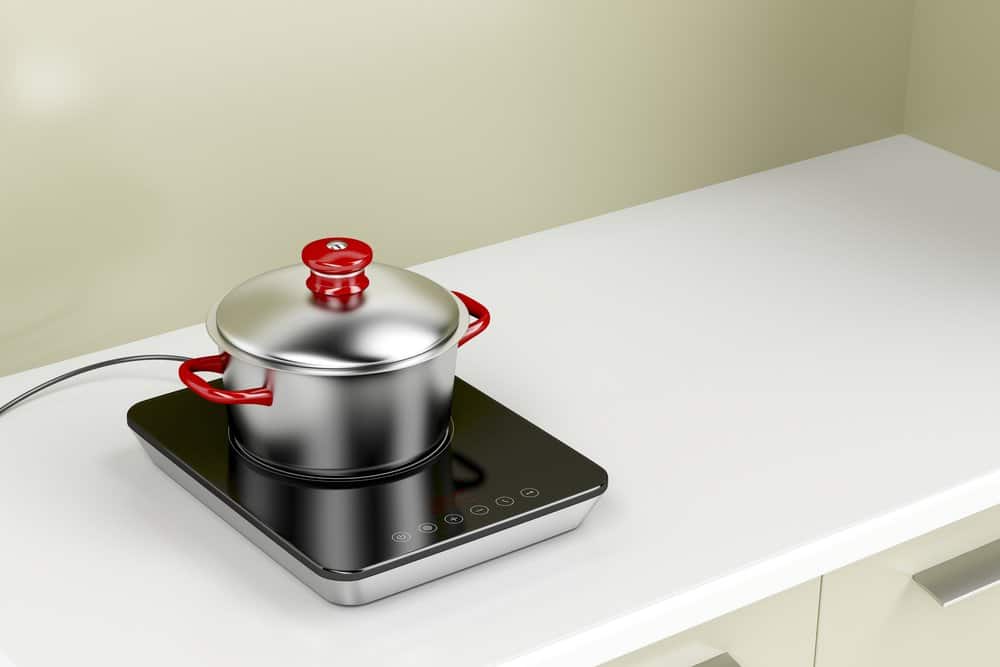 Let's discuss some of the features you should consider when shopping for a portable induction cooktop.
1. Size & Number of Burners
You can get portable units that just have one element, or ones with multiple elements. Consider your needs and storage space.
2. Cooking Settings
Some units may just have temperature settings, but many also have presets like "boil water." Many cooktops also have power settings that indicate the wattage output, and many users find these settings easier and more precise when cooking.
Consider the power range, as well. A larger wattage range will give you better functionality at the extreme ends of the unit's temperature range. If you want to do low-temp simmering, or high-temp searing, you'll want a broad range such as 100 watt to 1800 watts.
3. Size of coil
On portable units, the coil is often a bit on the small side. This will limit you to using certain pot/pan sizes, so that you don't end up with a distinct hot spot and cool sides while cooking.
4. Settings Memory
Induction elements have sensors that recognize when a cooking vessel is set on the element. When you remove the pan, the element may turn off. Some portable cooktops have a memory function, so that when you return the pan, it will return to the most recent setting used.
5. Power Requirements & Capability
If you're not an electrician, this article gives a detailed overview of electricity basics to help you understand the specs. The underlying point is that you need to consider how much electricity a portable induction unit requires and what the capabilities are of the power sources you'll be using for it.
6. Brand
I recommend purchasing a unit made by a reputable manufacturer. With small appliances like this, there are many low-quality options out there, some padding their ratings with false reviews. The units may be inferior, not as advertised, or lacking any sort of warranty, so beware.
Best Options for Portable Induction Cooktops
Here's an overview of some of the best rated portable induction cooktops available.
Duxtop is frequently recommended on discussion boards and blogs. This unit has one burner and a digital interface. The burner is compatible with pans that have a minimum bottom diameter of 5 inches.
There are some useful features in the uncomplicated interface, such as "keep warm" and "boil water" buttons.
This cooktop also features:
a child safety lock feature
a 30-second shut-off if the pan is removed
a countdown timer that maxes at 10 hours (so you could use this as a "slow cooker" if you pleased)
20 temperature ranges from 100-460ºF
20 power levels from 100-1800 watts
a fully glass cooktop
a 5 foot power cord
soft-touch buttons on the front of the unit
People generally have a good experience with this unit, especially given the price. Owners note that it's important to read the instructions to become familiar with how this unit works. The temperature settings do tend to cycle on and off as the desired temperature is reached, which can be problematic for cooking things that require a constant temperature.
The power settings, however, maintain a more constant temperature, and most users find that once they understand how the settings work, this cooktop works wonderfully and offers a lot of flexibility in how it operates.
Some people do experience a high-pitched sound at high temperatures, which is more a function of the type of cookware than the cooktop. Other users are bothered by the power button, which requires being held down for about 2 seconds to turn the unit on.
PROS
Offers user lots of control
Very responsive
Powerful
CONS
Learning curve
High-pitched sound at max temperatures
Secura is the same manufacturer as the Duxtop above. This unit doesn't have presets in the soft-touch buttons, but does offer the ability to control both the temperature range and the power levels.
This cooktop offers:
10 temperature ranges from 140-460ºF
10 power levels from 200-1800 watts
auto-pan detection that shuts off burner after 60 seconds
count-down digital timer in 5 minute increments up to 170 minutes
self-adjusting burners to detect size of cookware and minimize energy waste
diagnostic error message system
Many owners (and there are many reviews) rave about this unit. People praise how quickly it works to heat up a pot of boiling water, for example. Most owners who have been successful with this induction cooktop seem to prefer cooking with the power settings rather than the temperature settings.
Other users, however, had issues with this cooktop. Some found that it wasn't suitable for cooking at higher temperatures like searing. As with many cooktops, the lower temperatures also cause problems as the unit pulses on and off rather than maintaining a consistent temperature.
The other issue some users experience is that the control panel can warp or even melt if too big a pan is used. This is an indication of how hot it gets, but also a bit of a design flaw with the plastic control panel being at the same level as the cooktop. It can't handle a pan much larger than about a 10 inches.

PROS
Very responsive
self-adjusting burner depending on pan size
1 year warranty
CONS
Inaccurate temperature settings
Poor functioning at lowest and highest end of cooking temperatures/power
Flat design creates risk of melting control panel
This Secura cooktop the next generation of the 8100MC. It solves the control panel melting issue by angling the controls down from the cooking surface. It also offers greater control of the temperature settings with more power levels and temperature increments.
Here are the specifics:
15 temperature settings from 140-460ºF
15 power levels from 200-1800 watts
auto-pan detection that shuts off burner after 60 seconds
count-down digital timer in 1 minute increments up to 170 minutes
diagnostic error message system
1 year manufacturer's warranty
Many people find this cooktop is great, some noting that the angled control panel is definitely an improvement over the earlier model.
According to reviewers, one of the main drawbacks of this cooktop is the loud noise of the fan, which users who've used older Secura models note is louder on this unit. Others complain about the fairly useless temperature settings and find that the power settings really are much better (though this is a common complaint with many induction cooktops). Many also find that there's a pretty noticeable "hot spot" ring around the diameter of the element, so larger cookware may really have issues heating evenly.
Some users also experienced the unit either not working out of the box, or failing after about a year. You should definitely give it a try within the return period to make sure it works, and hold onto the warranty information.

PROS
Offers user lots of control
Very responsive
1 year warranty
CONS
Loud fan
Inaccurate temperature settings
Hot spots
Seems to have quality control issues
Max Burton is another name that regularly comes up when discussing portable induction cooktops. This unit is similar to the Duxtop.
Like the Duxtop, it has a "boil water" button, but a "simmer" instead of "keep warm" button.
It also has:
a lock feature to keep the temperature consistently set
an auto-shut off after about 1 minute if the pan or pot is removed
power and temperature settings, with a temperature range of 100-450ºF in 25º increments
a timer up to 180 minutes
1800 watts
According to customer reviews, as with the Duxtop, it is definitely beneficial to the user to read the instructions and become familiar with the different settings. After this, many users find the unit works impressively well—very quick to boil water, responsive temperature adjustments, etc.
The biggest complaint with this cooktop is that it functions poorly at the lower temperatures, and indeed, the lowest power setting is 500 watts compared to the Duxtop's 100 watts. The low power settings don't offer a great deal of precision, and the jumps in power output are not consistent, making it hard to use properly.

PROS
Offers user lots of control
Very responsive
CONS
Learning curve
Poor functioning at lower temperatures
NuWave is best known for its NuWave oven, which also has an induction element, so it makes sense that they also offer an induction cooktop. This cooktop has a circular design and a 9" ceramic cooking surface.
This unit does not offer as much control over power settings, but does have:
a large temperature range and many settings from 100-575ºF in 10º increments
6 pre-programmed temperature settings: low, medium low, medium, medium high, high, and sear
a compatible 10.5" ceramic non-stick pan included
the ability to program your own "recipes" with the 100-hr. memory, recording specific times and temperatures that you can recall later
Cooks who own the NuWave induction cooktop find it performs very well. Most people don't seem to miss the power control offered by some other units and find the temperature adjustment adequate. This unit also offers a large cooking surface, so it's a good choice if you have larger pots and pans.
There aren't many negative reviews of this unit. Some had issues with it working out of the box, so as always, I suggest giving it a try before the return period lapses to be sure you've gotten a working cooktop.

PROS
Large cooking surface
Comes with compatible pan
Reliable
CONS
Some quality control issues
Lower wattage than other options
This is one of the few portable induction cooktops that has 2 burners, one with 8 settings and one with 5. Two burners is great if you're planning to use this as a replacement for a built-in cooktop. It's a sleek-looking cooktop.
Each burner has a 150 minute timer, and its own on/off switch. The burners will shut off after 30 seconds if there is no pot on top.
Some users have had excellent success with this unit. The smaller burner, they report, is functional at lower temperatures and is good for simmering or keeping food warm, while the larger burner will do more high-temp cooking. A number of people have this unit in their mobile home or small kitchens to use as their primary cooktop.
There do seem to be some issues with quality control. Some people had problems with one of the burners malfunctioning. The other issue is that it isn't a very powerful unit—the max wattage on the larger burner is 1200 watts, which is quite low for an induction burner.

PROS
Double burner
Sleek design
CONS
Quality control issues
Lower wattage than other options
Decision Time
If I were to renovate my kitchen, I'd purchase a portable induction burner to test out induction and see how I liked it (and it would come in handy with the kitchen out of commission—you can only order so much take-out while doing a reno!).
While a 2-burner option would be nice, it seems that the Cuisinart unit unfortunately isn't reliable enough. However, the NuWave seems to offer a great portable induction cooktop with a large cooking surface.
If you need something a bit more streamlined and sleek, the Duxtop is an attractive and reliable option—this would be my choice for an induction cooktop that offers a lot of control and power. I'd go for this newer version over the earlier models, the Secura 8100MC or 9100MC, but if you're looking for a bargain you might be able to find one of these at a nice discount.
Are you experienced with induction cooking? Tell us about it in the comments!