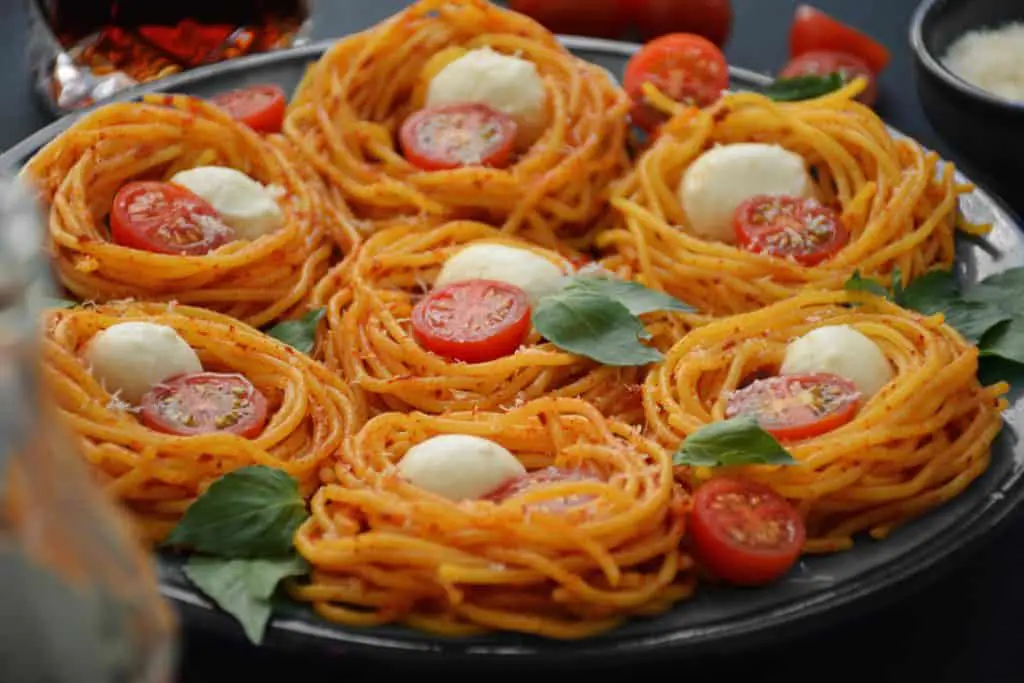 Air fryers have been all the rage for the last few years. However, for those who don't typically eat fried food, buying one of the appliances might seem like a bad investment. That couldn't be further from the truth. 
The nifty machines don't just cook fried food, they can be used for all sorts of dishes. The best part is that it can help significantly reduce a person's time standing in the kitchen after a long day at work. Imagine having a whole meal ready in 20 minutes with almost no work; that's the kind of freedom we are talking about.
The most important aspect of using the air fryer is getting the temperature and timing down. Fortunately, many air fryers have settings on them to help with that. It's best to look for one of those when purchasing one. 
Before you start making dishes in your new air fryer, remember there will be a trial and error phase. So, don't be discouraged. You'll be a pro in no time. 
Incredible Pasta Sauce

Really good pasta sauce can be hard to perfect; some people stand over their stoves for entire days to make the perfect sauce. There's certainly a place in the world for that labor of love, but Monday evening isn't it. The last thing someone wants to do after a long day of work is to spend hours cooking. That's where the air fryer comes in. You can come home from work, take your shoes off, pop your daily vitamins, take your  CoQ10 supplements, pop some ingredients in the air fryer and wait for the magic to happen in your favorite new kitchen gadget. The best part is that many air fryer recipes are healthy, allowing you to stay on the wellness track.
Fortunately, for the perfect pasta sauce, you will only need a few ingredients (you might need to alter it a bit depending on the size of your air fryer):
2 pints of cherry tomatoes
4 cloves of chopped garlic
Salt
1 block of feta cheese
Pasta of your choice
½ cup of olive oil, divided 
Fresh basil or Italian seasoning
Combine the tomatoes, garlic, a pinch of salt, and half of the olive oil in the air fryer. Some people put a dish in the basket, I did not. Stick the feta in the middle of the tomatoes and top it with the rest of the oil. If you are using Italian seasoning, add that too. 
Set the air fryer temperature to 400 degrees Fahrenheit and cook it for 10 minutes. While that's cooking, bring your pasta water to a boil. Check on the sauce when the timer goes off, stir the tomatoes around and put it back in for 10 more minutes. Cook the pasta according to the directions on the box. 
When the pasta sauce is finished the feta will be golden brown and creamy when you stick a fork into it. Transfer it all to a different dish and start squishing the tomatoes and feta together. When finished, toss the noodles into the dish, top with some basil and serve.
Pasta Sauce Add-Ins
If you like your pasta sauce with a bit of a kick, toss some red pepper flakes into the sauce. Artichokes are another nice addition to the dish. If you have some leftover chicken in the fridge, you can throw some of that in there too. It's really one of those sauces that you can throw anything into and it would still be good — within reason, of course. 
Time to Start Experimenting
Now that you've perfected the art of making feta pasta sauce in the air fryer, there's nothing you can't do. You can make side dishes, like parmesan green beans in the machine. Air fryer salmon is also really good and only takes 8 minutes at 400 degrees to cook. Some people even make steak in it — the possibilities are endless.