Living with a cat and dog alongside my fiancé who enjoys playing soccer, pet hair and dirt can easily accumulate in our home. Not to mention that during the holidays we had relatives visiting and with all the festivities, it left our space in need of cleaning to get out all the dirt, crumbs, and left over glitter from the decorations. Luckily for us, we have been able to rely on our LVAC-120 Cordless 2-in-1 Stick Vacuum Cleaner from Levoit for everything, whether if it is the couch or kitchen floor that needs cleaning.
Design and Dimensions
The vacuum we had before made deterred us from vacuuming so frequently due to its bulky size and having to haul around the cord to vacuum room to room. However, with the design of the LVAC-120 Cordless 2-in-1 Stick Vacuum Cleaner, it allows for a smooth easy use and since it is battery operated, you only need to charge it, making it easy to vacuum from room to room, or even in your car! In addition, the vacuum does not take up a lot of space for storage and with the wall mount included, putting it back in storage is not a hassle!
For lightweight construction, use its handheld option which makes it weigh less than 3 pounds! The handheld option makes it easier to reach corners in the ceilings or over the curtains in your house. This has been incredibly helpful keeping the spider webs at bay that we would normally find in the corners or nearby our ceiling fan!
The dimensions: 10.4 x 5.3 x 30.3 in /26.3 x 13.5 x 77 cm. Weight: 8.3 lb /3.8 kg
The capacity of the dustbin is 2.1 cups (.5L).
What does it come with?
1 x Cordless Vacuum
1 x Stick
1 x Roller Brush
1 x Crevice Nozzle
1 x 2-in-1 Brush Nozzle
1 x Cleaning Brush
1 x Wall Mount
Maintenance
With the 2-in-1 Stick Vacuum Cleaner, cleaning the vacuum itself is not grueling and with the cleaning brush that is provided for the wheel axles, it's something I am able to do swiftly. Something to note is that while you can clean the disc filters yourself, they do need to be replaced every 6-8 months, and since I have not replaced my own disc filter yet, I am unaware of how much they cost. Overall cleaning the vacuum is stress and hassle free and along with the included one year warranty which can be extended two, I feel confident in relying solely on my LVAC-120.
Features and Performance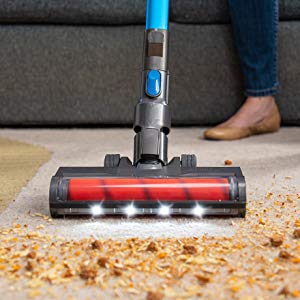 The LVAC-120 has two stages. With the first being for hard floors or small rugs, and Stage II is used for carpets, making it easier to clean up heavier debris. Stage II features 150-watt suction making it strong enough to catch any mess on the floor. Although the LVAC-120 has proven to be reliable, it is worth mentioning that it does not clean is any liquid mess.
The roller brush also has four LED lights for better visibility and it comes in handy when I'm vacuuming under our couches or bed to ensure that I get any particles I could have missed. In addition, crevice nozzle does what it needs to do- reaches any crevice at home! This nozzle is great when used with the handheld option to reach corners in the ceiling, closets, or in the car! The 2-in-1 brush nozzle I use for flat surfaces like tables and desks. With our pets choosing to spend their Sundays on the sofas, we rely on the 2-in-1 nozzle to get the job done and use it on our sofas and chairs too. Another important feature to mention is with a 5 hour charging time, you get 40 minutes of runtime. Because you are able to change the different nozzle and the size of the vacuum, it is versatile and just as I was about to buy a robotic vacuum, I decided to give another vacuum cleaner one more try. I'm just happy that I picked the LVAC-120!