The holiday season is a special time of year for many people and their families. It is full of parties, good food, and, of course, treasured holiday traditions. Everyone celebrates the holidays a little differently, but traditions also vary in different countries and cultures. Some cultures share similar versions of their traditions, and some of them do things completely unique to them.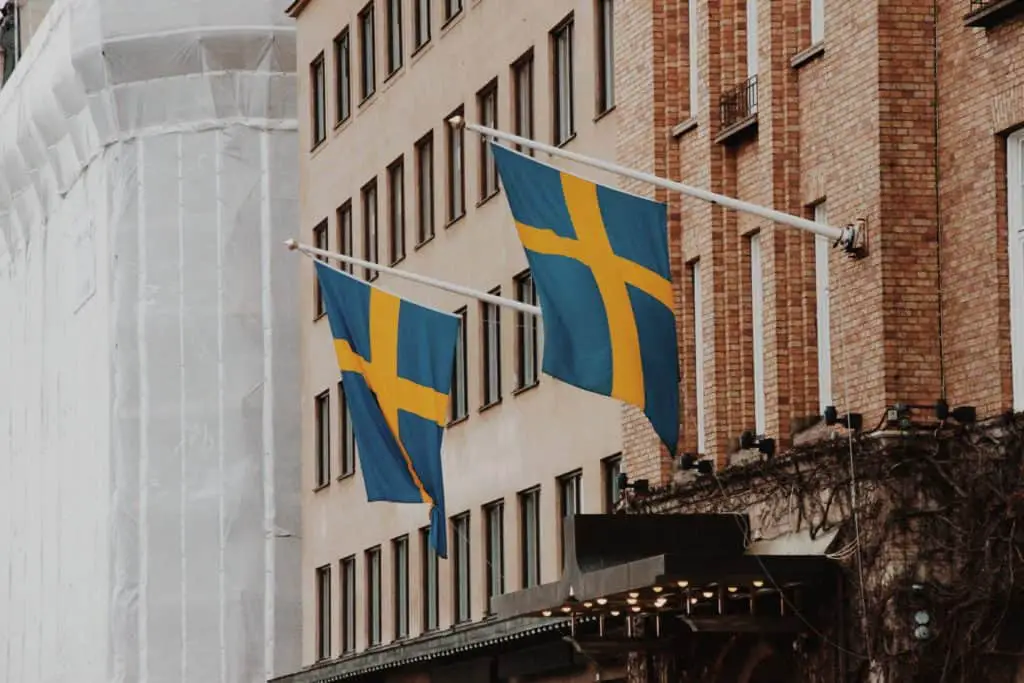 In Sweden, people do not celebrate Christmas Day. Instead, everyone gathers for a really big meal on Christmas Eve, which is known as the Julbord (literally translates to "Christmas table" and is similar to a smorgasbord). This meal is a Christmas buffet that usually lasts four to six courses of traditional food and the Swedes look forward to it every year. On Christmas Day they normally just eat Julbord leftovers, surrounded by hundreds of lit candles on the Christmas tree and throughout the house.
Each course of this Swedish Christmas tradition consists of specific dishes and occur in a particular order. The first course is the cold fish, followed by the other cold meats, then the hot dishes, the cheese course, and the dessert. There is so much food that takes such a long time to eat, that in most Swedish households multiple generations of family members will gather together to all help make the food — and eat it.
There are a lot of traditional dishes on a Swedish julbord, and not all of them are very popular everywhere. So whether this is your first Swedish Christmas table and you are doing your research, or you are getting ready to put on your own julbord, here is a list of the kinds of dishes you will encounter, plus some tips for how to make them.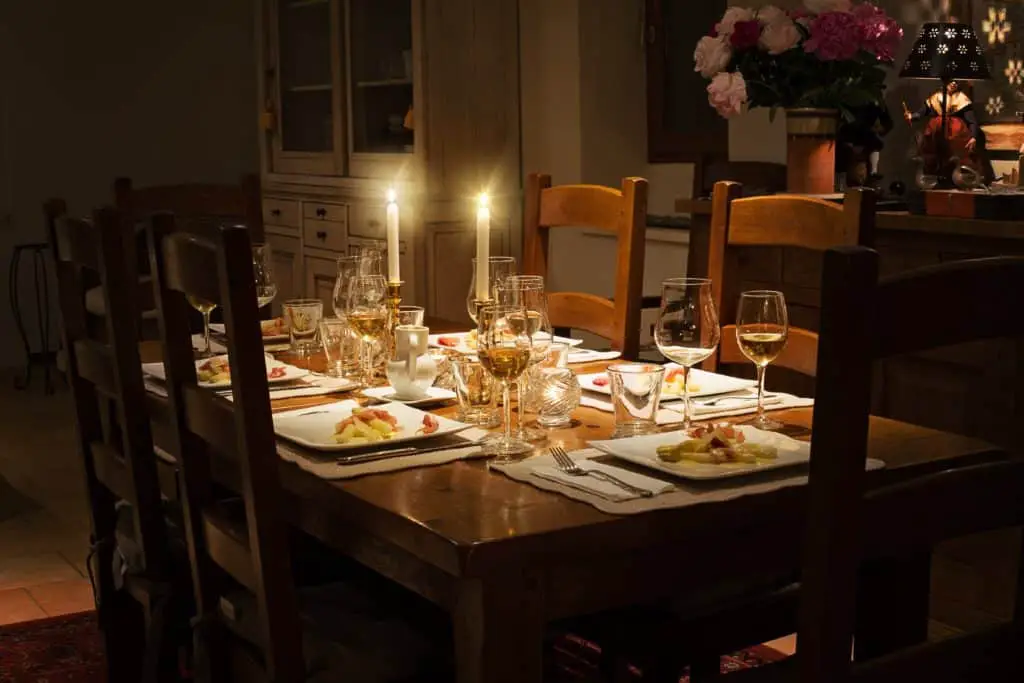 First Course: Cold Fish
Pickled herring; This popular dish may sound off putting at first if you are not familiar with it, but there are a lot of different ways you can pickle a herring, as well as multiple ways you can serve it. Different types of pickled herring go well with some cheeses, wort bread, or a creamy sauce such as mustard sauce. Find some tips for pickling your herring and serving it here.
Salmon: Fish is an important staple in Swedish cuisine, so salmon (gravad in Swedish) is a big part of the julbord menu. You can serve it many ways, but sauces with fresh dill or mustard are very popular.
Lutfisk: This preserved fish dish is a sign that you are attending a really traditional julbord. This traditional dish is dried cod rehydrated using lye, and goes back to a time when fresh fish was more difficult to find and poorer families had to find ways to save their food for Christmas. Some people like it but many people think it's gross, so it is becoming less popular in Sweden. If you do want to serve it at your Christmas table, it goes well with a bechamel sauce and pancetta — here's a recipe.
Second Course: Cold Meats and Salads
Julsinka: The Christmas ham is the main course of Christmas dinner, the star of the show. It is a salted ham that marinates in brine before being coated in breadcrumbs and mustard, then cooked and eventually served as cold cuts with a side of mustard sauce. However, this is not a dish that you can start the night before: it takes two weeks to properly brine the ham before you cook it! Follow this brine recipe.
Rödbetssallad: Unlike the ham, this cold beetroot salad can be made pretty quickly. It is made of pickled beets, sour cream, and salt and black pepper. You can also add chopped apples and parsley for extra flavor.
Third Course: Hot dishes
Swedish meatballs: The meat in these meatballs might change for the occasion (sometimes it's elk or moose instead of beef) but one thing that never changes: they are always served with lingonberry sauce. They really are a mix of whatever meats are available: pork, beef, moose, even reindeer. Many Swedish families have their own recipe passed down through generations, which also includes a gravy recipe for those who do not want to eat them with the jam. Here is a great recipe for meatballs and gravy.
Prinskorv: These tiny, fried sausages are a big hit with all the kids at Christmas dinner. Sausage is eaten year round, but that doesn't stop it from being part of several Swedish Christmas dishes. Don't forget the mustard on the side!
Janssons frestelse: jansson's temptation is maybe the most popular traditional Swedish Christmas food, and it's basically comfort food. It is a potato casserole that features anchovies or salmon and is topped with breadcrumbs. The fishy aspect of this dish can be controversial, so feel free to leave it out if you decide to make it and you and your guests don't like fish. Follow this recipe for a great Janssons frestelse with or without fish!
Fourth Course: Dessert
Rice pudding: Known as Risgrynsgröt or Julgröt in Swedish, this simple dessert is is one of the many sweet treats served at Christmas dinner in Sweden. It's easy to make, and ends up with a texture similar to oatmeal. However, not everyone loves the flavor so you can top it with cinnamon or mix in some berries or jam to help sweeten it up. Many family traditions dictate that an almond should be mixed into the pudding. In the past, finding the almond in your pudding was thought to be a sign that you were going to be married in the coming year, but now the winner just gets a task to perform.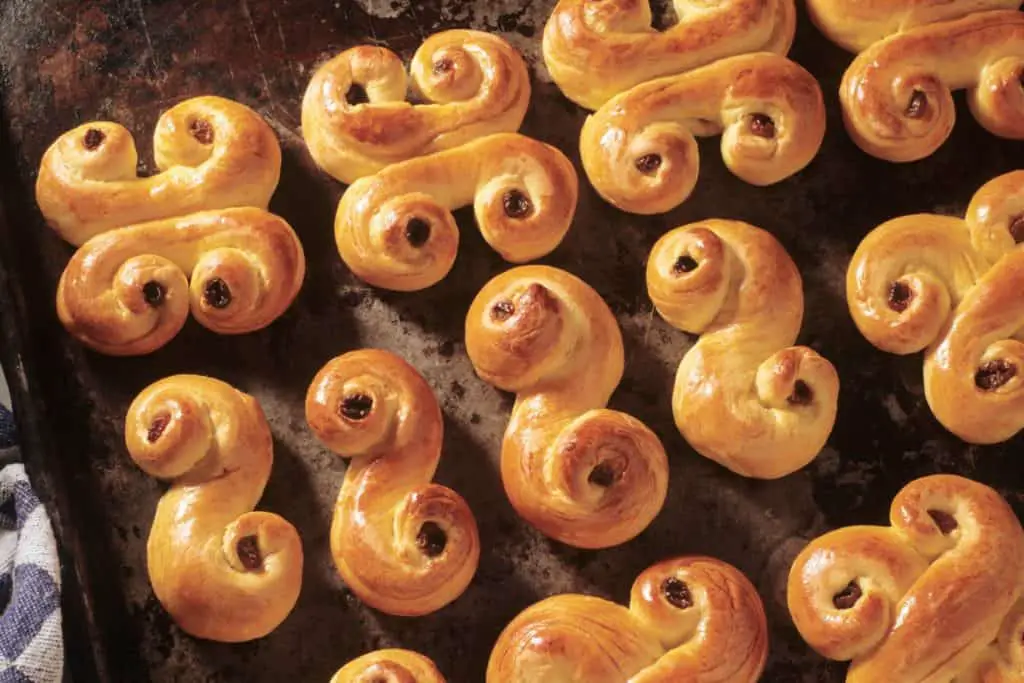 Lussekatter: You actually start eating these sweet saffron buns on December 13 until the end of the holidays, so be prepared to make lots and lots of them. They're garnished with raisins and are popular sweets throughout the whole holiday season.
Of course, this is not an exhaustive list of everything that you will find on a traditional julbord, but it will give you a good idea of some of the main parts to expect and help you know what you need to prepare if you are hosting. This Christmas time, enjoy your exploration into Swedish cuisine and culture, and Merry Christmas (god jul)!