You cannot deny the fact that tea is a more delicious and healthier alternative to the more popular caffeinated drink—coffee.
Aside from its nutritional benefits, what I liked most about teas is they are a part of a culture of various countries. But what I am saddened about is the fact that we are already starting to neglect the traditional process of brewing teas due to the popularity of commercial tea bags.
As a certified tea lover, I would like (as much as possible) to still brew the tea the old way. But since I am also a busy person, I highly appreciate the invention of tea makers which make brewing hassle-free.
In this review, I will share with you some of my favorite tea makers along with their pros and cons to help you find the best tea maker of your dreams!
5 Best Tea Maker Reviews
For this roundup, my top pick is Mr. Coffee Maker/ Kettle because it can brew both hot and iced tea and can even be used in boiling coffee! It is a 3-in-1 machine which makes it highly useful in the kitchen.
For more information about the other products in the list, please check this comparison table.
Material
Glass and Stainless Steel
Glass and Stainless Steel
Glass and Stainless Steel
Container Size
Not Listed (approximately 2.5 cups)
Features
Boil Dry protection, Auto shutoff, Preset steeping options
iTea Boil to Brew Technology, Refresh Cycle, SafetyFirst System
Tea basket Cycle, Auto-start Feature, One-Touch Operation
Water Filtration Ready, Auto Shut Off, Brew Strength Selector, Fast Brewing Cycle
1. Mr. Coffee Tea Maker/ Kettle -Editor's Pick 
At the top of my list is the Mr. Coffee Tea Maker/ Kettle. With one look, you may think it is just a classy glass kettle, but I am amazed at how versatile this machine is.
The company calls this product a 2-in-1 tea maker because it can make both iced and hot tea. Not many other tea makers can do that. The tea maker also has a third function—it can be used as a plain kettle too!
With its heat-resistant SCHOTT glass body,  stainless steel finish and stainless tea infuser, the product is long lasting and durable. The tea infuser is removable, so you have the option to use the maker in steeping your tea bags too.
This tea maker is designed to steep your tea to perfection, thanks to its preset selection for different kinds of teas such as herbal, white, green, oolong and black tea.
Mr. Coffee covered more than the basics with this coffee maker—it has also added so much more! For one, it gives you the option to personalize the steeping time by adding a few more minutes to the preset options provided.
It also has a few safety features like the boil dry protection and auto shut off ability which is handy in the instance that the water level got too low.
Pros
1200 watt motor for fast boiling
Can function as a plain kettle too
Has preset steeping time for 5 different types of teas
Safety features
Can be used to make both cold and hot tea
Cons
Some users find the infuser to be too narrow.
They also claim that the bottom part of the maker tends to stain. 
2. Gourmia GTC8000W Electric Coffee and Tea Brewing System- Alternative Pick
My alternative pick is the Gourmia GTC8000W Coffee and Tea Brewing system which is probably the most advanced looking tea and coffee maker I have ever seen. In fact, this is the only square-shaped tea maker that I have seen in the market.
But more than its look, what captured my attention are its excellent features. I prefer this one when it comes to steeping loose leaf tea because it is exactly what this is designed to do.
The tea maker has a refresh cycle feature which enlivens the tea leaves to maximize the flavor infusion of the teas. The machine is incorporated with the SafetyFirst System which ensures that the machine will not work when the glass carafe is not in place.
Thanks to its iTea Boil to Brew Technology, this tea maker can also brew 4 different strengths of coffee—making it perfect for both coffee and tea lovers!
Pros
Glass and stainless steel carafe to preserve the flavor of the leaves
Can brew coffee and steep teas
Fully portable and easy to pack
Best for steeping loose leaf teas
4 preset modes for easy brewing
Cons
The carafe is a bit small.
It lacks the option to customize steep time manually. 
3. Breville BTM800XL One-Touch Tea Maker– Upgrade Pick 
If you wish to enjoy a hassle-free tea brewing experience, the Breville BTM800XL is designed exactly for this purpose. Among the products in this list, this has the most advanced features, but of course, this is also the most expensive.
What I like most about this tea maker is it is highly programmable. Temperature control options can be set in either Fahrenheit or Celsius and can be adjusted in 5 degree-intervals.
Aside from the temperature, the steeping time is highly customizable too. You can adjust it in 30 seconds increments until you reach 10 minutes.
With the convenience of the user in mind, the company incorporated an auto-start feature that allows you to leave the tea overnight so you can have a cup of freshly brewed coffee upon waking up.
Even though the tea maker is quite fancy, it is low maintenance since the basket can be placed in the dishwasher although the carafe is recommended to be hand-washed.
Pros
Highly customizable steeping time
Highly programmable temperature control settings
Auto-start feature
Automatic steep mechanism
One-touch operation
Cons
Comes with a hefty price tag
The "Keep Warm" function does not work as claimed. 
4. Teavana Perfectea Maker– Budget Pick
The design of Teavana Perfectea Maker is pretty straightforward. It does not come with all the bells and whistles like the other products in this list, but it does a great job in brewing tea.
When using this tea maker, you just have to add water and leaves to the main chamber. Once it is done brewing, press the bottom up against the rim of the tea mug. Doing so will facilitate the mechanism to open up.
The tea will flow down through the metal strainer and straight into your mug. The metal mesh can catch the smallest particles so there's nothing you should worry about.
The tea maker only has four parts which are all removable so you can easily wash them.
Pros
Affordable
Comes in five stylish designs and colors
Made of BPA-free plastic material
Four-piece construction for easy maintenance
Cons
Not programmable
Does not heat water
5. Mr. Coffee Iced Tea Brewing System with Pitcher– Best Tea Maker for Iced Tea
  If you love iced tea as much as I do, then you will love the Mr. Coffee Iced Tea Brewing System. With the use of this tool, you can produce fresh iced tea from tea leaves or tea bags.
What I adore about this tea maker is its big container size—it can make 10 cups! And thanks to its fast brewing cycle, you can make 2.5 quarts of iced tea within just a few minutes!
It also has a Brew Strength Selector that allows you to customize how strong or flavorful you want your tea to be. The water reservoir has a window that allows you to see the exact water level as you fill it. The reservoir is also water filtration ready and can remove up to 97% of chlorine in the water for better tasting teas!
Pros
Fast brewing cycle makes 2.5 quarts of iced tea within minutes
Lift and clean filter for easy maintenance
Dishwasher safe lid and pitcher
Power ON Indicator 
High container capacity
Cons
Nor portable
May not be suitable for brewing small batches of iced tea
Types of Tea Makers
The first thing that you need to understand when buying a tea maker is it comes in different types. To help you determine which model suits your need the most, check out the information provided below:
Electric Tea Makers
Most of the tea makers that you can find in the market nowadays are under this category. These devices make brewing tea as simple as possible. 
Electric tea makers are programmable and you can auto-start them at a pre-defined schedule. The only thing that you have to do is place the tea and water in the maker, and your tea will be ready in no time.
Teapot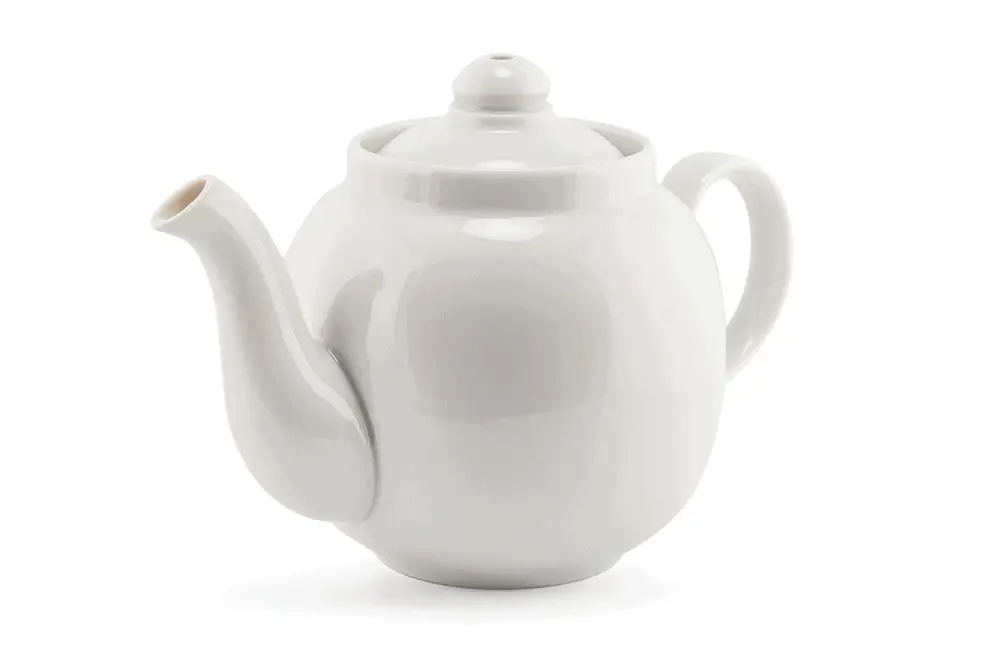 This is the classic way of brewing tea. Most pots have a basket in its middle where you can place the tea leaves. On the other hand, there are some pots with small holes in the spout to filter the leaves.
The two main materials used in making a teapot are ceramic and glass. Ceramic is more sturdy but cheaper while glass looks classier but is a lot more expensive.
French Press
This is traditionally used for brewing coffee, but it is now used to brew tea as well. 
To use a French press, remove the strainer plate and place the tea at the bottom part of the tool. Pour hot water afterward. Bring the strainer plate back and gently press it down. Pour the tea right away to avoid further brewing.
To know how you can use a French press to brew tea, check out this video: 
Tea Infusers
Tea infusers come in different types—mugs, bottles, and pitchers.
These gadgets come with a complimentary strainer where you can place the tea leaves in. Afterward, pour the water into the mug or bottle to steep the tea leaves. Remove the strainer and drink the tea.
The Anatomy of a Good Tea Maker (The Characteristics You Should Look For!)
Now that you know the different types, what are the other factors you need to look for when choosing a tea maker? Read on to find out.
Material
The material used in creating the carafe or pitcher of the tea maker will determine the durability of the machine. 
When it comes to materials, you have lots of options. These are as follows:
–   Glass
These are light and attractive. However, they are also fragile and require lots of care when being cleaned and transported. 
This material is perfect for brewing green, white and blossoming teas.
–   Silver
These are durable, low maintenance and come in a wide array of finishes and styles. This is most suitable for brewing fully oxidized teas.
–   Ceramic or Porcelain
These are commonly used for teapots and recommended for brewing lightly oxidized teas, such as an earl grey tea.
Hot or Iced
What type of tea are you going to make? Hot or iced? This is one crucial factor to consider as there are certain tea makers designed to produce only hot tea while others create only iced teas.
Container Size
The pitcher size will determine how much tea you can make in just one brew. If you usually prepare teas for a group or you like hosting tea parties with lots of baked goodies, you may want a bigger container.
But if the tea maker will just be for personal use, a small container will do.
Ease of Use
Tea makers are designed to help make brewing easy. That is why you have to make sure that the tea maker is easy to use. Having a user manual would certainly come handy for this purpose.
Versatility
There are tea makers that can brew both iced and hot tea. You can also find some tea makers that can also be used in brewing coffee. 
Extra Features
The more features a tea maker has, the more you will feel that the product design has been well thought out. With that in mind, here are some of the extra features that you may want to look for. Just keep in mind that these features are only commonly found in electric tea makers:
–   Timer
This feature allows you to set the tea maker to start operating at the time you would want it to. In this way, you can set the maker at night and wake up to freshly brewed tea in the morning.
–   Auto-shutdown
This is one safety feature that shuts down the machine when it is not used for a certain period. 
–    Temperature control
This one is common with tea infusers. Are you going to drink the tea that you have made in just one sitting? If not, then it is essential that the tea maker that you will choose can keep the tea at just the right temperature.
Which is the Tea Maker for You?
I agree that not all tea makers are created equal. Some highly advanced features while there are some that are pretty straightforward. The wide array of choices makes finding the right tea maker more difficult for us.
My choice of the best tea maker is no other than the Mr. Coffee 2-in 1 Tea Maker/ Kettle because it is multifunctional and highly versatile. It has all the basic safety features you would want a tea maker to have, and you can enjoy all its benefits at a very reasonable price.