Are you prepping up for Mexican night? For sure, quesadillas would be at the top of your menu list. Now that you have the favorite Mexican dish in your inventory, the next thing that you would need to do is figure out what fantastic side dishes that you can pair with it.
What to serve with quesadillas? Read this article to know what other Mexican side dishes you can prepare for your dinner party!
What to Serve With Quesadillas? The Mexican Side Dishes You Need to Know About!
Whether you are planning for a small dinner or a big Mexican party, you can find the side dishes that you are looking for in this section. We have prepared as many side dishes as possible so you can have lots of options to choose from!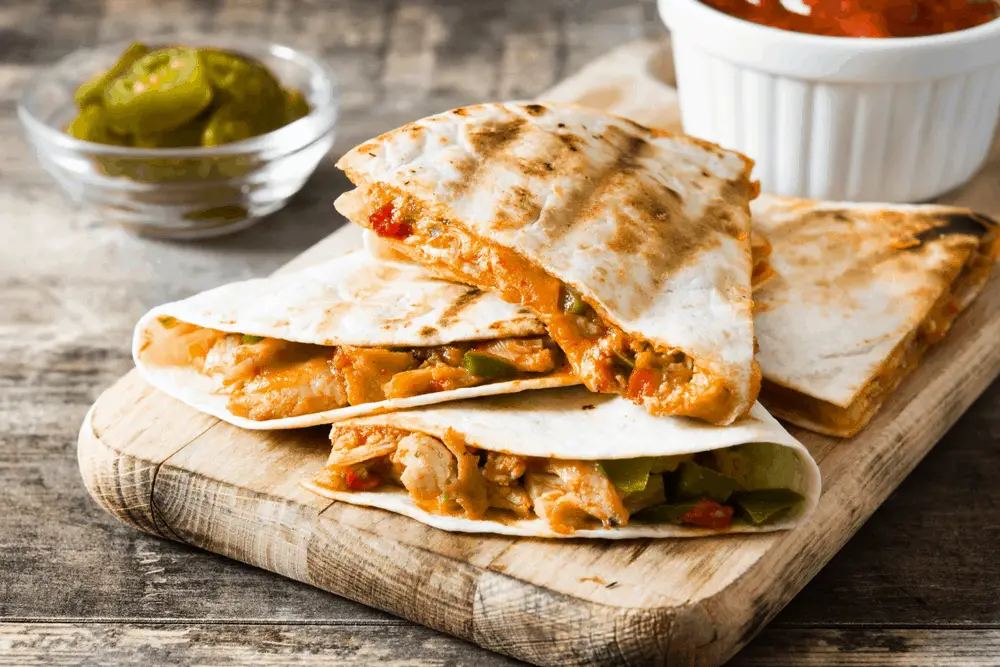 Mexican quesadilla with chicken, cheese and peppers
Regardless if you are making beef, chicken, or cheese quesadillas, these side dishes got your back! So what are you waiting for? Dig in!
Refried Beans
No Mexican party will ever be complete without refried beans. This side dish helps to neutralize the overwhelming flavors of Mexican food. As per Yummly, you can create your own refried beans from pinto beans and pork hocks. You can add flavor to it by using onion, salt, and garlic.
But if you do not have time to spare, you can merely buy canned refried beans, open it and transfer it to a bowl.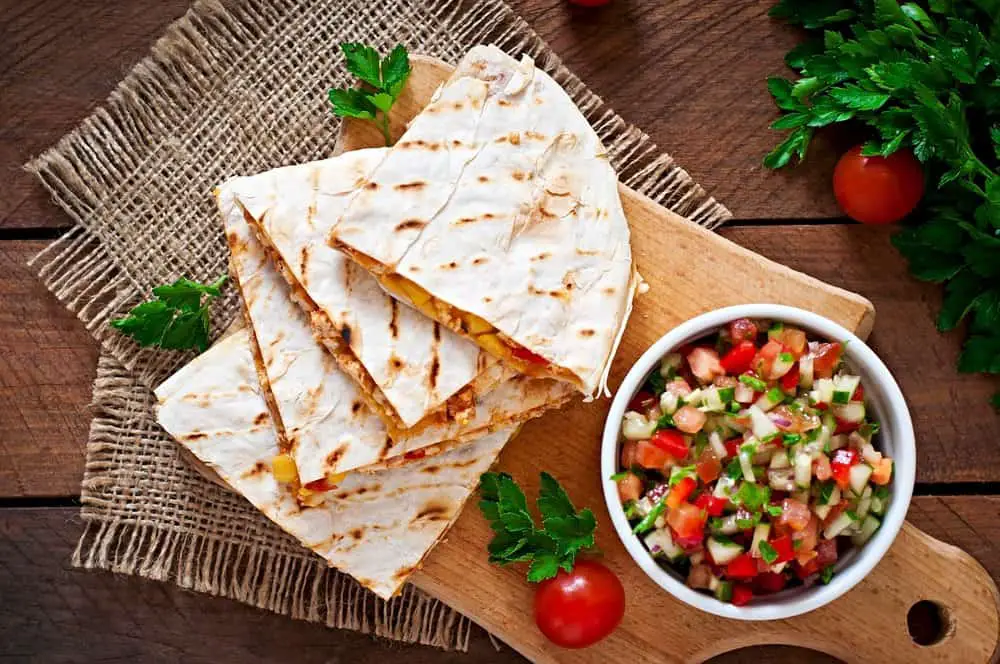 Mexican Quesadilla wrap with chicken
Mexican-style Slaw
Of course, you need to take a break from all the meaty dishes from time to time. The best way to do that is to try out a coleslaw dish infused with authentic Mexican flavors. Instead of the usual cabbage, this recipe uses cucumber, shredded raw beets, and jicama.
If you want to give your taste buds a rest from all the Mexican dishes that you are consuming, Cooking Channel TV recommends adding soy sauce and sesame oil to the recipe if you want a mix of Asian and Mexican flavors in your side dish.
Sweet Potato Salad
If you want to enjoy a smoky flair in your Mexican party, this is the recipe to try! Kelsey Nixon shares with us the most straightforward way on how to prep this fantastic dish.
All that we have to do is coat potatoes with a rub that features spicy and sweet flavors. For a meaty delight, you can use a bacon and adobo sauce dressing. Your guests will surely be intrigued with this seemingly intricate but easy to prepare dish!
Spicy Black Bean Soup
How about you start with a warm and spicy black bean soup? The heat that this soup can bring is sure to get the party started! Just like most Mexican dishes, this soup recipe from Delish has all the usual suspects—avocado, black bean, cilantro, jalapenos and many more! What can get more Mexican than that, right?
Just throw everything in the slow cooker and you are good to go!
Grilled quesadillas (tortillas with cheese)
Chicken Tortilla Soup
If you don't like the taste of bean soup, then a chicken soup recipe might just be what you need. In the Chicken Tortilla Soup recipe by Genius Kitchen, you only need a few ingredients—onion, garlic, green pepper, jalapeno, boneless chicken breast, corn, white wine, cumin, chili powder, cayenne pepper, diced tomatoes, tomato sauce, and chicken broth. You can use fried tortilla chips as toppings.
All that you need to do is saute the garlic, onion, green pepper and jalapeno then add the rest of the ingredients then bring it to a boil. Top it with the shredded kitchen and let it simmer for a few more minutes then you're done!
Baked Mexican Street Corn
Cheesy corn is one of the most famous street food, and side dishes in Mexico and no Mexican party will ever be complete without it! But of course, you do not have to travel to the streets of Mexico just to have a taste of this delectable cuisine. Taste of Home shares with us the easiest way to create authentic Mexican-style street corn—bake it!
Simply mix chipotle pepper, mayonnaise, thawed frozen corn, cheese of your choice (Parmesan is recommended), green onions, and salt in a ceramic pan. Bake it for 15 to 20 minutes, and you already have one hell of a Mexican side dish!
Guacamole
Sometimes, you do not need fancy schmancy recipes. There are times when you just need to stick to the basics and when it comes to Mexican food basic means guacamole!
Real Simple's Guacamole recipe is as simple as it can get, but it has the anatomy of what a Mexican dish should taste like. It is easy to prepare too!
Just mash the jalapeno pieces in mortar and pestle. Add the avocado flesh, cilantro and lime juice, Mash everything. Afterward, add the sliced tomatoes then add salt and pepper to taste. Mix everything and serve!
In Summary
If you can't find great recipes online, you can always take advantage of the fantastic recipes featured in the most popular Mexican cookbooks. Try them and surprise your guests with the most authentic Mexican dishes they have ever tried.
Choose one to two (or all) of these Mexican side dishes and let your guests enjoy a fiesta to remember!
Reference Links:
https://www.yummly.com/recipes/side-dish-quesadillas