Patronizing tuna which is commonly sold in the form of steak is one of the most appropriate ways to replace your regular meat with something lower in calories and higher in vitamins and minerals if not every time then once in a while.
Aside the "just substituting" side of it, tuna has the essential Omega 3 fatty acids that aid daily bodily growth. The fish falls under the Scombridae family, and there are various types of tuna with some being more pronominally sought after than others so much so that some species such as the bluefin tuna are close to extinction due to overharvesting.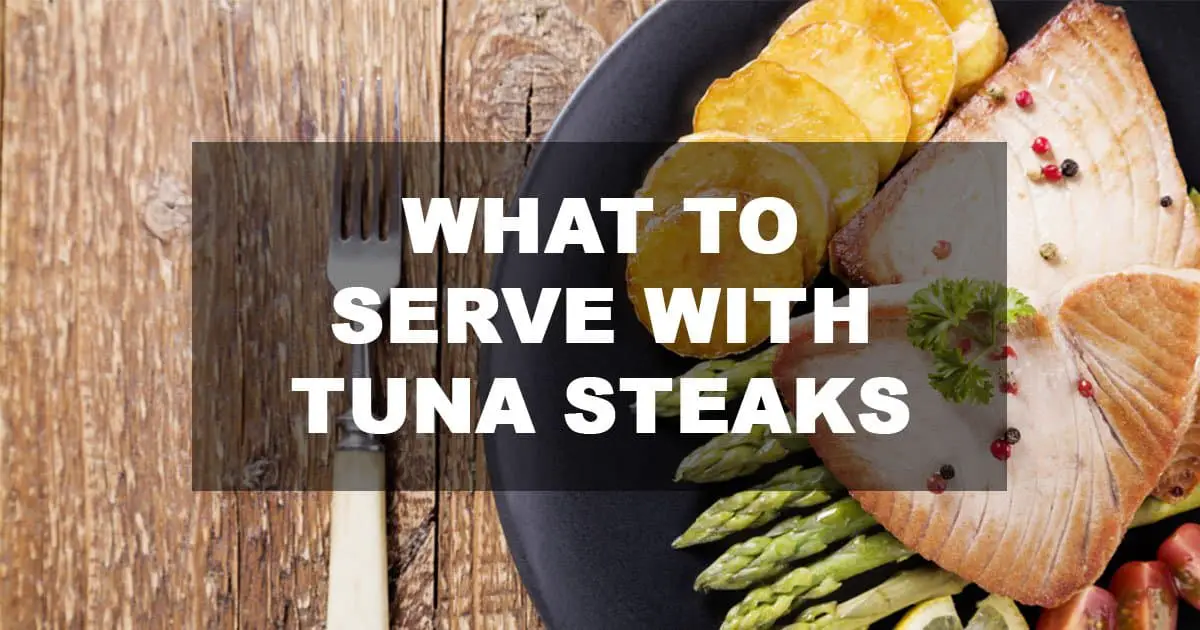 In present day, tuna is one of the most widely commercialised and consumed fish in the world but sadly most of the fishing processes used aren't ecologically sustainable which means they pose a greater danger for the future growth of this fishes.
So with all this talk about benefits and vitamins, let's take a look at some ways you can cook with tuna steak and ways to equally pair them.
Recipes For Preparing Tuna Steak
Bacon Wrapped Tuna
This tuna steak recipe by Katbiggie.com is very easy to prepare, and it takes less than 30 minutes to make, I really like the veggies served along with the tuna, quite tempting I must say.
The tuna is first coated with or soy sauce coconut aminos before baking. It is a kind of fermented sauce made with coconut sap and sea salt which gives a taste that closely resembles that of soy sauce but has more minerals in it such as amino acid and sodium.
So, for those who react to soy or are on a gluten free diet but need a flavour of soy, this is a solution. Am not very sure how this recipe works with searing or pan frying, but I want to believe it will turn out just as good, if it works for baking then it should work for frying as well.
You might just need to secure the bacon in place around the tuna with a toothpick, other than that; it should brown up even better.
Marinated Seared Ahi
Just FYI, the yellow tuna is usually referred to as "ahi."
For a deeply marinated and seared tuna, use this recipe by Chew Out Loud. This is the kind of tuna you take a bite out of and pause for a good number of seconds to just reflect on how good life is and flash a smile like I am doing now just thinking of how it tasted.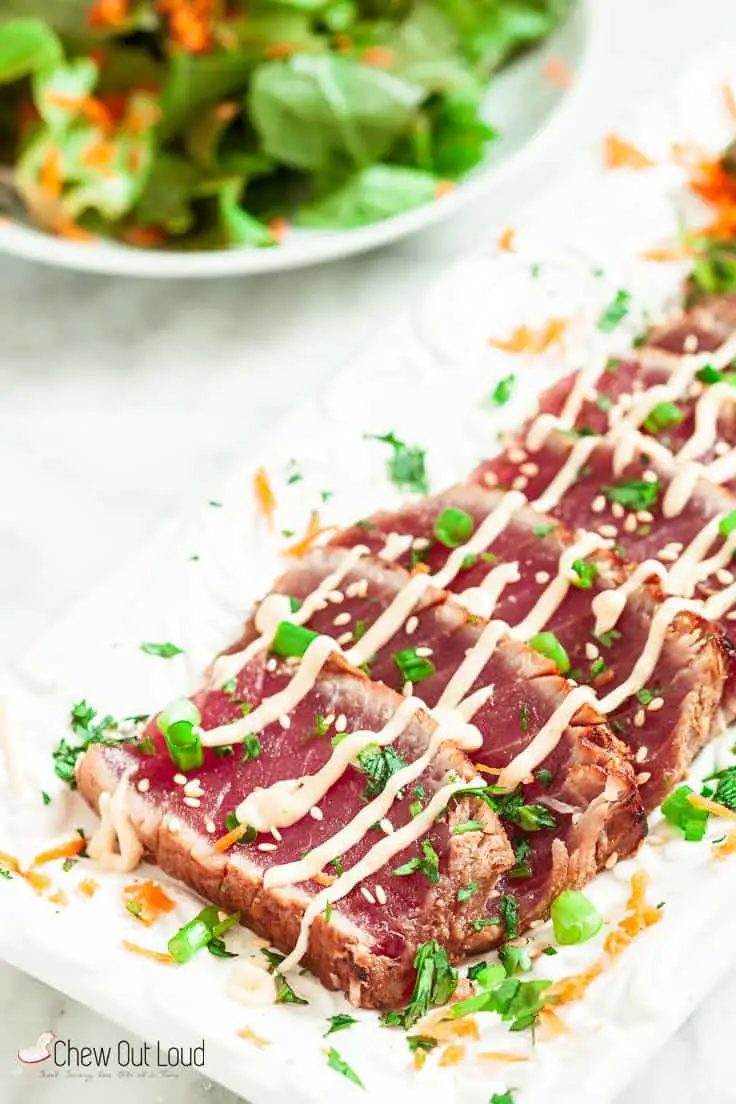 Let's come back to reality, this steak is good! Don't be too intimidated by the ingredients used in the recipes and by ingredients I mean the ones like the Asian sesame oil, though it has its distinct flavor, you could make a fine replacement with canola or any other nutty oil you can get.
Simple Grilled Tuna Steaks
This recipe by Simple And Savoury shows you how to grill your tuna steak and serve it with some well-made strawberry and mango salsa.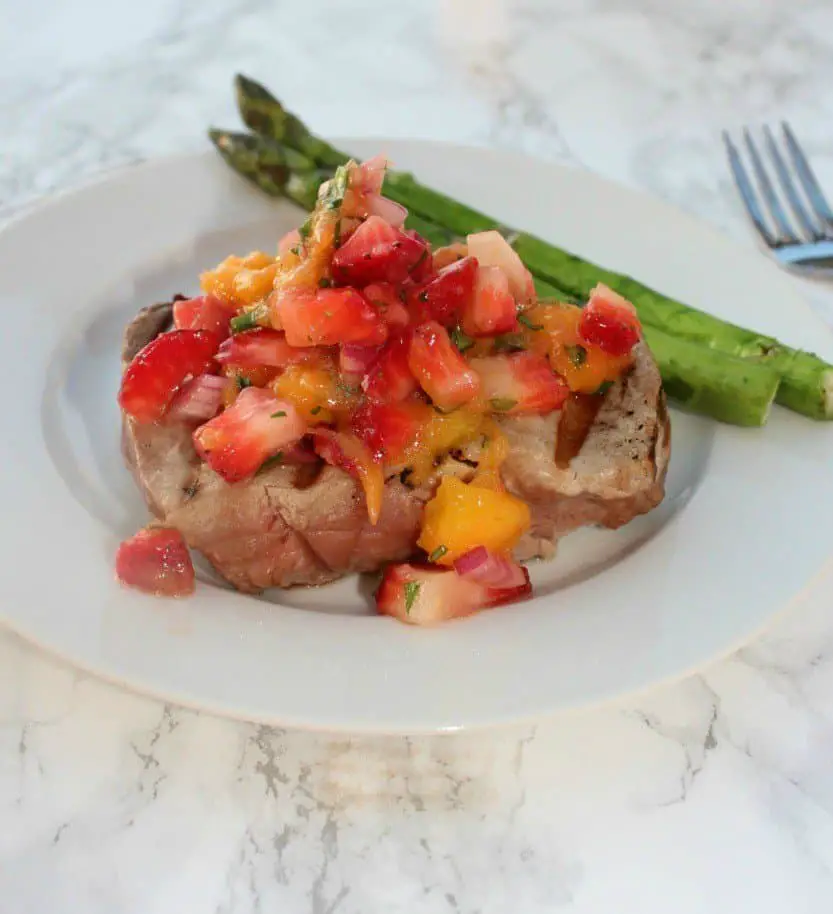 So there is the thing about grilling it all the way within the first time and then grilling it not so all through the second time in a sort of semi raw form, and each one turned out perfectly for grilled tuna steak.
Frankly speaking, one of the best things that go over a plate of tuna steak is salsa and her selection of vegetables for the salsa she made pairs nicely both in looks and in taste as well.
There Side Fishes For Tuna Steak
Mashed Potato Cakes
It would have been easy to give a recipe for mashed potatoes, but I think that would be "too easy" let's make some mashed potatoes cakes instead.
To do this, you need a recipe like this from Little Broken. It still makes use of mashed potatoes, but in a little different way, the mashed potato is made into cake lightly fried in oil.
There is another catch to the recipe which is that you can add some vegetables to the mashed potatoes before mixing in the other ingredients and frying.
For this recipe, they used some baby spinach, but if it works for spinach, it should work with some spices too and other vegetables of choice.
Spicy Edamame
Don't rattle your mind just yet trying to figure out what this is, let me help you out. Edamame is simply immature soybeans in their pods which have been cooked and trust me they are nice if prepared well.
This edamame recipe by Kevin Is Cooking requires making the beans in a chili and garlic sauce after lightly steaming and as we all know steaming isn't time-consuming.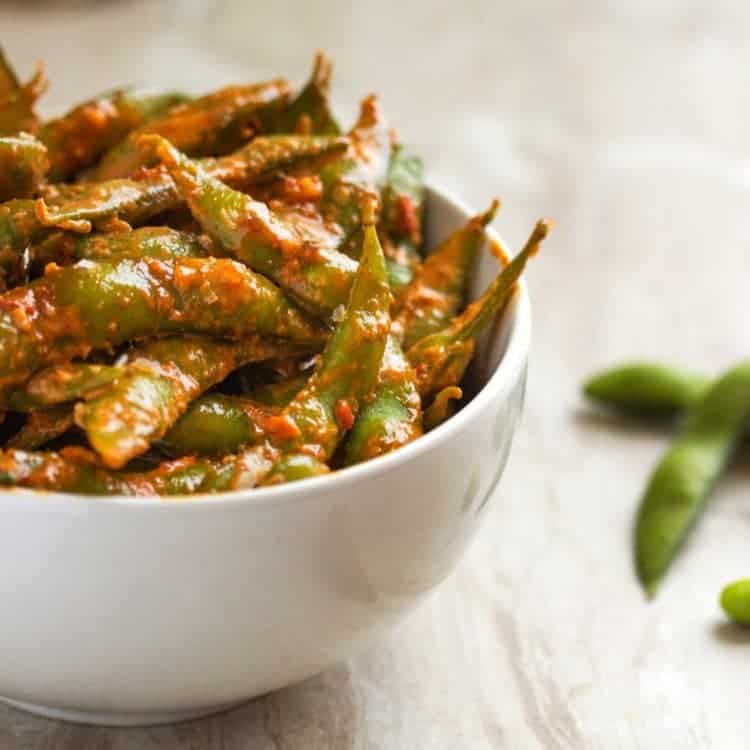 The thing about edamame is that the bean pods are discarded as it has been explained fully on the recipe page, so if you are going to be serving your tuna steak with edamame then be sure you are serving people who will be up for some popping and eating.
Finally!
There is the popular fear consuming mercury with tuna, and most of us are aware of it, but then there are many stories, assumptions, and facts surrounding these claims.
Studies have been carried out since the inception of the news about mercury in tuna to decipher exactly how much mercury you need to take in from tuna alone before experiencing detrimental health changes and also how to avoid it.
There are even calculations which are carried out using body weight and other statistics to determine what quantity of tuna should be consumed weekly.
So all in all, this is what I would say, take a little of everything. When you want to eat tuna, eat it in moderation, and you can take it once in a long while, but when you do choose to eat tuna, please make it worth your while using recipes befitting of a tuna steak.