Clam chowder is one of my favorite fall comfort foods. Creamy soup with the delicious texture of clams is filling, good for me, and feels like cuddling up warm and cozy. But making clam chowder is more effort than I can often put into cooking on busy weekdays, when my kids are home and life is busy. Canned clam chowder is a life saver when I want something delicious but I don't have a lot of time to spend on it.
** Below, you'll find more detailed reviews, but you can click links above to see current prices and read customer's review on Amazon
A. What to consider when buying canned soup?
There are a number of details I keep in mind when I'm choosing canned soup at the store, whether I'm looking for clam chowder or not. Some of the factors I keep in mind:
1. How much sodium?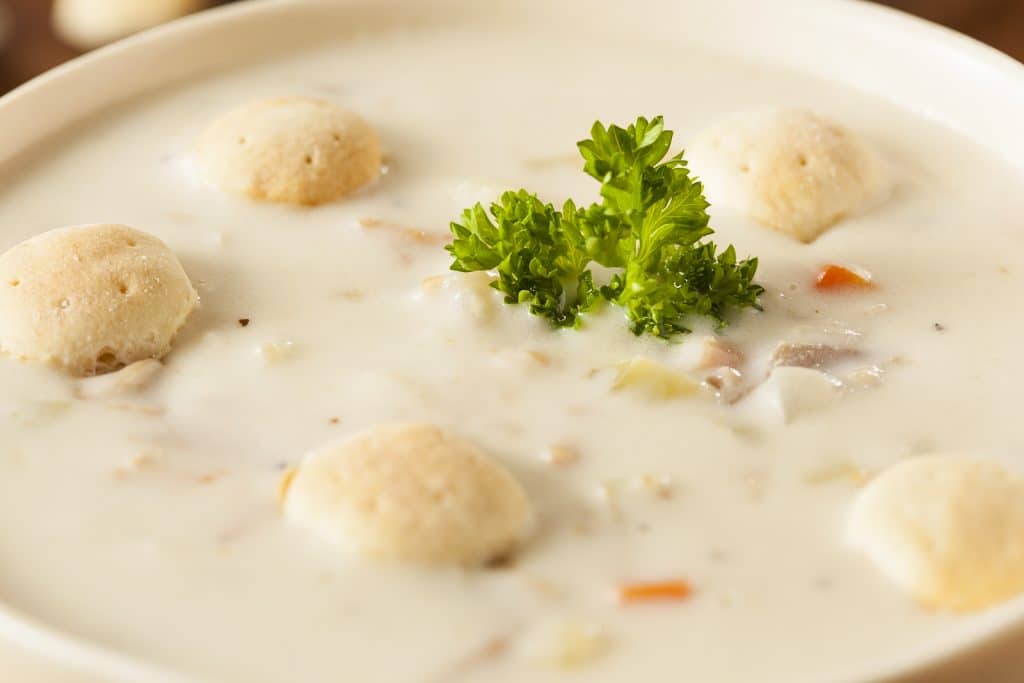 My family tends towards heart disease and diabetes, so even though I am in my thirties, I prefer to keep an eye on my sodium. In general, choosing foods that don't have a lot of sodium tends to result in healthier food choices overall; many companies put a bunch of sodium into their products to cover up the aftertastes of inferior ingredients. I like to add a little bit of salt to my food to bring out other spices, but leave the sodium in the store.
2. Ratio of veggies to protein?
Whether you're buying chicken noodle or clam chowder, I want my soups with protein to have a good balance of protein to vegetables. With clam chowders, companies will sometimes cram in a lot of potatoes, but go light on the clams. I love potato soup, but it is a completely different meal for me than clam chowder, and when I want one, I do not want the other!
3. Condensed versus ready to serve
Ready to serve soups sound great on the can, but in my experience, they are almost always inferior to condensed soups. There's something different about how ready to serve soups are processed that leaves them tasting more like the inside of a can, in my experience. When you look at online reviews of clam chowders, many of them express frustration that the ready to serve brands of canned clam chowder tend to be too thick and gooey, while condensed soups tend to have a better texture. This is absolutely my experience as well.
4. Availability and cooking plans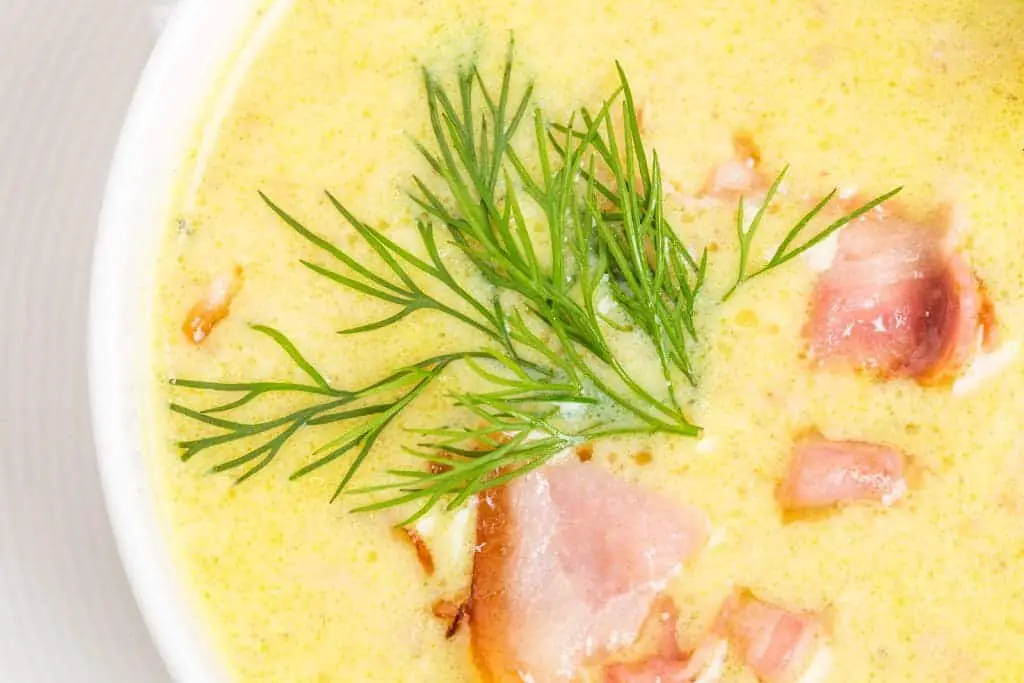 Of course, where I am determines which kinds of canned clam soup are available to me. Some of this has to do with where I am geographically, and what stores are nearby, but I also need to consider where I'll be eating my soup. I plan differently when I'm picking up camping supplies, for example; soups that can be reheated without adding milk or water are much more convenient over a campfire. When I am at home with a full complement of spices and refrigeration, I choose different soups.
5. Manhattan versus New England
There are two primary types of clam chowder that you'll find on the shelves of your local store. When thinking of clam chowder, most people think of the New England type. The base soup is a milk or cream base, and is generally a white or off-white color. Most New England type chowders tend to have potatoes and onions as the base, with pork or bacon to add additional salty flavor. Manhattan clam chowder, meanwhile, has tomatoes added to thin out the base and make the color more red. Many New England chowder fans consider this an affront to the very concept of chowder; in Maine, a law was actually passed in the 1930s making it illegal to add tomatoes to chowder. Famous cookbook writer James Beard once called Manhattan clam chowder "that rather horrendous soup."
Many food historians believe the Manhattan clam chowder arose from the influence of Italian and Portuguese immigrants to fishing villages along New England and New York coasts.
6. Why not make chowder at home?
With the increasing popularity of instant pots and slow cookers, there are many soups that are easy to make at home, such as chili, stock, and basic noodle soups. Chowders, however, are a bit more difficult to assemble, because it's easy to overcook the milk base and curdle the soup. I also live in an area where finding good quality seafood is difficult, so I worry that the clams or other mussels I could buy at the store would be inferior to what major food brands can put together.
7. What does it all mean?
I am picky about my chowder, but when it comes to clam chowder, not so picky that I want to make it from scratch myself. The local grocery store brands near me are not great, so I often go online to order my canned clam chowder fix. I've researched a lot of different brands to find my absolute favorite.
B. The best canned clam chowders on the market
Amazon.com
This is one of my favorite canned clam chowders, even though it is ready to serve. An 18.5 oz can is enough for a meal and some leftovers, especially if you serve it with a salad and bread. The ratio of potato to clam is good, and there are no unpleasant aftertastes. I like that the pieces of potato still have their peel on; that is, after all, the most nutritious and healthy part of the potato. Best parts about Progresso:
This soup is gluten-free, which is important for many people
No MSG, which helps to keep sodium under control
No artificial flavors
Only ready-to-eat chowder I have ever enjoyed
Progresso also makes a condensed version, which will give you a few more servings in a can of the same size. The soup thins out beautifully, with no unpleasantly textured chunks.
Amazon.com
In an aisle full of carefully photographed soup cans, Bar Harbor's label sticks out because of its simple, hand drawn appearance. Bar Harbor's soup is condensed, and made in small lots, which makes it feel more artisan and special. Bar Harbor Foods is located in Downeast Maine, and focuses on fresh ingredients and the company's original recipes. Best parts about Bar Harbor:
No bacon. If your family is avoiding nitrates or doesn't like bacon flavor, this soup is a good go-to.
Expect it to be slightly more bland because of the lack of meat flavor; compensate by adding a pat of butter and a little bit of salt and pepper.
Create a richer flavor by adding cream and milk, instead of just milk.
Amazon.com
I've never found this in a market near me, but a friend served it to me once, and after that, I was able to find it online. Lots of fresh, tasty clams, and a good mix of vegetables to round it all out. Delicious!
No MSG, preservatives, or artificial flavorings
Definitely use milk, not water, to prepare this condensed soup. My friend used half-and-half and served it with thick, fresh bread, for one of the best meals of that year
A touch on the bland side; a little bit of butter and pepper will help the flavor
A great base soup overall; if you want to personalize your chowder and call it your own, this is a great, simple soup that you can build off of.
Amazon.com
If you want to try out the combination of spicy, warm tomatoes with the salt-water flavor of clams, Campbell's Manhattan Clam Chowder is a great example. The soup is condensed, but thinned with water instead of milk, making it a nice hybrid for cooking way from home.
Rich tomato base offers different flavor than traditional New England flavor
Still plenty of vegetables with potatoes and celery along with the tomatoes
High quality clams adding plenty of flavor
Amazon.com
If you have a Trader Joe's location near you, their clam chowder is actually quite good. Like many things at TJ's, it may not be the absolute best on the market, but for the price, it's often better than a lot of things. This soup is condensed, and I found that it blended best when I kept stirring as I added the milk.
Clams were delicious. Nice and rich, great texture.
A little on the bland side; this soup definitely got extra butter, as well as some salt and pepper to boost the flavor.
Family favorite; my kids do not eat soup, but I have several friends whose children actively ask for this soup for dinner.
C. Which should you choose?
With so many different brands of canned soup to choose from, it can be hard to know what's out there, and what you would like to choose. Condensed soups in particular can be so much more than just a bowl of soup on a cold day; they can also be the basis for casseroles and other meals. The Campbell's Manhattan Clam Chowder is my go-to chowder, but Progresso Rich & Hearty Soup, New England Clam Chowder is often easier for me to get at my local supermarket.
If none of these brands are locally available for you, try and find something that is condensed rather than ready-to-serve, and has lower sodium and sugar content. After all, if you have a well-stocked pantry, flavoring something is easier than trying to cover up something with too much salt or an unpleasant flavor.
What is your favorite canned clam chowder brand?