Once you have freshly grated cheese at home, you'll never buy the factory-grated stuff again! We go through so much parmesan cheese that we've begun buying it in huge chunks. We can never get enough on our pasta dishes, in salads, on roasted vegetables, in soups, etc.
I use our pyramid style cheese grater, which is awkward and cumbersome to work with for grating cheese over our dishes at the table. Recently, I remembered that when I was growing up we had a rotary cheese grater for getting that super fresh parmesan right at the table. So now I'm on the hunt for the best rotary cheese grater!
In this article, I'll discuss what to look for in a rotary cheese grater and cover some of the best options. Feel free to click the links in the table below to go right to my picks and see the latests prices and reviews on Amazon.
Quick Comparison
Material
Plastic body, steel grater
All-metal body, food-grade stainless steel graters
Plastic body, stainless graters
Style
Stationary with disk graters
# of graters included
3 (medium, fine, and slices)
Best Choice
Material
Plastic body, steel grater
Material
All-metal body, food-grade stainless steel graters
Material
Plastic body, stainless graters
Style
Stationary with disk graters
# of graters included
3 (medium, fine, and slices)
How Rotary Cheese Graters Work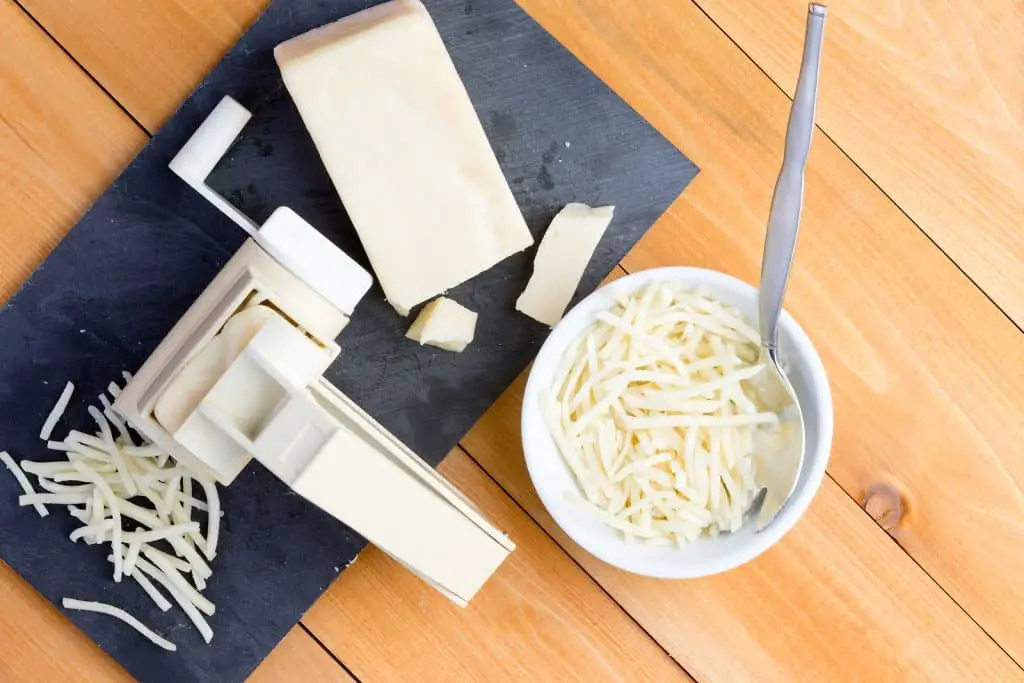 A rotary cheese grater is a simple but effective contraption. There are two main types: handheld graters that can be used right at the table, and stationary graters that stay at your work surface.
Both of them essentially work the same way—the food fits into a hopper and stays put with an arm you hold down, while you crank the grater with your other hand by rotating a lever. In a hand grater, the crank arm is typically attached to the grater drum.
In both cases, the process of grating the cheese is much more ergonomic and tidy than using plane or box-style graters. Most rotary graters can handle other types of food, as well, such as carrots, potatoes, and even nuts or chocolate.
What to Consider When Buying a Rotary Cheese Grater
The basic design of rotary cheese graters is pretty standard, but there are some variations you'll want to consider.
1. Feel In Hand
The rotary cheese grater is meant to make this process easier, so you'll want to be sure it's not too heavy or too bulky that it's difficult to hold onto and operate.
2. Material
Most rotary graters have a food-grade stainless steel grater wheel so that it won't easily rust or stain. The rest of the grater can be made of stainless, plastic, or other materials. Particularly hard cheeses can be tough to grate, so it's good to have something solid that can withstand some force.
3. Ease of Cleaning and Assembly
With lots of nooks and crevices, you'll want to be sure you can easily disassemble and reassemble the cheese grater for thorough cleaning.
4. Type of Grate
Basic rotary graters come with just one size of grater wheel, referring to the size of the grater holes, not the roll itself. Some, though, come with a variety of grater sizes so you can have fine to coarsely grated cheese.
Rotary Cheese Graters: The Options
This is a classic, hand-held style rotary cheese grater. The NSF certification indicates that the product meets strict standards of sanitization, and this grater is often used in restaurants. Indeed, it disassembles easily and is dishwasher safe.
The body is plastic with a steel grater wheel. The handle detaches and can be put on the other side for left-handed use, which is a nice touch.
Many people love this grater and say it feels solid, fits easily into the hand, and does a good job grating. The primary drawback seems to be the size of the grater teeth. It is fine, so the cheese comes out powdery. This is fine for use with hard cheeses like Parmesan, but makes it less useful for softer cheeses and other things like carrots.
Features:
NSF certified
dishwasher safe
handle can switch for left-handed users
5 year warranty
See this grater in action:
I love the look of this all-metal cheese grater. This one comes with three different grater wheels—fine, coarse, and slice.
Many users really like this grater and find it does a great job. The multiple included grater sizes provide good options for cooks.
The main complaints are with the design—there seems to be a plastic ring behind which food can get trapped. As this ring is not removable, it becomes impossible to clean food out of this spot. Other chefs complain that the handle is thin and not comfortable when grating for long periods of time.
Features:
3 stainless steel graters
food-grade stainless steel
West Westmark is a well-known German brand of kitchen equipment. This is a stationary rotary cheese grater that sets up at your work area and suctions to your countertop surface. The three disk graters slide into place, and then you hold the food down into the hopper while rotating the crank arm.
Most owners of this item are very impressed with this grater's ability to quickly grate cheese and vegetables. The note that the body feels sturdy and the blades are sharp.
Complaints seem to center around the size of the blades—many people wish there was a coarser grater. Some also feel the hopper is too small. I also think it's a bit of a drawback that you can't bring this to the table, but you can certainly grate up a bunch of cheese and serve it at the table in a small bowl.
Features:
Feet suction to countertop
3 stainless steel grater blade discs
5 year warranty
Choosing a Grater
Picking the right rotary grater comes down to its intended use. If you are looking for a grater that can easily grate a large volume of cheese or veggies, the Westmark grater is the type of heavy-duty grater that would work well.
I'm personally interested in something to use at the table for cheese or chocolate to sprinkle on food, so the Zyliss is a good choice in my case.
Do you have experience with a rotary cheese grater?