Still, in the mood for Italian specials, we are taking a look at chicken piccata, the chicken cooked so delicately. You can always have your chicken or beef boiled or fried, but there is a lot more you can do with your chicken than you know.
Piccata is a typical example. Chicken piccata involves the preparation of your chicken with lovely spices and butter. It is one of those foods that have a relatively similar cooking pattern with most chefs and cooks recipe and the result if very straight forward, 'soft, seasoned buttered chicken.'
Although chicken piccata seems quite easy to get, there are some tricks and turns you need to take note of so you don't end up with a plate of undercooked or burnt chicken.
There are also side dishes which make your chicken piccata taste all the better and make a perfect compliment. Let's take a look.

Meaning of Chicken Piccata
It is generally acknowledged that Chicken piccata is of Italian origin. The world piccata has a lot of meanings in different parts of the world, but it is said to be the feminine half of the word 'piccato.'
Piccata can mostly be made in the form of chicken or veal piccata, with chicken piccata being just as popular as the veal one.
In recent times, people have made piccata from all sorts of meat including pork and fish. Chicken piccata is regarded as an easy to prepare food, with the principal ingredients ranging from butter, flour, and lemon in most cases.
Chicken Piccata Recipes
1. Creamy Chicken Piccata
Who is up for some creamy chicken delight? I am for sure; this chicken piccata by Tastes better From The Scratch is everything and 'creamishly' creamy.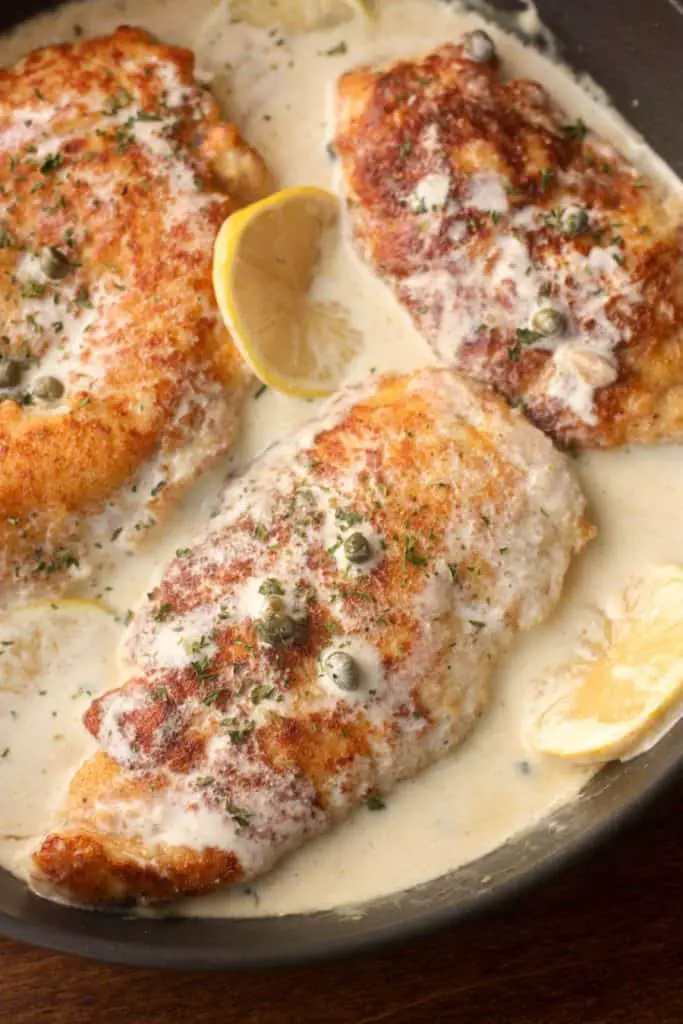 The final serving over mashed potatoes also had it for me. The entire dish from start to finish took barely ten to fifteen minutes as the main chores lay in the basic preparation and every other thing is 'cook and serve.'
It is perfect for dinner with family and friends, try it out and give your feedback.
2. Low Fat Chicken Piccata
One good thing about this kind of dish is that there are always recipes adapted for those who are watching their calorie intake and they give you a significantly reduced fatty version of the dish without loosing its appeal.
This recipe by Sugar-Free Mom is tasty, and it is a low-fat chicken piccata for you. If you have family that is conscious of every calorie intake or even your guests, this recipe is perfect.
You wouldn't even notice the absence of the butter, and there wasn't any use of oil throughout the recipe. For a video on how to make a low-fat chicken piccata, follow this link  and testify.
3. Gluten Free Chicken Piccata
The golden brown look of this chicken piccata in this recipe by Simply Gluten-Free is amazing. If you belong to the club of people like me, who like to have a lovely brown coloured chicken after cooking then that recipe is yours to try.
A major plus is that it is gluten free so if you are also conscious of that, you are covered. Who can resist a combination of almonds, cheese, and black pepper? Little wonder it looks so good.
Sides For Your Chicken Piccata
1. Wild Mushroom Risotto
Instead of having plain rice which seems to be a common choice with chicken piccata, go for risotto, and you can get a good wild mushroom risotto recipe from Steph In Thyme.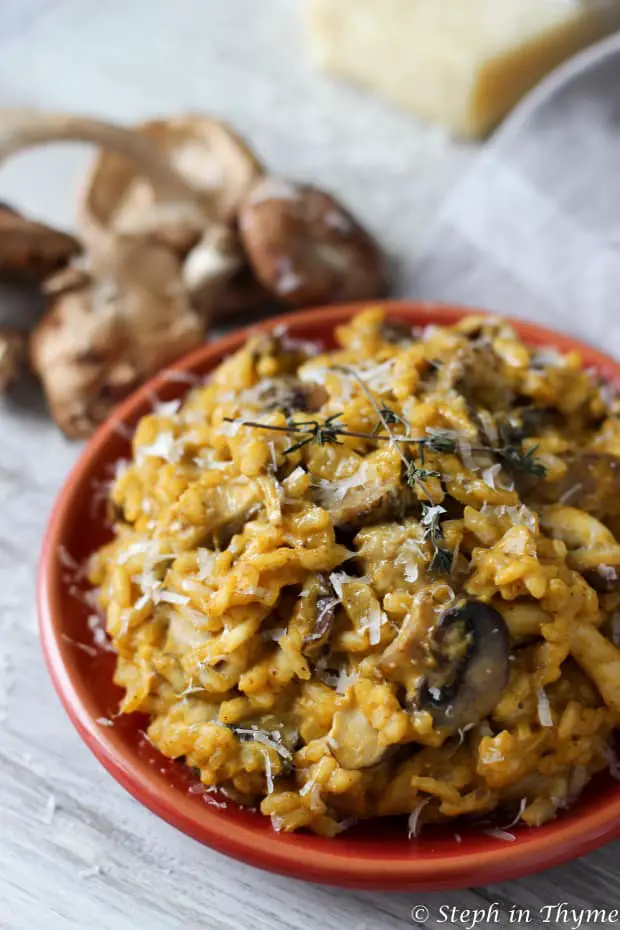 She calls it the "Date night wild mushroom for two," you shouldn't expect anything less than perfection from such combination.
Different kinds of mushrooms and mushroom powders were used in the recipe to enhance the flavors in the risotto and make it blend in taste.
You don't have to go out of your way to get all the ingredients mentioned; you can make do with similar substitutes accessible to you.
2. Creamy Polenta
The soft pasty outlook of creamy polenta makes it a good pair for your chicken piccata, if you like to include some vegetables in your polenta for the extra spike, then use this recipe by Proud Italian Cook.
The polenta includes some shredded spinach and squash which I think is lovely. If you would rather have your polenta plain, you can leave out the veggies and follow the rest of the steps.
Polenta is a very easy and time-saving recipe, even when cooked in a rush, it still comes out nice. Watch this video for a recipe on how to make plain creamy polenta from scratch.
3. Orzo with Peas
This is another substitute to rice, if you haven't had a taste of orzo before, you can try it with this orzo and parmesan recipe by Whisking Mama.
Orzo which is also known as barley is a grain crop, and it is grown in quite a number of countries.
You can add some diced tomatoes to the peas in the recipe to give it a richer look; then you can put some spoons of this delicacy beside your chicken piccata; your serving is officially complete.
To see some benefits of barley take out time to watch this video
Time To Cook!
Even though some ingredients like butter are common with chicken piccata and also most make use of carpers, including those posted above, you can still come up with other ways to make your chicken piccata unique.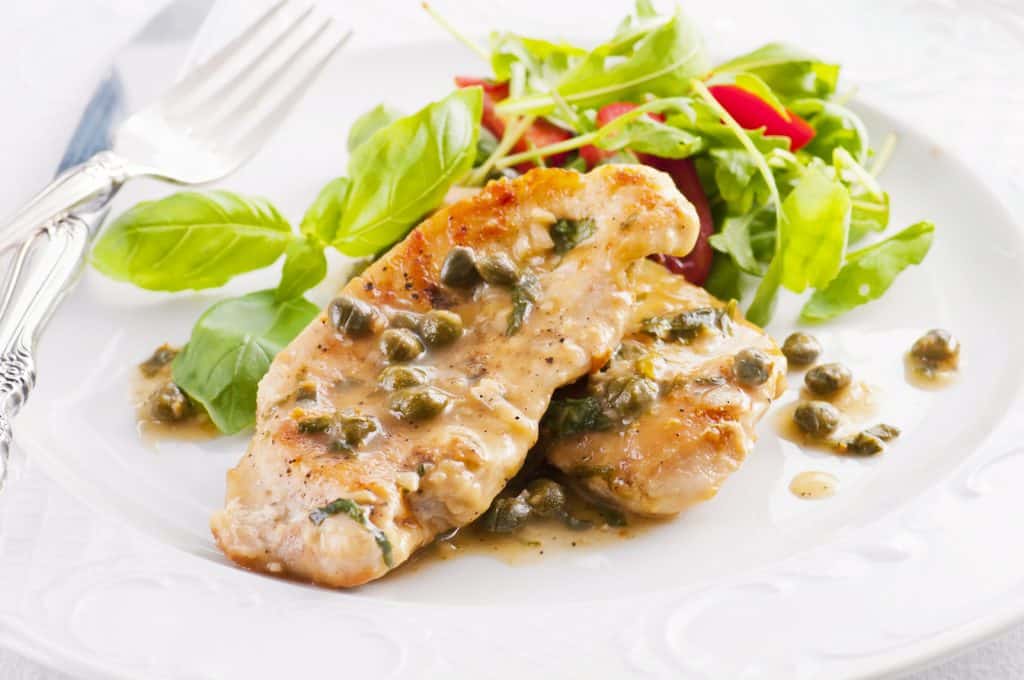 You can play with different ingredients and spices to get your own taste from the chicken piccata; it is all about preference.
And when it comes to side dishes, there are much more ways you can combine fruits, vegetables, and even pasta, depending on what serving technique you have in mind.
To get the typical piccata look, you should try to cut your chicken into thin slices. (Masterchef style).
As usual, always keep it coming, I look forward to hearing your views, takes, and tryouts.