Slow cookers and pressure cookers are both useful kitchen tools with many benefits, but they are totally different from each other. One of them may be better suited to meet your needs, tastes, and schedule, so we'll explain the differences and the advantages of each type, and suggest some of the best models on the market.
Slow Cookers vs. Pressure Cookers
Slow cookers and pressure cookers are often used to make similar dishes, like soups, stews, broth, and chili. The biggest difference between these two cooking methods is the temperature used, and thus, the time needed to cook the food. Slow cookers use low temperatures to cook food slowly over several hours; pressure cookers use high pressure to raise the temperature of the liquid inside and cook soups, stews, and other foods in as little as five minutes. Let's talk more about the specific features and the advantages they confer.
1. Slow Cookers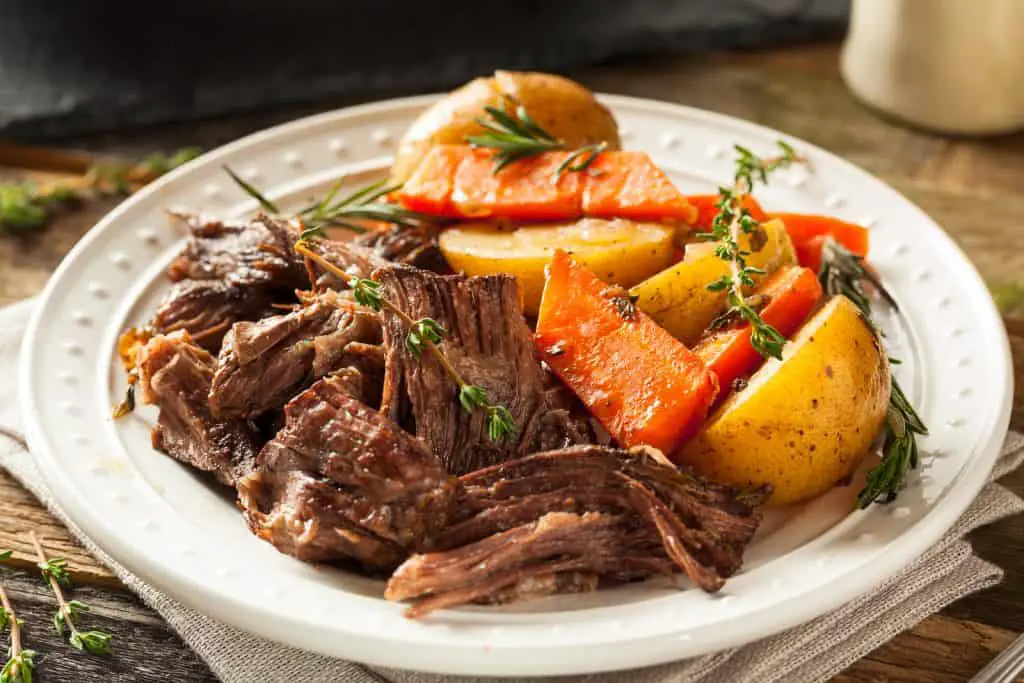 Slow cookers, often called Crock-pots after a popular brand, are countertop electrical appliances that cook food at very low simmering temperatures. They consist of a ceramic or porcelain 'crock' into which the food is placed, a metal and/or plastic housing with a heating element, and a lid, usually glass. The heating element transfers heat to the ceramic crock, which slowly absorbs and distributes it, gently cooking the food. The lid creates a weak seal that traps steam and keeps the food moist, which is essential for proper operation of the slow cooker.
Typical cooking times range from 4-12 hours, and because there is no open flame, they can be left unattended for most of that period. Most models have an automatic shutoff function in case too much water evaporates and the contents start to overheat.
a. What Can You Make with a Slow Cooker?
Slow cookers are incredibly versatile. In addition to soups, stews, chili, pot roasts, and pulled pork, you can use it to make some foods that might surprise you. Cheesecake, lasagna, stuffing, meatloaf, oatmeal, desserts, corn bread, and more can all be made with this one appliance. Check out these articles from Taste of Home and PopSugar for more cool ideas.
They are also useful as a warming device when serving large quantities of food, even for dishes that were not made in it. For example, holiday dishes like Swedish meatballs or roast turkey (sliced) can be mad ahead of time, then reheated or kept warm in a slow cooker with a splash of broth.
b. Key Slow Cooker Advantages
Very safe and can be left unattended
Can be used to cook many things, plus warming and reheating
Easy to use and hard to overcook foods
Many recipes can be easily adapted to slow cooker
Easy to make large quantities of food
c. Disadvantages
As the name would suggest, slow cooking times
Require electricity
May take up a lot of space
2. Pressure Cookers
Pressure cookers come in two basic types, stovetop and electric. Both types have great features and the best choice will depend on your preferences.
Stovetop pressure cookers are simple – they consist of a metal pot, a metal lid with a pressure release valve, and a locking device.
Electric pressure cookers have a metal and plastic housing with an electric heating element, a metal insert in which the food is cooked, and a locking lid.
Many people find electric pressure cookers easier to use, since pressure, temperature, and cooking times are automatically controlled. This makes them somewhat safer, though modern stovetop models are quite safe as well when used properly. Nonetheless, pressure cookers cannot be left unattended for more than a few moments, though since most cooking times are quite short this usually isn't a problem.
a. What Can You Make with a Pressure Cooker?
Many liquid-based dishes can be safely and quickly cooked in a pressure cooker, including soup, stew, broth, chili, curry, risotto, and braised meats. You can also use it to make fillings for things like savory pies and enchiladas, thereby speeding up the cooking process for a wide variety of dishes. Read this article for examples of delicious pressure cooker meals.
While they do need some moisture to function, they don't require as much as a slow cooker. Pressure cookers can be used to cook liquid-based dishes, like soups and broth, as well as foods like steamed veggies or fish.
b. Key Pressure Cooker Advantages
Fast cooking times, with the added benefit of saving energy
Can be used to make a wide variety of soups, stews, and other dishes
High temperatures can create flavors unattainable at normal boiling point
Greatly speeds cooking at high elevations
New models, especially electric models, are very safe and easy to use
c. Disadvantages
Cannot be left unattended
Can be dangerous if used incorrectly
Slightly more difficult than a regular pot or slow cooker
Easy to overcook certain foods due to short cooking times
Usually requires specialized recipes
Our Top Recommendations
Quick Comparison
| | | | |
| --- | --- | --- | --- |
| | Slow Cooker | Stovetop Pressure Cooker | Electric Pressure Cooker |
| Cooking Times | 4-12 hours | 5 minutes to 1 hour | 5 minutes to 1 hour |
| Capacity | 4-10 quarts | 4-10 quarts, larger models for canning | 4-10 quarts |
| Programmable | Some models | No | Yes |
| Price | $30-150 | $30-200 | $60-200 |
| Ease of Use | Very easy | Moderate | Easy |
| Materials | Stoneware, stainless steel, plastic, glass | Stainless steel or aluminum | Stainless steel, plastic, aluminum |
| Heat Source | Electric | Electric, gas, or induction stove (with steel pots) | Electric |
| Keep Warm | Most models | No | Most models |
| Same-pot Browning | No | Yes | Yes |
| Unattended cooking | Yes | No | No |
| Good for… | Soups, stews, broth, roasts, pulled pork, baked beans, apple sauce, some desserts | Soup, stew, broth, meat, chicken, fish, eggs, rice, beans, vegetables, potatoes, cheesecake | Soup, stew, broth, meat, chicken, fish, eggs, rice, beans, vegetables, potatoes, cheesecake |
Best Slow Cooker
The original slow cooker, Crock-Pot models are both affordable and reliable. This model offers the basic slow cooker function without additional bells and whistles. The Crock-Pot Cook 'N Carry 6-Quart Slow Cooker is available here
Pros
High-quality stainless steel frame
Stoneware crock and glass lid are both dishwasher safe for easy cleaning
Locking lid makes it easy to bring with you after cooking
Simple, easy-to-use design includes high, low, and keep warm settings
6-quart size makes enough food for 8-10 people
Crock-Pot also manufactures a digitally programmable 6-quart slow cooker with a locking lid and a 7-quart slow cooker without a locking lid
For recipe ideas, consider a slow cooker cookbook such as the Original Crock-Pot Recipe Collection or the Taste of Home Slow Cooker Cookbook, with 431 recipes
Cons
Can't be programmed with cooking times
Keep warm feature is manual only
Somewhat heavy
Takes up a fair amount of counter space
The Hamilton Beach Set 'n Forget Programmable Slow Cooker with Temperature Probe offers features that make this model extra useful in your kitchen. It's slightly more expensive than some non-digital models, but still affordable. The Hamilton Beach Set 'n Forget Programmable Slow Cooker With Temperature Probe is available here.
Pros
Offers three cooking modes with digitally adjustable cooking times: program (set the time from 30 minutes to 12 hours), manual, and temperature probe
Temperature probe feature allows you to set the slow cooker to run until the internal temperature of a roast reaches a certain point
Easy grip handles and clip lock lid with gasket make it easy to bring along
Automatic keep warm feature ensures that food stays hot after program cooking finishes
Cons
Slightly more expensive than manual models
Fairly large and heavy
Best Stovetop Pressure Cooker
The NuWave Stainless Steel Pressure Cooker is one of the best affordable stovetop pressure cookers available. Available here.
Pros
Simple design makes for easy use and cleaning.
Locking handle seals the heavy-duty lid onto the pot, aided by a silicone gasket; simple steam release valve lets off excess pressure.
Safety indicator in the handle alerts you to when the pressure is maxed out and when it should be released.
This model allows you to cook using two different pressure/temperature settings, so it works well for making soups, stews, broths, pot roasts, and even desserts!
Cons
Not programmable – temperature adjustments and stopping cooking must be done manually
Can't be left unattended
Requires some reading and time to learn how to use
Can be dangerous if used incorrectly
The Kuhn Rikon Stainless Steel Pressure Cooker is an excellent choice for a stovetop model. It is a higher-end product and somewhat more expensive than the cheapest models while remaining affordable. Available here
Pros
Kuhn Rikon stainless steel pressure cookers can be used on electric, gas, ceramic, and induction stovetops.
Swiss-made and come with a 10-year warranty
Adjustable pressure valve lets you choose between two heat settings depending on what type of food you are cooking.
Handles stay cool during cooking for easy lifting
Aluminum disk in the base, sandwiched between stainless steel layers, promotes better heat conductivity
Five built-in over pressure safety systems.
Kuhn Rikon also makes 5 quart, 6, quart, and 8 quart models, which may be better suited to your particular cooking needs.
Cons
Must be hand washed rather than put in the dishwasher. In addition, if any food enters the pressure release valve, the valve must be disassembled to be fully cleaned – though this is true of any pressure cooker.
On the expensive side
Cannot be programmed – all adjustments and timing are manual
Cannot be left unattended
Can be dangerous if used incorrectly, though it does have good safety features
Best Electric Pressure Cookers
This 6L, 1000W pressure cooker offers a range of great features that make it convenient, effective, and easy to use. The Instant Pot IP-LUX60 V3 is available for purchase here
You may want to check out some of the many Instant Pot Cookbooks, such The Instant Pot Cookbook, Easy & Healthy Instant Pot Recipes, and Paleo Cooking With Your Instant Pot.
Pros
Offers three temperatures in multiple modes such as slow cook and sauté, so you can use it for many types of recipes.
10 preset programs also make it easy to get perfect results for rice, soups, porridge, cheesecakes, soft- and hard-boiled eggs, and broth.
Constructed from high-quality stainless steel
Comes with helpful accessories including a stainless steel steam rack, rice paddle, soup spoon, and measuring cup. The inner pot and lid are both made of stainless steel and are dishwasher safe, and the outer housing can be cleaned with a damp cloth.
Safety features built in throughout to ensure that the temperature and pressure never reach dangerous levels, including a safety lid lock, automatic pressure and temperature control, anti-blockage vent, excess pressure protection, and automatic power cut off.
Cons
More expensive than stovetop pressure cookers
Its many-part construction can make it difficult to repair if problems arise
Takes up some counter space
Requires some reading to use correctly
 This electric pressure cooker offers a great combination of safety, versatility, and quality. The Elite Platinum EPC-808 is available here.
Pros
High quality construction with a brushed stainless steel body
Available with a stainless steel or non-stick insert
Easy to use digital touch pad display allows you to set and monitor cooking times with ease, from 1-99 minutes
13 pre-programmed functions makes cooking common foods a snap – programs include rice, vegetables & fish, desserts, potatoes, pork & ribs, chicken, beans, stew, beef, soup, browning, reheat, and keep warm
Pre-browning function allows for easy browning of meats in the same pot before you start pressure cooking
Comes with serving spoon, measuring cup, and condensation collector
Includes 8 built-in safety measures, including automatic pressure release, locking lid, temperature control, anti-clog valve, overpressure self-release device, and automatic shutoff
Models also available in 4-, 6-, and 10-quart sizes
Cons
More expensive than stovetop pressure cookers and some other electric models
Difficult to repair if problems arise
Takes up some counter space
Requires some reading to use correctly
Conclusion
In this article, we aimed to give you an introduction to of all the great things you can do with slow and pressure cookers – soups, stews, rice, potatoes, beans, eggs – even surprising dishes like cheesecake and brownies! Now that you know the possible uses and advantages of slow cookers, stovetop pressure cookers, and electric pressure cookers, you should be able to choose the type that bests suits your needs, schedule, and cooking preferences. You can use our detailed table to make it even easier to compare, and our product recommendations to decide which model to order. Happy cooking!