Let me guess, when you hear the word risotto, your mind instinctively flashes across one "chefs only" delicate rice dish that takes a whole lot of attention and practice? Permit me to say that you are very correct!
Making risotto itself is no easy ball game, but for all the grainy pleasures you get when all is done and set, it is a time well spent.
So all that brings us to the issues of the day which is: knowing about risotto and what to serve with it.
If you only take risotto when you find yourself at a restaurant, you will be compelled to try some yourself at home when we have gone through all the recipes we have today, read on.
What Is Risotto
Risotto is a delicacy which is made from rice; it is done in such a way that the starch gotten from the rice forms the base of the consistency which gives it the tasty creamy flavour that risotto offers.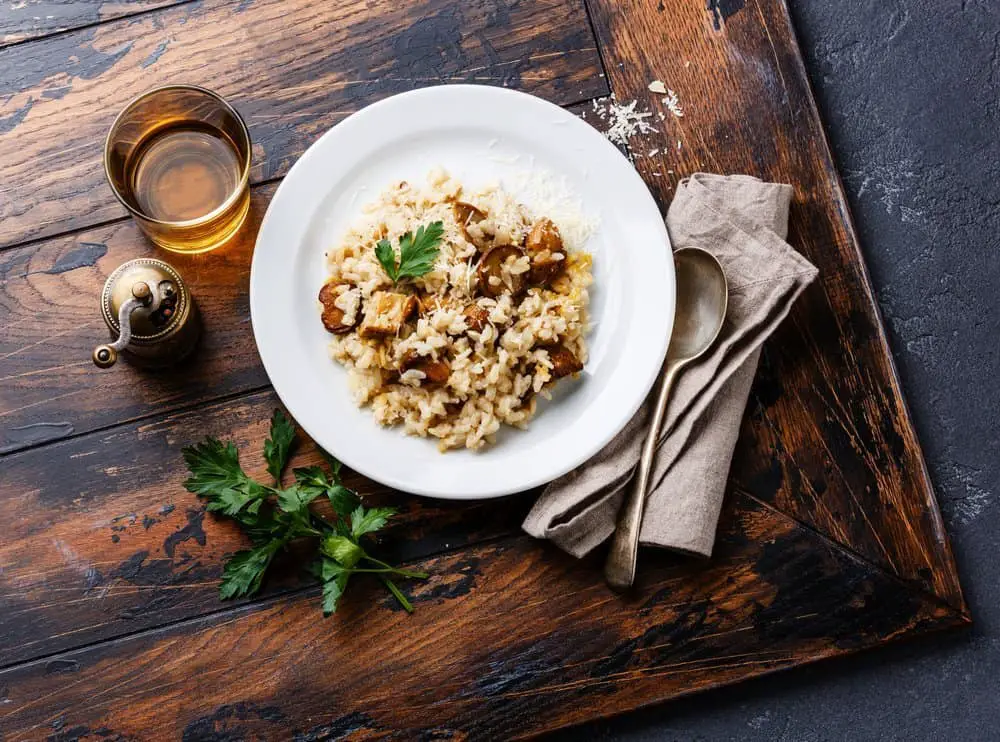 It is of Italian origin and "risotto" is gotten from an Italian word which means "rice". The traditionally accepted rice for making risotto is the Arborio rice which is also originated in Italy, but as risotto got popular in other parts of the world, different kinds of rice have been used for its preparation.
A typical risotto meal can contain many ingredients, but the basics include onions, butter and wine.
Other variety of ingredients such as meat, vegetables and fish which can be incorporated into the dish makes it suitable for eating any time of the day so be it breakfast or dinner; you can make your risotto and serve.
Tasty Try-Out Risotto Recipes
Chicken And Risotto
Do you love risotto but haven't quite got the hang of cooking it on your own probably because you are a newbie or you are an ever busy mom like Christiana, the owner of this luscious easy sort-of-risotto recipe? Then you should try her Chicken & Mushroom Mock Risotto.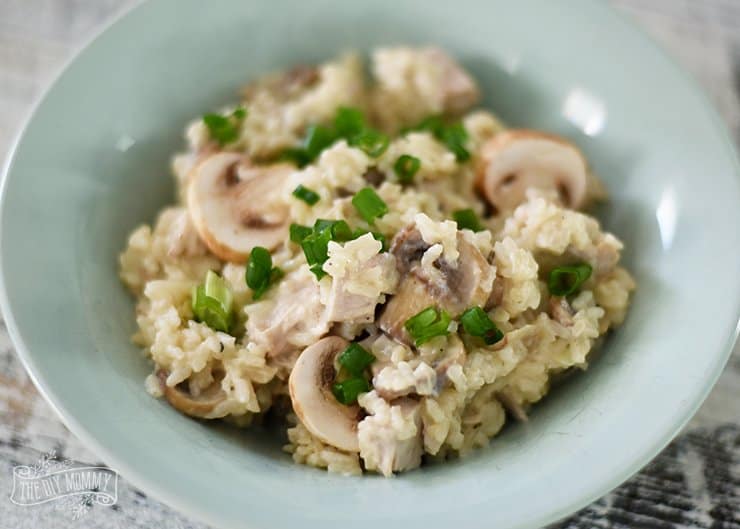 What made this dish quick aside from the cream cheese which gave it a consistency that every true risotto cannot be complete without is the Minute Instant Rice.
Once you have that and the other ingredients are set, you are as good as done with making the risotto, lovely right?
I know not everyone will smile at this "wannabe" risotto, but sometimes you just want it the fastest way possible and that' it.
Shrimp-Asparagus Risotto
This is another risotto recipe that I appreciate because it does not require endless standing and continuous stirring, but you still get the real thing.
The technique used is flawless, and if you are new to making risotto, you are very welcome to try this risotto recipe by Renee Nicole's Kitchen.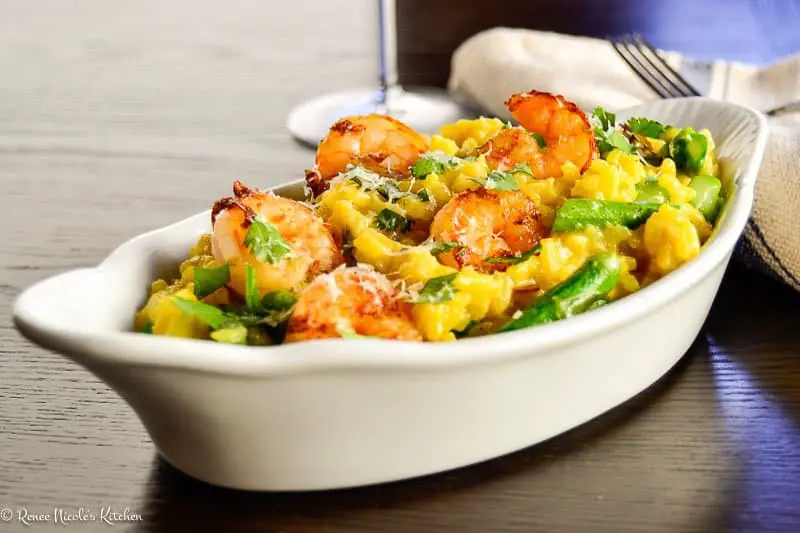 She took the time to explain each step in detail and that is very paramount for dishes like risotto which can get confusing at some point.
Now, shrimp and asparagus are healthy choices for risotto, and it gives a magnificent colour blend but if you would rather have chicken or beef, you can cook and cut them into nice pieces to fit the risotto, it's all a matter of choice.
Also note that the recipe specifies using Arborio rice alone so to be on the safer side, attempt this recipe when you do have some.
Italian Classic Risotto
This risotto recipe by Sprittbee is what we can call the Italian classic, and she calls it the "Authentic Italian Risotto with Chicken and Rosemary."
If you want to learn the traditional way of making your risotto (and of course you should know that it does require time and attention), then this recipe is for you.
I do like the fact that it comes with a video so whether or not you have made risotto before you can attempt this recipe on your own, in your kitchen, by yourself, Perfect!
That's the essence of it all by the way. They also noted the use of Arborio rice; I believe this repeated requirement is because most people feel only that rice gives the craved taste and look of risotto.
What to Eat With Risotto
Roasted Hake With Tomatoes
This side dish suit any risotto you have in mind especially if it consists of mostly vegetables and the rice itself, the roasted hake makes up for the beef or fish you didn't include in the risotto and believe me it makes a very fine substitute.
Hake is a kind of fish that is tasty and firm, it can be cooked in any form be it frying or boiling, and in this recipe, by Gustomondo.net it was lightly fried and then baked for some minutes, just imagine the results. If you love fish, then pair this dish with your risotto.
Try these cooking scallops!
Garlic Bread
If you have whipped up a very creamy, cheesy, meaty risotto, it will help to pair it with an easy garlic bread like this by That Skinny Chick Can Bake.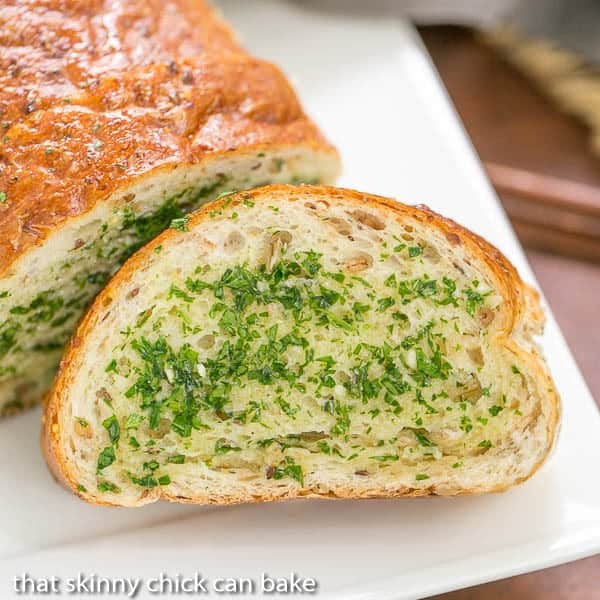 It is very simple and healthy at the same time, so you can reduce all that comfort food guilt that comes with eating a heavily stocked up risotto.
It takes very little time to achieve as the bread is made already, all you need to do is mix up the ingredients, bake for about 20 minutes and you are ready to serve with your risotto. The golden brown crust of the bread is a delightful treat for me any day.
Stair It Up!!
Risotto is a kind of dish that requires some level of fastidiousness especially because there are so many ways you can make it; you could choose to make it with butternut squash like in this video (yummy!)
Or you can make other choices from the wide variety in this cookbook.
Risotto isn't as hard as people make it seem, once you have perfected the basic techniques involved (which you get by practicing over and over again), you can cook any risotto you desire and treat your family to some toothsome risotto.