When I was in college, the blender was a fixture in every dorm room for making frozen cocktails (I was partial to frozen Margaritas). Now that I'm a mom, I'm constantly using a blender for making smoothies for my kids.
Whatever stage of life you're in, a blender is very useful kitchen tool. In addition to mixed drinks and smoothies, I also use my blender for pureed soups, or to crush up ice for homemade snow cones and iced coffee drinks.
You can get super fancy with blenders that cost hundreds of dollars and have a huge variety of settings, but there are plenty of good options that won't blend up your wallet, too. In this article, I'll talk about how to shop for a good inexpensive blender, and look at some of the top rated blenders under $100. Feel free to click the links below to check the latest reviews and prices on Amazon.
Quick Comparison
Dimensions & Weight
12 x 7.7 x 15.9"; 4.7 lbs
10.2 x 8.5 x 13.8"; 9 lbs
4.8 x 16.7 x 4.8" 2.3 lbs
Style
"Bullet-style" countertop blender
jug style countertop blender
Accessories Included
13 accessories: 2 cups and a variety of lip rings and sip lids
Whisk attachment, chopper attachment, blending jar, storage bag
Blender Buying Guide

As usual when shopping for a kitchen tool, it's important to consider how you intend to use it, and your storage space. For example, if you want to be able to make lots of frozen mixed drinks, make sure your blender can handle the tough job of crushing ice. If you just want to make smoothies, you might be fine with a smaller model.
There are two many types of blenders:
Countertop blenders (including "bullet" blenders), with a jug or cup that fits into the motorized base. These tend to be bulkier but usually have more power and greater functionality.
Stick or immersion handheld blenders, which have a blade arm you lower into the food you're blending. These are more streamlined and have smaller motors.
Confession: I have both! The stick blender works well when I'm making something like my favorite baked potato soup from Skinnytaste so I can blend up the potatoes right in the pot. It also makes excellent salad dressings and single-serve smoothies.
The jug blender is my go-to when making a bigger batch of smoothies, or drinks that require crushed ice.
Here are some other features to consider: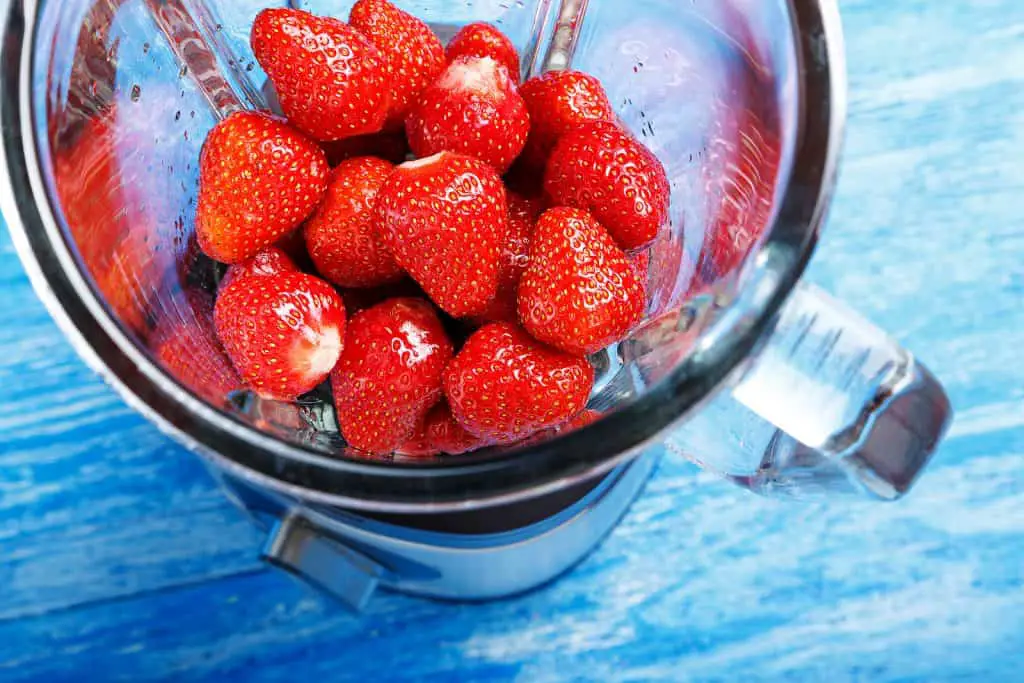 1. Speeds/Settings
Some blenders have a simple on-off function, while others offer different speeds, or specialized settings by function or food type (crush, puree, etc, or smoothie, soup, etc).
2. Capacity
Blenders come in a variety of sizes. If you're just mixing up your own post-workout protein shake or baby food, a smaller model will suffice. But if you're looking for something to whip up smoothies for your regular weekend brunch crowd, you'll need something larger.
3. Ease of Cleaning
You'll want a blender that comes apart for easy cleaning. The bottom of my blender container screws off, and the blade and bottom easily come apart for convenient cleaning. It's an effective design. But the appliances that are a pain to clean spend more time in the cabinet.
4. Blade Construction and Wattage
Some blenders have a simple "s" curve blade, while others have a two-blade combination or many blade points so that they can handle more difficult jobs, like crushing ice. The wattage also contributes to the blender's ability to take on these hard tasks.
5. Accessories and Replacement Parts
Some blenders come with accessories either included or available to purchase, such as different sized jugs, smoothie cups, or attachments to extend the appliance's functionality. Stick blenders sometimes have the ability to swap the blades out for a whisk or other type of tool.
A glass jug can break. Lids get lost, etc. If your blender has a lot of parts, it's nice when replacements are available.
Reviewing the Best Blenders under $100
This blender is part of the infomercial-famous Magic Bullet line, which are mostly promoted for making smoothies. The bullet-style blenders have their own unique sort of design, with one setting that you activate by pushing the blender down into the motorized base.
Skip to minute 3 to see the NutriBullet in Action:
This particular item includes 2 32 oz. BPA-free plastic cups (in which you do the blending), 2 lip rings with handles, 2 regular lip rings, and 2 flip-top tops. It also comes with a hard cover recipe book (although most people feel the book is pretty basic) and an on-the-go tip card. Replacement parts and other accessories are also available for use with this blender.
The NutriBullet claims to more completely extract nutrients from your smoothie ingredients. Whether this is true or not, the blades do have a unique style to them, and most people report that this blender does a great job blending up even tough smoothie ingredients like kale. NutriBullet makes a 600-watt version, but this more powerful unit would be better suited to anyone who wants to use it for ice.
Users praise the ease of cleaning this blender due to the design—the blade unit easily separates from both the base and the container. People find that because it's so easy to clean, they use it frequently compared with more complex appliances they own.
Most of the complaints seem reflect manufacturer defects, but the MagicBullet company seems to have decent customer service.
Oster is a well-known brand of blenders and other small appliances. This is a traditional looking jug-style blender (available in stainless steel or red stainless) with a borosilicate glass pitcher that fits into the motor base, which has an all-metal drive. The lid includes a filler cap with measurement markings, and the 6-point blades are made from stainless steel.
This blender offers 7 settings: low, medium, high, low pulse, high pulse and two preprogrammed settings that control the speed and time: "frozen drinks" and "food chop." The blades can reverse during the frozen drink preset, which helps keep the ingredients moving instead of getting stuck.
I like that Oster offers a pretty much unheard of 10-year warranty on the drive. The blender seems to have no issue crushing ice and can even work well for making nut butters, grinding coffee, and other tasks.
Owners of this blender point out that it's pretty noisy. People also find they need to work a bit to get a good fit where the bottom of the jar sits into the motor unit to avoid leaks.
Longevity and/or quality control seem to be an issue as well. Some users experienced the motor burning out within the first year or two of use. But, replacement parts and some accessories, such as different blade styles and a smaller jar, are available. The generous warranty could give you some comfort when buying this one.
KitchenAid is famous for its mixing appliances. This 3-speed hand blender is the middle-level hand blender (there's also a 2-speed and a 5-speed blender). It has a silver plastic body, with stainless steel blender attachments. This particular set comes with an 8" blending arm, a whisk attachment, a 2.5 cup chopper attachment, and a 3 cup blending jar with a lid.
Most owners of this hand blender find it works great for most of the tasks they'd want a hand blender for; it can even handle small amounts of ice. I love the idea of a whisk attachment, which is great if, like me, you regularly make whipped cream for your weekend pancakes! Some note though that the small "chopper attachment," while resembling a food processor, really doesn't replace an actual food processor.
The main drawbacks appear to be that the connection point between the motor handle and the attachments can be difficult to release, especially when wet. This is a problem for cleaning and for switching between the attachments. Some people even found that the attachments come off the unit while in use—a big problem.
But with so many reviewers, some are bound to have encountered issues. This blender does have a 1-year limited warranty to cover manufacturing defects.
My own stick immersion blender is an older Chefman, and I've been happy with it despite it being a lower cost, no frills option. Although I don't usually love the feel of rubberized kitchen tools, it works for a hand blender as it keeps it from slipping in wet hands. This one comes in 10 different colours, and you can also upgrade to a "bonus pack" that includes whisk and chopping cup attachments.
The blending arm is 4.5" inches, made of stainless steel. With its multi-directional blade construction, the Chefman claims to be able to handle ice, but some users note that you should really work from crushed ice, not full cubes, to avoid burning out the motor. It is dishwasher safe and the blending arm detaches easily. At 300-watts, this is a bit more powerful than most hand blenders, although still much less powerful than countertop units.
The most common complaints are from people who've burned out their units. I've found with stick blenders that you really can't run them for long periods of time and must give them some breaks if doing a lot of blending. Chefman's customer service appears to be very responsive, and they have a 1-year replacement policy in the event that the product is defective.
Overall, this seems like a nice option for a low-cost hand blender if you don't want a lot of extra accessories.
Pick Your Blending: Soups, Smoothies, What Else?
Choosing the best blender under $100 really comes down to what you intend to use it for.
If you want a traditional countertop blender with a large jug that can easily crush ice for mixed drinks and do most everything else you'd expect from a blender, the Oster Counterform seems like a great option for the price. That it has a 10-year warranty for the drive is a great relief as small appliances are prone to manufacturing defects.
If it's creating amazing smoothies that you really want a blender for, the NutriPro 900 series is your best bet, in my opinion. The ease of cleaning is a major bonus, and this 900-watt blender will also be capable of blending up other things if you decide to get creative.
For a real budget option that can do smoothies and make blending soups effortless, the simple Chefman stick blender will do the job without taking up too much space in your kitchen.
Pick your blender, then check out Oh She Glows for some vegan smoothie recipes to try out!
What are you making with your blenders? Do you have a favorite type?