If you've ever worked in a professional kitchen, you'll probably know how important the chef's shoes are. My first job was at my sister's restaurant where her husband was the chef. He was as particular about his shoes as he was about his knives!
If you haven't worked in a restaurant, you may not understand what the big deal is. In this article I'll discuss the importance of good shoes for a chef, what to look for in a great chef shoe, and make some recommendations, which are linked in the table below. You can read the most recent reviews and see prices for these recommendations by clicking there!
Quick Comparison
Table could not be displayed.
What's the Deal with Chef Shoes?
Chef shoes make up an important component of a chef's uniform.
The main thing about chefs and their shoes is that chefs are on their feet for so many hours in the day. It's not so much about walking, but standing, which is a whole different sort of strain on the feet and the body. A chef without good shoes is cranky at best, and facing other issues like back or knee problems at worst.
It's also a safety issue: kitchen floors are often slippery and wet. A good chef shoe must provide excellent grip and a good level of cover for the foot, especially given that hot pans, sharp knives, open flames, and boiling liquids are also regular features in the kitchen.
If you're not a professional chef but instead an avid home cook, this may nevertheless inform your choices about what to wear as you're preparing a family meal in your home kitchen.
What to Look For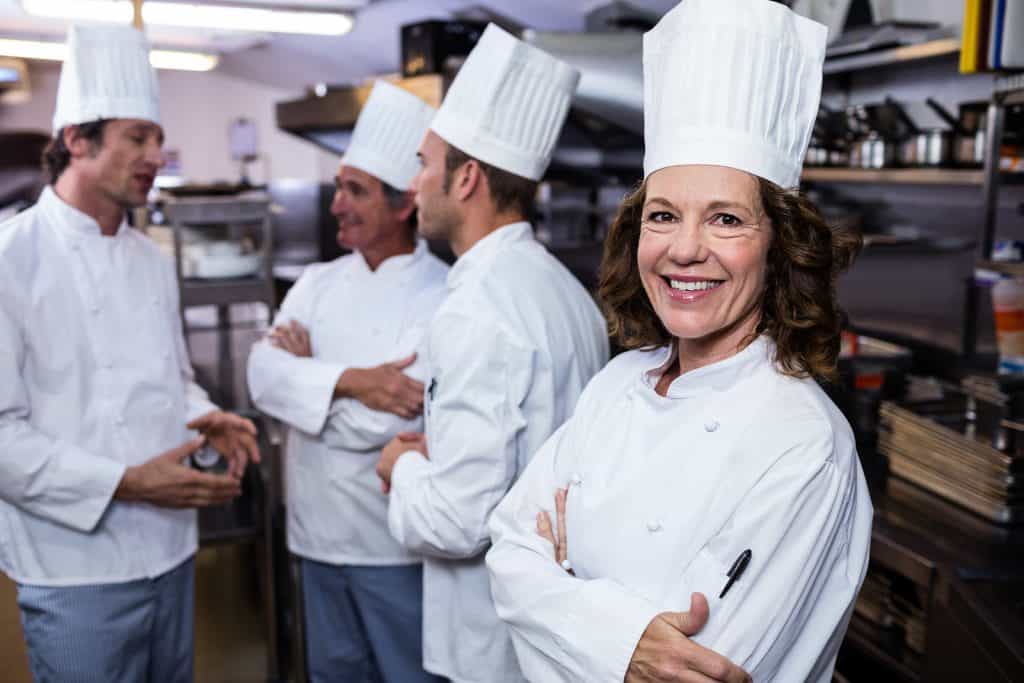 Shoes are generally a matter of personal preference and what works for one person may not work for another. Nevertheless, the common factors you should look for in a good chef shoe are grip, comfort, and support. Chef shoes should be seen first and foremost as safety equipment, so keep that in mind when shopping.
1. Grip
As I mentioned, kitchen floors are slippery. A good chef shoe needs a rubber (or synthetic rubber) sole with a grippy, varied surface to help grab the floor when covered with water, oil, and other liquids.
2. Comfort
When you wear a shoe for 12+ hours, it had better breathe, stretch, and provide all-around comfort. Anything too rigid or that can cause blisters is a big no-no.
3. Support
When standing for so many hours on end, having good support is essential for comfort and also for health. This means good arch support, and a structure that supports the food and ankle overall. A steel toe is also a good idea to protect your feet in the instance of dropped pots, pans, and knives.
4. Longevity
Chef shoes take a beating. A chef is on his or her feet for many hours, and the shoes also have to stand up to spills and drips. Many chefs report going through a pair of shoes in a matter of months.
5. Style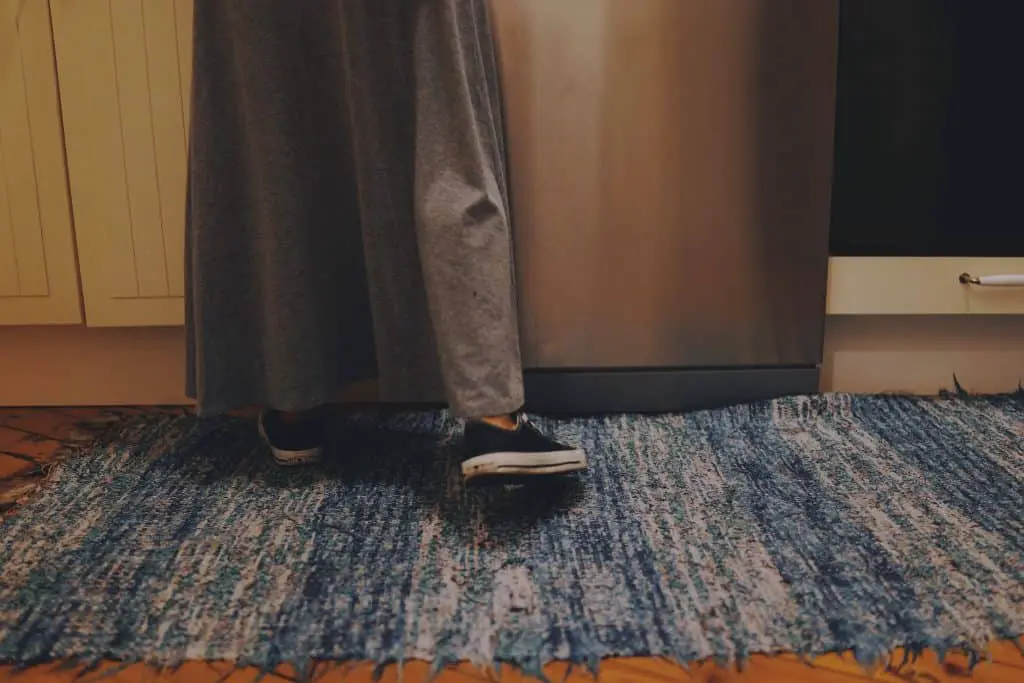 When it comes to a work shoe, the other criteria listed are more important. But, you may have personal preferences about the look of the shoe, which is totally reasonable. Professional chefs sometimes have to make an appearance on the dining floor, so having a shoe that looks good as well as being functional may be important.
6. A General Note
Shoes are really a matter of personal preference. What works for one person may not work for another due to the shape of the feet, body type, etc. Many celebrity chefs have their own favourites and endorse them heavily, but don't feel bad if you're not impressed with what Chef Batali or Chef Ray enthusiastically recommend!
Recommendations & Reviews
Despite the subjective nature of shoes, there are some brands and styles that get recommended repeatedly in cooking forums and magazines. I've weeded through these discussions to make some recommendations if you're looking to buy new chef shoes.
While many of these manufacturers make non-professional shoes for everyday wear, I am recommending their professional versions, as these tend to have better slip-resistance and other features that make them suitable for a professional kitchen.
Dansko clogs are a classic, oft-recommended chef shoe. They come in many styles, but I think this closed-back style is most appropriate for the professional chef. They come in leather and synthetic exteriors, but it's the soft leather on the inside and the solid construction that provides the comfort for which they're famous. (Link to same in Men's)
These are what my brother-in-law wore back in the restaurant where I worked, and these are the shoe choice for many, many professional chefs. The removable insole is a plus, too, as you could put in a custom insole if necessary.
Many people found that the solid construction of Danskos reduced pain they were experiencing. Owners note that these shoes do take some "breaking in" and that they get better over time. Many people report having the same pair for years, which means that initial investment will likely pay off in the long run.
However, it seems people either love or hate them. Some people find the lift of the heel to be uncomfortable, or fear the height may create some danger for rolling the ankle.
Many people are familiar with the iconic crocs clog, but may not know that they make a professional version intended for use in kitchens in particular. These feature a closed foot design (no little holes to let hot food through) and a slip-resistant sole, but otherwise have the same comfort crocs are famous for. It's the proprietary croc material that is so comfy, along with the little massaging nubs along the footbed.
The primary drawback that people cite is the lack of breathability with these shoes, which means your feet may be pretty sweaty on the inside after a long day standing up in a hot kitchen. You also really have to take care not to leave them in a hot car—I did this once and the shoes shrunk to comical proportions! Other also complain about the design—crocs aren't exactly the most fashionable shoes out there.
It doesn't have a removable insole, either—you wouldn't be able to put in a custom insert if you need one.
But other people, some celebrity chefs included, swear by these chef shoes because they are really just that comfortable. These are also a great budget option, usually running at a fraction of the cost of pricier leather chef shoes. Despite the easy investment, many users have found that they last a surprisingly long time, some up to a couple of years.
Blundstone boots are an iconic, rugged Chelsea style pull-on boot with a cult following. Hailing from Australia (though now made in Vietnam), "Blunnies" are made with a durable leather exterior and soft leather interior. Along with the synthetic sole, shock absorption technology, and arch support, these are a very comfy boot.
I have a non-work pair of the and I am obsessed with them. I wear them pretty much every day during the winter, and they take a beating but look as good as new when I clean them up.
Although I'm not stomping around a professional kitchen in them, I can see how they'd be great for chefs—grippy, comfortable, supportive, and durable. The ones I recommend here would be even more suitable for a professional kitchen, with the non-slip sole and steel toe for added safety—a feature not seen in many chef shoes but that is great added protection. They also look stylish enough to wear out as well, making them a versatile chef shoe.
These are a bit of an investment, but they will last many years, even with heavy wear. When ordering, take care to be sure you're ordering the right size, as these are listed in Australian and UK sizing. The "half sizes" indicate wider width rather than a longer footbed. They come with an insole that can easily be removed and will provide a bit more wiggle room if you find them too tight.
KEEN is a brand known for its very comfortable, if utilitarian-looking, shoes. This design is a bit different than the typical workplace clog, with a lace-up front. (Link to same in Women's)
These shoes use some of the best features of streetwear KEENS—the cork + memory foam footbed and the toe-protecting way the sole wraps up over the front of the foot. KEENS' comfort is also based on the curved design of the footbed that mimics the foot's natural shape. Extra protections, such as slip-resistant soles and water resistant uppers, make these suitable for a busy kitchen as well.
Another trademark of KEENS is the wide toe box, which means your toes won't get pinched or squished at all. People with wide feet find this roominess especially comfortable.
Some reviewers find the toe box a little too roomy, which makes the shoe look a bit clownish. Other reviewers had some issues with the longevity of the shoe. Given the price, you'd expect them to last a few years, but some find the shoes wear out in a matter of months. Others had better luck, though, so it seems to be a hit-or-miss quality control issue.
Protect those Feet!
If I was to start my professional chef career and needed to invest in some chef shoes, I'd upgrade my everyday Blunnies to the Blundstone Work Series boots to keep my feet protected and stable in the kitchen. I just love the rockstar look of these boots and the fact that they last.
But if I found the boot to be too much, I'd definitely give the Danskos a try. There's a reason so many chefs swear by them, and I kinda dig the retro-Scandinavian look of these clogs. If comfort is your primary concern and style of no concern, the Crocs seem to win for maximum cushiness!
In case you're wondering what I wear in my non-professional home kitchen, I'm rarely seen without my Glerup house shoes (they're really just slippers 😉
Are you a professional chef? Let us know what your favourite chef shoes are!