A mortar and pestle is one of the most ancient kitchen tools; just about every civilization in history has some version. When I was 8 years old, I found a stone mortar "nutting bowl" dating back hundreds of years to the Native American people who lived in that area of New York long before Europeans arrived. It's fascinating to hold a piece of history like that.
Despite the old-school nature of this cookery tool, a mortar and pestle is still useful in a modern kitchen. In this article, I'll talk about some of the uses for and varieties of mortars and pestles, and make some recommendations if you're convinced you need one! If you're ready to shop now, feel free to skip right to the links in the table below to see the latest prices and reviews on Amazon.
Quick Comparison
Dimensions
8" exterior diameter; 5.5" interior diameter; 5" height
4.5" exterior diameter; 3.25" height
6" exterior diameter; 4" interior diameter; 4" height
4" exterior diameter; 3" interior diameter; 3.6" height
Best Uses
Pastes, spices and herbs, dips
spices and herbs, small amounts of pastes or dips
as barware, small amounts of spices
How to Use a Mortar and Pestle
Mortars and pestles are very versatile. Crush, grind, and pulverize nuts, seeds, or spices (or even pills, hence their use as a pharmacy tool). Or mash, mix, and bruise herbs and ingredients into pastes and sauces such as pesto or guacamole.
You can get creative, too—I love the idea of making specialty salts by mashing up a coarse sea salt with some herbs of your choosing.
Other uses include:
Salsas
Peeling and mashing garlic
Tenderizing tough ingredients like lemongrass
Caesar dressing
Condiments like aioli and mustard
Cooking forums like Chowhound are rife with inventive uses for mortars and pestles.
You may wonder, why bother with this manual labor if these tasks can be completed in a food processor? While it's true a food processor will adequately do a lot of these things, there are some good reasons to go manual instead:
The taste. Slowly mashing and pressing with the mortar and pestle draws out the oils and flavours of ingredients better than the slicing action of a food processor's blades.
More control. Do you want a chunkier guacamole or hummus than what gets whipped in a food processor? Mashing by hand lets you make it just the way you want.
The experience. Convenience tools are helpful, but something is definitely lost when you can push a button and have the task completed in seconds. On the other hand, mashing, grinding, pounding with a mortar and pestle lets you to feel what's happening to your food, slows the process down, and immerses you in the experience in an act of mindfulness that is a welcome change of pace in our insta-world.
How to Buy a Mortar and Pestle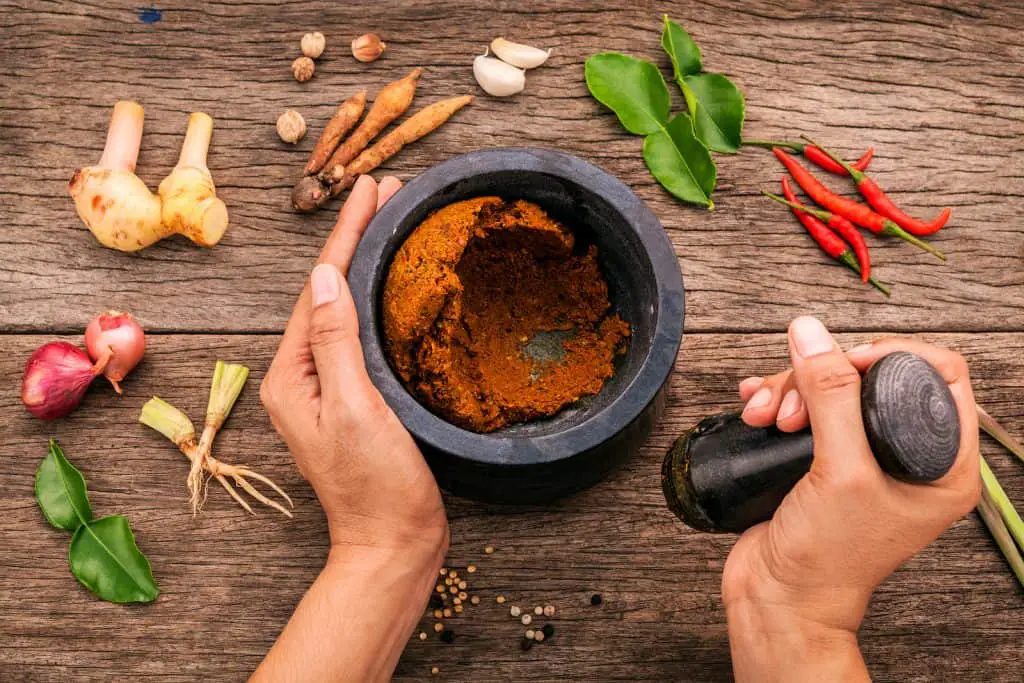 Ready to make a purchase? First think about how you want to use your mortar and pestle as this should guide your choice. Given the large variety of uses and the fact that many cultures have their own spin on this tool, you can find mortar and pestle sets in a very wide range of sizes and materials.
1. Size
Mortars and pestles come as small as ones that fit in one hand, to ones that must be operated by more than one person! A small set works well for spices and small amounts of pastes like homemade Thai green curry paste. A midsize one is better when you need more volume, like to make a good batch of guacamole.
Many home cooks on cooking forums suggest that a 7-8" set is a good middle-of-the-road option. The stated size usually refers to the outer diameter. Some will also list the volume that can fit inside the mortar's bowl.
2. Material
Mortars and pestles can be made of a large array of materials. There are benefits and drawbacks to each.
Granite is a popular choice. They are heavy and textured on the inside, which helps with the grinding process. Granite is often inexpensive and doesn't hold flavours, so it'll work for a wide variety of tasks. It's best suited for when you really want to pound something good, like making a curry paste.
Wood mortars and pestles look beautiful. I have an olive wood one I inherited from a family member, and it's perfect for breaking up nuts. It is too soft for certain tasks, like grinding up hard spices, but does a good job bruising and mixing as opposed to pulverizing.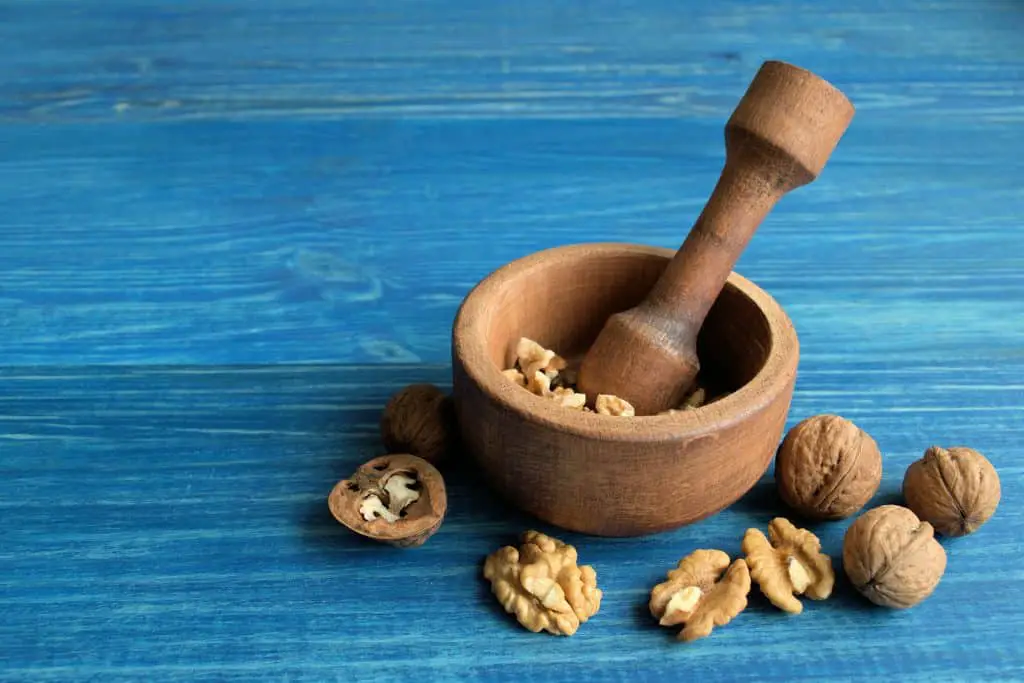 Wood also retains flavours. This is a positive if you plan to use it for the same sorts of things, like oil and garlic-based pestos or guacamole. It becomes seasoned over time, adding to the complexity of flavours in your dishes. However, if you want one mortar and pestle for a wide variety of tasks, consider that you might want to avoid having your walnuts taste like garlic, or your curry tasting like guacamole!
Ceramic or porcelain is another popular choice. It is often smoothly glazed on the outside but rough on the inside. It cleans up nicely (they're usually dishwasher safe!) and works well for spices, nuts, garlic, and wet things like pesto. The main drawbacks are that it can be prone to breakage, and it lacks some of the useful heft of something like granite.
Metals, like brass and stainless steel, are sometimes used, although these are often too slick on the inside to work well for things like peppercorns, which tend to fly out! They do clean easily, though. Many people favour stainless steel for crushing pills or as a barware item.
Stoneware or Terracotta are also used. My favourite Thai dish, som tam, is made in a terracotta mortar with a wooden pestle. The Japanese version, suribachi and surikogi, also use a mix of materials. These are a bit harder to find—on my next trip to Thailand, I'll be bringing back one of these so I can make som tam!
3. Other Considerations
Heft: Again, depending on your intended use, a heavy, solid mortar and pestle is useful as the construction and weight will help do some of the work for you.
Bowl depth: in most applications, a deeper well is preferable as it helps keep the food from spilling out while you're pounding away. A shallower bowl, like in the Mexican molcajete, requires more of a grinding action.
Texture: The bowl should have some texture to help with grinding. Too much texture, though, makes it more difficult to clean.
Also note that different materials and foods require different actions—pounding vs grinding, for example. You'll want to pay attention to the instructions that come with whatever set you choose, as well as the instructions in your recipe to be sure you're using it properly.
Time to Buy!
Here is a run-down of some of the top-rated mortars and pestles you can easily find on Amazon.
This is the classic Thai-style mortar and pestle, and this generous 8" size will be very useful for a whole variety of cooking tasks. I like the classic, almost primitive look of this set—I think it'd be an interesting focal point in any style of kitchen.
This particular set is made in Thailand, from a single hunk of granite. The outside is glazed while the bowl of the mortar and the bottom half of the pestle are unglazed but still somewhat smooth. Users of this large granite set love the heft of it, which really helps speed up the process of making anything from guacamole to curry paste.
They offer a 6" and 7" version as well, with 1.5 and 2 cup capacities, respectively. If you're going to get one mortar and pestle, I'd recommend going with the larger size, so you can make a large variety of things with it. The weight is also helpful to keep the bowl from sliding around while you're working—at 15 lbs, this one isn't going anywhere!
I love the modern, sleek shape of this little set. The removable silicone gripper is a nice innovation as well, as sliding around is a common issue with smaller mortars.

This is a small mortar and pestle, good for using with grinding pills, herbs, or spices. It will also be useful for small amounts of pesto or spice paste.
The main drawback is the size. You wouldn't be able to make enough pesto for a whole pot of pasta, for example. Some people have also had issues with the bowl breaking out of the base. But as I'd mentioned, breakage can be an issue with ceramic. Luckily, the customer service of this company, Cooler Kitchen, seems to be responsive and helpful with issues like this.
This is a mid-sized granite mortar and pestle with a modern shape to it. It's a nice piece of stonework to display in your kitchen.
Like other granite mortars, the exterior is polished while the interior is unfinished but still smooth to provide that necessary friction. Reviewers say the finishing is just right.
This set comes with some useful accessories: a silicone pad to protect your work surface from the bottom of the mortar and to keep it in place, a silicone scraper for the inside of the bowl, a wooden spoon, and instructions for how to prep and season the tool. These extras make it a great value.
At this size, it'd be great for spices and dips like guacamole or hummus, and it's definitely pretty enough to use it as a serving piece!
This is a beautiful looking mortar and pestle. It has a classic shape, while the brushed stainless steel gives it a modern look. Reviewers praise the solid heft and non-slip bottom.
While I do think you're limited with stainless, as it can be challenging to grind up very hard things that might fly out on you, this would be a great option particularly if you're looking for a dedicated barware mortar and pestle. If you make a lot of mojitos or are looking to get experimental with cocktails, a mortar and pestle is an essential tool for muddling herbs and other ingredients.
Most owners also have success grinding up other herbs and spices, and the fact that it won't hold onto flavours makes it versatile. I think it probably takes some practice getting the proper technique down so that you're not getting frustrated with this one.
The smaller size also makes it a bit less versatile as you wouldn't be able to make dips or anything with much volume. But for a small mortar and pestle, this is a nice option.
What to Pick?
Which mortar and pestle to buy really depends on what you want to use it for. But I think a great all-around pick is the 8'' Granite Mortar and Pestle — this is definitely on my wish list! You'll be able to do just about anything in one of these, from smaller amounts of spices to a larger volume of something like guacamole. If you don't have much space, The Smart Nut Company Mortar and Pestle is a great option, that also makes a nice presentation on the table.
Do you own a mortar and pestle? What do you use yours for?