I have lots of kitchen utensils, but it's always my wooden spoons I reach for when doing pretty much any sort of mixing or stirring or sautéing. There's something about the feel of wood that's just right.
But not all wooden spoons are created equal. Those cheap bags of 3 you can buy in the grocery store won't give you the same pleasure or functionality as something more well-constructed and thought out.
So let's discuss this most humble of kitchen implements. I'll dive into the world of wooden spoons to discuss the whys and whats of this tool and I'll also review some of the top-rated options on Amazon if you're in the market to buy some new spoons. Feel free to click right over tosee the latest reviews and prices for these options from the table below.

Dimensions
14" long ~2.5", thick head
13.3" long, 2.5" thick head
Shape(s)
Rounded spoon, scraping spoon, slotted spoon, forked spoon, spatula
Traditional round cooking spoon
Why Wood?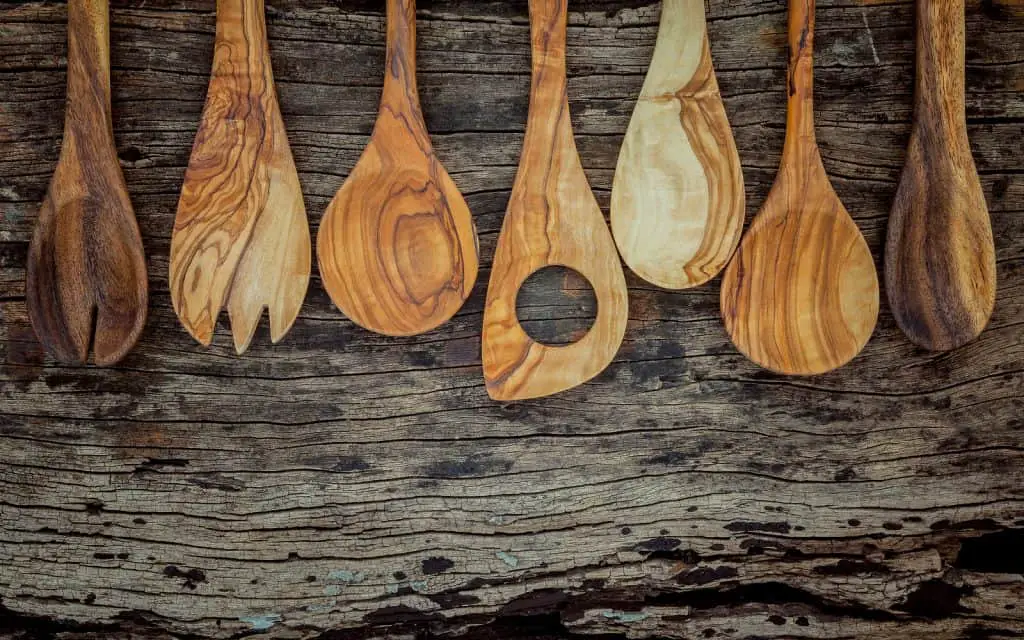 There are a number of reasons why wood is not just nostalgic, but also practical for cooking.
Non-reactive/non-leaching: Wood doesn't react with acidic food like some metals do. Nor does it leach potentially harmful chemicals like plastic can.
Not conductive: Wood doesn't get super heated like metal does, even if you leave it in a hot liquid for some time.
Soft: Wood doesn't scratch delicate surfaces like your expensive Le Creuset or Staub pots, or non-stick coated surfaces.
Eco-friendly: Wood is a renewable resource. Certain options, like quick-growing bamboo, are especially eco-friendly.
Hygienic: If cleaned properly, there's no need to worry about wood harbouring bacteria (despite what some people believe). And in fact, wood is self-sanitizing, to a degree.
Comfortable: Wood feels nice in the hand—smooth, with a bit of give and softness. This tactile experience feels comfortingly simple—that's worth something, too!
If you need any more convincing, watch this artisan make wooden spoons by hand:
Shopping Tips
When looking for good wooden spoons, there are some factors to consider.
Type of Wood
The cheapest wooden spoons are often made of pine. This is ok, but they probably won't last a very long time and they might even impart your food with a piney flavor at first. If you want to invest in better quality spoons, look for harder woods like beech, maple, bamboo, or olive wood.
Design
Most wooden cooking spoons are fairly shallow, but will still let you get a small taste while cooking. If you want a spoon that can serve as well, look for one with a deeper bowl. If you need to get into the corners of the pot or scrape bits up from the bottom, look for something with a sharper corner or straight edge.
Don't feel confined to traditional spoon shapes when shopping for wooden utensils. My favourite wooden "spoon" is more like a rounded spatula shape that just feels right for pushing food around to sauté or for one-pot dishes and stir fries. You can also find slotted spoons, ladles, spatulas, and all manner of shapes depending on your need.
Construction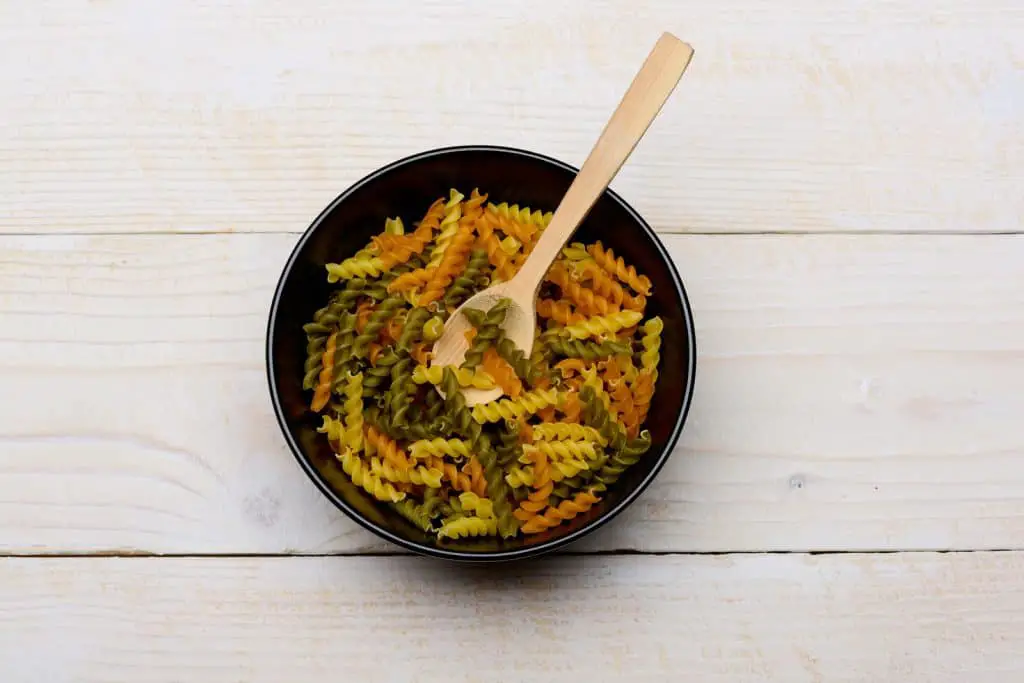 A good wooden spoon should be made from a single piece of wood, so there are no seams that can break or collect food bits.
Materials
Some wooden spoons have a different handle material, like coloured silicone or even marble. This is less about the spoon's functionality—wood is a great material to grip on its own—and more about aesthetics and personal preference.
Bonus tip: When you've invested in some amazing wooden spoons, consider displaying them on top of your counter rather than stuffing them into your kitchen drawers. A large mason jar can create a rustic, homey look (and it's cheap!). I love a marble crock like this—can work in any style of kitchen from traditional to modern and minimalist.
Best Wooden Spoons (and Sets)
There are some incredible wooden spoons that on their own fulfil a large variety of functions. You can also find good value in sets. I'll take a look at both.
This wooden spoon is made of a solid, single piece of beech wood and has a hole in the wide handle for hanging, if desired.
This spoon has a nice, deep recess, so it'd work for serving at the table as well as getting a hearty taste when you're testing your food during cooking. It's a very solid piece of equipment—definitely larger in both the handle and the bowl portion of the spoon than your typical grocery store wooden spoons.
And owners of this one agree. Reviewers note the thick, comfortable handle and smooth wood. Some say they've had this spoon for years and it has lasted beautifully.
Some people do note that the wood tends to get rough after washing, particularly if you use an abrasive-type sponge (this can be remedied with sanding and/or a mineral oil rub). It also seems there may be quality control issues—some people reported the spoon cracking after the first washing, but then they didn't have the same issue at all with a replacement. So test it out immediately after purchasing to be sure it's a good one!
PROS
Large recess
Solid beech wood
Wide handle
Affordable
CONS
Can get rough after washing
Quality control issues
This is a fun, colourful set of bamboo utensils. It includes a traditional rounded spoon, a spoon with scraping corner, slotted spoon, forked spoon, and spatula. The wooden section is bamboo, while the handles are coloured silicone.
The overwhelming majority of users love these utensils. People find they feel sturdy and the silicone handles are soft and nice to grip. The long handles also make them very functional, especially for big pots of food like chilli. The set comes nicely packaged, as well, making for a nice gift.
There are a few concerns with this set. One is that the wood portion is not made from a single piece of wood, but several strips glued together. This is quite common for bamboo but may cause issues with chipping or cracking over time (and indeed, some users did have these issues after only a few uses). You may also be concerned about the safety of the glue.
However, the manufacturer is very responsive and open to working with customers, which is a nice reassurance in case you receive a defective item.
PROS
Good value with a variety of tools
Eco-friendly bamboo
Colorful
Wide handles
Attractive packaging
Good customer service
CONS
Made from glued strips of wood rather than a solid piece
Cannot be left in hot liquid/food
Quality control issues
Given that Le Creuset's famous cast iron enamelware pots require the soft touch of wooden utensils, it makes sense that Le Creuset makes this spoon as a complement.
Like the company's cookware, their other accessories are impeccably executed and of the highest quality. This scraping spoon is no exception. It is often recommended on forums and in cooking magazines as the ultimate wooden spoon.
It is made from a single piece of beech with nice details like an opening for hanging, an comfortable curved handle, and the Le Creuset brand along the handle.
Many people find this is really the best wooden spoon. With its corners and straight edge, it's ideal for deglazing a pan or scraping up "fond" on the bottom of the pot. There is enough of a bowl that you can do taste tests, although the recess isn't really deep enough to be an effective serving spoon.
The main criticism is that the wood is a bit rough, so be prepared to treat it regularly. Otherwise, it's really just the price that has some people questioning this spoon. You're paying a bit more for those extra details and the Le Creuset name.
PROS
Solid beech construction
Comfortable handle
Useful design with scraping edge and corners
Scanwood is a Danish company that brings that Scandi-cool aesthetic to kitchen tools. This spoon is made from luscious olive wood which is very durable. It is sustainably sourced, too.
This is a very classic spoon design—a long, straight, round handle and a fairly shallow bowl that is primarily for stirring but also works for tasting. There are also a number of other types of Scanwood spoons you can get from this same link, or also here, if you're looking for more of a spatula, scraper, or serving-type spoon.
Owners of any of Scanwood's olive wood utensils note how much more attractive these spoons are than others they've used. The olive wood has a beautiful, rich grain and feels nice in the hand. Although the handle looks thin in the product images, reviewers report that it is sturdier and thicker than it appears.
Some people find that their spoons require more regular oiling than other wooden spoons they own. Others actually find the handle to be a bit too chunky for their liking, though I think this is a matter of personal preference.
PROS
Solid olive wood construction
Made from sustainable sources
Attractive graining
CONS
Wood can feel dry
Some may find handle too thick
Picking the Best Wooden Spoon
Have I convinced you yet that wooden spoons are the way to go in the kitchen? Yes? Ok, so which one is your perfect spoon?
OXO's wooden spoons are a great budget option that should still last a long time. Le Creuset's Scraping spoon also looks like a handy tool, but I don't know if I'd be willing to spend that much for a wooden spoon! (Maybe as a gift… hint hint!). I personally prefer a solid wooden spoon, but if you're looking for a bit more flair in your kitchen, Vremi's bamboo set is a good value, particularly if you find it on sale.
There are so many great options, but for me, the perfect wooden spoon is Scanwood's Olive wood cooking spoon. It's a classic, versatile shape and olive wood is just so sturdy and beautiful. I also like that this company uses sustainably sourced wood.
What's your top pick? Let us know in the comments!