When I was growing up, the community centre across the street from my house ran an annual chicken barbecue fundraiser. They'd set up shop with charcoal-filled pits dug out in the grass to smoke the chicken to barbecue heaven. Sometimes I dream of replicating that smokey, tender chicken on my own, but I'm not about to dig a pit in my back yard…
But luckily, amazing, smokey barbecue doesn't have to be a distant memory. In the last few years, pellet smokers have taken the barbecue world by storm, bringing this magic slow method of cooking to even novice backyard chefs with its easy system.
In this article, I'm going to talk all things pellet smoker: how they work, what to look for if you're interested in buying one, and which are the best pellet smokersavailable. Feel free to skip ahead and click the links in the table below to see the latest prices and reviews on Amazon.
Quick Comparison
Table could not be displayed.
How do Pellet Smokers Work
Pellet smokers look like a standard backyard grill, and are nearly as simple to use. Here's a simple explanation of how they work:
Small, cylindrical pellets made from compressed sawdust sit in a hopper, usually at the side of the grill.
When turned on, an auger or other delivery method pulls these pellets into the "furnace" of the unit, where a heating element like a hot plate or rod ignites the pellets.
The smoke that is generated from the pellets circulates in the grill oven with a convection fan for even heat distribution.
This is revolutionary because with traditional smokers and barbecues, you have to be monitoring and feeding the units to maintain the right temperature and add wood or charcoal. A pellet smoker does all of that work for you, enabling you to "set it and forget it."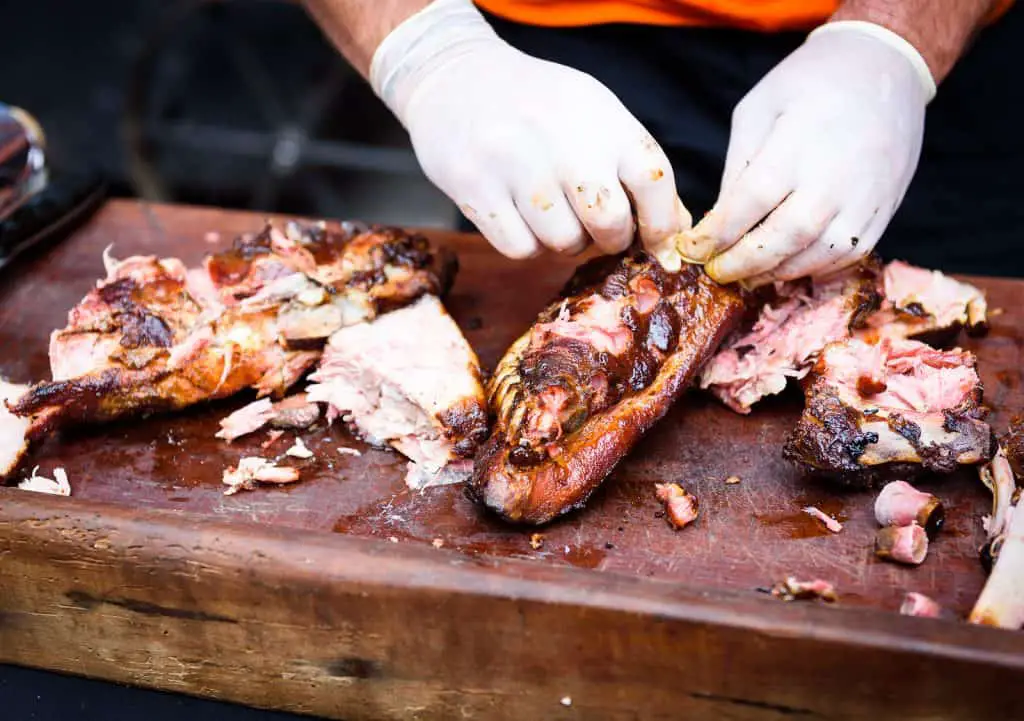 Other Notable Points on Pellet Smokers
The temperature is adjustable, and some of the better units offer very precise temperature control.
They require electricity to control the thermostat and run the pellet delivery system and heating element.
You can get wood pellets made from different types of woods to give your smoked food different flavours. DO NOT USE pellets meant for wood pellet heating systems, as these can contain woods that would be toxic in your food. Look for food-grade pellets.
Most pellet smokers claim to be able to function like a grill as well, but because the heating is indirect, they are not a total replacement for a traditional grill; you won't get the same kind of searing effect from a pellet smoker.
Although there are limitations to pellet smokers' grilling abilities, you can successfully roast and even bake on these things!
Pellet smokers can produce less smoke than more traditional methods, especially at higher temperatures.
Things to Consider when Buying a Pellet Smoker
Are you ready to invest in a pellet smoker? Let's talk about some things you need to consider before you make a purchase decision.
1. Ease of Cleaning
The pellets produce a small amount of ash, but you still must clean out the ash from time to time. As with a standard grill, the inside can get quite messy. To keep it nice and clean so that you're getting the best flavors, you really need to get inside and around the parts to clean it out properly. It's important that the smoker can come apart easily.
2. Temperature Control
As I mentioned, pellet smokers can offer you a great amount of control over the temperature, but only if the thermostat is a good one. Look for a unit that offers detailed variation in the temperature (not just low-medium-high). Some units even allow you to control the temperature via wi-fi, so you can make adjustments from inside your house, for example. Truly convenient.
3. Accessories
Some pellet smokers come with a special grill plate that can be heated separately to help you achieve that grilling goodness that isn't otherwise attainable with the pellet smoker alone. A meat probe is also a nice accessory so you can check the progress of the cooking.
4. Warranty/Replacement Parts
Your pellet grill is so easy to use because its sophisticated construction does the work for you. This means that there are a lot of moving parts that can break down. You'll want to purchase from a reputable company that will be around for a while to ensure that if you need parts or help with your machine, the manufacturer will be available.
Popular Pellet Smoker Picks Reviewed
Traeger was one of the first companies to make pellet grills.
This particular model is a small option, with an attractive bronze cover design. Some people find this too small, though, so consider your needs carefully. Traeger claims this grill will fit 12 burgers, 18 hot dogs, 2 chickens, 3 rib racks. It has a digital thermostat (which you control with a dial) and boasts of Traeger's energy efficient system, which uses 300 watts for first 4 minutes and only 50 watts after that.
It lacks some of the bells and whistles you can find on pricier models. There is not an easy way of emptying ash—you'll have to vacuum it out when cleaning the unit. Some users found that the exhaust holes at the back let out too much heat and smoke, and would have benefitted from a slider door or some way of having greater control over the exhaust.
Overall, I think this is a good option if you are new to pellet smokers and have space limitations, or want to use it for travel, tailgaiting, etc. It comes with a small cookbook that is helpful for novices to smoking. It does not come with a cover, though Traeger does make them.
Other specifications:
Digital elite controller
292 square inch (~20 x 15") cooking surface
60 lbs
Unit dimensions: 37 x 18 x 36"
120v
3 year warranty
This Green Mountain Grills unit is similar to the Traeger above. As a smaller grill, it's a good entry-level option, or for anyone who's specifically looking for a more compact pellet smoker. Most users on cooking forums find it's a reliable option for a compact grill.
The Davy Crocket has a peaked lid so that you can do stand-up smoking like for a beer can chicken. It also has a smoke stack, eliminating the draft issue on the Traeger. It has a sleek, modern look to it.
This grill is also wi-fi enabled, so after you've downloaded the wi-fi app to a smartphone or tablet, you can control the temperature and monitor the progress remotely. This amplifies that "set and forget" benefit of the pellet grill, as you don't have to constantly return to check on the progress. However, some users have had issues with this feature working properly.
Another important feature of this grill is their "Sense-Mate" thermal sensor which constantly monitors the temperature. It comes with a meat probe and has holes in the side of the unit so you can check the internal temperature of your food without opening the grill lid.
Wi-Fi enabled temperature control
Foldable legs
219 sq in (12.5 x 18") cooking area
150-550F temperature range
57 lbs
unit dimensions: 34 x 23 x 31 3/4" with legs open, 27 3/4 x 17 1/2 x 20 1/2" with legs closed
12V or 120AC for different power options
2 year warranty
Camp Chef is a fairly new but respected brand of pellet smokers. This grill is more of a stay-put option than the Traeger and Green Mountain Grill models as it is larger and heavier.
As a pricier option, it has most of the features you would expect: a very useful ash clean out system (no taking apart the grill), a second grilling rack, internal temperature sensor, and a grease management system. It also includes a meat probe for checking the internal temperature of your meat. It also has 2 smoke settings, to allow you greater control over how much smoke flavour you're getting in your food.
According to smoker aficionados, this is a great mid-range option for the average home smoker. It has reliable temperature settings and people really love the convenience of the ash cleanout system. In my experience, when something is easy to clean and operate, it gets more use!
429 sq in (19.5 x 22") cooking area
Removable second cooking rack
160-500F temperature range
patented ash can clean out system
113 lbs
unit dimensions: 51 x 21 x 45"
120V AC power
1 year warranty
The Rec Tec pellet grill definitely has the "wow factor" visually. The brigh red cover opens up with chrome cattle horn handles. A "nose ring" towel rack sits below the lid.
Nice features on this unit include an interior light, an extra smoke setting at lower temperatures, and a large 40 lb. hopper capacity. Owners also note that the "Smart Grill Technology" does work well to maintain a consistent temperature which is important if you're interested in baking in this pellet smoker.
The Rec Tec does not come with a meat probe but the internal temperature shows on a digital display. Like most pellet grills other than the Camp Chef, it does not have an easy ash can clean out system, and it must be vacuumed out.
Overall, this is a nice option if you want to add some smokey flash to your outdoor kitchen. Reviewers praise the build quality of this pellet smoker, and the 6 year warranty certainly backs that up.
702 sq in (36 x 19.5") cooking area
180-500F temperature range
interior lid light
250 lbs
unit dimensions: 54 x 32 x 48"
120V AC power
6 year warranty
Smoke Time!
Despite the relative newness of pellet smokers, there are a lot of fantastic options if you want to get into smoking with this convenient method.
If you're looking for a smoker that can join you on camping trips or for tailgating parties, the Green Mountain Grills Davy Crocket seems to have the edge over the Traeger Jr. Elite BBQ155.01 due to the more reliable temperature and smoke controls. The wi-fi control is also a nice feature.
If you're looking for a grill to say permanently on your deck or in your yard, I think the Camp Chef is the winner. The ash can cleanout feature would be important to me. The included meat probe and second rack also make it a great value.
But the Rec Tec Pellet Grill is also a beautiful option, and there is definitely value in a 6 year warranty and good customer service for this type of product with lots of moving parts.
Do you have any experience with pellet smokers? Let us know!