Do you adore cream puffs? If you do, I am pretty sure that you would love popovers too. I have already visited different countries and tasted various pastries, but I would always crave for popovers. Its lightness and puffiness are just two things I cannot resist!
I always crave for popovers, and that is why I decided to create some at home. Unfortunately, I am a cheapskate, so I used popover pan alternatives. Sadly, I ended up with the saddest popovers ever—flat and truly disappointing.
Since then, I decided to invest in the best popover pan, and I will share with you some of the tips and tricks that I have learned in my buying journey.
Best Popover Pan Reviews to Read
The truth is, I had a hard time choosing which pan to recommend and use simply because the popover pans in this list have almost the same essential features. But I have chosen the Chicago Metallic Popover Pan because it comes in two sizes and has a lifetime warranty and you can get all these extra features at an affordable price!
To help you come up with a sound decision, here is a comparison table of the different popover pans that I have reviewed and considered:
1. Chicago Metallic Mini Popover Pan– Editor's Pick
Looking for a high-quality popover pan sold at an affordable price? The Chicago Metallic Mini Popover Pan is the best option for you. This pan is made of heavy-gauge aluminized steel with a nonstick Silverstone surface for easy removal of the popover from the pan.
With its extra wide lip, each cup of this pan is appropriately designed to make sure that the popover can rise as big as possible. The cups are also suspended from crossbars to allow even and proper heating of each cup.
The best thing about this pan is that it is dishwasher safe. However, it is recommended that you hand wash it to extend its life. Besides, I absolutely adore the fact that this pan comes in two sizes—6-cup and 12-cup—which makes it the perfect popover pan for baking both small and large batches of popovers.
The design of this pan also makes it a suitable baking pan for other pastries like muffins and cornbread. Also. it comes along with  a lifetime warranty from Chicago Metallic.
Pros
Lifetime warranty
Easy to clean using hot and soapy water
Made of aluminized steel which delivers even baking and superior heat conduction
Silicone-based and non-stick surface for easy cleaning and removal of popovers
Well-built and sturdy
Cons
Non-stick coating tends to peel off over time
The sides of the cups are a bit straighter than other pans
2. Bellemain Popover Pan– Runner-Up Pick
Giving Chicago Metallic Popover Pan a run for its money is the Bellemain Popover Pan. This pan is similar in construction to my first pick as it is also made of aluminum steel. With this, you are assured that it is long-lasting and extremely durable.
It also has a non-stick finish for easy and efficient food release. This can also make cleanup a breeze. You will also be happy to know that it is dishwasher safe too.
As compared to my first pick, the cups of this popover pan are a lot deeper – in fact, it is twice as deep as compared to other popover pans. As a result, you can get higher, lighter and more tender popovers.
The only downside that it has is that no warranty is offered for every purchase. In addition to that, it comes only in one size. These are the reasons why I have decided to go for the Chicago metallic Mini Popover Pan over this one.
Pros
Comes in a darker shade of metal which absorbs heat a lot faster
Cups have curvy sides for the perfect popover shape
Easy to clean up
Deeper than most popover pans
Cons
No warranty
Not recommended for making big batches of popovers
3. Fox Run 4754 Popover Pan – Budget Pick
The least expensive popover pan of all is the Fox Run 4754 Popover Pan. But since this product is a bit cheap, you cannot expect it to have the extra features that you can find in more expensive brands. This product lacks the feature of being dishwasher-friendly, so you have to clean it up using soap and water.
However, I have included this pan in my list simply because it has the essential features that you would want in a popover pan. First of all, it is made of carbon steel which cannot absorb heat fast but can provide even distribution of heat to the pan. The cups are also covered with a non-stick coating for quick release of your popovers.
What I like most about this product is that, despite being the most affordable of all, its purchase still comes with a 5-year warranty. Now, that's a steal for me!
Pros
Most affordable product in the list
Comes with a 5-year warranty 
Non-stick coating makes clean up easier
Lightweight
Cons
Not dishwasher safe
Creates small popovers
4. Nordic Ware Popover Pan– Upgrade Pick
If you are looking for a professional-grade popover pan, the Nordic Ware Popover Pan is what I recommend. Among the pans here in this list, this one is the only one that is made of cast aluminum. The cast aluminum material is known for its ability to distribute and absorb heat. It is also widely recognized for its durability so you are sure that it can deliver long lasting service.
It is also designed to deliver maximum airflow to the popovers so they can be able to reach their full height all the time, every time. In between the cups, you can find center heat vents which deliver hot air to each cup for even cooking.
But as I mentioned above, the use of cast aluminum material comes with one con—it is expensive, but if you have money to splurge, I recommend getting this brand.
Just like my top pick, it is also nonstick coating for fast food cleanup and release. It also comes in two sizes. It can make 6 grand size popovers and 12 petite popovers. However, it is not dishwasher safe. The manufacturer recommends hand washing this pan with the use of a mild detergent.
Pros
Lifetime Warranty
Available in two sizes
Center heat vents for even cooking
Made of durable and long-lasting cast aluminum material
Made in the USA
Cons
Most expensive pan in the list
Not dishwasher-safe
5. Freshware SL-111RD Silicone Pan– Most Versatile Popover Pan 
The truth is, this silicone pan is not exclusively used as a popover pan. In fact, it can be used to make muffins brownies and cheesecake hence the title—most versatile popover pan. However, I have included it in this list because many users claim that it can also be used to make the puffiest and lightest popovers that you can ever try.
It is different from the other pans in the list as it is made with non-stick, heat-resistant silicone material.  This silicone material is also considered to be refrigerator-, freezer- , oven-, microwave- and dishwasher-safe. It is also free from phthalates, BPA and PVC. The company claims that it has passed European LGFB and US FDA Safety standards.
Aside from the fact that it is non-stick, the pan is also flexible so the baked popovers can pop out quickly.
Pros
Comes in different shapes
Can be used to make other baked goodies
Made of food-grade silicone material
The popover pan is freezer-, refrigerator-, oven-, dishwasher-, and microwave-safe
Pan is flexible and non-stick 
Cons
Not exclusively designed for popovers
Many users claim that it has poor shape design
What are Popovers? 
A popover is made with the same ingredients as that of a pancake— eggs, milk and flour and they have a shape which is similar to that of a muffin. However, they differ from both pancakes and muffins in a way that they are hollow and a lot puffier and lighter.
Why Use a Popover Pan?
When you take a quick look at popover pans, you will mistake them as muffin pans. That is why a lot of people would just use muffin pans in making popovers. Just so you know—that would be one of the biggest mistakes you can ever commit.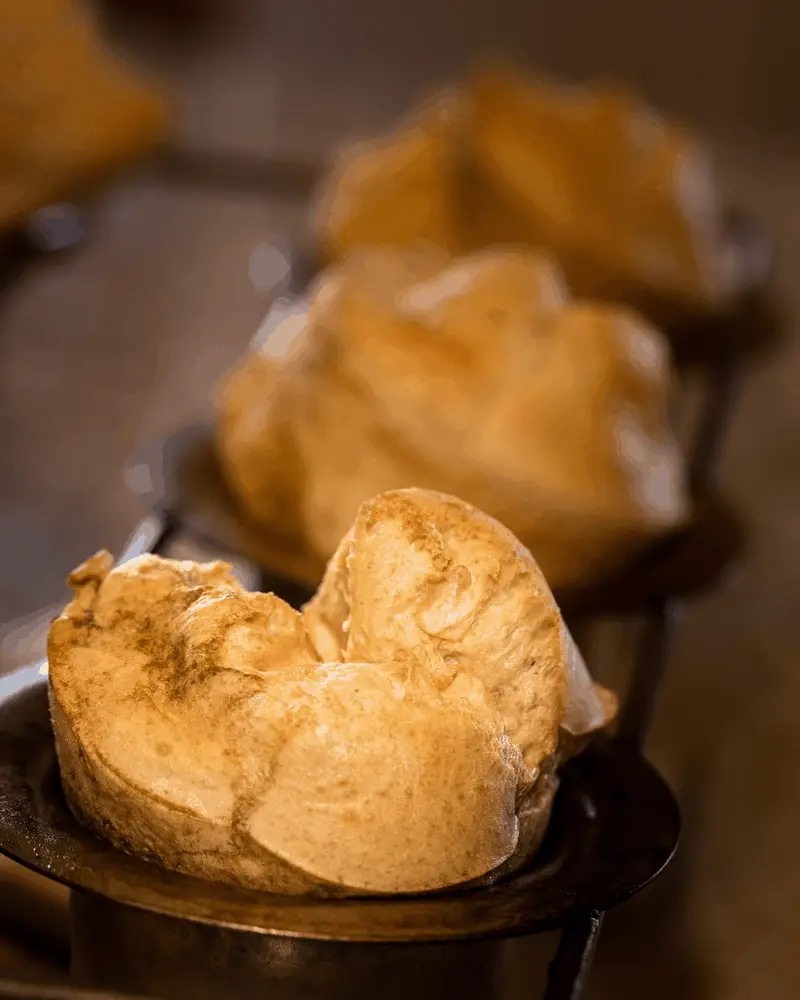 Muffin pans and popover pans may look alike, but there are specific differences between them. As compared to muffin pans, popover pans have deeper and steeper sided wells. This difference in design causes the batter to rise upward, creating the puffy dome and crispy sides that we all have fallen in love with.
In addition to this, the cups of a popover pan have no lid. In this way, even circulation and distribution of heat and air inside the cups is promoted.
What to Look for in a Popover Pan?
When buying popover pans, here are some of the considerations that you need to keep in mind:
•   Type of Material Used
Popover pans are made using different kinds of materials. Among all these material types, the most practical option would be aluminum or steel or a combination of both materials. Aside from the fact that they are easy to clean, these materials also conduct heat easier and better and deliver an equal temperature to the popovers while baking.
Cast aluminum and heavy steel are also good choices, but they are quite expensive and hard to find.
•   Cooking Surface
The cooking surface of the popover pan that you will choose must be non-stick. A non-stick coating allows you to release the popovers easier and more effectively. 
•   Cooking Capacity
By cooking capacity, I mean how many popovers do you plan on making at a time. The number of popovers each pan can make will be determined by the number of cups a popover pan has. This may vary from one popover pan brand to another.
•   Ease of Cleaning 
A nonstick coating ensures that there will be no residue left on the surface of the pan. If you also want to make cleaning as hassle-free as possible, opt for popover pans that are dishwasher safe. 
Tips on Making Popovers
If you wish to make the best popovers, here are some of the tips that you need to keep in mind:
•   Preheat the pan.
In addition to preheating the oven, you need to preheat the popover pan too. To achieve the best popovers, you need to use a hot pan.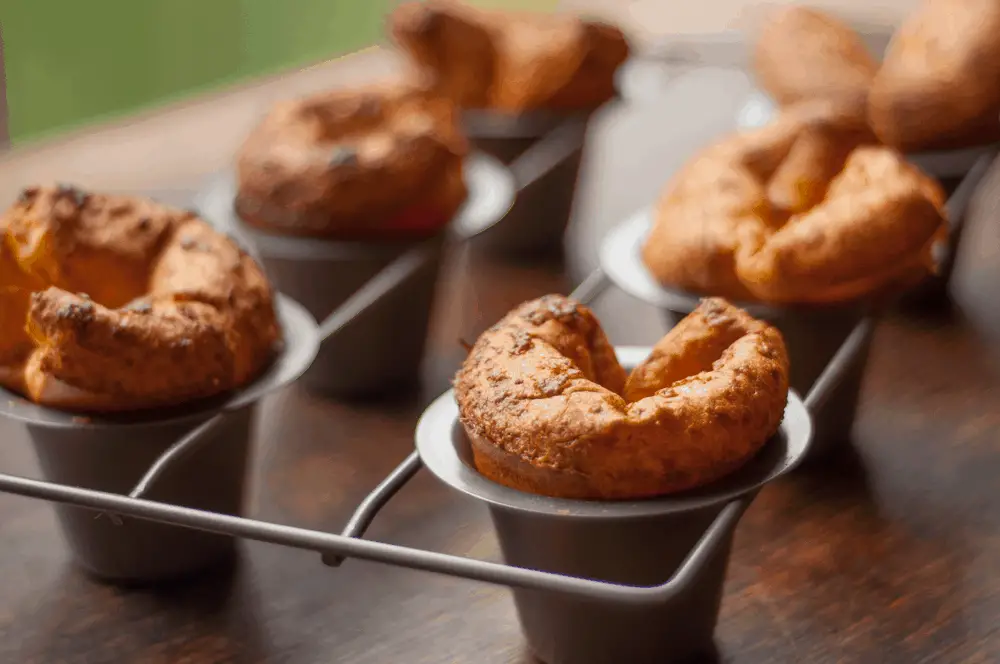 You can do this by placing the pan on a baking tray and place it inside the oven while you are preheating it. Just make sure that you use oven mitts in removing the pan from the oven when you are ready to pour the batter as the pan tends to get too hot.
•   Avoid overmixing the batter.
When you overmix the batter, there is a tendency that the dough will fail to rise and you will end up with flat popovers instead of puffier ones. It is recommended that you stop mixing the batter as soon as all the lumps have disappeared.
•   Avoid opening the oven while the popovers are still in the baking process.
This will hinder the baking process, and you may end up with popovers that will not rise.
•   Warm the milk before mixing it with the other ingredients.
Warm the milk up to 125 degrees before you mix it with flour and eggs. The warmer the batter is, the faster the popovers will be cooked. As a result, you will end up with a taller, puffier and larger popover. 
•   Grease your pan.
Regardless if you are using a non-stick coated pan, you still need to grease your pan. You can use oil, melted butter or nonstick spray for this purpose. 
•   Fill the cups only half full. 
Filling the cup half full provides room for the popover to rise and expand properly. 
•    Serve the popovers right away.
Popovers are best served hot!
For more tips on how to make popovers, check out this video:
Conclusion
Based on my research, I have discovered that almost all popover pans have the same features. They are (almost) all non-stick and easy to clean. To make my decision, I decided to consider the warranty of the product, price, and its cooking capacity.
With these three factors in mind, I name the Chicago Metallic Popover Pan as the best popover pan because it comes in two sizes, has a lifetime warranty and is sold at an affordable price.