The simpler the ingredients, the more important the technique. This culinary adage is certainly true for rice, where getting the right amount of water, heat, and time makes the difference between crunchy rice that's burned on the bottom, mushy and unpalatable overdone rice, and perfectly cooked, tender, plump rice. One of the easiest ways to do this is with a good rice cooker, which allows you to simply add rice, water, and salt or oil if desired, set the time or program, and relax. In this guide, we'll give you our top five picks for rice cookers, plus suggestions on which models to get for specific uses. As a bonus, we also recommend our favorite rice prep accessories.

Programs
White, brown, sweet, sushi, seasoned, porridge, rinse-free, and quick cooking rice, steamer
White, brown, synchro, steam/slow cook
White rice, quick rice, whole grains, hot cereal, simmer, steam cook
White rice, brown rice, flash rice, steam, slow cook
Additional features
Fuzzy logic, induction heating, keep warm, delayed start, spatula, measuring cup
Steamer basket, spatula, measuring cup, cookbook, auto keep warm
Comes with rice rinser/steamer basket, spatula, measuring cup, delayed start and keep warm
Keep warm, delayed start, steam tray, measuring cup, spatula
Measuring cup and spatula
Choosing a Rice Cooker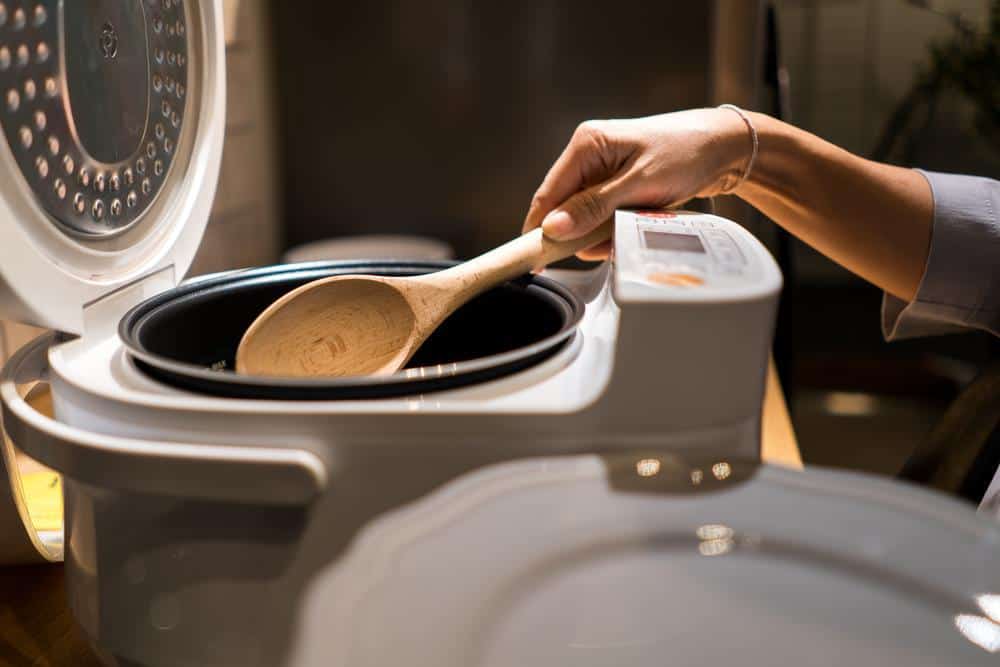 1. Price
Price is an important factor. If you cook rice often and really care about getting the perfect texture, you might find it worthwhile to invest in a high-quality model with fuzzy logic programming and induction heating. These models tend to cost between $150 and $250. If you just need something simple that works well, you can pay as little as $25. For a rice cooker with a few more options and digital timing, expect to pay between $35 and $150, depending on the materials and complexity of the cooking options.
2. Type of Rice
Also think about what type of rice you will be cooking. Some models are not recommended for brown rice, for example, or are specifically designed for sushi rice (see suggestions below). If you mostly make regular white rice, there are lots of affordable, simple rice cookers that will do a good job. If you cook several types of rice frequently, or want to use your rice cooker for other grains, it's a good idea to get a digital rice cooker that offers multiple cooking programs.
3. Capacity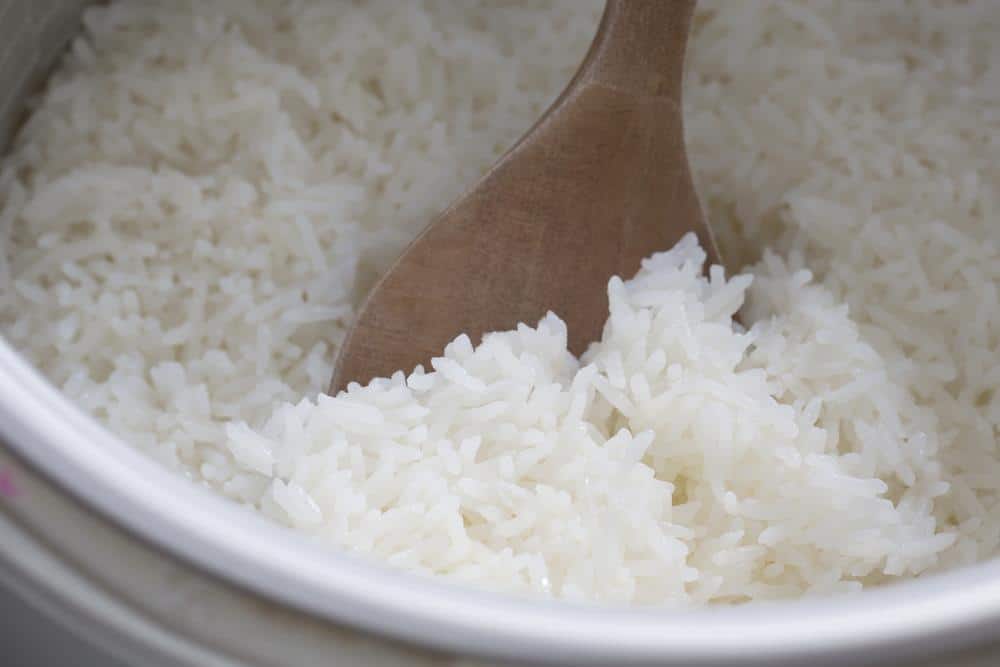 Remember to assess how much rice you'll want to make and use that to decide what size rice cooker to buy. You can buy very small models that make just a few cups, and large ones that make enough for 50 people. I like to make enough rice for my family of four people plus enough for leftovers. That means a total (cooked) capacity of 6-8 cups. Note that most models state the total cooked capacity of the rice cooker, not the amount of uncooked rice that you can add to start with, though some state both. Many brands offer the same model in different sizes, so check what's available if you find a model with features you like.
4. Material
Most rice cookers have non-stick coated aluminum cooking pots. These are very easy to clean, though they are best washed by hand rather than put in the dishwasher (while some manufacturers advertise non-stick cookware as dishwasher safe, the detergents can be too harsh and shorten its lifespan). The drawback to non-stick coated aluminum is that it can get scratched, and that chemicals in the coating may leach into food and contribute to human health problems – though this happens only at temperatures above 500F, which are unlikely in a rice cooker. The other common material is stainless steel. It tends to be a bit harder to clean – stuck-on rice is almost inevitable, and heat conduction is not as good as aluminum. However, it is extremely durable, resistant to scratching and corrosion, and dishwasher safe. Good quality models are available with either material.
5. Other features
Take into consideration the other functions that rice cookers can have – do you want an appliance that just cooks rice, or something that can be used as a slow cooker, steamer, and even a sauté pan? Many models these days offer a range of handy functions. For example, some come with a steamer basket that can be placed above the rice to steam vegetables at the same time. Others have specific settings for cooking hot cereal and other grains, and some double as bread makers. Rice cookers can be very versatile appliances, so before you choose one, think about how to maximize its usefulness in your kitchen.
Top Five Rice Cookers
When it comes to rice cookers, Zojirushi is one of the best brands on the market, due to their high quality construction and computerized smart design. This 'fuzzy logic' technology allows the rice cookers to assess cooking progress and make adjustments, producing perfectly cooked rice every time. The NS-ZCC10 model includes programs for white, brown, sweet, sushi, porridge, seasoned, and quick-cooking rice, making this model great for people who frequently cook different types. Zojirushi rice cookers are particularly effective for brown rice and sushi rice (see more recommendations below), and the seasoned rice setting is designed to allow maximum flavor absorption and prevent boil-overs. Delayed start and keep warm settings make timing meal prep easier, and the LCD menu is clear and easy to use. This model comes with a spatula, spatula holder, and two measuring cups.
PROS
Fuzzy logic technology for perfect cooking
Great for cooking many types of rice, including brown rice and sushi rice
Keep warm and delayed start features
CONS
There's really only one downside to Zojirushi – they're expensive
While Zojirushi rice cookers can be pricey, they do have a range of styles that can fit most budgets. You can pay over $300 for the fanciest models, and as low as $100 for this 6-cup model, which still includes fuzzy logic technology and a bunch of useful options (www.amazon.com/Zojirushi-NS-VGC05-Uncooked-Electric-Cooker/dp/B001KVZZH6). Simple models for cooking white rice retail for less than $50.
This Aroma rice cooker is one of the most popular models on the market. With a generous 20-cup capacity, brown and white rice programs, a slow cooker option, and a steamer function and included steamer basket, it offers a great deal of functionality. An automatic keep warm setting and a 15-hour delayed start timer gives you extra flexibility in preparing meals. The stainless steel exterior and straightforward digital touchpad make this model a pleasant addition to your kitchen. The Aroma ARC-150SB comes with a measuring cup, spatula, and steamer basket, so you can simultaneously cook rice, veggies, and meat or fish. I love this feature, since it allows you to make a whole meal using just the rice cooker!
PROS
Multiple cooking programs makes it versatile
Large 20-cup capacity
Handy steamer basket for cooking the main dish or veggies at the same time
Very affordable
Keep warm and delayed start features
CONS
Large size makes it slightly less convenient to store
Lid is attached to pot, making cleanup slightly more difficult
Has only one heat setting on slow cooker option
This model might just win out in terms of ease of use, with one-touch operation for four programs: white rice, brown rice, synchro cook (for steaming vegetables or meat with the rice), and slow cook/steam. Once the cooking time is up, it automatically switches to the keep warm setting for up to 12 hours. The non-stick cooking pot is easy to clean, and the white plastic exterior easily wipes clean as well. It comes with a spatula, steamer basket, measuring cup, and cook book. Also available with a 10-cup capacity.
PROS
Super easy to use with one-touch operation
Special cooking program for cooking rice and meat or vegetables
Automatic keep warm setting
Comes with a steamer basket and cookbook
CONS
No delayed start option
Somewhat limited in terms of programs
The Hamilton Beach 37548 Rice and Hot Cereal Cooker is an inexpensive but reliable choice for a straightforward rice cooker with several basic options. You can chose from white rice, quick rice, whole grains, and hot cereal, as well as steam and slow cook options. Two handy features make this model a great choice for someone with a busy schedule – an automatic keep warm feature kicks in when cooking time is up, and a delayed start option allows you to program it up to 11 hours ahead of time. This model has an attractive stainless steel finish, and an easy-to-use digital touchpad.

PROS
Very affordable
Keep warm and delayed start features
Range of options for white rice, whole grains, hot cereal, steamer, and slow cook
CONS
Lid is attached to base of unit, making cleaning slightly difficult
Programs don't have fuzzy logic technology, so doneness can vary based on the exact type of grain used
This Panasonic model is as simple as it gets – add rice and water to the non-stick coated aluminum cooking pot, cover with the see-through glass lid, and press the start lever. Cooking starts and stops automatically. A measuring cup and rice paddle are included. If you want something slightly larger, Panasonic makes the SR-G10G 10-cup model, which offers a 4 hour keep-warm feature.
PROS
Very affordable
Easy to use
Convenient size for family meals
Great if you just want basic white rice
CONS
Just one cooking setting and no keep warm or delayed start feature
Not recommended for brown rice
Best Specialty Rice Cookers
1. Best Japanese Rice Cooker
Japanese rice is a type of short grain white rice that is used in sushi and other Japanese dishes. The grains are almost round, and have a special texture and flavor that is important in Japanese cuisine. You cannot substitute jasmine or other white rice for Japanese rice (except some Italian varieties like vialone), since the consistency is distinctly different. Accordingly, Japanese rice should not be cooked the same way as other white rices. This is especially true when making rice for sushi. Since it will be handled after cooking, it cooks with less water for a firmer consistency. Given this need for a special cooking technique, we go back to the Zojirushi brand as our top pick for cooking Japanese rice.
PROS
Fuzzy logic technology for smart cooking
Many options tailored to white rice, brown rice, sushi rice, and more
Umami setting
CONS
Expensive
Could be too complicated if you aren't that particular about your rice
All of the fuzzy logic/Micom chip models from Zojirushi offer a sushi rice setting, making them a great choice for cooking Japanese rice. We particularly like the Zojirushi NS-YAC10 Umami Micom Rice Cooker and Warmer, which offers an umami setting. This option soaks and steams rice longer for enhanced flavor. There are also programs for white, seasoned, sushi, porridge, sweet, brown, GABA (sprouted) brown, rinse-free, and quick cooking rice, plus a slow cook setting. This model is also available with a 10-cup capacity (NS-YAC180).
2. Best Rice Cooker for Brown Rice
Brown rice can be tricky to get right with a rice cooker. Although many models have brown rice settings, the result is often unevenly cooked rice, with some grains still crunchy or hard. Part of the problem is that the cooking time is not long enough. Brown rice takes about an hour to be properly cooked, and it can't be rushed. That's why the Zojirushi NP-HBC10 is one of the best rice cookers for making brown rice. Its brown rice program lasts just over an hour, compared to the 30- to 40-minute brown rice programs on other rice cookers. The induction heating system of the Zojirushi helps ensure that the result is tender, fluffy brown rice that is completely and evenly cooked, every time. This model has an LCD control panel with multiple cooking programs, and it comes with a spatula and a measuring cup.
PROS
Fuzzy logic technology for smart cooking
Induction heating ensures even heat distribution
Long brown rice cooking times for perfectly cooked, tender grains
Many more options tailored to white rice, sweet rice, sushi rice, and more
CONS
Expensive
More complicated than necessary if you aren't worried about perfect brown rice
3. Best Stainless Steel Rice Cooker
There are many advantages to stainless steel cookware. Stainless steel is non-reactive, so it won't leach chemicals or flavors into your food, like non-stick coatings and aluminum can. Stainless steel is extremely durable, resisting corrosion, peeling, tarnishing, and rusting. It's usually pretty easy to clean – at most, a little soaking is necessary to loosen stuck-on food – and many brands are dishwasher safe. Plus, it's bright and shiny and looks great in your kitchen.
The Aroma Simply Stainless 6-cup is an excellent choice for a small capacity rice cooker. Made from surgical grade stainless steel, it can prepare 2 to 6 cups of cooked rice, and it comes with a rice paddle and a measuring cup. The one-touch operation with automatic keep warm makes it a breeze to prepare white rice. Aroma makes a larger model as well that can make 4 to 14 cups of cooked rice 
PROS
Convenient size options for different needs
Surgical grade stainless steel
Easy one-touch operation
Dishwasher safe cooking pot
Automatic keep warm function
CONS
Rice can stick to cooking pot more than to non-stick pots
Just one cooking option, no programs
Another good option for stainless steel is this Oyama model with a 7 cup capacity . The simple design is easy to use, with just an on and off switch and an automatic keep warm function. The stainless steel cooking pot has a triple layered base for uniform heating.
PROS
Easy to use
Triple layered base for even heating
Convenient 7-cup capacity
CONS
Somewhat harder to clean than non-stick pots
No cooking program options
Pro tip for cooking with a stainless steel rice cooker: One of the few downsides of stainless steel cookware is that food sticks to it. Rub a little butter or olive oil on the pot before starting, and the rice will be easier to get off. Soaking for a while with hot water before washing also helps.
4. Best Microwave Rice Cooker
A microwave rice cooker is one of the handiest kitchen gadgets you can have if you make lots of rice or if you do most of your cooking with a microwave. While they can be a little tricky to get the hang of, they can produce rice that is indistinguishable from that cooked on the stovetop, and they're a lot cheaper than electric rice cookers. One of our favorite models is the Sistema Microwave Rice Steamer. The 10.9 cup capacity allows you to make enough rice for the whole family, and cleanup is easy since it is top rack dishwasher safe. Steam vents prevent foaming and boilovers while ensuring that the rice stays moist. A rice paddle is included.
PROS
Convenient size lets you cook enough for the whole family
Easy clean up with dishwasher safe materials
Steam vents prevent boilovers
CONS
May not fit in some small microwave ovens
List
We also like the Prep Solutions by Progressive 6-cup microwave rice cooker. This model is also dishwasher safe, and includes a measuring cup and rice paddle.
PROS
Easy to use
Handy 6-cup size
Dishwasher safe for easy cleanup
CONS
Water can occasionally leak out of the top
Pro tip for cooking rice in the microwave: Microwaves only penetrate an inch or two into the food, so heating the rice slowly ensures that there is even heat distribution and cooking. A good approach is to microwave on high for five minutes, then at 50% power for 15 minutes, and then let the rice stand for 5 minutes. Since microwaves vary a lot in power, you might have to try a few different techniques before you find one that works really well.
Rice Cooking Accessories: Our Top Picks
1. Rice Storage Bin
A rice storage bin is a great way to store rice, ensuring that it stays fresh, can't be eaten by pests, and is easily accessible. And, it helps you avoid the minor kitchen disaster of the rice spill, when a torn plastic bag results in tiny grains covering your floor and hiding under your fridge. When choosing a rice storage bin, you'll want to take into account several factors: capacity, size and shape based on where you plan to keep it, and if you want one that can be poured into a measuring cup or one with a large enough mouth that you can scoop the rice out.
If you want a mid-sized pourable bin, you may like this one from Asvel . It is small enough to fit in the fridge or cupboard shelf and has a comfortable grip on the side, but stores up to five pounds of rice. It comes with a measuring cup that screws on top of the pour spout. This similar model from TBMax also features a pour spout and measuring cup. If you'd rather have a bin that holds up to 22 pounds of rice, check out this product, which comes with a scoop
Pros and Cons:
Smaller containers are easier to store and make measuring simple with a pour spout and included measuring cup, but store smaller quantities.
Larger containers can't be poured and take up more space, but are handy if you need to store larger quantities of rice.
2. Best Rice Washing Bowl
Anyone who has tried to rinse rice in a regular strainer or colander probably understands the value of a rice washing bowl. Most times, the holes are too big, and half of your rice ends up in the sink! In other cases, the strainer is too small, and rice spills over the sides when you try to move it around. Washing it in the pot usually ends the same way, awkwardly trying to drain the water without pouring out the rice. That's why it's worth buying a rice washing bowl. They're very inexpensive and make rice preparation much simpler.
This bowl, from Inomata, is specially designed for washing rice effectively, with drainage holes on the bottom and side. A similar model from Kotobuki also has side and bottom drainage. If you prefer stainless steel, take a look at this microperforated colander. It can be used like a regular colander for washing fruits or vegetables and draining pasta, but the holes are small enough to ensure that rice will not slip through.
Pros and Cons:
Plastic rice washing bowls are specially designed for the tasks. They work well and are lightweight and top rack dishwasher safe, though may not last as long as stainless steel.
Stainless steel microperforated colanders are more durable than plastic, though heavier and not specifically designed for washing rice.
3. Best Rice Paddle
Most rice cookers come with a rice paddle, but if yours doesn't, you might find it a worthwhile – and very inexpensive – addition to your kitchen. This is especially true if you plan to cook a lot of sushi or sticky rice. These types of rice tend to adhere to regular utensils, making it hard to serve and sometimes creating an unappetizing glob of mashed rice. Plastic rice paddles help solve that problem with lots of little bumps covering the surface. This makes it harder for the rice to stick to the paddle, so that you can serve a spoonful with a gentle flick rather than a forceful thud. In addition, the plastic construction means they are less likely to scratch a non-stick rice cooker lining or slice through rice grains. Consider this set of two rice paddles made by Japanese manufacturer Inomata, or this one from Zojirushi.
If you don't want plastic or prefer a more traditional look, try a bamboo rice paddle. The very smooth surface is somewhat helpful in reducing stickiness, and dipping the paddle in water before each scoop will also prevent rice from attaching to it. Bamboo is safe for using on non-stick surfaces, too. Take a look at this simple design, or this nicely shaped version.
Pros and Cons:
Plastic rice paddles are cheap, effective, and dishwasher safe.
Bamboo paddles need to be washed by hand and dipped in water to prevent rice from sticking. However, they are more traditional-looking.
I hope this article has given you a thorough overview of some of the best rice cookers on the market for both general and specific uses, as well as some helpful accessories to make your rice cooking as easy and successful as possible.
For me, Zojirushi is the all-round winner with its detailed programs, fuzzy logic technology, and induction heating option on some of the higher-end models. Tiger Corporation, another Japanese brand, is a close runner up in terms of high-quality technology. However, Hamilton Beach, Panasonic, and Aroma all offer great products that produce well-cooked white rice and other foods. Whatever model suits you, I'm sure that you'll be making delicious, perfectly-cooked rice in no time!