If you are looking for cookware that is extremely durable and long-lasting, rust-resistant, toxin-free, compatible with any burner type, versatile, and moderately priced, stainless steel may be exactly what you want. These attributes make stainless steel one of the most popular choices for high-quality home and professional cookware. We'll tell you more about the advantages of stainless steel, then recommend several different brands so you can choose the one that best meets your needs.

Benefits of Stainless Steel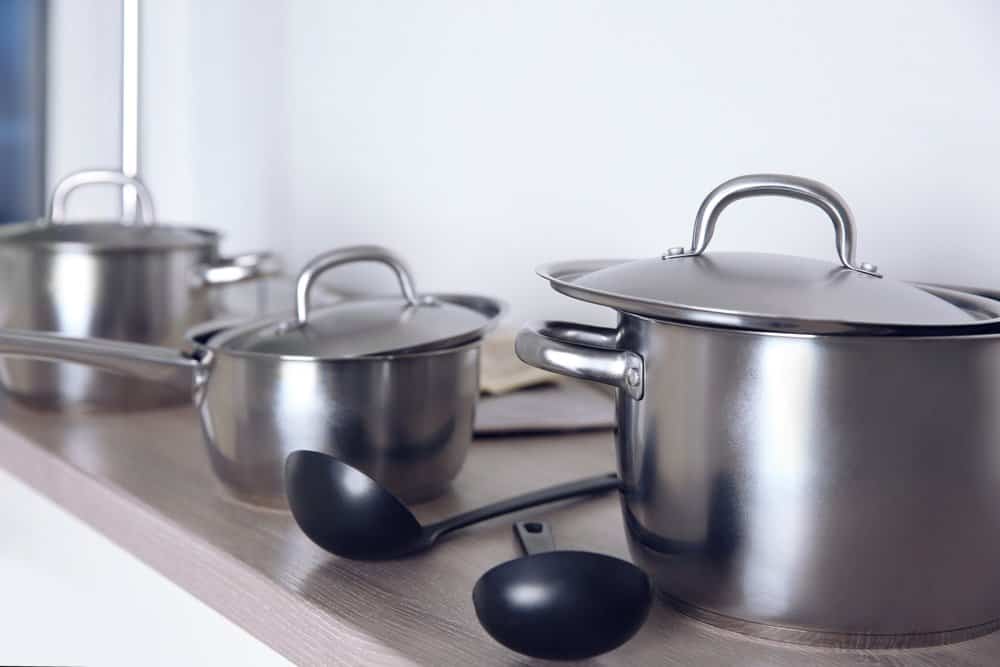 1. Versatile
Stainless steel cookware can be used for everything: boiling water for pasta or simmering soups, sautéing veggies and meat, cooking delicate sauces, poaching, and pan frying. It can even be used in the oven, as long as the handle is made of stainless steel, and stored in the fridge or the freezer.
2. Won't Leach Chemicals into Food
Stainless steel is a non-reactive material that is free from toxic chemicals. Even when cooking at high temperatures, you can be assured that your food is free from contaminants.
3. Won't Rust
Stainless steel is an alloy of iron, chromium, carbon, and nickel. Combining these metals gives the steel new and better qualities, including strength, shine, and corrosion resistance.
4. Durable
Stainless steel is a very tough metal. It resists denting, pitting, chipping, and scratching, doesn't get stained by tomatoes or other reactive foods, and can be washed in the dishwasher.
5. Classy, professional appearance
Well-made stainless steel cookware looks great in your kitchen. Many brands offer sleek, modern designs, and because of stainless steel's easy to clean nature, it can be polished to a mirror-like shine in just a few moments.
6. Downsides to Stainless Steel
For most uses, the advantages of stainless steel far outweigh the downsides, but there are a few things to think about. Stainless steel does not offer great heat distribution, meaning the heat can be somewhat uneven across the bottom of the pan. Higher quality stainless steel cookware will have a copper or metal disk inside the bottom of the pot to improve conduction, but cheaper brands usually don't. If you are buying a set that you plan to use for many years, or if you need even heat, invest in cookware with copper or aluminum inserts. This is know as copper- or aluminum-clad.
Another factor to consider is price. Stainless steel is usually more expensive than aluminum or cast iron, though not as expensive as copper. It's definitely worth the price for long-term use, since good stainless steel cookware can last for decades. But for temporary situations, like making macaroni and cheese at a college dorm, a cheap and functional aluminum pot may meet your needs just as well.
Finally, stainless steel is not a non-stick material like ceramic or Teflon. You need to use butter, oil, or other fats when cooking, and cleaning may occasionally require soaking or a bit of scrubbing. Even so, stainless steel is usually easy to clean, and as mentioned above, it can usually go in the dishwasher once any stuck-on food has been removed. Read more about how to avoid problems here and here.
What to Consider When Buying Stainless Steel Cookware
1. Sets vs. Buying Individually
Another thing you'll want to consider when buying stainless steel cookware is whether you want a full set, a single pot or pan, or a few different items. The primary advantage of buying sets is that you get a better price than if you bought them all individually – but that doesn't help much if you only use two of the six pots. Depending on the set, items like steamer baskets may be included, which aren't necessarily useful for all cooks.
If you cook many different dishes often and are buying pots and pans for long-term use, a full set might might serve you well. However, if you already have a few good pots, or only use one or two types of pans consistently, save yourself the money and storage space and buy just what you need.
2. Steel Grade
The best stainless steel grade is 18/10, meaning it contains 18% chromium and 10% nickel. This grade is the most resistant to corrosion, and is shinier, tougher, and easier to clean. Some cheaper cookware is made with 18/8 or 18/0 stainless steel, but it is a lower quality material and is more likely to rust. All the brands we review here are made with 18/10 stainless steel. If you buy another brand, check to make sure it meets this standard. You can learn more about stainless steel here.
3. Pot and Pan Features and Construction
The design of pots and pans can have a big impact on their functionality and ease of use. Look for features like stay cool handles and ergonomic grips that make them easier to move during cooking, tempered glass lids if you like to check food frequently, copper or aluminum cladding for better heat distribution, and pour spouts if you would find them useful.
The Top Five in Stainless Steel Cookware
Below, we review each product in more detail, but you can use this table for easy comparison. Click on the name to read customer reviews and find current prices. All the sets we compare offer essentially the same types of pots and pans: 8- and 10-inch frying pans, two saucepans between 1.5 and 3 quarts with lids, a 3-quart sauté pan with lid, and a 6.5- or 8-quart stockpot with lid.

This set includes 8- and 10-inch frying pans, 2- and 3-quart sauce pans with lids, a 3-quart sauté pan with lid, and an 8-quart stockpot with lid
Pros
Highly polished finish makes these pots and pans stick resistant and easier to clean
Aluminum cladding in base and sides improves heat distribution
Contoured handles are also made of stainless steel and attached with rivets
Oven and broiler safe up to 600F (without lid), higher than many other brands
Cons
This is one of the most expensive brands, usually costing upwards of $600 for a 10-piece set
While the manufacturer states that they are dishwasher safe, some buyers have noticed minor corrosion when using harsh detergents
This set includes 8- and 10-inch frying pans, 1.5- and 3-quart saucepans with lids, a 3.5-quart sauté pan with lid, and an 8-quart stockpot with lid.
Pros
Stay cool easy grip handles
Drip-free rims make pouring easy
Glass lids let you easily check on food
One of the most affordable quality brands
Aluminum cladding in base improves heat distribution
Cons
Aluminum cladding is in base only, not sides
Mirror finish starts to lose shine after a few uses
Slightly harder to clean than some other brands
This set includes 8-and 10-inch frying pans, 1.5- and 2.5-quart sauce pans with lids, a 3-quart sauté pan with lid, and a 8-quart stock pot with lid.
Pros
Pour spouts allow for easy draining of liquid without the use of a colander
Sturdy stay-cool handles are double riveted to the body
Fill lines make measuring easy
Impact bonded aluminum for better heat distribution
Glass lids let you easily check cooking progress
Protected by Caphalon's 10 year warranty
Affordable – this model is less expensive than Calphalon Tri-Ply and other brands
Cons
Some buyers noticed issues with foods sticking
Clean up is not as easy as with some brands and often requires soaking
This set includes 8- and 10-inch frying pans, a 3-quart sauté pan with lid and handle helper, 1.6- and 3-quart saucepans with lids, and a 6.5-quart stockpot with lid.
Pros
Steel lids seal in heat and moisture during cooking and don't drip when removed
Drip free rim makes it easy to transfer soups and sauces with no mess
Aluminum cladding in the base and sides of the pots ensures even heat distribution throughout
Extra comfortable handles stay cool during cooking
Oven safe to 550F
Cons
While it can be put in the dishwasher, the manufacturer recommends handwashing
Can be expensive, with list prices around $500. However, can be found online for less
Stockpot is smaller than most sets, 6.5-quart instead of 8
This set includes 8- and 10-inch frying pans, 1½- and 3-quart saucepans with lids, a 3½-quart  sauté pan with lid, and an 8-quart stockpot with lid.
Pros
Sturdy handles are attached with rivets
Glass lids let you easily check on food
Available with a stainless steel, black, or red exterior finish
Very affordable while still offering good quality
Dishwasher safe
Etched fill lines make measuring easy
Cons
Does not have cladding, so heat distribution may be slightly less even
Some customers found that the pots stained more easily than other brands
Conclusion
After taking a close look at these five top models of stainless steel cookware,  Duxtop stands out as the overall winner. It offers a good balance between price and quality, and includes a range of great features such as aluminum cladding in the base and sides, drip-free rims, and handles that are larger and more comfortable than all other brands. While other brands offered features that Duxtop doesn't have, such as glass lids and pour spouts, this set really stood out for its high quality construction and durability. The only thing that made me hesitate to name Duxtop as the best was its higher price tag. But, because I was able to find it on sale for very competitive prices online, I went ahead and put it first.
I hope you found this guide helpful is choosing which stainless steel cookware is best for you! Good luck and happy cooking.