Time to set the ball rolling with some tantalizing French onion soup. The look of that broth with the floating cheese literally begging to be consumed is what makes you visit a restaurant time and again for a quick fix before you go on with the rest of the day's activities.
We all know how inviting those restaurants can make food look, but it doesn't always have to be an outdoor treat.
You can make for yourself and the people around you something more delicious than whatever they serve right from the comfort of your kitchen, and you can put in some paired dishes with it. How about that?
With the recipes we have lined up today, all you need to do is pick whichever one rocks your boat and get cooking.
What Is French Onion Soup?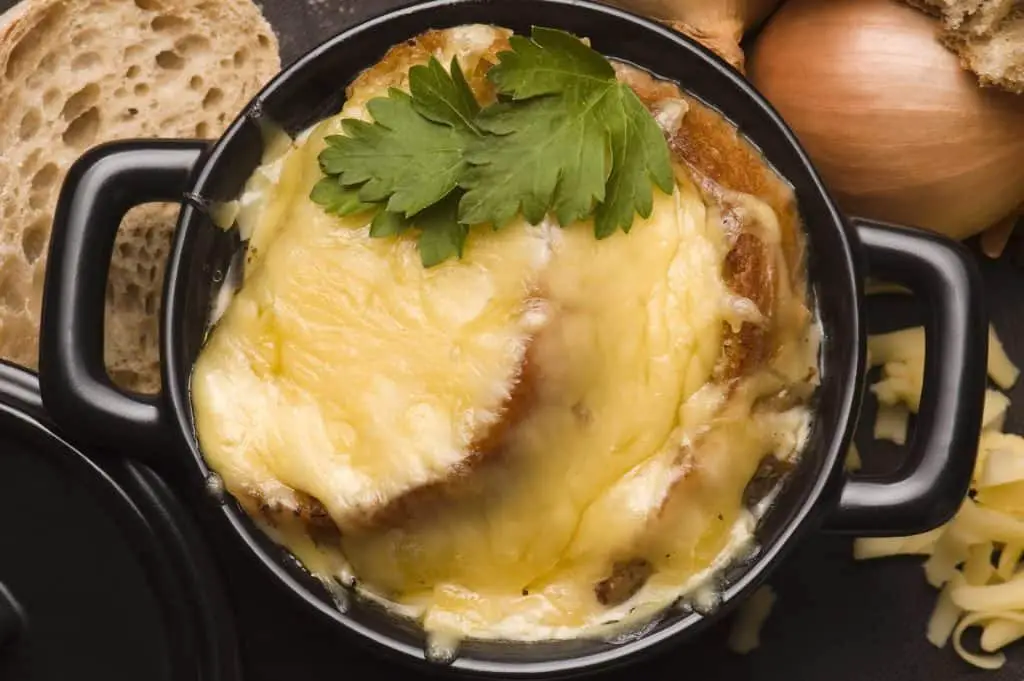 French onion soup is concocted from the broth or stock of beef with onions and cheese or bread on top of it. The origination of this exquisite delicacy can be traced to as far back as the 18th century although there is still a lot of dispute as to which particular region the soup started in.
There are also different versions of how the soup was first fashioned; a story has it that it was discovered accidently when a French family of that era cooked up butter with wine and onions, and it began to spread from then on.
Another story has it that it was a mixture combined by peasants as it was relatively peasant's food in the early times.
Some parts of Paris cook their soup with the inclusion of vegetables while some others use only beef stock and wine, the soup is loved either way.
French Onion Soup Recipes
Classic French Onion Soup
This is a beautiful French Onion Soup Recipe by Gimme Some Oven with all it's perfectly caramelized onions and cheese but as you should already know, that perfection comes at a time cost.
The onion soup in this recipe took a total of about an hour plus from start to finish, most of the time goes into allowing the onions come out well browned and tasty and this is a major step for the entire preparation of any classic French onion soup.
To get a superb grasp of what to expect and an extra recipe for a straightforward French onion soup, follow the link below and watch the video
Crockpot French Onion Soup
Before you embark on using a crockpot recipe for your French onion soup, ensure you have more than enough time on your hands so that you do not end up keeping people or guests waiting.
For a precise crockpot recipe, try this one by Flour On My Face. Using a crock pot helps a lot with the caramelizing of the onions.
It takes all the stress off and gives you the time to focus on other aspects of your cooking. I also like the option of using provolone and parmesan cheese for a change.
Red Wine French Onion Soup
We have seen a classic French onion soup with white wine; let us see how it turns out with a red wine recipe like this one by A Hint Of Wine.
This particular recipe uses a combination of red wine and brandy! Yes, and it is absolutely amazing.
If you wouldn't mind all the boozing up for yourself and your guests or family as well, then you can play around with this.
Side Pairs For Your French Onion Soup
Hamburger Buns
This is an excellent substitute for having your French onion soup with more bread, the hamburger buns by Laurens Latest is well illustrated with all the pictures and the steps you should follow to come off with a few sets of fresh buns.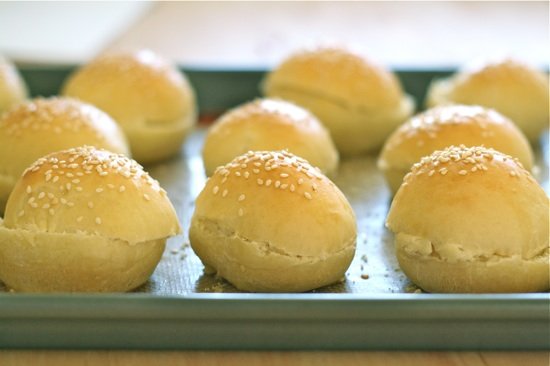 It also works well if you have lots of guests to serve, you can make them into smaller sizes in parts of the number of people you would be expecting and pair them with your soup probably one or two buns per person should be filling enough.
Croque Monsieur
If you want to go French all the way for your main dish and side, then consider some Croque Monsieur, how does that sound? ''we are going to have some French onion soup and croque monsieur'', very catchy if you ask me.
If you want a recipe that prepares the dish in mini, handy sizes, then this one by Eat. Live. Travel. Write is all you need.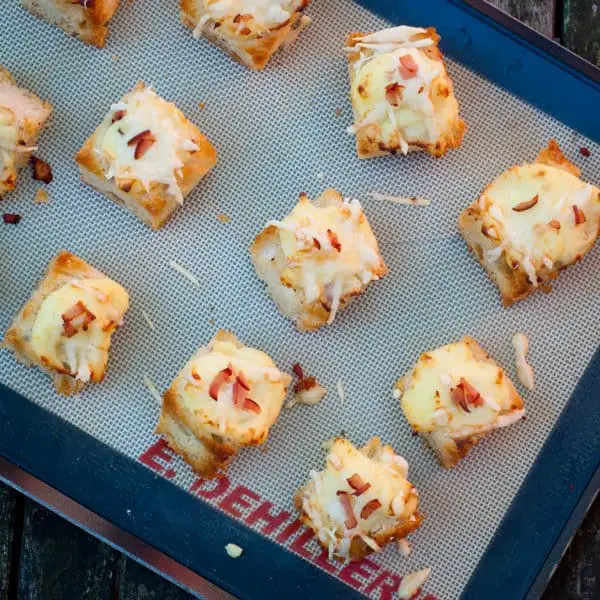 If you don't know what a Croque Monsieur is, it is simply a French ham and cheese sandwich; it is super easy and a right pair for your French onion soup.
Quiche
Serving quiche with your French onion soup is another substitute for plain bread, and you can get a recipe from Cotter Crunch. This quiche is gluten free, and it shows how to make it a step at a time from scratch.
Like it is stated in the recipe, you can adjust the ingredients used to fit whatever exact taste and texture you want to achieve at the end.
Soup Time!!!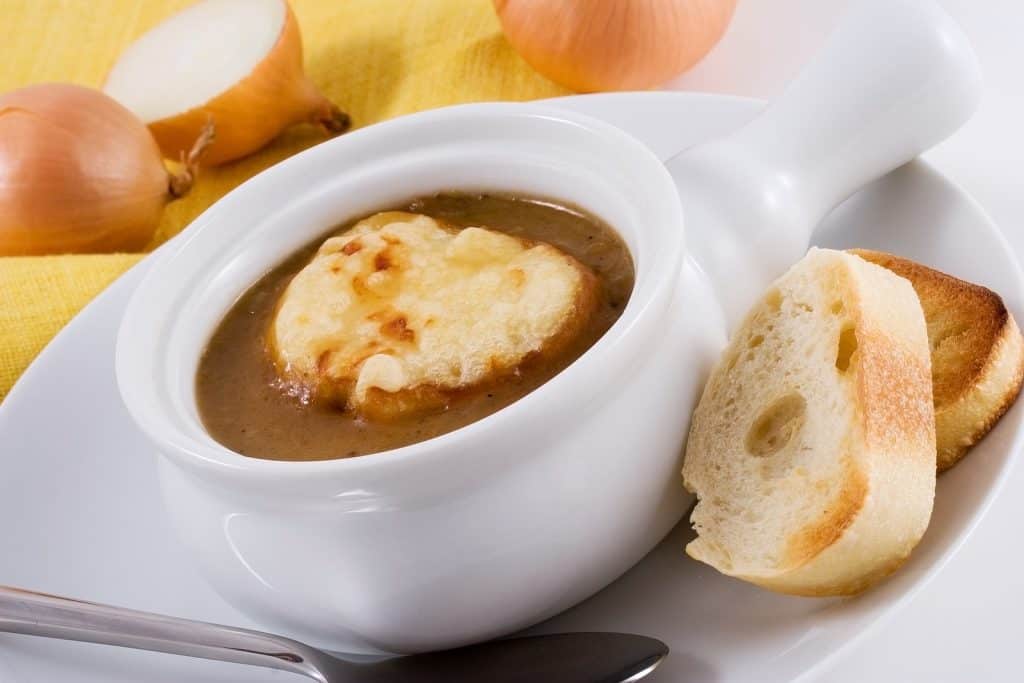 French onion soup always does well for the soul, especially during those winter periods. So, make yourself a bowl and use some side dishes to perfect it out.
Serve it hot! One of the best ways to tap into the essence of the soup is when it is all steaming up and consumed with all the heat.
For a variety of soup recipes including French Onion soup, you can get this cookbook; they included desserts and salad recipes, some of which you can find pleasing and may want to attempt someday.
If you do happen to try out any of the recipes we have talked about or any new ones you want to hint me about, you are free to do so; I am always here to listen and comment. Until then, it's time to have some soup right away.