After I got home from work as a teacher in Thailand, I'd stroll down my soi (street) and grab dinner for that night, as well as some fruit to have in the morning for breakfast. My dinner was usually som tam (green papaya salad) and BBQ chicken from the street vendor I called "Mom and Dad" because they were so warm and welcoming to me, a foreigner away from my family.
Other nights, I'd grab some kaprow kai (spicy basil chicken over rice)—one of my all-time favorite stir fry dishes. Or, ba mii nam kai (a simple but flavorful chicken noodle soup). Dinner would set me back a mere 50 US cents! It was heavenly.
Forget what you think you know about Thai food. The peanut-heavy, saucy stuff you get at take-out "Thai" restaurants is not real Thai food. Now that I'm away from Thailand, I love to cook Thai food at home, and having a good guide is key. Let's look at some basics of Thai food and try to find the best Thai cookbook.

Authenticity
Some substitutions offered
About Thai Food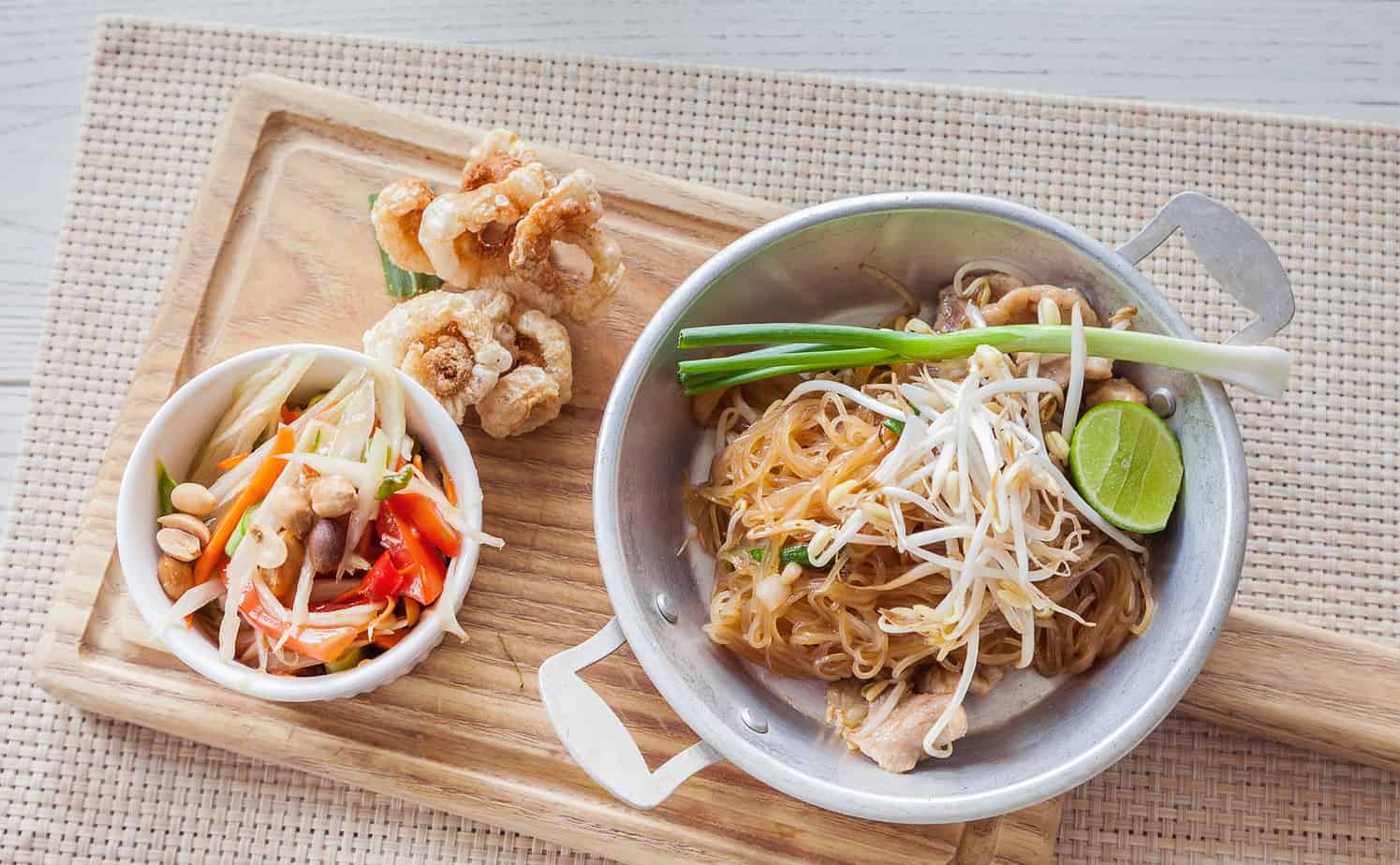 Salty, sweet, sour, and spicy!—you get so many flavors in any given Thai dish. While living in Thailand, I learned some interesting things about this fascinating, delicious cuisine and the people who eat it.
Thai food is fresh. Many dishes cook up quickly, and fresh fruits and vegetables factor in very heavily in the cuisine. It's not all drenched in peanut sauce (in fact, I hardly ever had peanut sauce!).
As with many national cuisines, there are regional and social variations in Thai cuisine. People in the country cook more, so "country" food takes on a home cooking feel. Then there's "Royal Thai cuisine," which is what, as a tourist, you might learn in a cooking class or have at a nice restaurant.
Then there's Thailand's legendary street food—Thailand is considered the street food capital of the world. Wok stir-fry dishes, curries, noodle dishes, meat on a stick, fresh fruit, fried bugs (!!!)—there is such a rich variety of tastes on the streets of Thailand's cities and towns. And it is so astoundingly delicious, you rarely have to step foot in a more traditional restaurant.
Watch a street vendor mashing up my favorite, som tam (green papaya salad):
Many Thai people, especially in the city, don't cook very often (many Thai homes don't even have a full kitchen!). Why bother, when it's hot outside and the street food is cheap, abundant, and delicious? Instead, Thai people love to snack and graze: big meals are rare and they fill in the gaps with little snacks from street stalls.
Finding the Best Thai Cookbook
Finding a the best Thai cookbook can be a challenge when you take into account all of these aspects of Thai cooking, and the fact that finding some of the essential ingredients can be difficult outside of Thailand. So let's take a look at some of the better options.
by David Thompson –
This cookbook is the one that comes up in every discussion of Thai cookery books. It is considered the authority on Thai cooking.
Thompson doesn't just provide a number of recipes, but truly gives an education on Thai cooking—the ingredients, techniques, and history of this rich cuisine. The collection is laid out by type of dish (soup, salad, snacks, etc), and includes everything from street food snacks to "Royal Thai" traditional mains, and sauces.
Novice cooks may find this one difficult, as will people who lack access to a good Asian market. Thompson aims to educate the reader on real, authentic Thai food, so he uses ingredients and techniques that can be time consuming for some dishes.
You may also be interested in Thompson's Thai street food book for more snackish and Thai restaurant-type recipes.
by Panurat Poladitmontr –
This book is probably the second most mentioned behind Thompson's for an authoritative guide to Thai cooking. Reviewers especially praise the beautiful pictures.
This book is slightly more accessible than Thompson's, but still includes a rich variety of recipes, laid out by region, that yield very tasty and authentic dishes.
It is worth noting that this is a very large cookbook. I sometimes get annoyed when a cookbook is unwieldily in my tight kitchen (although I can overlook it when the food is so good).
by Andy Ricker –
Pok Pok is a small but beloved chain of Thai restaurants in the US. This cookbook is written by the restaurant's owner, who'd travelled in Thailand for decades studying its food.
This book is filled with stories of Ricker's travels in Thailand, as well as a number of very authentic recipes. Even a quick view shows you that the recipes are highly detailed and don't sacrifice authenticity for convenience. It's not for a beginner-level cook.
One complaint about the book is the visual style. Colorful, changes in typeface and graphics mimic the sort of frenzied style of the Pok Pok restaurants, but some find this distracting.
by Nancie McDermott –
McDermott is best known for her Thai cookbook, Real Thai. In this book, she offers adaptations and shortcuts to provide a guide for quick Thai cooking.
As such, the recipes aren't 100% authentic. She includes pre-made curry paste, for example. But this makes the recipes much more accessible for busy and amateur cooks, and those with limited access to Thai ingredients who nevertheless want to cook Thai food at home.
Decision Time!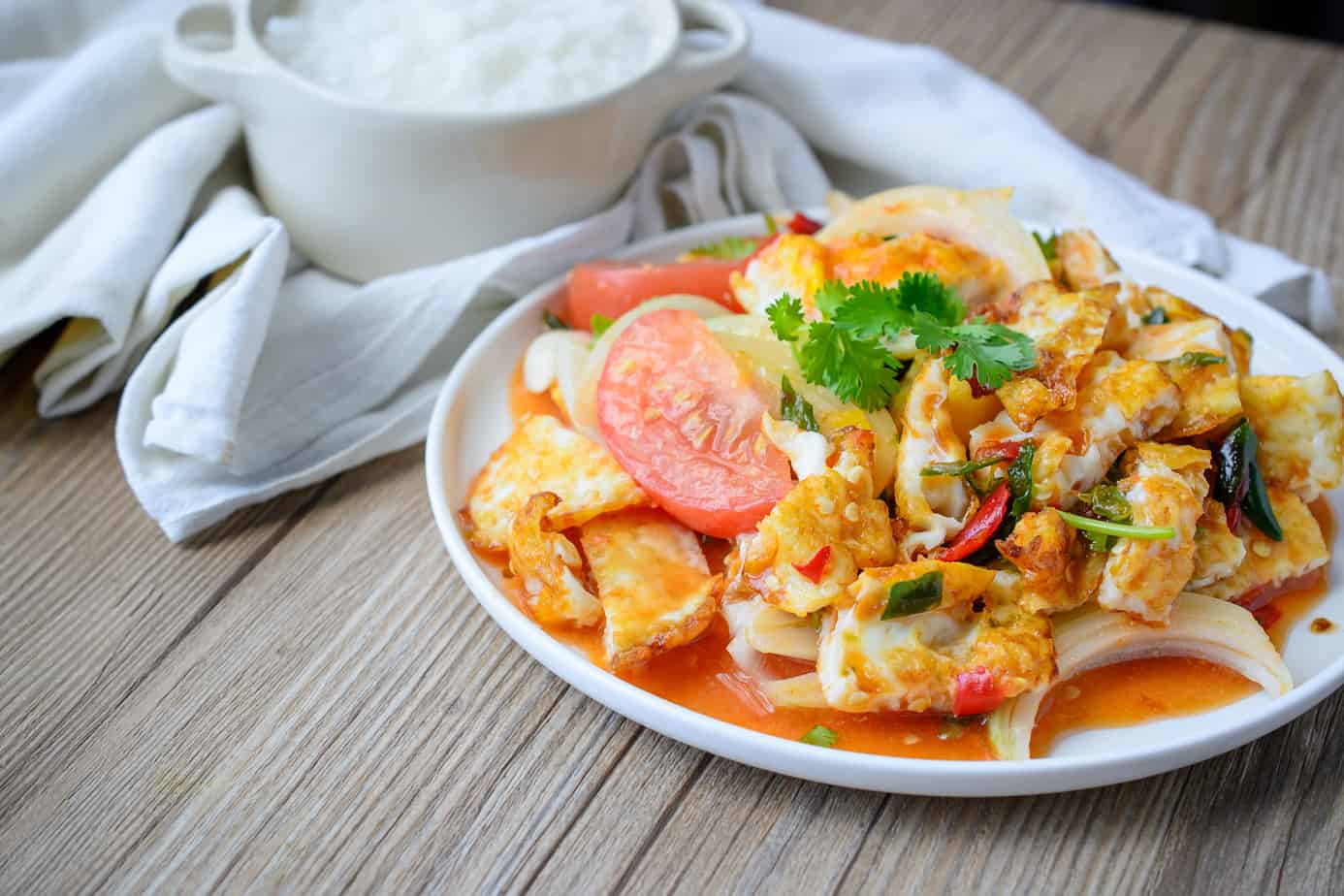 Well, I need to add to my cookbook collection. Although these all sound amazing, I'll be picking up Thailand: The Beautiful Cookbook for my own collection. I look forward to being transported back to beautiful Thailand with these amazing photos, and also cooking delicious, authentic Thai dishes.
But the other options may suit you better:
If you want a very detailed course in Thai cookery, your best bet is Thompson's comprehensive guide.
If you want a book that feels more daring and on trend, Rickers Pok Pok would be a great choice.
If you're looking for tasty Thai adapted for your busy lifestyle, go for McDermott's Quick and Easy Thai.
Now to find the perfect green papaya for my som tam…