You will surely agree with me when I say that chopping the ingredients is the most tedious part of cooking.
Well, did you know that there is one tool that you can use to make this activity as hassle-free as possible? Yes, they call it the vegetable chopper.
But what is the best vegetable chopper? What are the things that you should consider when looking for one? What brands are the best in the market today? You will discover that in the next few sections of this article so read on!
A Summary of the Best Vegetable Choppers
Among the 5 products you can find in this list, I have chosen the Fullstar Vegetable Chopper Dicer Pro as my top pick as it comes with 7 different blade attachments, making it the most versatile chopper of all.
If you want to know more details about the other products, please take a look at this comparison table:
Number of Blade Attachments
Container Volume
Not stated (approximately 1 cup)
2 cups, 4 cups, and 6 cups
Best Vegetable Chopper Reviews
Here is the low down on what are considered to be the best vegetable choppers in the market today:
1. Fullstar Vegetable Chopper Dicer Pro – Editor's Pick
The Fullstar Vegetable Chopper Dicer Pro is a manual vegetable chopper that can be used to julienne, slice, and chop different types of vegetable with ease.
I consider this to be the best vegetable chopper in this list because of the number of blade attachments that come with it. This is probably the most versatile chopper as it comes with 7 more attachments. Aside from the chopper blade, the package includes spiralizing julienne blade, straight slicer blade, ribbon blade, julienne slicer blade, coarse grater, medium, and fine chopping blade.
All of the blades that come with the chopper are made of stainless steel and are non-corrosive and razor sharp. All the other parts of the dicer are made of BPA-free material and have passed LFGB and FDA standards. The capacity of the tray container is up to 1.2 quarts or 4.8 cups of vegetables.
For safety, the catch tray has a molded finger guard to prevent unwanted cuts. On the other hand, the base is rubberized and non-skin to ensure stability and safety while cutting. The blade is also properly covered.
You will also not have any problem when it comes to cleaning this slicer as all parts can be disassembled and placed on the top shelf of the dishwasher.
Pros
8-in 1 food chopper
Cuts hard vegetables (potatoes and carrots) easily
Includes a cut-resistant glove
Compact size
Easy to store and wash
Cons
Not recommended for people with hand issues
Not suitable for cutting or slicing tomatoes
2. Black + Decker Electric Food Chopper – Alternative Pick
If you do not have a tight budget, the best electric vegetable chopper that I can recommend to you is the Black + Decker Electric Food Chopper. This chopper only has one type of blade and is not as versatile as my first pick. What I liked about this chopper is its one-touch operation which is suitable for people who are suffering from hand problems.
The equipment is equipped with a 70W motor which delivers the right amount of power to slice, chop and mince vegetables, chocolates, herbs, and bread properly. It also features bi-level stainless steel blades that stay sharp and ensure long-lasting performance.
The chopper comes in two sizes. The small one can accommodate only 1.5 cups while the bigger option is enough to slice or dice 3 cups of vegetables. One unique feature that this chopper has is its oil holes that allow the user to add oils, vinaigrette and other dressing to the chopped salad without making a big mess.
Lastly, cleaning up this product is quite easy as you can just disassemble the parts and place them in the dishwasher.
Pros
Best for people with hand injuries or problems
Oil holes for adding dressings to the salad without making a mess
Quiet operation
Lid cover reduces onion vapor
Cons
The product is a bit bulky
Container volume is a bit small
Not recommended for grinding coffee beans
3. Kwik-kut Cutlery Serrated Food Chopper – Budget Pick
This is probably the simplest, most straightforward food chopper you can get your hands on and that is why it is the cheapest. But regardless of how simple its design is, I am in awe of how well it works.
It does not have a tray or a container where the chopped vegetables can be stored nor does it have a cover lid to protect your hands from the blade—it is that simple! But just like most choppers that you can find in this list, it is made of high-quality stainless steel that will not rust or corrode and can cut even the hardest vegetables.
How do you use this chopper then? Well, you have to perform an up-and-down motion until you have achieved your desired size and texture. What I love about this chopper is that you can also use it to blend pastry dough and tenderize meat.
The chopper is also not machine washable, but with its basic design, it is pretty easy for you to hand wash it in warm, soapy water without taking up much time.
Pros
Simple design makes it easy to use
Stainless steel construction
Can be easily hand washed
Affordable
Can also be used in blending dough and tenderizing meat
Cons
Not safe for cooking with kids
Does not have a container
4. Presto 02970 Saladshooter Electric Shredder/ Slicer
The Presto 02970 Electric Shredder/ Slicer is the most expensive product in this roundup, and its high price is quite reasonable as it is an electric chopper that comes with different blade attachments for versatility. This product combines the fantastic benefits of our first and second pick, so if you have the money to spare, you may want to try out this product.
As I have mentioned, the product has 4 interchangeable attachments. But instead of a blade, the attachments are called cones (because the blades are covered in plastic). These drums are designed to make regular slices, thick slices, and ripple cuts. There is also one drum attachment for shredding.
Another great feature of this product is that it comes with a 5-feet cord which allows you to chop or slice the ingredients in different parts of your kitchen without having to worry about running out of electric cord.
Considered as a salad shooter, you can simply remove the cover of the tray container and dump the ingredient to a bowl then you can proceed on slicing and mincing the next ingredient without the need to disassemble or wash the slicer.
Pros
Addition of new ingredient is hassle-free
Can shoot ingredients wherever and whenever you want
Slice thickness can be changed
Can be cleaned by wiping
Sleek and elegant-looking
Cons
Stains easily
Plastic parts are not of high quality
5. Gourmia GCH9295 Vegetable Chopper – Best Vegetable Chopper for Bulk Cooking
If you plan on preparing lots of vegetable dishes or you are preparing meals for a big family, you can save time and effort with the use of the Gourmia GCH9295 Vegetable Chopper. This is because this chopper comes in three different sizes—2-cup, 4-cup, and 6-cup.
The chopper features two separate chambers so you can process two different types of ingredients at the same time. This simple feature can do great wonders in helping you save time when preparing dishes.
This simple machine works on a pull string operation. Since you will be the one to pull the string, you have the power to control the rotation and power of the blades.
With its two sharp cutter blades, the chopper can cut and dice different types of vegetables. Using its two whisking paddles, the chopper may also double as a blender which is perfect in making scrambled eggs and salsas.
Pros
Chops and slices thing uniformly
Easy to operate
Perfect for preparing lots of dishes
Can also be used as a blender
High container volume
Cons
Container tray is made of a cheap plastic material
Rubber seal surrounding the top comes off from time to time
Manual Vs. Electric
First things first, you need to understand the fact that vegetable choppers come into two types—manual and electric. Each category has pros and cons. For you to choose the right vegetable chopper, you need to understand what these are thoroughly.
Manual
Of course, the manual vegetable chopper requires more effort as it needs to be operated manually. There are two styles of vegetable chopper under this category.
First is the one that features a swinging arm and a crisscross blade. When you lower the arm, the vegetables get diced or sliced. This model is best for dicing vegetable uniformly.
Second is the more innovative model which functions as a food processor, and you can operate it via a hand crank or ripcord. This one is recommended for creating salsas and minced vegetables.
Manual choppers are more affordable and can be used in places that do not have access to electricity. However, they are not recommended for people with hand injuries or other hand problems.
Electric
Electric vegetable choppers have to be connected to a power source to function. The motor-powered blades will slice or chop the vegetables without the need to be operated manually.
This type of chopper can help you save time and effort. These choppers are generally safe and recommended for people who want to cook with their kids. However, this type is a bit expensive than the manual choppers.
Other Things to Consider
Not all vegetable choppers are created equal. If you wish to purchase a vegetable that is a cut above the rest, here are some of the other things you need to put into consideration:
Container Volume
The volume of the chopper's bowl matters, especially if you are cooking for a big family or you love vegetables.
Getting a big chopper comes with a pro and con. It can help you save lots of time. However, it may take up too much space on your counter.
Maintenance
The use of a vegetable chopper allows you to save time during your food prep. But with the different small parts that it has, you may take a lot of time cleaning them after use.
Because of this, it is vital that you choose a product that can be placed in the dishwasher. At the very least, the blades and bowl of the product are machine-washable.
Blade Material
The material of the blade can make or break the product. After all, it is the one that will do all the cutting, right?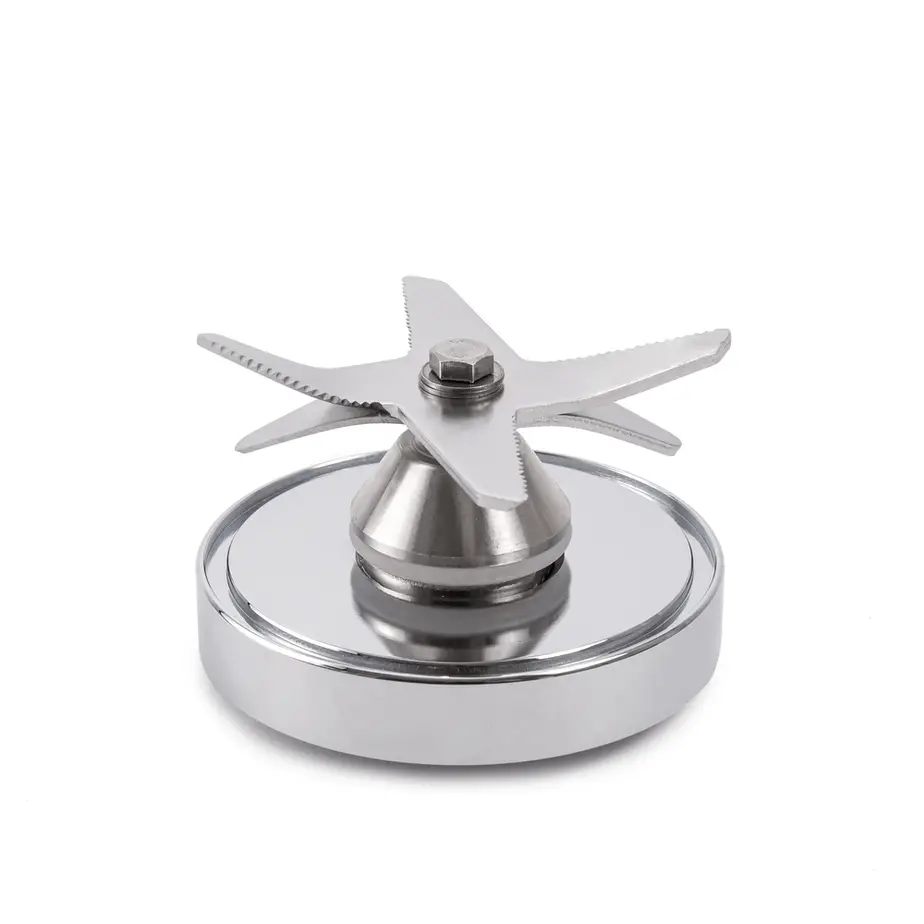 Regardless if you are using a manual or electric chopper, it is a must that you look for a chopper with a stainless steel blade. This is because this material is resistant to chipping, staining, and rusting. More than that, this material has the highest cutting power and can easily cut through even the hardest vegetables.
Versatility
These days, most vegetable choppers do more than chop vegetables. These products come with different types of blade attachments that allow them to puree, grind, slice, shred and even juice or blend different kinds of fruits and vegetables, beans and many more.
To know what cut of vegetable you need for your dish, watch this video:
BPA-Free Materials
The bowl of the chopper comes in contact with your food, and that is why it is crucial for you to ensure that these chopper parts do not contain harmful chemicals such as BPA.
BPA or Bisphenol-A is often added to plastics as it helps maintain their shape and keep them hard. However, it was recently discovered that exposure to this chemical might increase your risk of brain and prostate issues
Safety Features
Even if you are using a chopper, slicing can still be a dangerous activity. Because of this, most choppers come with a few safety features.
Some of these features include a slip-free base, finger guards, anti-slip grip among many others.
Speed Settings
If you have chosen an electric vegetable chopper, one more thing you have to keep in mind is the speed setting of the chopper.
There are usually two speed settings—low and high. The high speed allows you to dice or puree the ingredients finely. On the other hand, low speed will help you achieve a chunkier and bigger chop.
Final Recommendation
Choosing the best vegetable chopper is not as easy as you think. When faced with plenty of options, you will surely be overwhelmed. The key here is to focus on the important aspects like the container volume, blade material, safety features, versatility and many more.
With that in mind, the winner for this roundup is no other than the Fullstar Vegetable Chopper Dicer Pro as it can slice vegetables in different sizes, thickness, and styles.