No matter how great  a cook you are, you're still at risk of scalding and burns every time you cook. Lucky for you, pot holders are here to your rescue.
Before, I chose a pot holder based on its design—that's all! As long as it suits my kitchen décor, I buy it. Sadly though, my poor buying decision has led to plenty of burning incidents which I could have prevented if I used the right pot holder.
I believe that it is important for every kitchen to have the best pot holder and that is why I am here to help you find the one. Below, you can see the review of the best pot holders along with a buying guide (that I now strictly adhere to!).
A Review of the Best Pot Holders of 2018
Just like most items in our kitchen, the industry has taken pot holders into a whole new level. You can now find multipurpose pot holders that you can use around the kitchen.
In this review, I name the Bekith Silicone Pot Holder as the winner because it can also be used as a garlic peeler, trivet mat, spoon rest, and jar opener. Thanks to its silicone material and textured surface, this pot holder offers the best grip and heat protection too. More than that, you can take advantage of all these fantastic features at a very affordable price.
To know which is the best pot holder for you, please take a look at the comparison table that I have created below:
Table could not be displayed.
1. Bekith Silicone Pot Holder – Editor's Pick
At the top of my list is the Bekith Silicone Pot Holder simply because it has everything I ever wanted in a pot holder— good grip, heat-resistant, easy-to-wash and above all, highly affordable!
The potholders are made from Food-grade, flexible and non-stick silicone. According to the manufacturer, the material is resistant to up to 500 degrees Fahrenheit. The silicone material is also said to be resistant to stains, mold, mildew, and unwanted odors.
The surface of the pot holder features an oval and dot design which boosts your grip and protect your hands from hot pans and pots. The set features 4 pot holders which are available in bright, eye-catching colors.
With its flexible material, the pot holders can be bent and twist for easy storage. They also come with small holes that will allow you to hang them on hooks in your kitchen.
The thing that I liked most about this product is it is more than just a pot holder. You can use it as a garlic peeler by merely wrapping the garlic clove with the pot holder then roll it under the palm of your hands.
In addition to that, it can also be used as a jar opener, spoon rest, and trivet mat.
Pros
Made of food-grade, non-stick silicone
Dishwasher-safe
Heat resistant up to 500 degrees Fahrenheit
Can double as table protectors, garlic peeler, and jar opener.
Easy-to-store
Cons
The set might be a bit too colorful for some people.
Some users find these pot holders to be a bit small.
2. Ritz Royale Collection Pocket Mitt Set – Alternative Pick
If you are looking for something classic, the next best bet that you have is the Ritz Royale Collection Pocket Mitt Set. I must admit this is not made of silicone like the Bekith Pot Holder. However, it is made of 100% thick terry cloth material so you are assured that it can keep your hands protected.
I made it as my alternative pick because of its innovative design. This product is referred to as a pocket mitt mainly because it features a small pocket where you can put your hand so you can easily maneuver the product when picking hot pan or pot.  Aside from using it as a mitt and pot holder, you can also use it as a heat pad.
It measures 8.5 x 7.5 inches which is big enough to cover the handles and bottoms of most pans and pots.
As a minimalist, another thing that I like about this item is it comes in 9 different colors, all of which are pastel and nude colors which would perfectly suit my kitchen décor.
Pros
Can be used in 3 different ways
Comes in 9 different colors
Size is large enough to cover the grasp of the user
Puppet style for better maneuverability
Comes with hanging hooks for easy storage
Cons
Not water-proof
Prone to odors, mold, and mildew
3. DII Cotton Terry Pot Holders– Budget Pick
The most affordable pot holder in this list is the DII Cotton Terry Pot Holders. This product is available as a set of 3 and is sold for a much affordable price. I have included this in my list as a product of choice for readers who are on a tight budget but do not like to sacrifice product quality.
Despite its affordable price, this pot holder is not like your usual pot holder. Its unique design features a terry cloth in one side and a Silverstone lining on the other. The Silverstone lining is an excellent addition to its design because this material is considered to be more heat resistant to terry cloth.
There is also absolutely nothing to worry about when it comes to maintenance as you easily wash the pot holders using your washing machine.
It measures 7 x 7 inches which is a bit smaller than the Ritz Royale Collection Pot Holder but still, it is wide and large enough to hold pots and pans comfortably.
Pros
Designed with hanging loops
Silvertone lining in one side for heat resistance
Comes in a set of 3
Both sides are quilted to ensure durability
Terry cloth on one side for comfortable use
Cons
A bit small as compared to most products in this list
Not waterproof
4. Amtop Silicone Pot Holder – Upgrade Pick
If you are looking for the best of the best and you have money to spare, the best choice that you have is the Amtop Silicone Pot Holder. It is true that this is the most expensive pot holder in this list but trust me when I say that its features definitely give value for your money.
The feature that I loved about this product is it is big and wide enough (11.7 x 8.9 x 0.3 inches) to also double as a baking table mat, trivet mat, drying mat and even a draining board.
The pot holder is made of 100% safe heat-resistant, non-toxic, corrosion-resistant, and edible grade silicone material. The manufacturer claims that it is super heat resistant as it is designed to withstand temperatures ranging from -40 to 230 degrees.
Just like the Bekith Silicone Pot Holder, this product is also quite flexible and can be easily rolled up for easy storage. Thanks to its unique channel design, the item is easy to wash manually or with the use of a washing machine.
Pros
The largest and biggest pot holder in the list
Can also be used as a baking mat, trivet mat, silicone drying board and draining mat
Non-slip design
Can be folded and rolled
Lightweight and heat resistant
Cons
May not be suitable for people with small hands
Some users find it hard to remove stains in the ridges of the mat
5. Campanelli's Cooking Buddy Pot Holder – Best All-in-One Pot Holder
If you are looking for a cooking buddy that is more than just a pot holder, you need to try out this pot holder from Campanelli's. One look at it and you will notice that its design is a far cry from most of the potholders in this list.
The potholders are made of 100% cotton terry with silicone inserts that are heat resistant up to 500 degrees Fahrenheit. The surface of the potholders is textured for a non-slip grip. The product works as a terry cloth kitchen towel, dual pot holder, lid gripper, trivet and kitchen tool caddy.
Featuring hand pockets, you are sure that this pot holder can protect your hands from heat. But the extended towel design makes sure that your wrist and forearms will be safe from burns too. The design also allows you to hang the product over your shoulder while cooking for accessibility and convenience.
Pros
Can be hung over your shoulders for convenience
Non-slip grip
Dual pot holder design
Can also be used as a kitchen towel, lid gripper, tool caddy and trivet
Christmas-themed designs are available
Cons
Not stain-resistant
Seams fall apart after a few washes, so it is better to be hand washed
Things to Keep in Mind When Choosing the Best Pot Holder
As I mentioned above, I used to rely only on the design when it comes to choosing the best pot holder. But after lots of burns and scalding, I have learned the right way that there are other factors to consider when buying this item. Here they are:
Material and Thickness
Before, pot holders are made from different types of fabric–  poly-cotton, neoprene, and silicone. Among these materials, it is silicone that offers the highest level of heat protection.
Aside from the type of material used, another factor that can contribute to heat protection is the thickness of the pot holder. For potholders made from materials other than silicone, the thicker it is, the higher heat protection you can experience.
Style
Today, you can find pot holders in two different styles—the traditional style and the puppet style.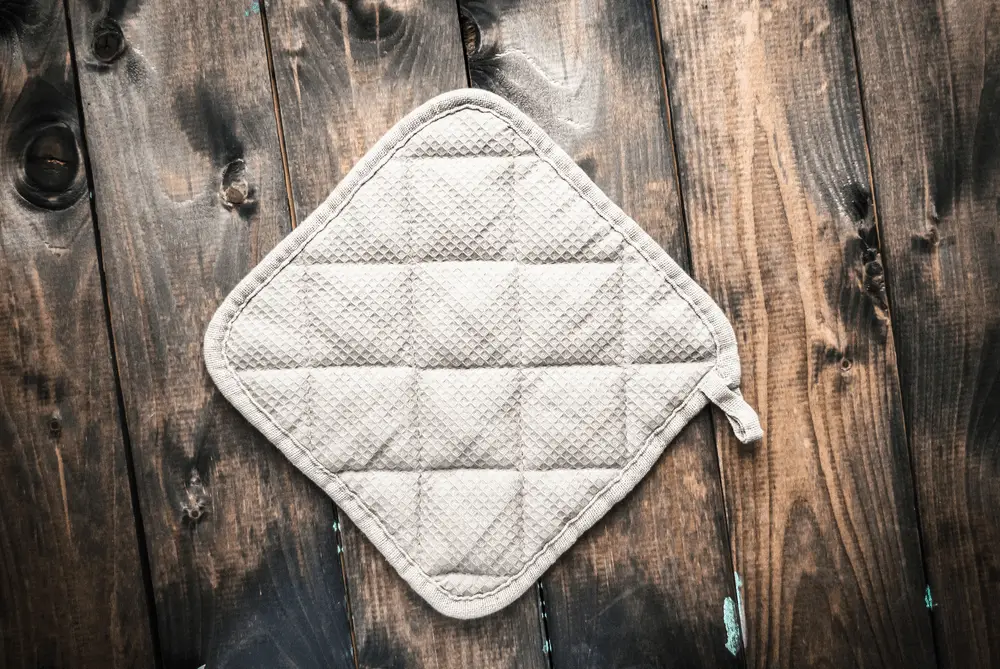 The traditional style is the one that you would commonly see. This is used by merely placing the pot holder on top of the pot handles or the cover of the pan and picking it up.
On the other hand, the puppet style pot holder is the type of potholder that has a pocket where you can place your hand inside, just like an oven mitt. This type of pot holder has become popular recently merely because they are easier to maneuver.
Size
The best pot holder must be wide enough to allow you to easily grasp and get ahold of the pot's lid or handle without any risk of burns and scalding.
If you plan on buying a puppet style pot holder, make sure that it is big enough that your hands can fit inside it.
Grip
The better the grip, the lesser the risk of burns and scalding. That is why it is vital that you check the grip of the pot holder.
If the fabric is too slick and smooth, there is a chance that the pan will slide or drop when you hold it. The potholders that offer the best grip are those that are made from silicone or the ones with textured surfaces.
Washability
You will be using your pot holder a lot in the kitchen. Because of this, it is essential that you opt for ones which are easy to clean. Some pot holders are machine washable while others can simply be washed using water and soap.
Other features
Storage is one of the things you should consider when buying pot holders. To help save space, it is recommended that you go for pot holders that have loops for hanging.
For more kitchen storage hacks, watch this video
How to Deep Clean Your Pot Holders
As I have stated above, maintenance is one of the things that you should consider. Keep in mind that you will be using your pot holders every single day and it is crucial for you to ensure that it is clean at all times.
To do that, here are some deep cleaning steps that you can try:
Step 1. Fill a large pot with water and place it over low heat.
Step 2. Submerge the pot holders in the pot.
Step 3. Add a few drops of your liquid detergent.
Step 4. Bring the water inside the pot to a boil. Boil the potholders for about 30 minutes.
Step 5. Launder and dry the pot holder as you would usually do.
Final Verdict
We may not recognize it, but pot holders play an essential role in keeping us scald- and burn- free while cooking. But the best pot holder can do more than that. In this article, we have discovered that the best pot holders do not just ensure a safer cooking experience—it can also help cooking a lot more convenient.
When it comes to price and features, the Bekith Silicone Pot Holders takes the cake in this roundup. Aside from being heat-, water- and stain- resistant, it can also deliver various purposes as it can be used as a trivet mat, garlic peeler, and jar opener.