Louisiana is a land of spicy, unique culinary delights, and boudin ranks high among them. It's a pork meat and liver sausage, with some rice, onions, and seasonings mixed in. Traditionally, it's stuffed in a pork intestine casing and steamed or boiled, which helps maintain its soft texture. Heated debates rage about which Louisiana establishment offers the best boudin, but you just might be able to top them all with your homemade version. The best part is, it's easy enough for even novice sausage makers.
This recipe makes 8-10 pounds of sausage, but it can be halved for a smaller batch. The total time, including two hours of hands-off cooking, is 3½ –  4 hours.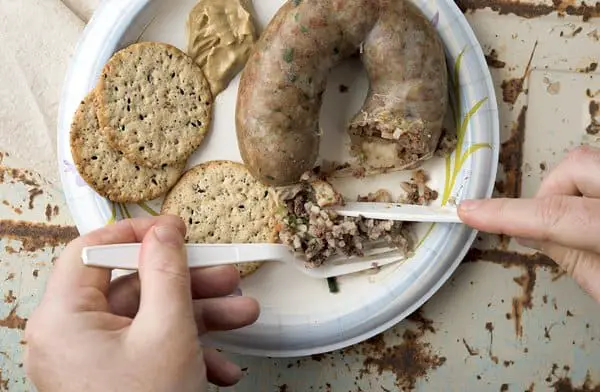 Ingredients You'll Need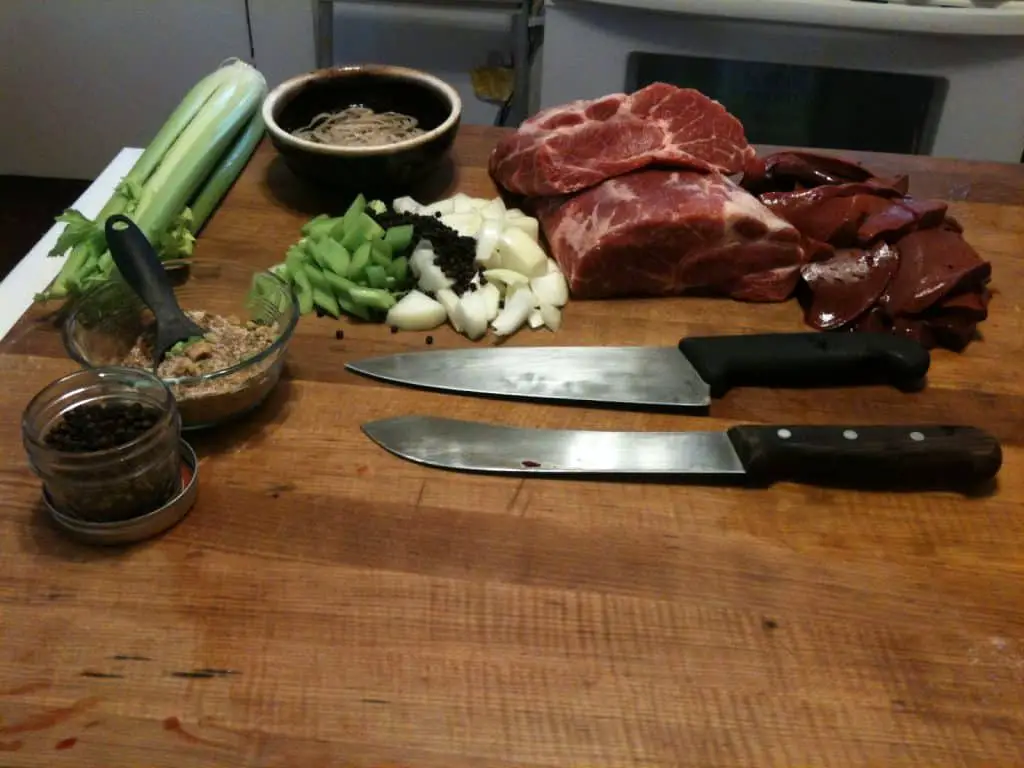 pork shoulder, or a mix of pork shoulder and jowl, cut into 1-inch chunks
pork liver, cut into 1-inch chunks
½ pound pork fat or butter, optional
2 cups Louisiana long grain white rice
4 cups pork or chicken broth
2 small red onions, chopped
1 green bell pepper, seeded and chopped
10 cloves garlic, finely chopped
2-3 jalapeños or other spicy peppers, finely chopped, optional
½ cup Cajun seasoning
1 heaping cup chopped green onions
1 bunch parsley, chopped
6-8 feet pork sausage casing
Materials You'll Need
A cutting board and sharp knife, for chopping the vegetables and meat
A large pot, for braising the vegetables and meat
A food processor or meat grinder
A sausage stuffer or a stuffing attachment to your meat grinder
Items for cooking the links: frying pan, slow cooker, steamer, smoker, or grill
Alternative Ingredients and Methods
I listed the basic things you'll need, but there's a lot of flexibility in making boudin – Cajun cooks make it with everything from crab to chicken to alligator! It's easy to adapt this recipe to chicken: simply substitute the pork shoulder for boned chicken thighs and the pork liver for chicken liver, and reduce the initial cooking time to 45-60 minutes. You can also substitute just the chicken liver for the pork liver for a milder flavor, with the original cooking time. Crab and crawfish boudin requires similar ingredients but a different method. I recommend reading this article from Louisiana Cookin' for a crawfish boudin recipe.
For a richer boudin, some cooks like to add extra fat. You can also add a smaller amount than is listed above, or none at all. Pork is usually rich enough that it's not essential, but chicken can be drier. Either way, who doesn't love a little extra butter?
I called for onions, peppers, and garlic, known as the holy trinity of Cajun cooking. But, different cooks have their own boudin veggie mixtures. A few stalks of celery is another common addition. Feel free to mix it up or use whatever you think will give your boudin a delicious flavor.
Boudin is always spicy, but you can add the spice in different ways. Some people add cayenne pepper in or in addition to a Cajun seasoning mix, others like the extra spice from peppers.
As with any good local speciality, no one agrees on the perfect spicing for boudin. I would recommend using a basic Cajun spice blend of 1 tablespoon black pepper, 1 tablespoon white pepper, 1 tablespoons cayenne pepper, 2 tablespoons sweet paprika, 2 teaspoons thyme, 2 teaspoons oregano, and 3-4 tablespoons salt, to taste. Add it all during the initial cooking process. Or, use half a cup of a Cajun spice blend recipe, such as these ones from Acadiana Table or Louisiana Cookin'. You can taste the cooked meat and rice mixture before stuffing the casing and add additional cayenne or salt as needed.
Stuffing sausages is easy with a stuffing machine or a meat grinder attachment. It is also possible to do it by hand, though it can be difficult and time consuming. If you don't want to make links, you can make fried boudin balls, a popular cajun treat. See this recipe from Emeril's for boudin balls with Creole mustard, or this one from Louisiana Cookin'. You might also enjoy this YouTube video from Poor Man's Gourmet Kitchen.

I'm getting hungry just thinking about boudin – let's get started!
Instructions
Step 1: Cook the Pork, Liver, and Vegetables
The first step is cooking the meat together with the vegetables and spices to create a flavorful base. Place your pork, liver, fat or butter if using, vegetables, and dry seasonings in a large pot (without the green onions or parsley). Add water to cover to a depth of 1-2 inches. Cover the pot and simmer for 1 ½ to 2 hours. If you want, brown the pork and vegetables first with a little oil, then add the spices and water and simmer.
Step 2: Cook the Rice
As the meat mixture is simmering, cook the rice according to the package directions, using stock in place of water. Keep warm until ready to use.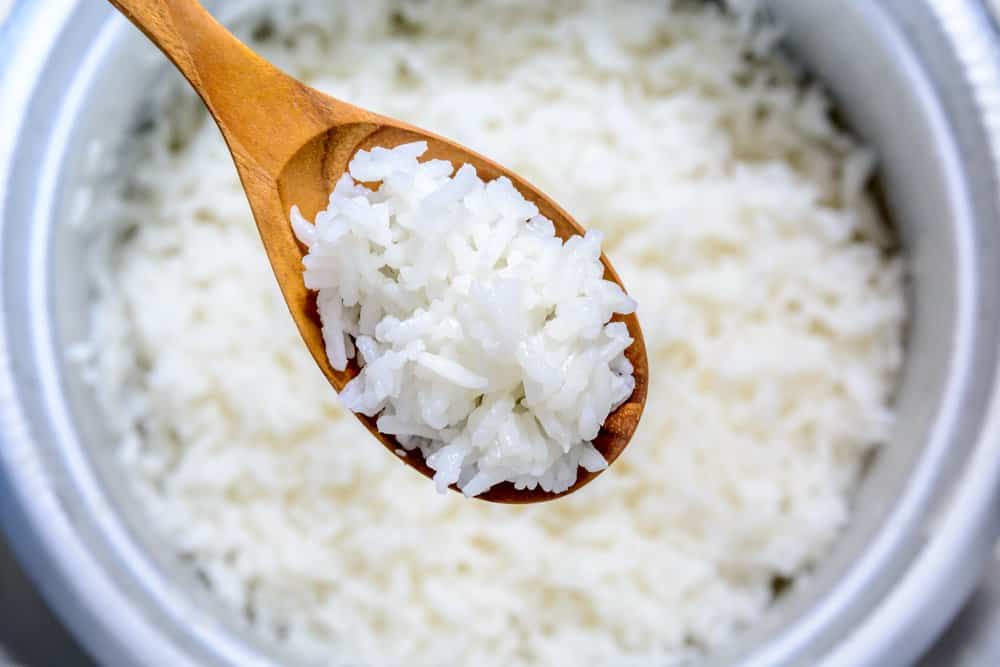 Step 3: Strain the Meat Mixture and Reserve Broth
Once the pork is tender, remove the pan from the heat. Using a another large pot and a strainer or colander, strain the flavorful broth and set aside.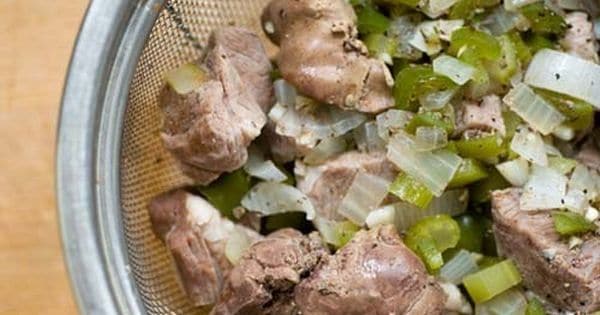 Step 4: Mix the Reserved Broth with the Rice
The wonderful broth that you just strained off from the meat mixture is a key source of flavor in boudin. Put the cooked rice in a large bowl and add the broth, as much as three or four cups if you have it. Stir well to break up any chunks.

Step 5: Grind the Meat Mixture
If you have a meat grinder, grind the meat mixture using a coarse die. If you are using a food processor, add a few cups of the mixture at a time and pulse until it is relatively fine with a few small chunks. If you don't have either, just finely chop the meat and vegetables.
Step 6: Combine the Ground Meat and Rice
Add the ground meat to the large bowl with the rice. Add the green onions and parsley and mix for 3-4 minutes until very thoroughly combined. It's ok if the mixture seems a little soupy – during cooking, the rice will absorb more water and the sausage will reach a perfect tender consistency.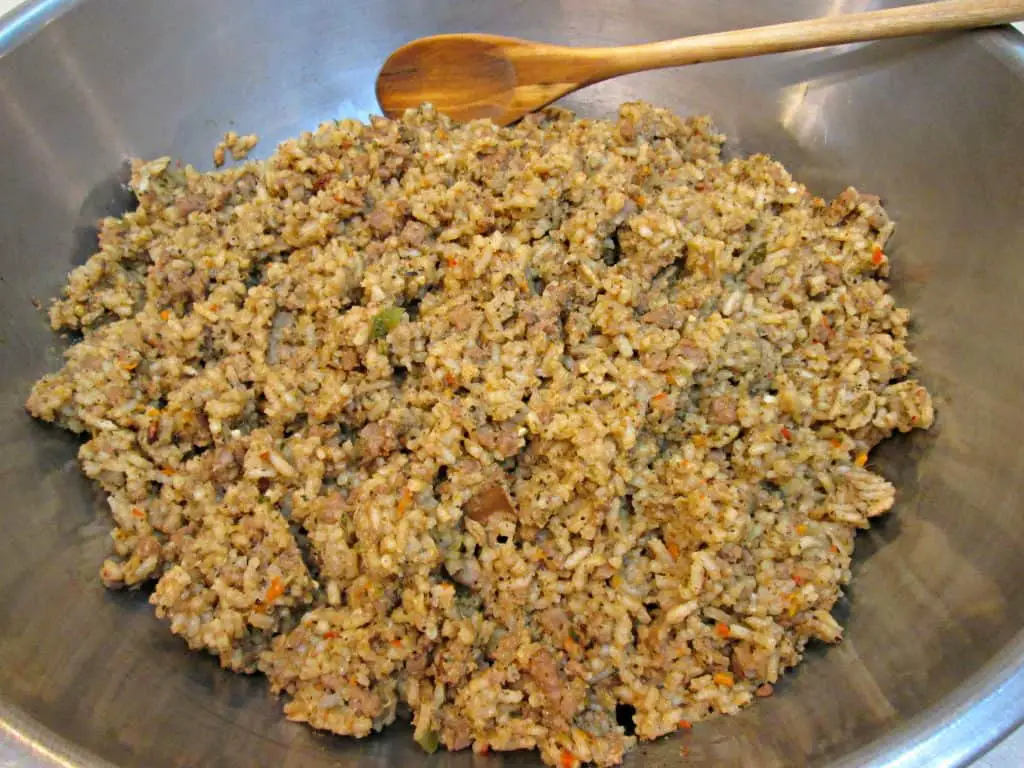 Step 7: Fill the Casing
Follow the manufacturer's directions to fill the sausage casing using either the attachment on your meat grinder or a stuffing machine. The casing should be full, but not too firmly packed.
Tie the end of the casing before you start filling.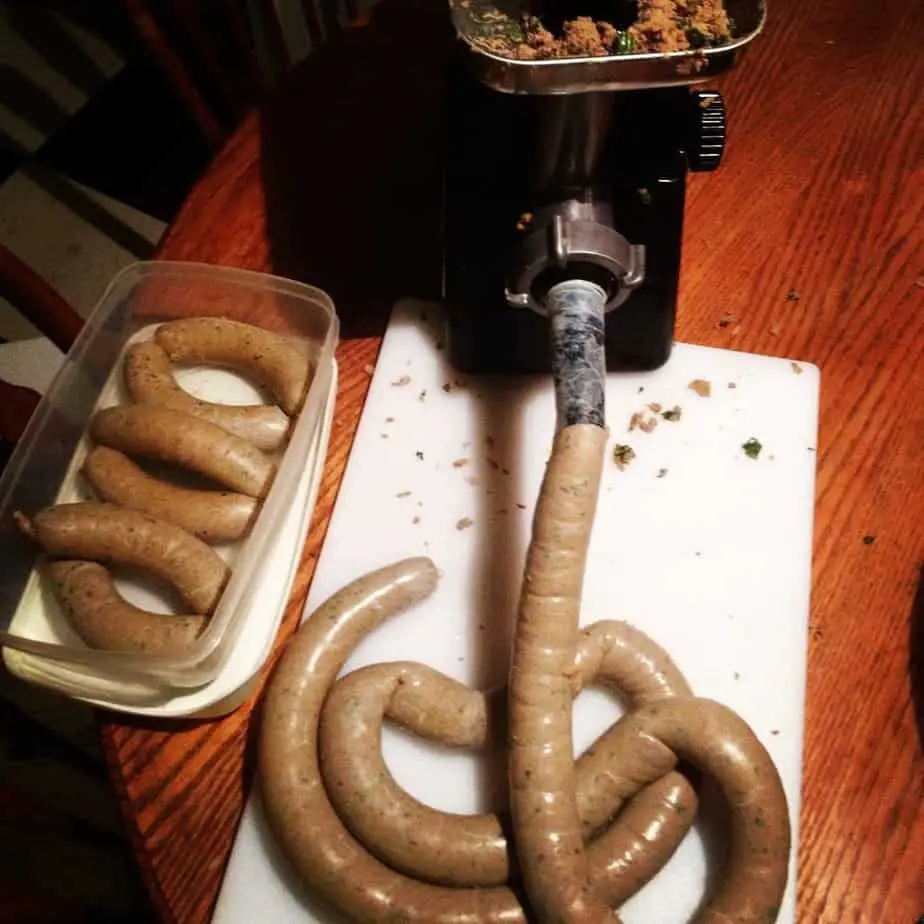 Fill about 1 ½ – 2 feet of casing, then stop the machine and tie it off. Gently twist it at even intervals to form four links – like making a balloon animal! Handle it carefully and don't use too much pressure, because they can burst.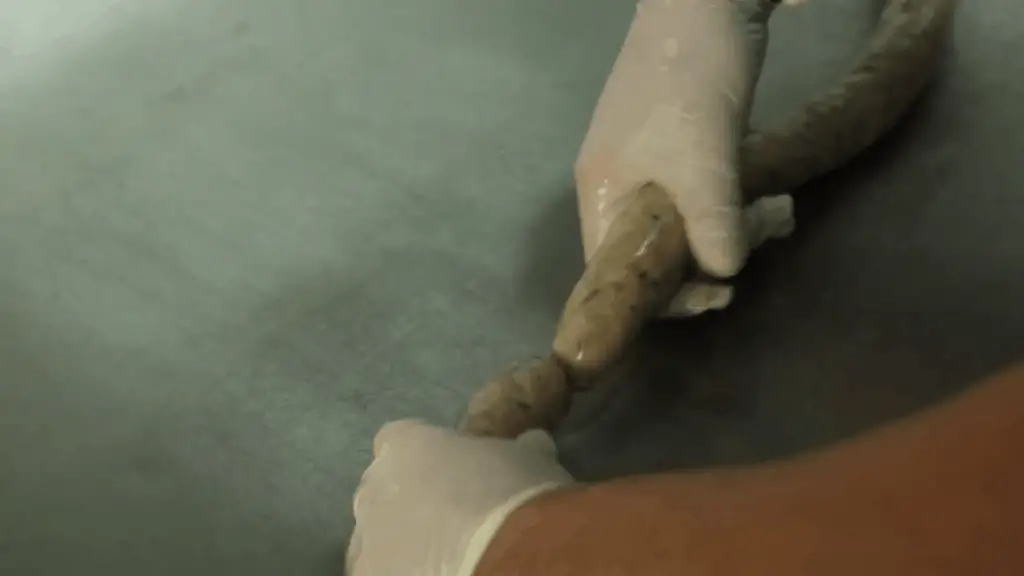 Alternatively, tie the two ends together to make a loop that works well for smoking, or coil the sausage into a spiral for easy steaming.
Step 8: Cook the Boudin – Five Options
Frying: This method is perfect for a crispy, crunchy exterior. Heat a pan over medium-high, then add some oil. Add your boudin and fry, turning occasionally, until both sides are golden brown.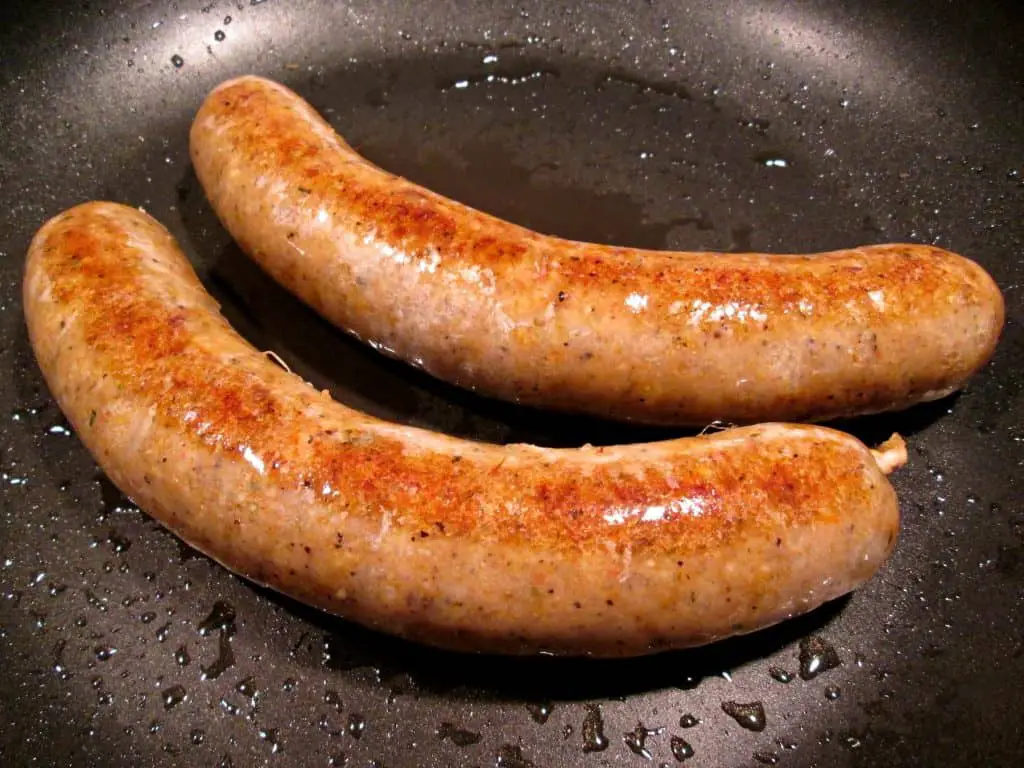 Poaching: Poaching is one of the most common ways boudin is eaten, and it's an easy way to prepare a large batch. Wrap the boudin tightly in aluminum foil and place in a large pot. Cover with 1-2 inches of water. Cook with the water just below a simmer for about 10 minutes, until the boudin is hot. Don't overcook, as it can get mushy or burst.
Slow Cooker: Another easy way to feed a big group. Simply wrap it in aluminum foil and put your boudin in the slow cooker. Add 1-2 inches of water or broth, and cook for 20-30 minutes high. Rearrange the sausages occasionally to ensure even heating.
Grilling: If you loved the rich, smoky flavor of grilled meat, wrap your boudin in aluminum foil and place it on the grill over medium- high heat. Grill until they are very hot in the middle and have nice grilled marks on both sides – 8 to 10 minutes.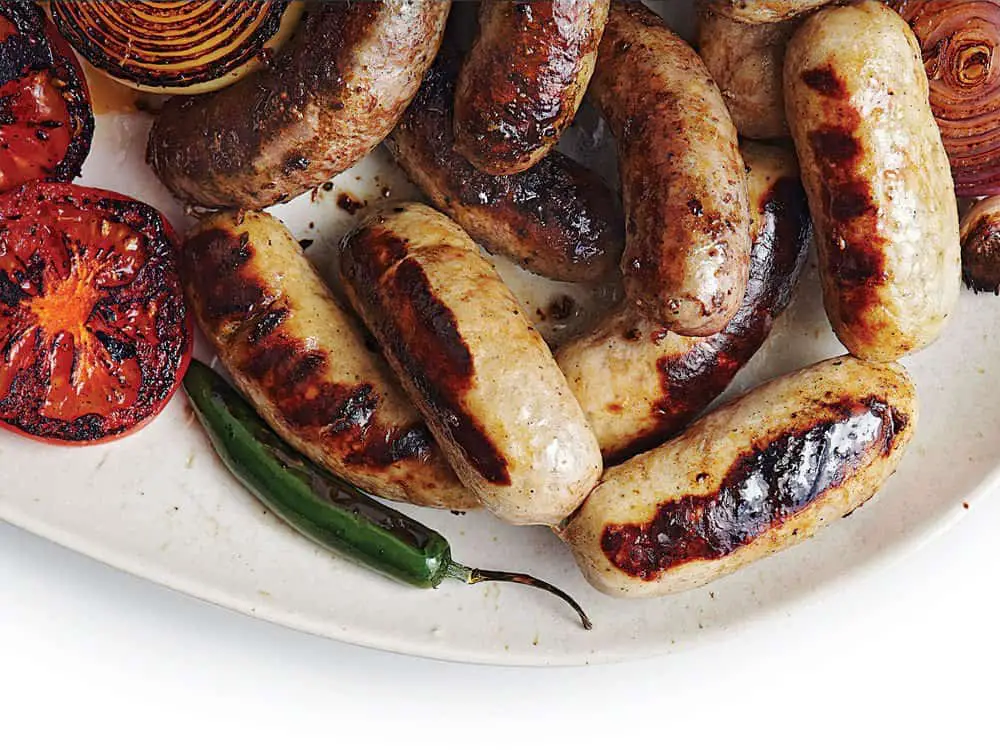 Smoking: This methods develops a unique flavor in the boudin, and creates a firmer sausage. Follow the manufacturer's instructions on your smoker.
Pro Tips:
Boudin is usually served with crackers and mustard. Make sure you have some Saltines, the traditional choice, on hand.
Usually, the casing is only eaten if the boudin is fried or grilled. Otherwise, it can be squeezed out of the casing and eaten like a push-up pop (this is actually a local favorite), or squeezed on to a plate and eaten on crackers.
You can cook the rice with the broth from the meat mixture instead of regular pork stock. Wait till the meat is done, then strain and add — cups to the rice. Reserve any additional broth and add it to the cooked rice as directed in Step 4. Add additional stock if needed. This method is great if you think you're going to have a lot of cooking liquid and don't want to waste a drop.
Now you know how to make authentic Cajun boudin! What did you think of this version? Will you give it a try? Have any ideas to make it uniquely your own? Let me know in the comments below!