Everyone knows that Italian culture has produced some of the best meals that people all over the world enjoy. Going out to a great Italian restaurant is a wonderful indulgence, but so is making a delicious home cooked Italian recipe. There are so many delicious Italian dishes, and they all sound amazing with their very elegant and attractive names. For example, "melanzane alla parmigiana" and "Eggplant parmigiana" sound magnificent.
These both translate to "Eggplant parmesan" which is our dish pick for today. Eggplant parmesan is a classic Italian dish with eggplant (obviously), which is coated in flour and bread crumbs and garlic powder, and then baked in marinara sauce and topped with fresh parmesan cheese and fresh parsley. Many recipes also include Italian sausage for some meat lovers, but without meat a classic eggplant parmesan recipe makes a great vegetarian recipe. Either way, it's a main dish that the whole family will love!
Eggplant Parmesan Recipes
Eggplant parmesan's earthy flavor makes it the perfect meal for your dinner table. It's easy to make: once you've covered the eggplant in your breadcrumb mixture, you just bake it in a single layer in a sheet pan covered in marinara sauce. Pro tip: dip eggplant slices into a beaten egg in a shallow bowl, and then transfer it to another bowl with the bread crumbs. That will make the bread crumbs stick to the eggplant better. Store any leftovers in an airtight container in the fridge. It will stay good for a few days.
The secret to making a good eggplant parmesan is to properly prepare your eggplants. Eggplant naturally has lots of moisture and some bitter taste to it, so start your recipe by slicing your eggplant and then sprinkling some salt on the slices. The salt will draw out the moisture and some of the bitter taste.
Another tip is, instead of salting your eggplant, to soak the slices in milk. The milk will neutralize the bitterness of the eggplant but instead of drawing out moisture, the eggplant will absorb the milk. There will be more moisture, but it will add a creamy flavor to the eggplant that will come out in the rest of your dish.
Then, fry the eggplant slices in a pan of hot oil before you coat them in breadcrumbs. Don't flip them until they lift easily from the pan—that's how you know they're ready. Frying them will bring out a rich, earthy flavor that will form the base of your dish.
1. Baked Eggplant Parmesan
This is one very "cheesy" recipe by The Crumbly Kitchen, but hey, it's eggplant parmesan so you can as well have as much cheese as you want.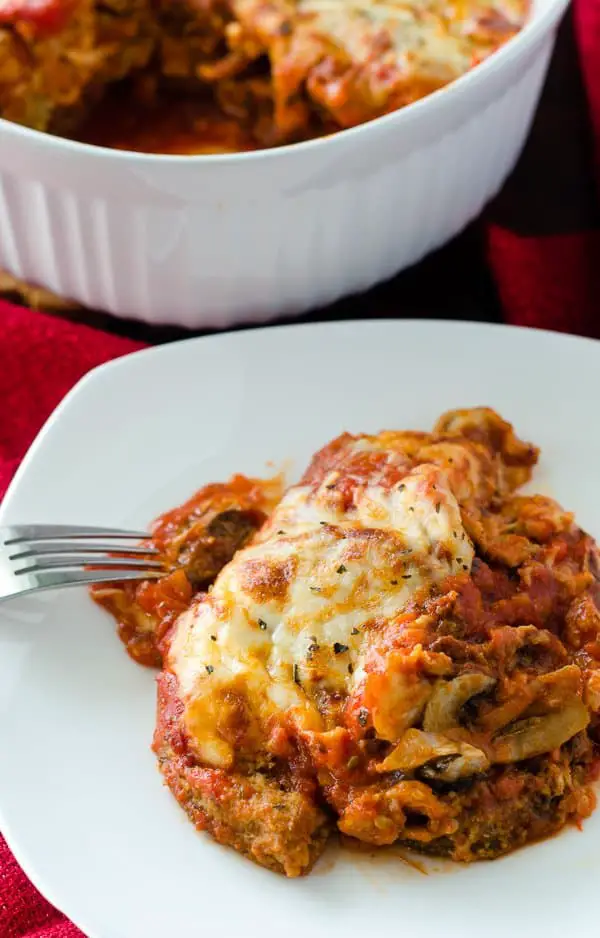 Typically, eggplant parmesan takes a whole lot of time from getting the eggplants prepared to cooking, so the time used in the recipe comes as no surprise at all.
Some recipes make use of the eggplants with the back still intact but this one calls for peeling off the back, so if it works for you, then it's all yours.
If you haven't heard of Italian seasoning before, it comprises of some basic Italian spices such as thyme and basic which is used for their typical dishes and you can make some using this recipe by Intentional Hospitality.
For fresh herbs, you would need an Excalibur to dry them.
2. Air Fried Eggplant Parmesan
If you are already familiar with making the baked eggplant parmesan and you need a change of taste, this air fried eggplant parmesan by Frosted Fingers is the way out.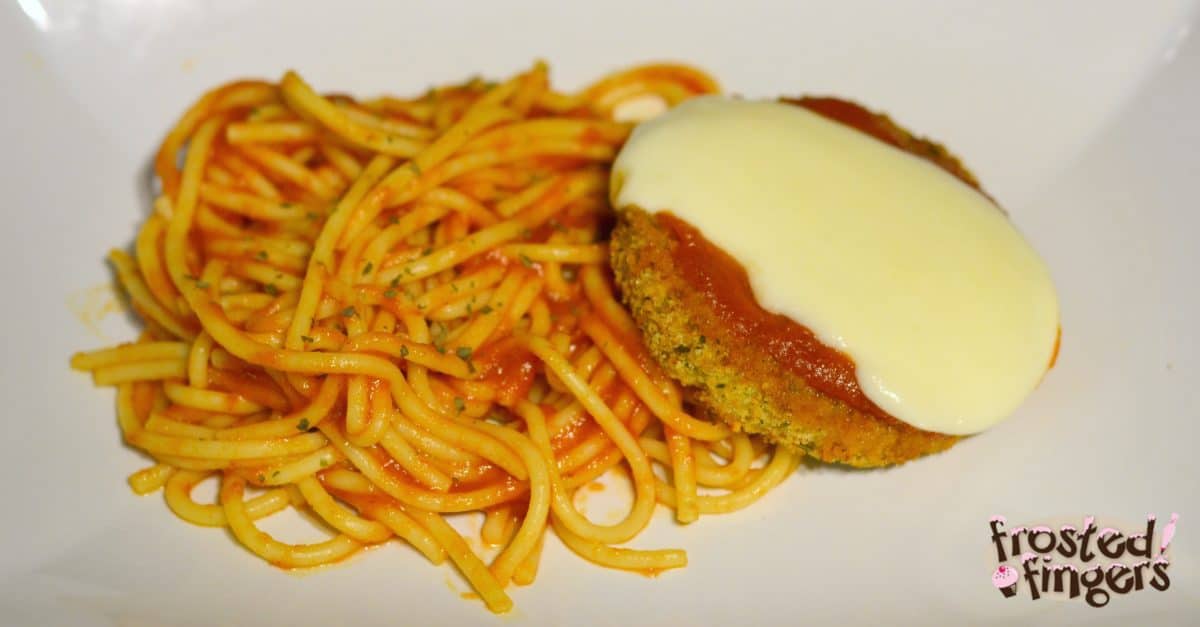 Haven't tried the dish before with either the baked or fried version? The air fried type might just be it for you, who knows?
Notice I said "air-fried" and not fried, according to the owner of the recipe, the air fried eggplant parmesan gives you a better result, so if you want to make the best use of this recipe, get an air fryer.
With air fired eggplant parmesan, you get a firmer and crunchier result than the baked ones.
Although it goes well with the spaghetti served with it in the recipe, there are a lot more recipes that can go with it and we are going to see them shortly.
3. Vegan Eggplant Parmesan
This eggplant parmesan recipe by Foodie Fiasco is so less stressful and by less stressful I mean every word of it.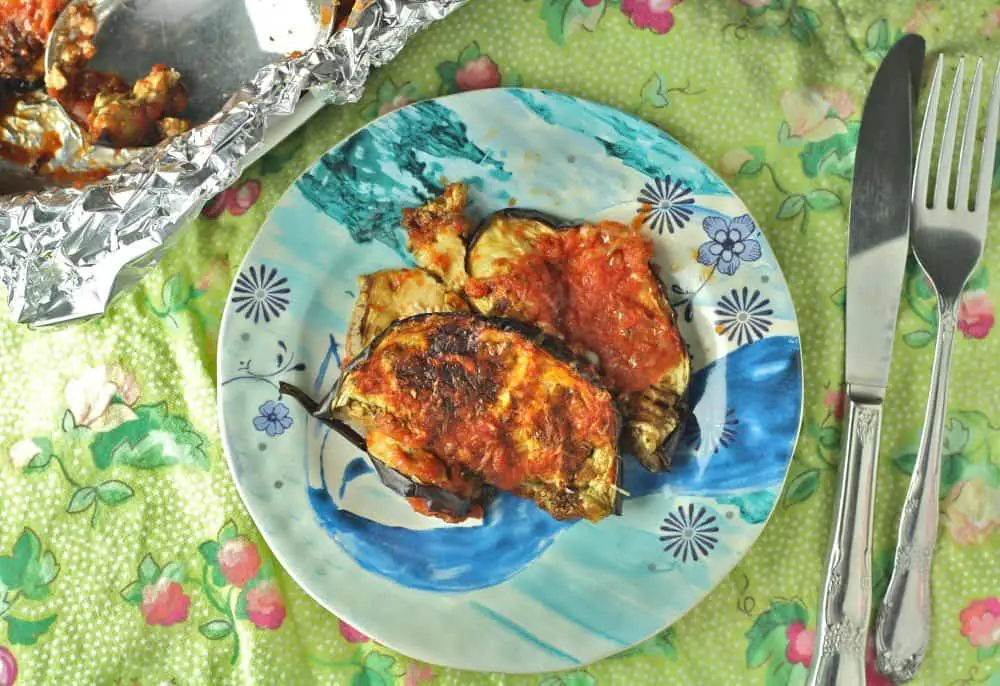 Unlike the previous recipe, this one keeps the back of the eggplant which is fine; you get a fabulous result either way.
Now, if you detest the whole breading process of the eggplants before you bake, this recipe offers you a satisfactory alternative.
As for the cheese, you can still make it as cheesy as you want although they made use of reduced fats cheese which is for the benefits of vegans who want to use the recipe as well.
You can go all mozzarella on this one if you so desire.
Three Sides to Serve With Eggplant Parmesan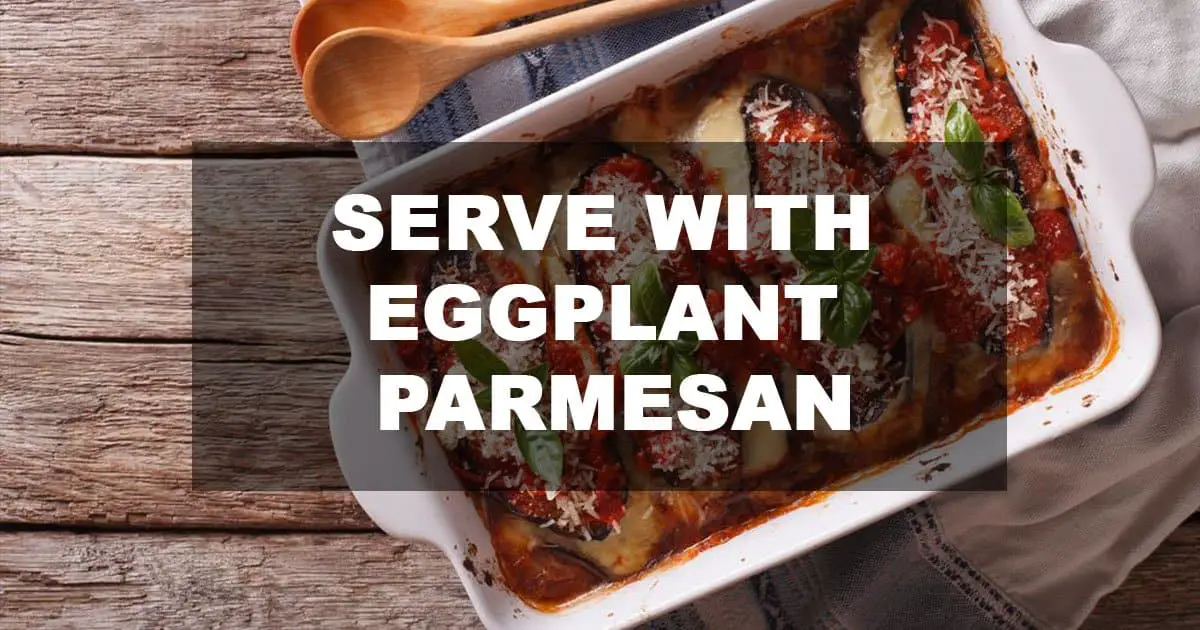 1. Saffron And Shrimp Linguine
If you don't want to make spaghetti with your eggplant parmesan, you can make some linguine instead using this recipe by Sprinkles And Sprouts.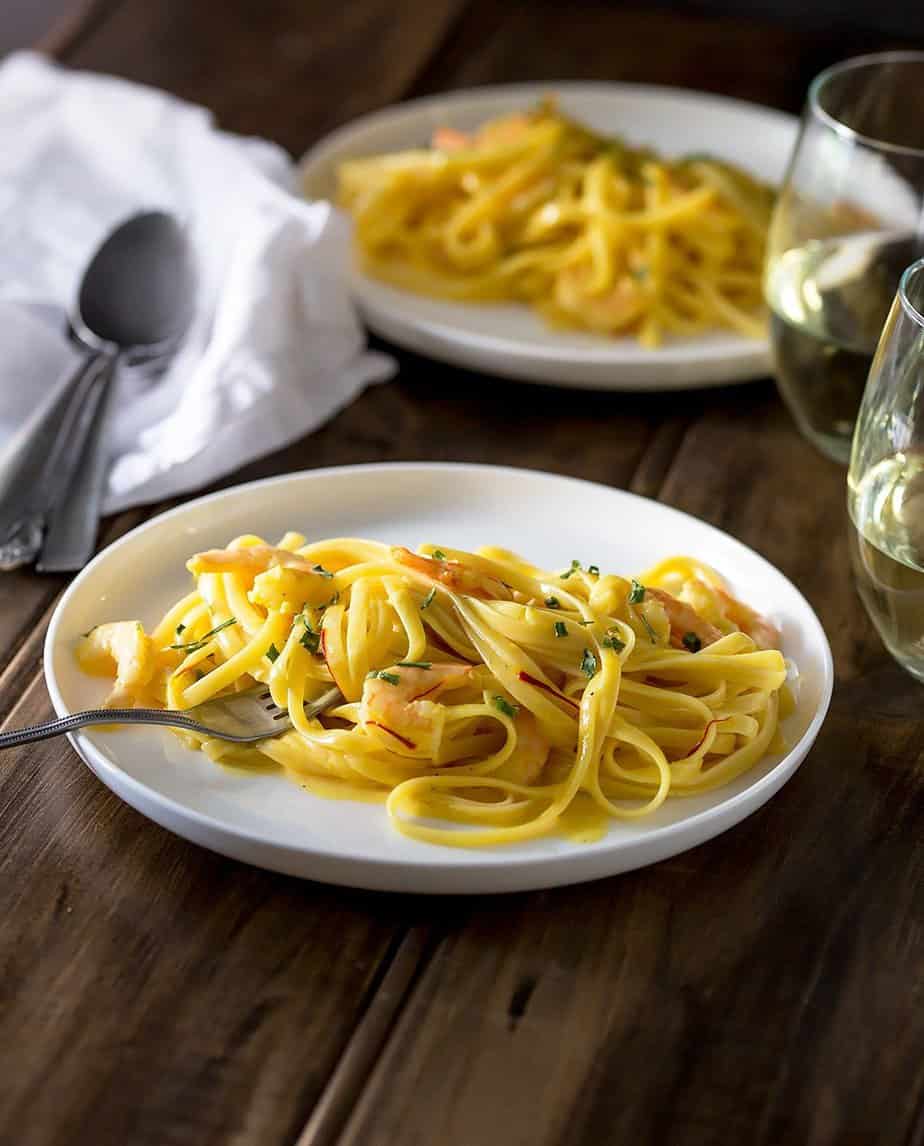 Linguine falls under the classification of pasta just as spaghetti but it is wider a bit just as it looks on the recipe page.
Following the recipe, the linguine will be prepared with shrimps and saffron which is very rich and flavourful but have it in mind that this is a heavy side with your eggplant parmesan which already has some considerable amount of calories.
So if you are up for it, give it a try.
If you would rather go plain, you can cook without all the parmesan, prepare your linguine like normal pasta and serve with your eggplant parmesan.
2. Spaghetti Squash
So you want the spaghetti but not the pasta and carbs that come with it, have some spaghetti squash with your eggplant parmesan.
This recipe by Joy In Every Season is so simple, the ingredients used are basic everyday ones like pepper and salt, this keeps the flavours real, and it gives way to the taste of the squash itself.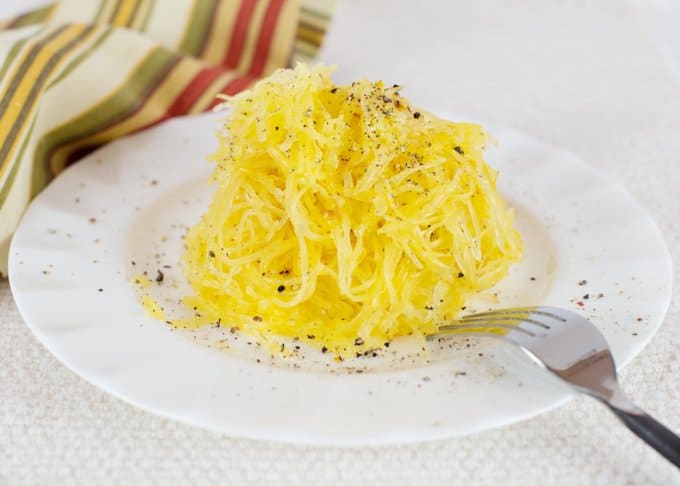 It's one of the best side dishes to serve along with your eggplant parmesan! The spaghetti squash is baked, and it takes about 30 minutes or less to get it all together and done with.
I think the main issue with handling spaghetti squash is the cutting; it can be so tricky and tough so the method employed in the recipe is a time saver.
3. Cajun Grilled Chicken
You can pair your eggplant parmesan with some grilled chicken and if you like the taste and flavour of Cajun spices like I do, use this recipe by Lemon In A Family Kitchen.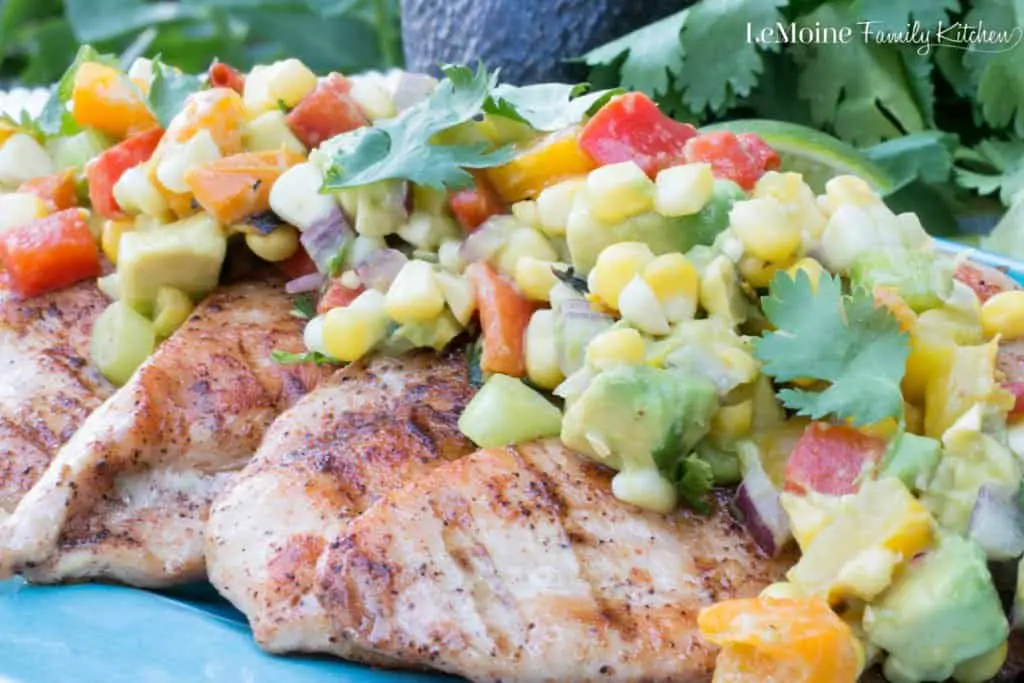 The chicken is baked and served with some salad which is equally perfect alongside your eggplant parmesan.
The choice of vegetables for the salad is undoubtedly quite refreshing as stated in the recipe and with the contrasting hotness of Cajun spices; it balances out beside your eggplant parmesan.
Think of the salad with a slice or two of chicken and eggplant parmesan; a little of everything, a lot of nutrients and flavours.
I like to use Cajun and creole spices interchangeably, and you can get a perfect creole seasoning recipe from Immaculate Bites, make some at home, you will be glad you did.
4. Salad
A salad is always a great side dish to go along with an Italian meal, and there are lots of salads in Italian cuisine. Caprese salad is a famous Italian salad, and it's easy to make: just combine tomatoes, fresh mozzarella cheese, and fresh basil in a bowl and toss it with balsamic vinegar. Another great option is an antipasto salad, which is another Italian classic. It includes romaine lettuce, green and black olives, cherry tomatoes, pepperoni and salami slices, and mozzarella cheese balls, all mixed with olive oil or a lemon vinaigrette.
There are plenty of easy recipes for fresh salad online. Try an Italian pasta salad or another pasta dish next time you make eggplant parmesan!
5. Garlic bread
The perfect easy side dish that goes well with any Italian dish is cheesy garlic bread. Just spread some garlic butter over a slice of thick French bread and toast it in the oven until the butter is melted and the edges of the bread are brown. You can also sprinkle some mozzarella cheese on top before you put it in the oven, and use it to mop up the extra marinara sauce from your main dish.
6. Italian Green Beans
If you have some leftover parmesan that you want to use, and you're not too afraid of parmesan sides with a parmesan-heavy dish, you can make some Italian green beans. These are easy vegetables to add to your meal. Saute some fresh or frozen green beans in some butter with some parmesan cheese and a little bit of garlic. Don't use canned beans, as they're softer than fresh ones and will fall apart, and the fresh ones will bring great flavor to your meal.
All Done!
If you have never eaten eggplants before, this awesome recipe list has just given you a million and one reasons to start eating those purple beauties. Eggplants are great to add to your vegetable rotation, because they're rich in fiber, antioxidants, and potassium—all of which are excellent for keeping your heart healthy. Just one serving of eggplant provides a large portion of your daily vitamins, and that's just the eggplant! The tomato sauce, other vegetables, and even the cheese in your eggplant marinara help make it  a healthy, balanced meal for you and your family to enjoy.
Watch a video on how to make eggplant parmesan from start to finish through this video and then make some of your own.