Pork chops, the sound of that makes me so hungry; it sounds like a heap of crushed diamond all on a plate, yes! We know you have a lot of pork chops cooking ideas you make use of once in a while but trust me when I say you still need to try out some more.
There are some recipes you use, and within yourself, you don't expect so many compliments, while there are other recipes that "wow" the crowd and keep you plain sailing, and we have gotten some penned down for you.
Even if you aren't a thorough pork lover yourself, that shouldn't stop you from having some recipes up your sleeve for that rainy day you need to serve others; these recipes are a definite yes for you.
Know Your Pork Chops
A lot of people believe pork chops are simply pork which isn't true. Pork chops are gotten from specific parts of a pig, but pork can be any part of a pig.
Pork chops are extracted from the loin of the pig, the loin is the area from the shoulder of the pig all the way to the hip, and this part of the pork is usually very pricey compared to other regions.
The meat from the loin or ribs of pork is very soft and lean making it suitable for different kinds of cooking procedures. Pork chops are also different from ham; ham is gotten from the hind legs of the pig while pork chops are concentrated around the spine.
You can follow this link to know more about parts of pork
Tasty Pork Chops Recipes You Should Try
1. Breaded pork chops
This goes back to the way pork chops were made those days traditionally, this recipe by Southern Plate spiced it up with an amazing milk gravy, and she made use of crackers instead of bread crumbs, this gave it a thick look and an overall pleasant taste.
If you do not have salted crackers at your disposal, you can stick to the usual bread crumbs. When using bread crumbs, you can substitute frying the pork chops with baking them; this will let you control how browned up you want it to be.
2. Cinnamon and apple spiced pork chops
The finished look of the pork chops in this recipe by No Spoon Necessary is a call for dinner; this recipe is perfect for a dinner serving or get-together where you can show your cooking skills.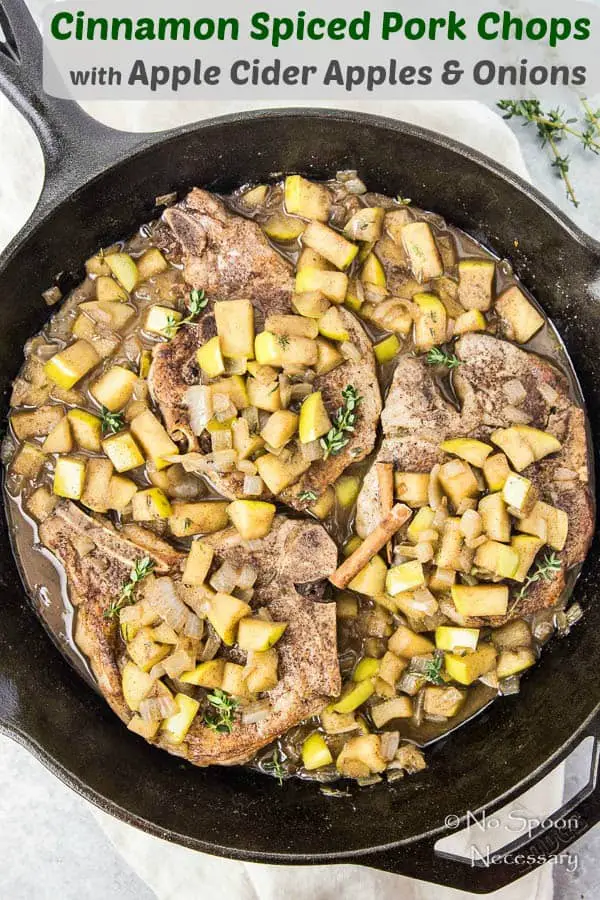 Another brilliant thing about it is that the recipe made use of readily available everyday ingredients, nothing too out of the ordinary and nothing extravagant, simple ingredients that produce an extra succulent plate of pork chops.
The entire cooking time from start to finish is approximately thirty minutes, take note of the temperature while cooking as it is expressed in the recipe.
3. Slow cooker pork chops
This will leave you with a plate of fork soft tenderized pork chops because of the use of a slow cooker; it is perfect if you have some time on your hands for the slow cooking.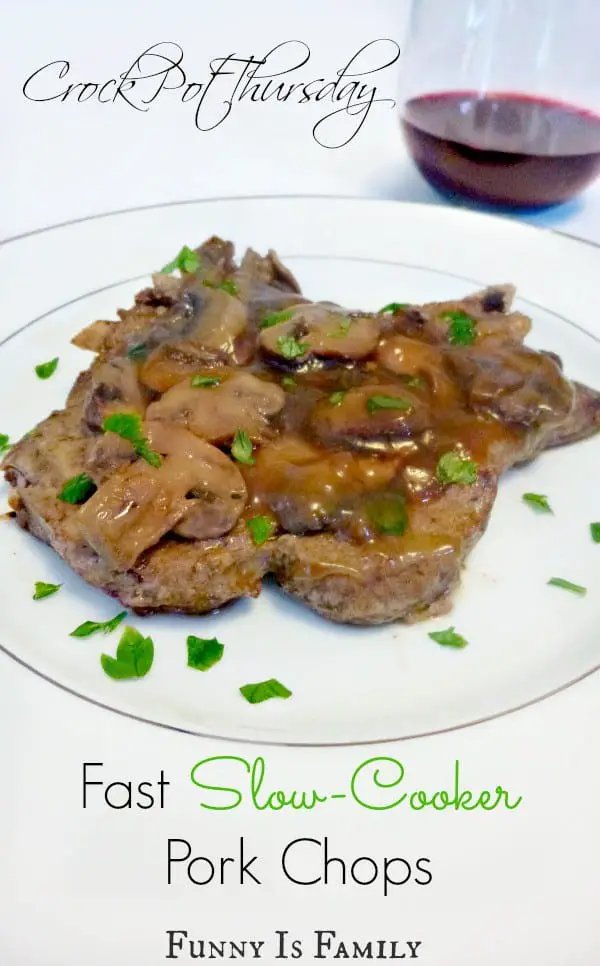 This recipe by Funny Is Family takes about four to five hours depending on what degree of slow cooking you want to get done, the only thing that takes time is the slow cooking part, every other thing takes no time at all including the sauce.
So you can plan your time ahead and be assured that as soon as the slow cooking is over, food is ready to be served.
Balanced Pork Chops Side Pairs
1. Broccoli Rabe
Their bitter taste characterizes Rabes, but there are lots of easy ways to use it to your advantage, giving your food just a hint of this taste that makes the whole dish tastier.
For those of you who are unfamiliar with rabe, it is a broccoli look-alike that is also as nutritious, for an excellent preparation procedure, use this recipe by The Wimpy Vegetarian.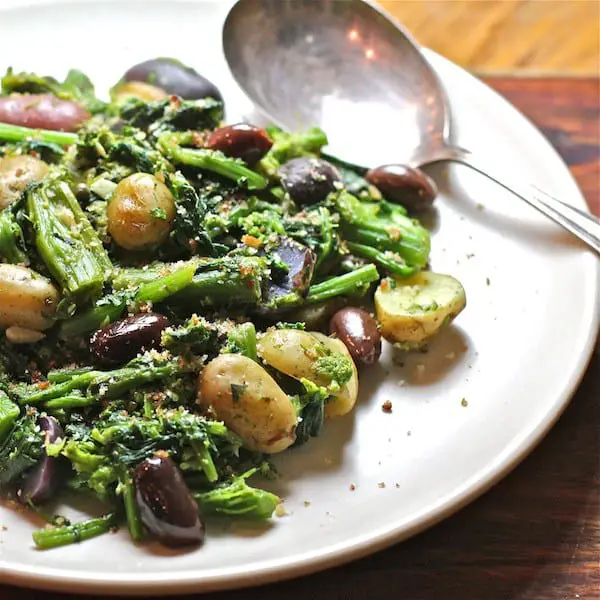 The broccoli rabe in the recipe is prepared with baby potatoes which are a good combo; I prefer capers rather than the anchovies but feel free to use whichever you like.
2. Pineapple Casserole
I have had a lot of fruit based casseroles, and I can say this pineapple casserole by Laura's Sweet Spot which is now "The Green Forks" is a must make, must taste.
It is so appropriate for pork chops; it will leave your guests or family pleasantly filled. One thing to take note of is the bread measurement; this tells to a large extent how the casserole comes out, so you need a bit of initiative to monitor the quantity you use and balancing it with your pineapples.
You can also watch this video by Patrick Barton, he made use of cheese and crackers, Yes I know!!!
3. White beans
So you decided to roast up your pork chops? Serve it with some white beans like the one in this blue kitchen recipe.
Beans always have a way with pork chops no matter how your pork chops are made, but you don't always have to go for baked beans, white beans offer a substitute to it.
Tips are included in the recipe to give a better breakdown of the ingredients used, and one particular ingredient I like in the beans is the fresh rosemary.
This video shows three different beans recipes, I prefer fresh beans to canned but you can use any with your reach.
Cook's Note!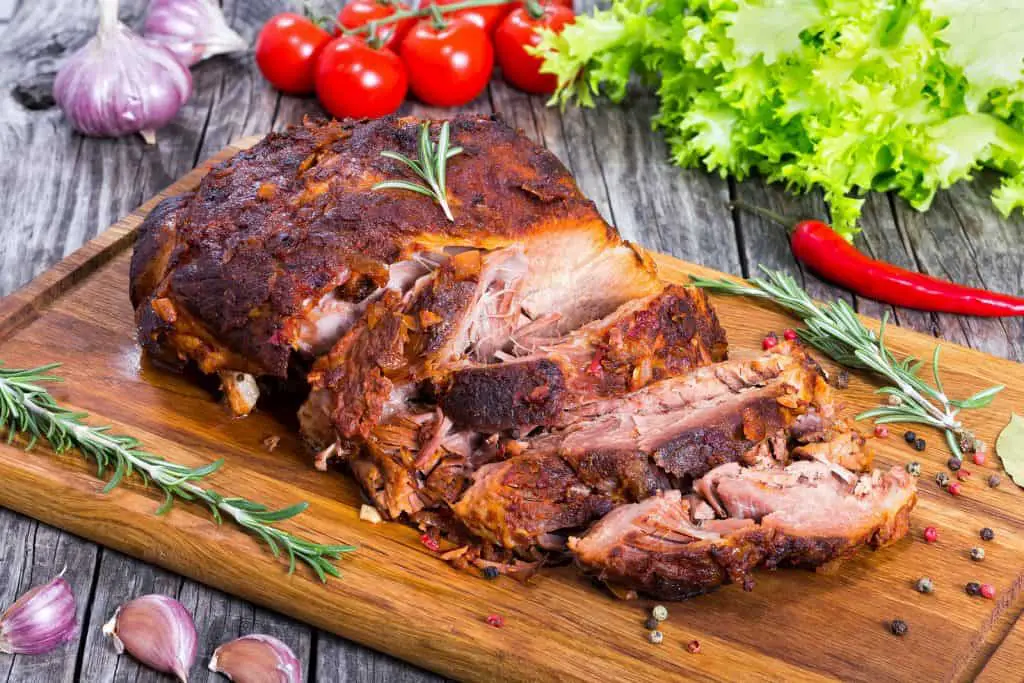 Pork chops on its own are very simple, just like your regular steak or ribs, but the beauty of it comes out when you figure out ways to make it stand out and add in other seasonings and ingredients to make something entirely new and loveable.