In present day of digitalization and technological advancement, it doesn't take ages for dishes to gain popularity or fame. Nowadays, movies and musicals do the job conveniently, and a typical example of such food-fame is Ratatouille.
I can categorically say a lot of people around the world got to know about the dish and appreciate the art of cooking more after watching the Disney movie.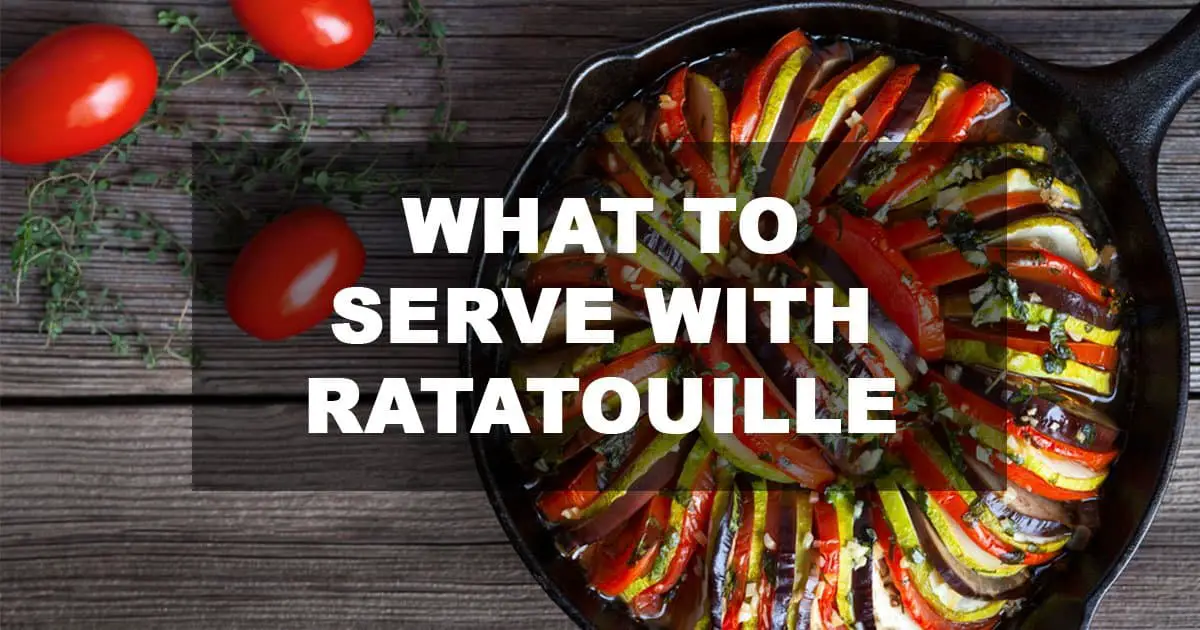 I mean, who wouldn't love a rat chef! For anyone who might be lost with all this rat talk let me introduce you to ratatouille, it's a (ancient peasant) French stew which comprises of mostly vegetables.
It is very tasty especially if you get the right balance of vegetables together, we are going to find out how to make it, and we are going to lay out what best goes with a hot plate of ratatouille.
Four Ways To Make Ratatouille Like A Pro
Oven Roasted Ratatouille
This ratatouille by Crawfish and Caramel is top choice firstly because it employs the traditional medium of cooking the vegetables first and secondly because of how explanatory and detailed out it is.
The indicated steps with pictures make it very easy for you to embark on making this dish on a first attempt so that with all your vegetables at hand you have no worries.
Now to the issue of skinning your vegetables such as the eggplant, some people find it offensive while some feel it's compulsory, so I will say it's optional.
The reason eggplants are skinned is usually because of the bitter taste which is more pronounced in the outer parts than the interior. Making typical ratatouille is time-consuming, but this version of baking is less stressful than having to sauté the ingredients.
If you like to bake your food, use this recipe.
Easy Ratatouille
So as always, there are recipes that help you beat the time especially for dishes such as ratatouille and this recipe from I Can Cook That is one of such.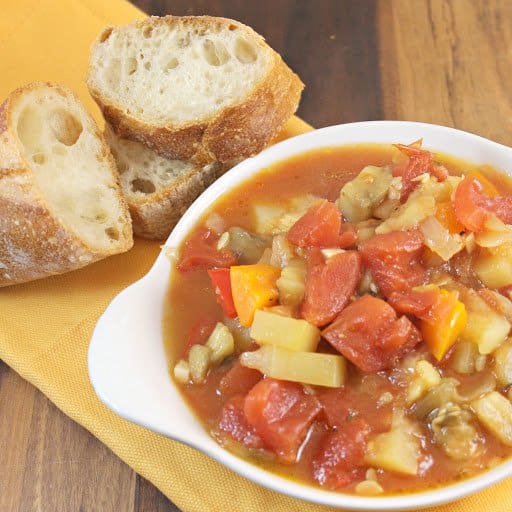 She didn't take all the time to stir and all, but it still turned out perfectly but let me not be the judge of that, try it out for yourself and see what you come up with.
They made us of very simple basic ratatouille ingredients and the chunks were large, but you can cut them in far smaller sizes which I prefer but this might be more demanding, and it can alter the cooking time so you should have that in mind beforehand.
This recipe is similar to the first one except that it is prepared on a stove top from start to finish, so make a choice.
Goat Cheese Ratatouille
Have you had different kinds of ratatouille, and you have that "been there, tasted that" feeling, then you should try this ratatouille by Soni's Food. I guarantee it is nothing like you have tasted before (unless of course, you have tasted it).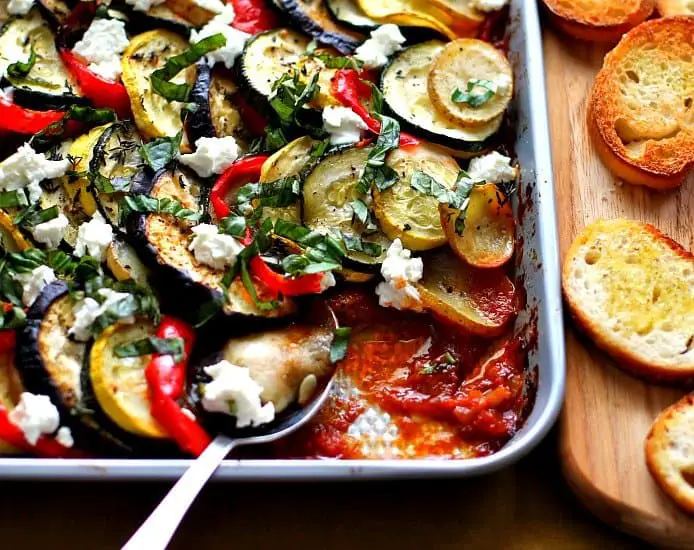 The combination of ingredients used goes far beyond the usual basic ratatouille ones, imagine the combination of potatoes and yellow squash with the others; it's a taste worth looking forward to.
Then there is the mention of the cookbook where the recipe was gotten from, if you are done making this ratatouille then you shouldn't need much convincing about getting the cookbook for yourself.
Side Pairs For Ratatouille
Rice Pilaf
Rather than having plain rice or pasta with your ratatouille, make it into pilaf and have a jumbo ingredients mix using this recipe by What A Girl Eats.
As stated on the recipe page, the secret to the lovely yellow colour with the rice is turmeric, and you don't need me to tell you how rich in flavour and nutrients that spice is.
With all the other blessings in vegetables that you get from the ratatouille, it's a good blend.
Unlike many other rice pilaf recipes out there, this one takes up less the time which compliments whatever hours you intend spending on your ratatouille.
Watch another easy rice pilaf recipe here and cook!
Polenta
Another perfect side to serve along with your rich ratatouille stew is polenta, with all the time it takes to make a classic ratatouille, you can make do with an easy polenta using this recipe by Renee Nicole's Kitchen.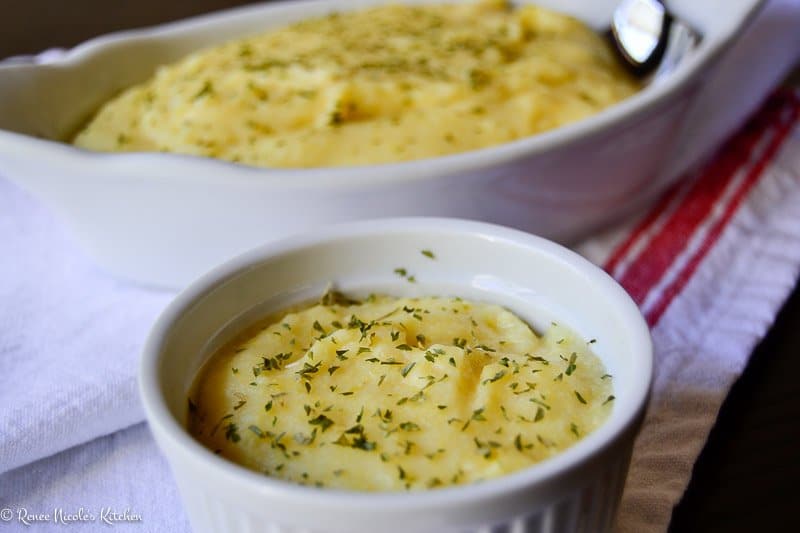 What makes up polenta is cornmeal so whichever way you make it, the taste will pair well with your vegetables.
Yes, I know it's shocking to realize that you can make polenta without the vigorous "turning" which usually accompanies its preparation, but if it worked for Renee it should definitely work for you, take note of the measuring patterns for the cornmeal to get the right consistency.
Couscous
Couscous is a very easy side dish that you can serve with your ratatouille and as with all the other side dishes that have been talked about, the easier and simpler the side dish, the better.
Because Ratatouille itself is rich with vegetables, something more plain on the side will give the ratatouille it's time to shine as the main dish, and that is the case with couscous.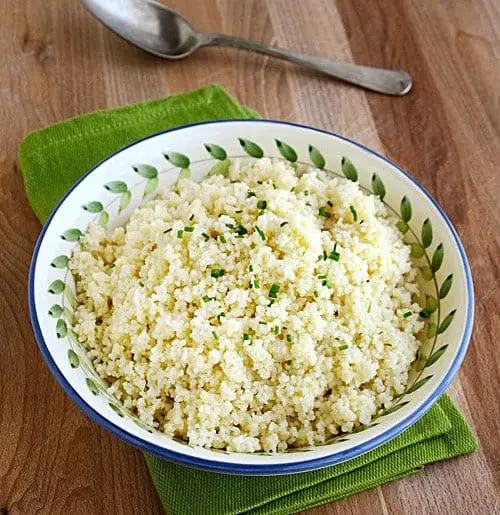 There are many ways you can make couscous to contain as many ingredients as you want but for now, let's go easy with this recipe by Creative Culinary. It's an easy rosemary parmesan couscous, and it's nice.
Make It Like Remy!
When will I ever stop talking about the movie anytime I think of ratatouille? I never know but for now, it's there, and it isn't going anywhere.
If you have also made some really nice Remy-like ratatouille, share with me and let's talk about it.
Ratatouille can be made in any form so long as the basic vegetables are not excluded then the cooking time and other ingredients determine the final result.
For broken down and soft stew, keep cooking for longer periods than you would if you prefer to see the vegetables stand on their own. It's your food, so you have the final say.