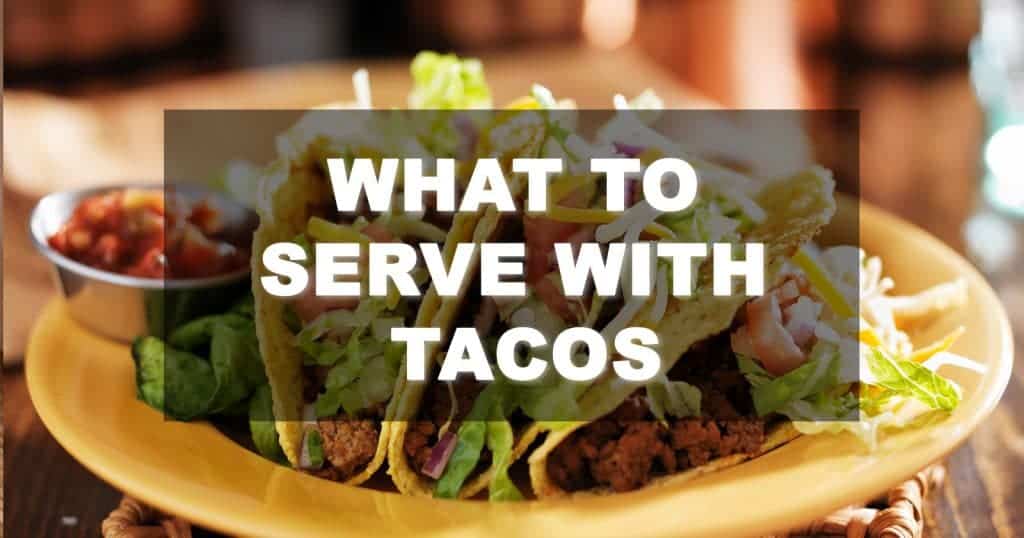 There is something about a good taco, a magical quality if you will, that brings people together to connect over a great meal. Regardless of where you grew up or the makeup of your ethnic background, there is a high likelihood that you have heard of or dined on tacos at one point in your life. And just as you would expect, this well rounded and beloved favorite can come in a whole slew of variations- with different fillings, toppings, and the all important side dish.
Tacos have been around for ages, and like many other dishes with ancient roots, finding suitable side dishes to complement and enrich your meal can prove to be quite a feat, especially when you are short on ideas.
Well, as all great Chefs and passionate cooks would say, there is always a perfect pairing (or 15) for a food. Sometimes, just a little creativity is required. Before we tackle the task of finding the perfect side dish pairings for tacos, please allow me to school you a bit on the humble beginnings of the mighty taco.
What are tacos?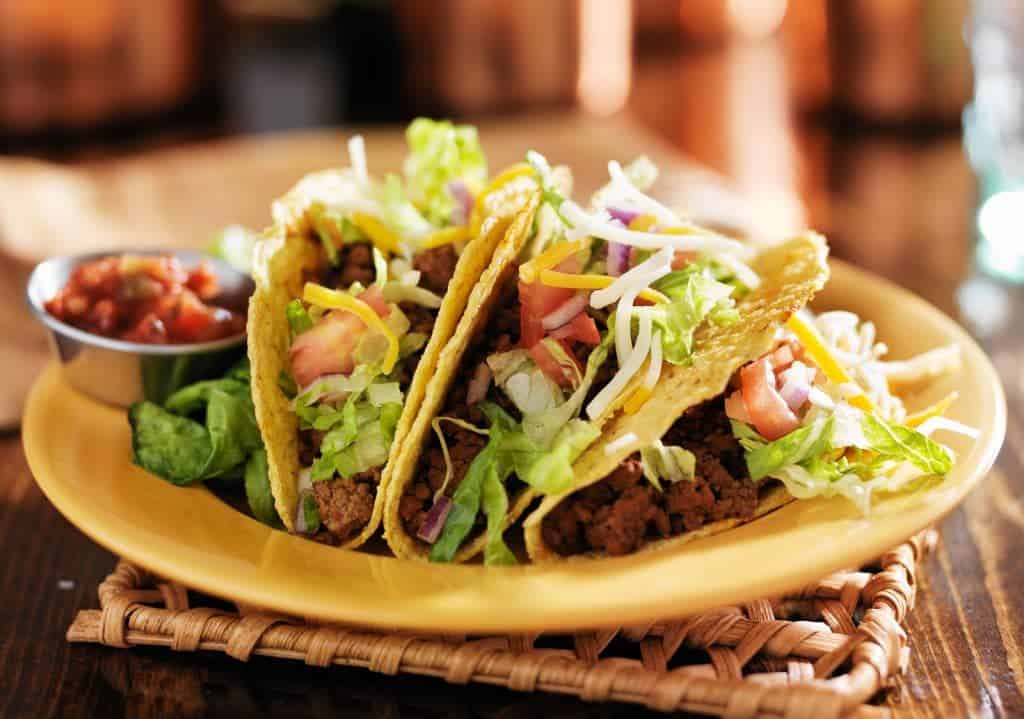 Tacos are a traditional dish with Mexican descends. While tacos can be made with an endless variety of ingredients, the basic components tend to be the same- a tortillas base, filling and toppings. Although creative tacos don't need to conform to the "rules", this is typically what you will see when discussing the makeup of a taco.
Preparation of tacos (or taco-like dishes rather) without tortillas is technically possible, but the dish will ultimately turn into a different meal altogether. Huh? What does that mean? Simply put, no tortilla= no taco. While you can use lettuce or another base to place the fillings in, this ultimately defeats the underlying purpose of the taco itself, rendering itself another dish not of the taco variety. However, when crafting the fillings, different ingredients can be replaced or substituted as desired, allowing your creativity to run wild! Popular fillings could include beef, pork or various kinds of seafoods.
While there is controversy over the exact origin of tacos, it is widely accepted that tacos precede the early Europeans' visit to Mexico.
Some stories dictate that a taco's beginnings were inspired by early Mexican silver miners using explosive "plug" chargers, which were made of paper wrappers and gunpowder, resembling a taco. Whether this is based in fact or not, it is safe to say that tacos have a distinct, traceable connection to Mexican origin.
Although the more typical soft shell tacos got their start in Mexico, the more modern, re-invented "crispy" tacos often seen (and enjoyed) are traced back to the famous Glen Bell, the founder of Taco bell. The "American" taco is more popularly referred to as the "crisp shell" or "hard-shell" taco
Are Tacos different from Burritos?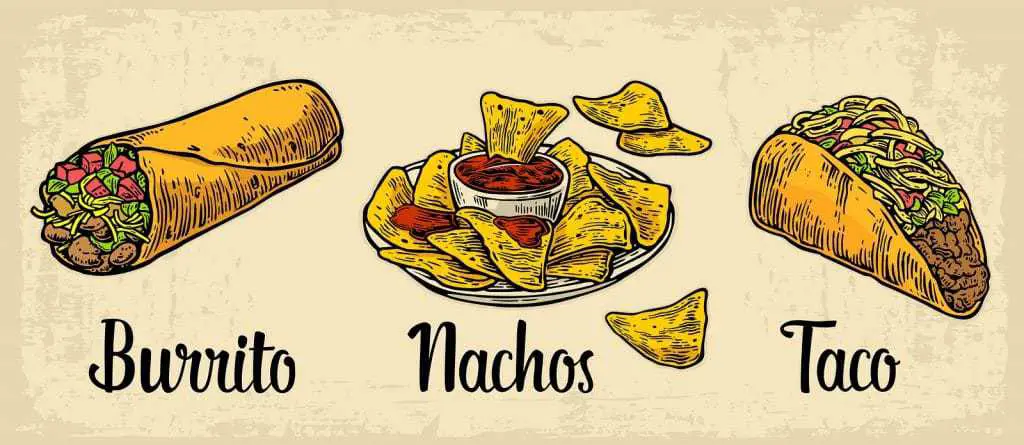 Many people are under the incorrect notion that tacos and burritos are one and the same. This could not be further from the truth. While tacos and burritos do share some qualities in common, there are notable differences between a taco and a burrito that set the two apart.
The first, most obvious difference is in the size of the dishes. Burritos are considerably larger than tacos. While one burrito will satisfy most appetites, tacos which are made in much smaller forms, will require more than one to get that warm and cozy, full feeling.
Another notable difference is the side dish component. With a taco, a side dish becomes more important in creating a filling, balanced meal. Many times, rice and beans get rolled up into a burrito, rendering a side dish useless. However with tacos, the opportunities for side dishes are endless, making it way more fun in our opinion.
Another fun fact when comparing tacos and burritos- tacos are way older (origin wise, not in terms of freshness.) Their roots date back further, giving this dish more history and meat (no pun intended.)

Unlike tacos that are made with small tortillas (typically corn), burritos are made with large tortillas meant to envelope and encase the ingredients and prevent filling from falling out and making a mess of your meal. These larger (and sometimes flavored) tortillas help the burrito to not crack and fall apart as well.
Let's expand on one of the best qualities of the taco, the opportunity to pair with a perfect side. Let's get ready to explore some unique and exciting ways to dress this dish up! Make taco night at your house the most talked about and inviting meal of the week!
Now that we have breezed through all we need to know about tacos, let us check out some perfect side dishes which will give you the compliments you desire.
Related: What To Serve With Crab Cakes
Side Dishes To Go With Tacos
1. Avocado and Romaine Salad
Apart from the nutritional health benefits of this dish, it is quick and easy to prepare. This meal is very high in Vitamin C, which is good for children and adults. You can try out this straightforward recipe from whfoods
You also get to see the nutritional profile of the ingredients contained in this dish.
2. Spicy beans and corn salad
A number of the side dishes we go over will be "salads", but take heart- we are not talking about boring lettuce and dressing type salads here! There are some amazing, vibrant and tasty salads that were a must-have for this list. This salad will only start us off! The lovely color burst makes it look so visually palatable when served with tacos, and of course it is easy to prepare and absolutely delicious.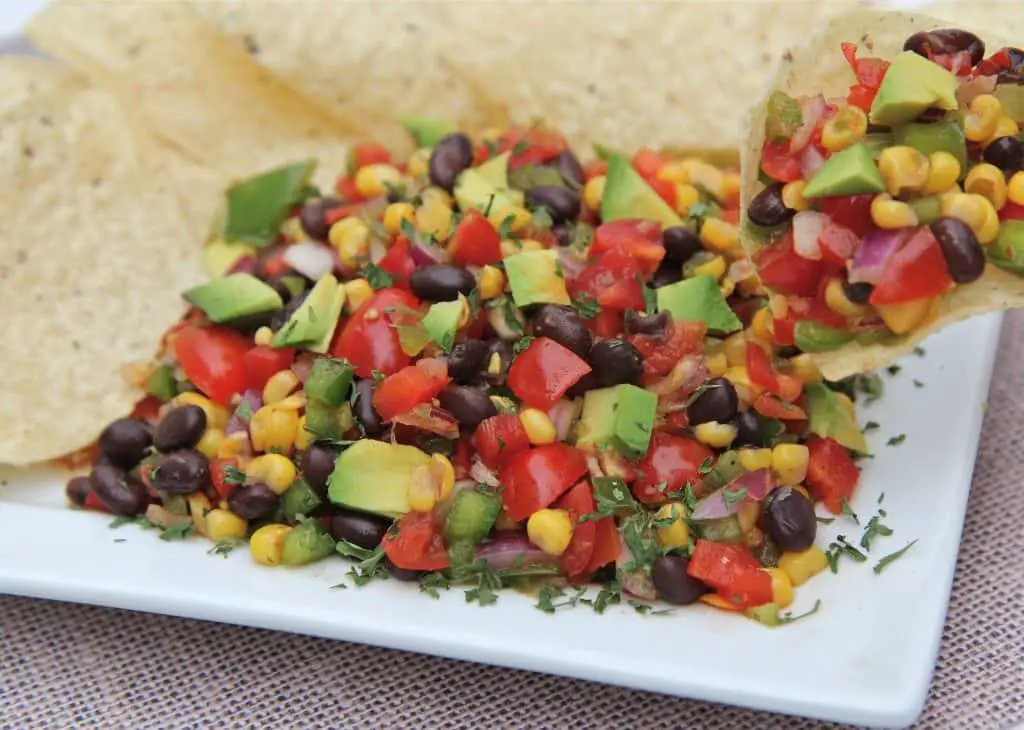 This recipe I got from divas can cook is as precise as it can be, and believe me, the lime in it adds a finishing sparkle to the taste of the salad. This dish has a low amount of saturated fats, tons of antioxidants, and the recipe has a video included if you want to watch the step by step procedure.
3. Nina's Mexican Rice
A small portion of this rice recipe will go a long way paired with a couple of tacos on a plate- rice is cost-effective, tasty, and super filling, making it a clear winner for bigger groups.
While it is not necessary to always combine traditional Mexican, this particular combination has me over the moon. The flavor came out even better than I had expected. Use this recipe from life-script and make it just as described- I bet you will be just as excited as I was with the finished product!
4. Picadillo
This lovely dish is of Spanish origin and pairs well as a side dish for so many plates. Picadillo has been re-invented to adapt to different countries ranging from Brazilian Picadillo to Cuban Picadillo and many, many more.
I decided to go with the Cuban style for my tacos based on the appealing flavor profile. I made use of this recipe from no-recipe, I know right, the no-recipe recipe, okay let's focus.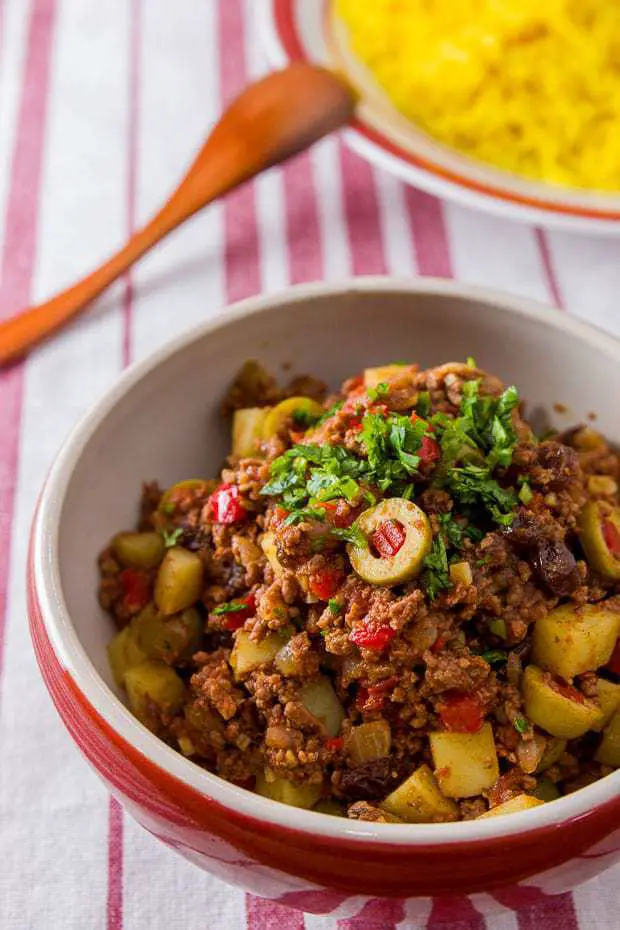 The outcome of this Cuban Picadillo sat very well with my tacos and it was easy to prepare too. When served alongside each other, the sheer look is so mouthwatering. You can choose to go with another Picadillo type depending on what you have readily available in your cupboard or local store, but this worked just fine for me. It is unique and flavorful, great for experimentation!
5. Fresh Jicama and Mango Slaw
While many people are not aware of the mild, yet impactful flavor profile of jicama, it makes the perfect combination with a more robust flavor like that of the beloved mango. The citrus flavorings from the lime juice and mango mix beautifully with the sweetness of the honey and red onion used to add more depth to this dish.
Just throw together your julienned mango, jicama, and red onion, then toss with lime juice honey and salt. Top with some fresh cilantro and you are on your way!
6. Three Pepper Salad
Yes… it's a salad. BUT again, it is far from your average, everyday salad. Peppers are choc-full of vitamin A, C and folate, as well as a number of powerful and potent antioxidants to help keep you in tip-top shape. This recipe is light, sweet, refreshing and oh-so-easy.
If you want the easy, fast version, listen up. Chop up those peppers and some red onion. Set aside your chopped veggies and whisk together in a separate bowl some minced garlic, champagne (or red if you prefer) vinegar, olive oil, salt and ground pepper. If you are going to add any additional spice you would do that now. Add your homemade dressing mixture to your chopped veggies and toss together, adding in feta or cotija cheese and again, tossing gently. Top with some fresh cilantro to finish the dish off elegantly
7. Roasted Sweet Potatoes and Broccoli with a Homemade Spicy Sweet Sriracha Dip
This one is fairly self explanatory, but don't let it's simple nature fool you. It packs a powerful flavor punch and rounds out a healthy, flavorful and balanced meal.
Simply roast some broccoli and sweet potatoes using avocado oil and some sea salt and garlic powder. Roast evenly and serve alongside your homemade creamy sriracha sauce (so simple, just combine mayo, a couple tablespoons of sriracha and a couple tablespoons of honey and- viola! Spicy Sweet Sriracha Sauce!) So tasty and so easy!
8. Ortega Chile and Rice Casserole
This simple casserole combines some killer ingredients to form a comforting, warm and delightful dish that is also budget-friendly (and kid) friendly. If this sounds like it's up your alley, read on! Before getting started, gather up some simple ingredients:
Rice (white rice is typically used, but sub for whatever sounds good)
Chopped ortega chiles (the canned variety will work fine)
Sour cream
Cheese
Softened cream Cheese (optional)
And that's it. No Joke.
Combine all ingredients together before spreading them evenly into a large baking dish and baking in the oven until the middle is piping hot and the cheese is melted all the way through. Top with some additional shredded cheese and bake until melted and slightly crisping for more texture and taste. Enjoy!
9. Mexican coleslaw
What sort of list would this be without a creamy, delicious slaw to accompany your dinnertime (or lunchtime) tacos? The answer is, we wouldn't want to find out! Whip up the amazing slaw to serve alongside your tacos and keep the family talking for days.
To make this slaw, start with the following ingredients:
Shredded cabbage
Cooked corn (canned is fine)
Cooked black beans (again canned is fine)
Chopped peppers (red yellow, green, orange- whatever you fancy), avocado (adds to the creamy texture), red onion, cilantro and some jalapeno to boot. You'll also need some mayonnaise, sour cream, carne asada seasoning and lime juice for the dressing.
Putting it all together is super simple. Just combine the mayo, sour cream seasoning and lime juice in one bowl and whisk together. Toss together the rest of the ingredients in a separate, large bowl. Pour the dressing over the ingredients in the large bowl, gently toss, and there you go! Top with some fresh cilantro for effect and you are good to go!
10. Sweet Potato Salad
If you are looking for a southwestern twist on potato salad, you have come to the right place! This sweet potato salad is sure to please with it's classic, sweet taste and enjoyable texture. Just like the rest of our side dishes, ease of preparation was taken in to consideration so as not to take over your night with grueling prep work.
Gather few sweet potatoes, chop 'em up and combine them with some olive oil, salt, and black pepper. Roast the sweet potatoes in the oven while you prepare the rest of the ingredients. Combine sweet corn, diced red peppers (or whatever variety you prefer), rinsed black beans, cilantro, lime juice, pepitas, and whatever southwestern dressing you prefer. Or you can simply use ranch with a hint of chipotle peppers mixed in for flavor. Toss together with your roasted sweet potatoes and top each serving with some cotija cheese. (hint: don't mix cotija into the whole salad while the sweet potatoes are warm. The texture might get a little funky for future servings.)
11. Southwestern Pasta Salad
This one has a few more ingredients (mainly in the spice department) than some of our other suggestions but is simple nonetheless. If you see an ingredient that you don't have or don't need, simply omit the item if it's not a main ingredient or sub for something with a similar profile. You can also opt to use a premixed taco or carne asada seasoning in place of separate spices.
Start with some regular pasta (elbow, twisty- something with some texture and of a smaller variety), cook it up and set it aside. In a separate bowl, combine olive oil, lime juice, garlic (minced), honey and your spices (for this recipe you would use some chili powder, cumin, salt and pepper. Chop up your veggies (peppers, red onion, and tomatoes) and mix all together with some whole kernel corn, cooked or canned (and rinsed) black beans, avocado, and some chopped fresh herbs (cilantro works great in most southwestern dishes). Toss all together and serve chilled.
12. Roasted Chili Potatoes
This one takes the cake for easiest side dish- and yet it is so warm and comforting, pairing great with a hearty, meaty taco. Enter: Roasted Chili Potatoes. Simply chop up some baby yukon gold potatoes (or baby reds if you prefer) and toss with some olive oil, salt, pepper, cumin, chili powder and a touch of paprika if you like a little added spice. Lay out on a single sheet and roast until tender. Dust lightly with some dried oregano and you are ready to serve.
13. Southwestern Succotash
For a completely different flavor profile and texture, try this succotash for a unique side dish for your tacos. Using lima beans as a base, you will also be inviting a high amount of protein, folate and b vitamins into your diet- what a bonus!
Using frozen lima beans, cook to manufacturer directions and set aside when done. Gather up the rest of your ingredients. You'll need: bacon, peppers, sweet onion, corn kernels, tomatoes, salt, tarragon, butter, black pepper and some red vinegar (or apple cider vinegar if you prefer.) First, you will cook the bacon and create a yummy space to cook the rest of your ingredients. Set the bacon aside after cooked and crispy and use the hot pan to cook up the peppers and onions. After the peppers and onions begin to brown, add the cooked lima beans, cherry tomatoes, corn, vinegar, tarragon, salt, and pepper. Cook for a few minutes on medium. Add butter and bacon- then serve hot. This is a good one. Seriously, who doesn't like bacon?
14. Foil Packet Zucchini Mix
I take it back- this one may be even simpler than the Chili Roasted Potatoes from earlier on this list. Simply slice a couple of zucchinis (I like Yellow and Green for some appetizing color and variety) and some onion. Place in a few small(ish) pieces of foil. Sprinkle with salt and pepper in addition to any other seasonings you choose (I like a premade carne asada or taco seasoning to keep it easy. Add a bit of butter, close the packet up (leaving some room for air to circulate while cooking) and bake. Again, you can sprinkle with some Cotija cheese for a little dash of flavor. So, so easy.
15. Summer Grilled Veggies
Are you planning to grill outside for taco day? Or maybe you lucky enough to have a cast iron grill pan (I love the one made by Lodge.) Try grilling up some classic veggies to deepen the flavors and bring out the best in your greens (and reds and yellows or whatever other color veggies you choose.) One of my favorite mixes goes like this: Halve a couple of firm and juicy tomatoes, slice some zucchini lengthwise, throw in a couple of large portabella caps and include a couple of eggplant slices. Throw on the grill to obtain those coveted grill car lines and brush with butter. Sprinkle with some feta or cotija and dig in with your knife and fork- so delicious and so refreshing for a summer cookout!
Variety Variety!!!
Tacos give way to limitless combinations to mix and match to perfection.
Tacos are used in so many different ways to produce appetizing and dare I say, healthy dishes. I encourage you to allow your creativity to run wild when trying out side dishes with your tacos. Practice makes perfect, and even the imperfect along the way can be fun and delicious!
The saying goes "Variety is the spice of life", therefore I might venture to say that "Tacos are the spice of life!" As usual, I am always here to answer any of your questions and if you have any comments or feedback please keep them coming! I love to hear from you!
As usual, I am always here to answer any of your questions and if you have any comments or feedback please keep them coming.
I don't eat fast food often, but I love tacos. I could write prophetically about how perfect taco is
Ken Baumann