Are you tired of burning the dishes that you are cooking? Do you want to ensure that your baked goodies are prepared at a precise time? If so, the kitchen equipment that you need is a kitchen timer.
But what makes up a good kitchen timer? Or better yet, what is the best kitchen timer? This article will help you find out!
5 Best Kitchen Timer Reviews You Need to Read!
For this roundup, I have chosen the Wrenwane Digital Kitchen Timer because of its long time range and long-lasting multi-purpose design.
Don't have the time to read the entire view? Allow this comparison table to give you the information that you need.
Table could not be displayed.
1. Wrenwane Digital Kitchen Timer – Editor's Pick
My top pick is the Wrenwane Digital Kitchen timer which is perfect for baking and more complicated cooking methods.
The design of this kitchen timer is pretty straightforward. It has a rectangular shape with wide LCD Display (showing the time) in large fonts. Below the screen, you will find three small buttons for setting the time.
When setting the timer, you would have to scroll up and down which can be a bit of a hassle, but one feature that makes up for this issue is the Memory feature which allows the timer to remember the last setting used.
In addition to that, the timer counts seconds which makes it perfect for cooking methods that require precise timing.
Other features that make this kitchen timer unique is its retractable, kick out stand that allows you to clearly see the time when it is placed in the tabletop.
It also has a magnetic back, making it possible for you to stick the timer to your refrigerator for a more organized cooking experience.
Lastly, you can run a piece of string through its hook so you can hang it on your walls. You can also hang it around your neck so you can bring it with you wherever you go.
Pros
Comes with a hook for portability
Magnetic backing
Retractable stand for a convenient tabletop use
Can count seconds
Long range of time
Cons
Consumes too much battery
No off switch
2. The Miracle TimeCube Timer – Alternative Pick
The Miracle TimeCube Kitchen timer is my second pick because it offers highly advanced features sold at an affordable price. On top of that, I believe that this is also the most stylish timers of all. I use this one when performing simpler cooking methods that do not require counting seconds.From its name, the kitchen timer features a cute cube shape, similar to that of a dice. In addition to that, it is available in five eye-catching colors—green, blue, white, purple, and yellow.But more than its looks, what makes this timer distinct from all the other timers in this list is its ease of use. All that you have to do is to set the cube with the number of minutes you want to time at the top. The multi-directional tilt sensor will detect how many minutes you want to time, activating the time LED indicators which will notify you that the time has been properly set. The cube comes in 4 pre-set times.At the bottom of the cube, you can find a small LCD which shows the remaining time. When the time runs out, the timer will give off a high-pitched and high-volume sound. Another thing to love about this product is that its mechanism is encased with a durable splash-proof plastic material which is perfect for the kitchen!
Pros
Straightforward design—no switches, dials or buttons!
Easy to operate—you just have to flip it!
Stylish design and style
Can also be used for kid's activities and workouts
LCD Display that shows the time
Cons
Not recommended for cooking methods that require precise timing
Some users found the alarm to be too loud
3. Habor Digital Cooking Timer– Budget Pick
This is the most reasonably priced timer that you can find in this list. It is sold as a pack of 2 at a very affordable price.
But despite its low price, the Habor Digital Cooking timer comes  with features that you can find in most high-end cooking timer (like my top pick).
Just like the editor's pick, this timer has a 3-in-1 multipurpose design. It has a magnetic backing for mounting purposes. It also has a retractable stand for tabletop uses. Lastly, it also has a hanging hole for hanging purposes.
In addition to these designs, it also has a fast forward feature. When you press the buttons for 2 seconds, the timer will be fast-forwarded. It also has a memory function that records the last setting that you have entered in the timer.
Additionally, it has an on and off switch on the side so you can turn off the timer after use and save money. However, one issue that you may experience with this timer is has a short lifespan.
Pros
Multipurpose design
Long time range
Counts seconds
Audible alarm
Affordable
Cons
Users claim that its plastic body is fragile
They also argue that the magnetic function of the timer does not last
4. OXO Good Grips Triple Timer – Upgrade Pick
First things first, the timer has a long timer range—up to 100 hours! Because of this, it is perfect timing extended cooking activities. It has a large LCD display that shows the time in big, readable digits.
The screen is angled face so you can easily see the digits when the timer is placed in the table or your countertop.
Another feature that I like about this product is that it is a triple timer, meaning you can set three different alarms in just one timer. All three times can be seen in one LCD, making it easy for you to take a look at them.
For safety purposes, the base of the timer is non-slip. The timer is also easy to use as it has a direct entry keypad which makes setting the timer as comfortable as possible.
Pros
Direct entry keypad
Angled LCD display
Longest timer range
Three timers in one
Non-slip base
Soft buttons
Cons
A bit bigger than other kitchen timers
Buttons are too small
5. Taylor Precision Products Kitchen Timer – Best Multi-Function Kitchen Timer
If you are looking for a multi-timer, but you do not have a large budget, try the Taylor Precision Products Kitchen Timer.
This timer features 4 timers—one timer counts only hours and minutes while the rest can count minutes and seconds. One feature I like is each timer has its distinct alarm for easy identification.
Another great thing about this is it functions in a wide array of environments, thanks to its stand and magnetic mounts.
What makes this product unique is it features a built-in whiteboard so you can list down recipes or label timer events. The purchase of this timer already comes with dry-erase markers.
Pros
Four timers in one!
Built-in whiteboard
Different alarms for each timer
Magnetic hooks
Built-in stand
Cons
Magnetic function does not last long
Difficult to reset
The Ultimate Kitchen Timer Buying Guide
Finding the best kitchen timer seems like an easy feat but once you start with your search, you will realize that the options in the market can be overwhelming, especially if you do not have proper knowledge as to what you should look for in a kitchen timer.
With that in mind, I present to you some of the most critical factors that you should consider  when buying a kitchen timer:
Electric Vs. Battery-operated
The primary consideration you need to think about is the energy source of your kitchen timer. Under this category, you have three options—battery-operated and electric.
Which of these two is the best option for you? I have broken down the pros and cons of each option below:
–   Battery-operated
The advantage of this kitchen timer type is that it is widely available in the market. Its upfront cost is also a lot lower.
However, batteries have to be changed often which would be quite a hassle for busy people.
–   Electric
On the other hand, electric kitchen timers are much more expensive. But with this option, you do not have to deal with the hassle of changing batteries periodically.
Analog Vs. Digital
Which should you choose? Digital or analog? Each option also has its advantages and disadvantages.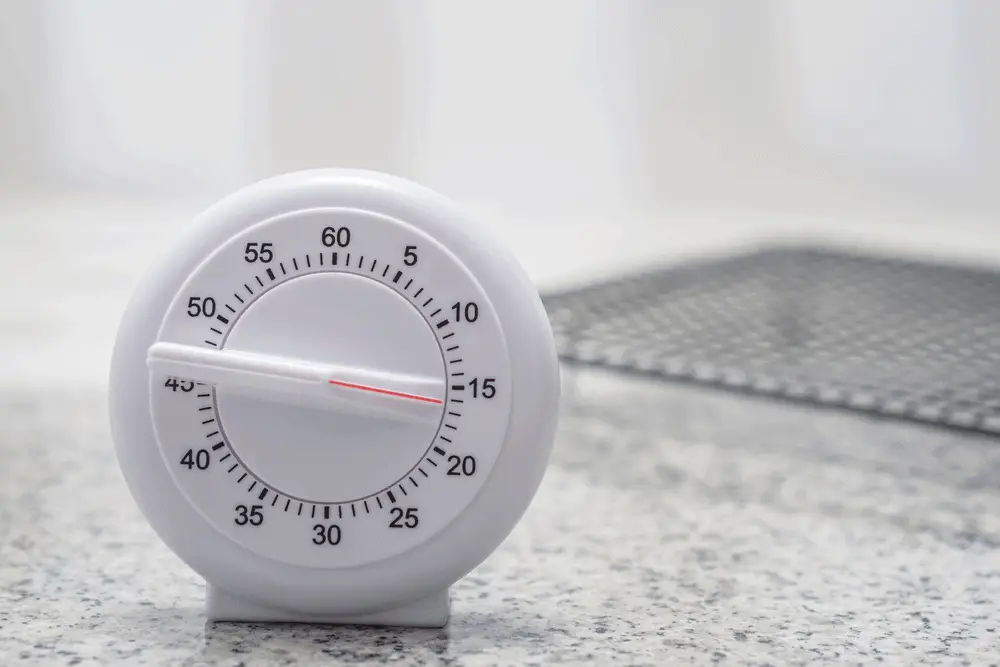 First, let's tackle the analog type. This type is more affordable, but it requires being winded to a particular extent before setting it to the time that you want. Many people claim that this option is more accurate.
On the other hand, digital timers can be set automatically—no winding needed. Many people choose this because of its user-friendly features. However, they are said to be pricier and less accurate.
Portability
We buy kitchen timers to ensure that our cooking experience will be hassle-free. But what if you plan on doing other things while cooking? For example, you want to clean the living room while you marinade or steam your ingredients? Do you think you would be able to hear the alarm from your living room?
It is for this very purpose that small and portable kitchen timers were developed. When you opt for a small kitchen timer, you can bring it with you in wherever part of your home you plan to go.
Durability
Kitchen timers may not be that expensive, but that doesn't mean that they should be less durable, right? After all, you still invested a few dollars buying this equipment.
Sadly though, there are a lot of things that can happen in the kitchen that may destroy or damage the timer. With that in mind, you may want to buy a kitchen timer that have extra features like being waterproof and shockproof.
Precision
Basic kitchen timers can measure minutes to hours. But if you are baking a recipe which requires being accurate up to the last second, you may want a kitchen timer that can program seconds too.
Range
Most kitchen timers can measure up to 10 hours which is already okay for usual cooking methods like baking, frying, etc. But what if you are doing a more complicated process of cooking—like sous vide for example?
For these cases, you may need a timer with a longer range—more than 24 hours or so.
Other Features
Here are a few other features you may want your kitchen timer to have:
–   Clip-on design
Aside from portability, you would also want your kitchen timer to have a clip-on design so you can easily clip it on your clothes so there won't be any chance that it will be left behind.
–   Magnetic
As much as possible, you would want to eliminate the mess and keep things organized in your kitchen, right?
One of the best features of kitchen timers is that they are magnetic so you can stick it in your fridge or a stand so it will be visible to you at all times.
–   Direct Entry keypad
Most timers would require you to scroll down minutes and hours to set the time. This may seem simple, but it can be a hassle when you are stirring soup with one hand and fixing the time with the other, right?
The availability of direct entry keypad allows you to set the time by clicking as few buttons as possible.
–   Multi-timer option
If you are preparing more than one meal, you would need to set different timers. Lucky for you, there are already timers in the market that has the multi-timer option which allows you to set different times simultaneously.
To know how a kitchen timer works, check out this video
Final Verdict
Not many of us know this, but a kitchen timer is the most useful equipment you can have in your kitchen. But to make the most out of this purchase, you have to make sure that you are choosing a kitchen timer with all the right features—long time range, portable, durable, easy to use, and multipurpose and above all, affordable.
In this roundup, the product that exhibited all these features is no other than the Wrenwane Kitchen timer. Since it has the ability to count seconds, I highly recommend this timer  for cooking methods that require precise timing (like baking). With its magnetic backing and retractable stand, I can place it in the different surfaces in my kitchen which is a big plus for me since I like to move around when preparing dishes.