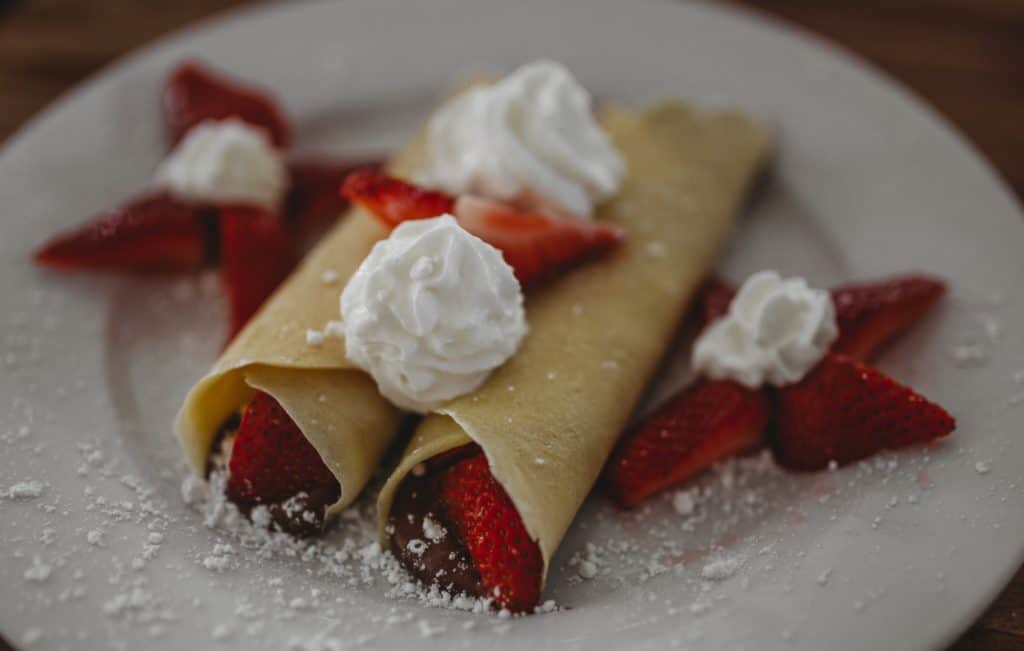 8 Brunch Dessert Ideas to Brighten Your Morning 

Weekend brunch is a quintessential summer activity. There's nothing better than getting dressed up and going out with friends to sip some mimosas and eat a delicious (albeit late) breakfast to celebrate a special occasion.
Brunch is a meal that you have between the times you normally have breakfast and lunch. You can go to a restaurant where a special brunch menu is served, or you can gather with friends for a brunch at home. Brunch is often an opportunity to get dressed up in fancy outfits to drink mimosas and indulge in sweet treats.
Because brunch traditionally takes place in the late morning, most brunch restaurant menus will have a selection of dishes that range from strictly breakfast to definitely lunch, and many options in between. It's very common to see someone ordering pancakes and eggs while someone else at their table is ordering a turkey sandwich. 
The thing that really sets brunch apart from the other meals is the number of sweet, sugary menu options. Many establishments offer sickly sweet entrees and pastries that look more like sweet desserts than something you'd eat for breakfast. Brunch, at its core, is about indulgence. 
Some people prefer more savory brunch options. And while there's something to be said for an excellent avocado toast, quiche, or eggs benedict, others like to start their day with a sweet breakfast. The truth is, though, savory and sweet aren't necessarily mutually exclusive. 
Whether you're looking for a sugary entree to pair with your drink or a dessert to end your meal, these brunch desserts will be the perfect dish for your next brunch outing. You can find them on the menu at your brunch establishment of choice, but if you're looking for a Mother's Day or Easter brunch dessert to take to your next family brunch dessert table, you can find easy recipes for all of these online.
Coffee Cake
What says brunch more than coffee? And what goes better with your morning Joe than breakfast cakes specifically created to complement it? Coffee cake's sweet cinnamon flavor and its spongy texture make it a great dessert to soak up the coffee and offset its bitter taste. It's the perfect size, so you can eat it as dessert or as your whole brunch.
Cinnamon roll
Cinnamon rolls have always been a popular pastry for breakfast and brunch. The swirl of the roll ensures that you get just the right amount of cinnamon with every bite, and the icing on the top gives it that extra sweetness. The best scent in the world is that of a fresh batch of cinnamon rolls coming out of the oven, so be careful: if you catch that scent while pouring over your brunch menu, you might have no choice but to get a cinnamon roll.
Crepes
Crepes are a really versatile brunch option, because they can be either sweet or savory. They're not very filling on their own so if you don't order some eggs and hashbrowns on the side, you'll find yourself wanting a little something extra. You can wash down your savory crepe with a sweet follow up, or just start as you mean to finish by ordering only dessert crepes. It's brunch—nobody's judging you! Here are some of our favorite crepe makers that will make your life easier. 
Muffin
If you're not hungry enough for a full meal, or you just want something a little extra to tide you over before your eggs benedict arrive, look no further than the muffin. There are endless kinds of muffin flavors, so don't let the choices overwhelm you. You can often find something sweet like a chocolate chip, cinnamon streusel, or double chocolate muffin. Grab a coffee or juice and you're ready to take this brunch on the go. Once you find your favorite muffin, try finding it among all of the muffin recipes online so that you can make it at home—many of the ingredients are probably pantry staples.
Donut
Beloved by policemen and civilians alike for their sweet flavors, airy textures, and portability, donuts are the perfect answer to the brunch dessert question. They're not too heavy, so they're  a great complement to a bigger, more savory brunch meal. Plus, they're easy to share. One dozen donuts is a great contribution to a brunch potluck—everybody likes at least one kind of donut. And if they don't, they definitely like mini donuts!
French Toast
Is French toast technically a brunch main course? Yes. But it's often so sweet that it also counts as a dessert. If you've got a sweet tooth, you'll love French toast that has been doused in brown sugar, maple syrup, peanut butter, caramel syrup, whipped cream, and topped with fresh strawberries or other fruit. Combined, these delicious flavors have made French toast a longtime favorite of brunch diners.
Fruit Tart
If you're looking for a final flourish of sophistication after your meal, you can find it in the fruit tart. With its silky soft custard and colorful fresh fruit toppings, the fruit tart stands apart from all of its pastry counterparts. It's a great way to end your brunch with a dessert that won't be too light or too heavy—it's just right. 
Apple Strudel 
The Germans knew what they were doing with this one. A warm slice of apple strudel is like sitting in a cozy blanket at your grandmother's. It's reminiscent of all things cozy. The flaky, buttery crust will make your mouth water. Don't forget to order it with a side of vanilla ice cream or dollop of whipped cream. Strudel is the perfect dessert for fall or winter days when you want to take that feeling of warmth and comfort home with you.
Brunch is about freedom and relaxing the rules—it's an occasional meal set between two daily meals. There are no laws around brunch, so if you're really feeling up to it, you could always go for a more traditional, non-brunch dessert. Cheesecake, cookies, brownies, and ice cream are good at any time of the day. 
Want some more ideas? Here are the five best breakfast ideas for lazy Sundays. 
The best part of brunch is how many kinds of foods you can choose from. Savory or sweet, pastry or pancake, coffee or bloody Mary—the options are endless.Treat yourself: get the extra crepe. Have one more mimosa. Let yourself run wild with any kind of combination you want, and don't be afraid to let yourself have dessert, even if you already had dessert for breakfast.